Abstract
A sensitive and accurate method was developed and validated for simultaneous analysis of perfluoroalkyl carboxylic acids, sulfonic acids, and phosphonic acids (PFPAs) at low picograms per gram concentrations in a variety of food matrices. The method employed extraction with acetonitrile/water and cleanup on a mixed-mode co-polymeric sorbent (C8 + quaternary amine) using solid-phase extraction. High-performance liquid chromatographic separation was achieved on a C18 column using a mobile phase gradient containing 5 mM 1-methyl piperidine for optimal chromatographic resolution of PFPAs. A quadrupole time-of-flight high-resolution mass spectrometer operating in negative ion mode was used as detector. Method detection limits were in the range of 0.002 to 0.02 ng g−1 for all analytes. Sample preparation (extraction and cleanup) recoveries at a spiking level of 0.1 ng g−1 to a baby food composite were in the range of 59 to 98 %. A strong matrix effect was observed in the analysis of PFPAs in food extracts, which was tentatively assigned to sorption of PFPAs to the injection vial in the solvent-based calibration standard. The method was successfully applied to a range of different food matrices including duplicate diet samples, vegetables, meat, and fish samples.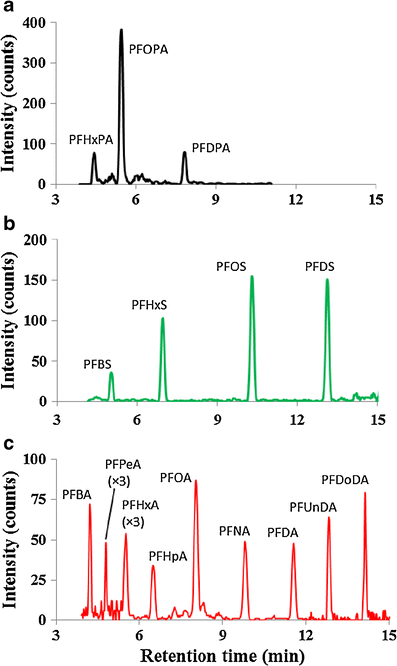 Access options
Buy single article
Instant access to the full article PDF.
USD 39.95
Price excludes VAT (USA)
Tax calculation will be finalised during checkout.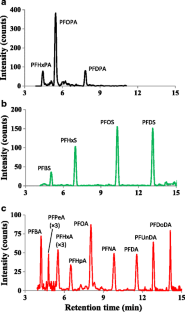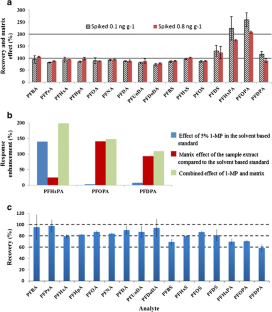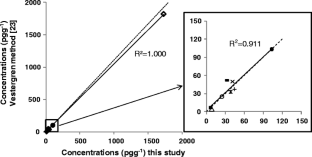 References
Kissa E (2001) Fluorinated surfactants and repellents, 2nd edn. Marcel Dekker, New York

Prevedouros K, Cousins I, Buck RC, Korzeniowski SH (2006) Environ Sci Technol 40:32–44

Buck RC, Franklin J, Berger U, Conder JM, Cousins IT, de Voogt P, Jensen AA, Kannan K, Mabury SA, van Leeuwen SP (2011) Integr Environ Assess Manag 7:513–541

Houde M, De Silva AO, Muir DC, Letcher RJ (2011) Environ Sci Technol 45:7962–7973

Kannan K, Corsolini S, Falandysz J, Fillman G, Kumar KS, Loganathan BG, Mohd MA, Olivero J, Van Wouwe N, Yang JH, Aldous KM (2004) Environ Sci Technol 38:4489–4495

Wang T, Wang Y, Liao C, Cai Y, Jiang G (2009) Environ Sci Technol 43:5171–5175

D'eon JC, Crozier PW, Furdui VI, Reiner EJ, Libelo EL, Mabury SA (2009) Environ Toxicol Chem 28:2101–2107

Ullah S, Alsberg T, Berger U (2011) J Chromatogr A 1218:6388–6395

Esparza X, Moyano E, de Boer J, Galceran MT, van Leeuwen SP (2011) Talanta 86:329–336

Andersen ME, Butenhoff JL, Chang SC, Farrar DG, Kennedy GL Jr, Lau C, Olsen GW, Seed J, Wallace KB (2008) Toxicol Sci 102:3–14

Lau C, Butenhoff JL, Rogers JM (2004) Toxicol Appl Pharmacol 198:231–241

Joensen UN, Bossi R, Leffers H, Jensen AA, Skakkebaek NE, Jorgensen N (2009) Environ Health Perspect 117:923–927

Knox SS, Jackson T, Frisbee SJ, Javins B, Ducatman AM (2011) J Toxicol Sci 36:403–410

Vestergren R, Cousins IT, Trudel D, Wormuth M, Scheringer M (2008) Chemosphere 73:1617–1624

Berger U, Glynn A, Holmström KE, Berglund M, Ankarberg EH, Törnkvist A (2009) Chemosphere 76:799–804

Tittlemier SA, Pepper K, Edwards L (2006) J Agric Food Chem 54:8385–8389

Begley T, White K, Honingfort P, Twaroski ML, Neches R, Walker RA (2005) Food Addit Contam 22:1023–1031

Pico Y, Farre M, Llorca M, Barcelo D (2011) Crit Rev Food Sci Nutr 51:605–625

Ericson I, Marti-Cid R, Nadal M, van Bavel B, Lindstrom G, Domingo JL (2008) J Agric Food Chem 56:1787–1794

Ostertag SK, Chan HM, Moisey J, Dabeka R, Tittlemier SA (2009) J Agric Food Chem 57:8534–8544

Haug LS, Thomsen C, Brantsaeter AL, Kvalem HE, Haugen M, Becher G, Alexander J, Meltzer HM, Knutsen HK (2010) Environ Int 36:772–778

Lacina O, Hradkova P, Pulkrabova J, Hajslova J (2011) J Chromatogr A 1218:4312–4321

Vestergren R, Ullah S, Cousins IT, Berger U (2012) J Chromatogr A 1237:64–71

van der Veen I, Weiss J, van Leeuwen S, Cofino W, Crum S (2012) 5th Interlaboratory study on perfluoroalkyl substances (PFAS) in food and environmental samples, Report W-12/09, IVM Institute for Environmental Studies, VU University Amsterdam, The Netherlands

Fromme H, Schlummer M, Möller A, Gruber L, Wolz G, Ungewiss J, Böhmer S, Dekant W, Mayer R, Liebl B, Twardella D (2007) Environ Sci Technol 41:7928–7933

Berger U, Langlois I, Oehme M, Kallenborn R (2004) Eur J Mass Spectrom 10:579–588

Riddell N, Arsenault G, Benskin JP, Chittim B, Martin JW, McAlees A, McCrindle R (2009) Environ Sci Technol 43:7902–7908

Berger U, Kaiser MA, Kärrman A, Barber JL, van Leeuwen SPJ (2011) Anal Bioanal Chem 400:1625–1635

Ballesteros-Gomez A, Rubio S, van Leeuwen S (2010) J Chromatogr A 1217:5913–5921

Cofino WP, Wells DE (1994) Mar Pollut Bull 29:149–158

Wells DE, Cofino WP (1997) Mar Pollut Bull 35:18–27
Acknowledgments
The authors acknowledge the European Union for the financial support through the PERFOOD project (KBBE-227525). Dr. Hermann Fromme (Bavarian Health and Food Authority, Munich, Germany) and Dr. Martin Schlummer (Fraunhofer IVV, Freising, Germany) are acknowledged for providing the duplicate diet samples. The authors thank Anne-Sofie Kärsrud for preparing the food samples. Wellington is acknowledged for the donation of isotopically mass-labeled standards.
Electronic supplementary material
Below is the link to the electronic supplementary material.
About this article
Cite this article
Ullah, S., Alsberg, T., Vestergren, R. et al. Determination of perfluoroalkyl carboxylic, sulfonic, and phosphonic acids in food. Anal Bioanal Chem 404, 2193–2201 (2012). https://doi.org/10.1007/s00216-012-6374-z
Received:

Revised:

Accepted:

Published:

Issue Date:

DOI: https://doi.org/10.1007/s00216-012-6374-z
Keywords
PFCAs

PFSAs

PFPAs

Food samples

HPLC

HRMS