Abstract
This article reports on a compositional investigation of stone patinas: thin colored layers applied for protective and/or aesthetic purposes on architectural or sculptural substrates of cultural heritage. The analysis and classification of patinas provide important information of historic and artistic interest, as their composition reflects local practices, the availabilities of different materials, and the development of technological knowledge during specific historical periods. Model patinas fabricated according to traditional procedures and applied onto limestone, and a historic patina sample from the main façade of the San Blas Monastery in Lerma (a village in the province of Burgos, Spain), were analyzed by laser-induced fluorescence and Fourier transform Raman spectroscopy. The results obtained demonstrate the ability of these two analytical techniques to identify the key components of each formulation and those of the reaction products which result from the chemical and mineralogical transformations that occur during aging, as well as to provide information that can aid the classification of different types of patinas.

Access options
Buy single article
Instant access to the full article PDF.
US$ 39.95
Tax calculation will be finalised during checkout.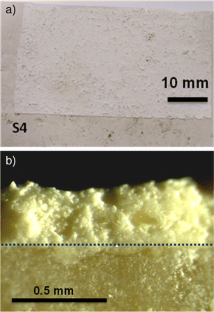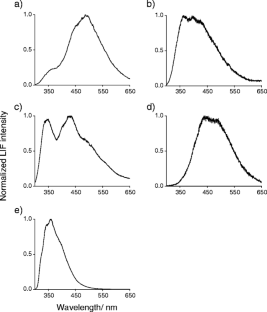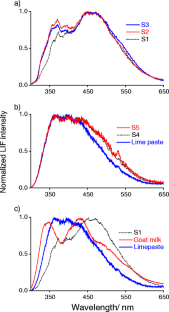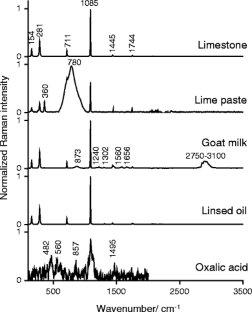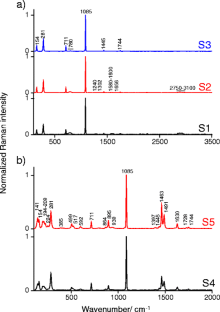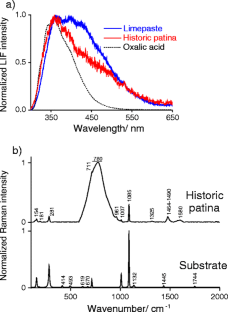 References
1.

Álvarez de Buergo M, Fort R (2003) Constr Build Mater 17:83

2.

Vázquez-Calvo C, Álvarez de Buergo M, Fort R (2006) In: Fort R, Álvarez de Buergo M, Gómez-Heras M, Vázquez-Calvo C (eds) Heritage weathering and conservation 969–974. Taylor & Francis/Balkema, Leiden

3.

Vázquez-Calvo C, Álvarez de Buergo M, Fort R (2007) In: Prikryl R, Smith B (eds) Building stone decay: from diagnosis to conservation (Special Publication 271). The Geological Society of London, London, p 295

4.

Kouzeli K, Lazari C, Economopoulos A, Pavelis C (1996) In: Realini M, Toniolo L (eds) Proc 2nd Int Symp on The Oxalate Films in the Conservation of Works of Art. EDITEAM s.a.s., Castello d'Argile

5.

Polikreti K, Maniatis Y (2003) Sci Total Environ 308(1–3):111

6.

Rampazzi L, Andreotti A, Bonaduce I, Colombini MP, Colombo C, Toniolo L (2004) Talanta 63:967

7.

Taniguchi Y, Shimadzu Y, Kakoulli I (2003) In: Proc 25th Annu Conf Jpn Soc Conserv Cultural Property, Kyoto, Japan, June 2003

8.

Cooper M, Larson J (1996) The Conservator 20:28

9.

Vázquez-Calvo C, Gomez Tubio B, Álvarez de Buergo M, Ortega Feliu I, Fort R, Respaldiza MA (2008) X-Ray Spectrom 37:399

10.

Vázquez-Calvo C, Álvarez de Buergo M, Fort R, Varas MJ (2007) Mater Charact 58(11–12):1119

11.

Vázquez-Calvo C, Giakoumaki A, Anglos D, Álvarez de Buergo M, Fort R (2007) In: Nimmrichter J, Kautek W, Schreiner M (eds) Lasers in the conservation of artworks (Springer Proceedings in Physics 116). Springer, Vienna, pp 415–420

12.

Oujja M, García A, Romero C, Vázquez de Aldana JR, Moreno P, Castillejo M (2011) Phys Chem Chem Phys 13:4625

13.

Castillejo M, Martín M, Oujja M, Silva D, Torres R, Manousaki A, Zafiropulos V, Van den Brink OF, Heeren RMA, Teule R, Silva A, Gouveia H (2002) Anal Chem 74:4662

14.

Gaspard S, Oujja M, Moreno P, Méndez C, García A, Domingo C, Castillejo C (2008) Appl Surf Sci 255:2675

15.

Gaspard S, Oujja M, Abrusci C, Catalina F, Lazare S, Desvergne JP, Castillejo M (2008) J Photochem Photobiol A 193:187

16.

Wisniewski M, Sionkowska A, Kaczmarek H, Lazare S, Tokarev V, Belin C (2007) J Photochem Photobiol A: Chem 188:192

17.

Nevin A, Osticioli I, Anglos D, Burnstock A, Cather S, Castellucci E (2007) Anal Chem 79:6143

18.

Oujja M, Pouli P, Fotakis C, Domingo C, Castillejo M (2010) Appl Spectrosc 64:528

19.

Weibring P, Johansson T, Edner H, Svanberg S, Sundnér B, Raimondi V, Cecchi G, Pantani L (2001) Appl Opt 40:6111

20.

Bell IM, Clark RJH, Gibbs JP (1997) Spectrochim Acta Part A 53:2159

21.

Raimondi V, Cecchi G, Lognoli D, Palombi L, Grönlund R, Johansson A, Svanberg S, Barup K, Hällström J (2009) Int Biodet Biodeg 63:823

22.

Vázquez-Calvo C, Álvarez de Buergo M, Fort R (2009) Method of preparation of patinas or films for stone surfaces and applications thereof (patent: WO 2009024642). WIPO, Geneva

23.

Bustillo A (1980) Bol Geol Minero XCI-III:503

24.

Wang J, Wu X, Mullins C (1997) Appl Spectrosc 51:1890

25.

Bezouska JR, Wang J, Mullins OC (1998) Appl Spectrosc 52:1606

26.

Aminzadeh A (1997) Spectrochim Acta Part A 53:693

27.

Teale FWJ, Weber G (1957) Biochem J 65:476

28.

Palumbo G, Pratesi R (2004) Lasers and current optical techniques in biology (Comprehensive Series in Photochemistry and Photobiology). Royal Society of Chemistry, Cambridge

29.

Nevin A, Comelli D, Valentini G, Cubeddu R (2009) Anal Chem 81:1784

30.

Athanassia A, Hill AE, Fourrier T, Burgio L, Clark RJH (2000) J Cult Herit 1:S209

31.

Lu J, Li Y, Zhao K, Xu JQ, Yu JH, Li GH, Zhang X, Bie HY, Wang TG (2004) Inorg Chem Commun 7:1154

32.

Taddei P, Tinti A, Gandolfi MG, Rossi PL, Prati C (2009) J Mol Struct 924–926:548

33.

Nevin A, Comelli D, Osticioli I, Filippidis G, Melessanaki K, Valentini G, Cubeddu R, Fotakis C (2010) Appl Phys A 100:599

34.

Jeziorowski H, Moser B (1985) Chem Phys Lett 120:41

35.

Frost RL (2004) Anal Chim Acta 517:207

36.

Shippey TA (1980) J Mol Struct 63:157

37.

Campos-Suñol MJ, Domínguez-Vidal A, Ayora-Cañada MJ, De la Torre-López MJ (2008) Anal Bioanal Chem 391:1039
Acknowledgements
This work has been funded by the Madrid Regional Government project Geomateriales (S2009/Mat-1629) and by the Ministerio de Ciencia e Innovación under projects CTQ2010-15680 and CONSOLIDER CSD2007-00058. The authors also thank the research group from Universidad Complutense de Madrid: "Alteración y Conservación de los Materiales Pétreos del Patrimonio."
Additional information
Published in the special issue Analytical Techniques in Art, Archaeology and Conservation Science with guest editor Oliver Hahn.
About this article
Cite this article
Oujja, M., Vázquez-Calvo, C., Sanz, M. et al. Laser-induced fluorescence and FT-Raman spectroscopy for characterizing patinas on stone substrates. Anal Bioanal Chem 402, 1433–1441 (2012). https://doi.org/10.1007/s00216-011-5319-2
Received:

Revised:

Accepted:

Published:

Issue Date:
Keywords
Laser-induced fluorescence

FT-Raman spectroscopy

Patinas

Stone substrates