Abstract
Rooibos (Aspalathus linearis) is a rich source of polyphenols and used to make a mild-tasting tea containing no caffeine, is low in tannins compared to green or black teas, and has antioxidant and antimutagenic/antitumoral properties. In vivo results show that rooibos has beneficial effects upon the lipid profile by decreasing serum triglycerides and cholesterol. In this sense, we have developed a simple and rapid method to separate and characterize simultaneously the polyphenolic compounds in aqueous and ethanolic rooibos extracts using high-performance liquid chromatography coupled to electrospray ionization time-of-flight mass spectrometry (HPLC-ESI-TOF-MS) and ion trap multiple mass spectrometry (HPLC-ESI-IT-MS2). The phenolic compounds were separated on a C18 column (4.6 × 150 mm, 1.8 μm) with 1% formic acid in water/acetonitrile 90:10 v/v and acetonitrile as mobile phases. The accuracy mass data generated by TOF-MS together with the fragmentation pattern obtained by IT-MS2 experiments confirmed the presence of 25 and 30 phenolic compounds in the aqueous and ethanolic extracts, respectively.
This is a preview of subscription content, log in to check access.
Access options
Buy single article
Instant access to the full article PDF.
US$ 39.95
Price includes VAT for USA
Subscribe to journal
Immediate online access to all issues from 2019. Subscription will auto renew annually.
US$ 157
This is the net price. Taxes to be calculated in checkout.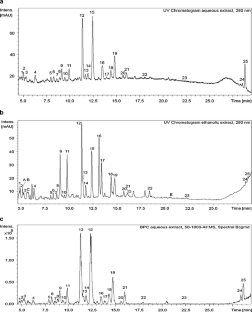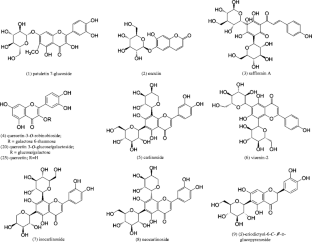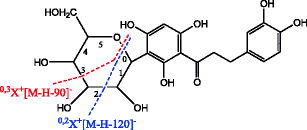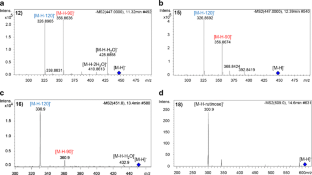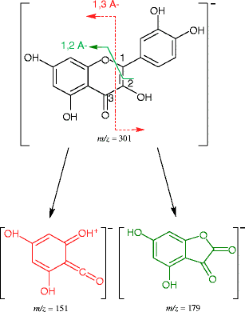 References
1.

Kondratyuk TP, Pezzuto JM (2004) Natural product polyphenols of relevance to human health. Pharm Biol 42:46–63

2.

Nijveldt RJ, van Nood E, van Hoorn DEC, Boelens PG, van Norren K, van Leeuwen PAM (2001) Flavonoids: a review of probable mechanisms of action and potential applications. Am J Clin Nutr 74:418–425

3.

McKay DL, Blumberg JB (2007) A review of the bioactivity of South African herbal teas: rooibos (Aspalathus linearis) and honeybush (Cyclopia intermedia). Phytother Res 21:1–16

4.

Erickson L (2003) Rooibos tea: research into antioxidant and antimutagenic properties. J Am Bot Counc 59:34–45

5.

von Gadow A, Joubert E, Hansmann CF (1997) Comparison of the antioxidant activity of aspalathin with that of other plant phenols of rooibos tea (Aspalathus linearis), α-tocopherol, BHT, and BHA. J Agric Food Chem 45:632–638

6.

von Gadow A, Joubert E, Hansmann CF (1997) Comparison of the antioxidant activity of rooibos tea (Aspalathus linearis) with green, oolong and black tea. Food Chem 60:73–77

7.

Joubert E (1996) HPLC quantification of the dihydrochalcones, aspalathin and nothofagin in rooibos tea (Aspalathus linearis) as affected by processing. Food Chem 55:403–411

8.

Koeppen BH, Smit JB, Roux DG (1962) The flavone C-glycosides and flavonol O-glycosides of Aspalathus acuminatus (rooibos tea). Biochem J 83:507–511

9.

Koeppen BH (1965) C-Glycosylflavonoids. The chemistry of orientin and iso-orientin. Biochem J 97:444–448

10.

Koeppen BH, Roux DG (1965) Aspalathin: a novel C-glycosylflavonoid from Aspalathus linearis. Tetrahedron Lett 6:3497–3503

11.

Rabe C, Steenkamp JA, Joubert E, Burger JFW, Ferreira D (1994) Phenolic metabolites from rooibos tea (Aspalathus linearis). Phytochem 35:1559–1565

12.

Krafczyk N, Glomb MA (2008) Characterization of phenolic compounds in rooibos tea. J Agric Food Chem 56:3368–3376

13.

Kawano A, Nakamura H, Hata S, Minakawa M, Miura Y, Yagasaki K (2009) Hypoglycemic effect of aspalathin, a rooibos tea component from Aspalathus linearis, in type 2 diabetic model db/db mice. Phytomed 16:437–443

14.

Ulicna O, Greksak M, Vancova O, Zlatos L, Galbavý S, Bozek P, Nakano M (2003) Hepatoprotective effect of rooibos tea (Aspalathus linearis) on CCl4-induced liver damage in rats. Physiol Res 52:461–466

15.

Ulicna O, Vancova O, Bozek P, Cársky J, Sebeková K, Boor P, Nakano M, Greksák M (2006) Rooibos tea (Aspalathus linearis) partially prevents oxidative stress in streptozotocin-induced diabetic rats. Physiol Res 55:157–164

16.

Baba H, Ohtsuka Y, Haruna H, Lee T, Nagata S, Maeda M, Yamashiro Y, Shimizu T (2009) Studies of anti-inflammatory effects of rooibos tea in rats. Pediatr Int 51:700–704

17.

Beltrán-Debón R, Rull A, Rodríguez-Sanabria F, Iswaldi I, Herranz-López M, Aragonés G, Camps J, Alonso-Villaverde C, Menéndez JA, Micol V, Segura-Carretero A, Joven J (2011) Continuous administration of polyphenols from aqueous rooibos (Aspalathus linearis) extract ameliorates dietary-induced metabolic disturbances in hyperlipidemic mice. Phymed. doi:10.1016/j.phymed.2010.11.008

18.

Fu S, Arráez-Roman D, Segura-Carretero A, Menéndez JA, Menéndez-Gutiérrez MP, Micol V, Fernández-Gutiérrez A (2010) Qualitative screening of phenolic compounds in olive leaf extracts by hyphenated liquid chromatography and preliminary evaluation of cytotoxic activity against human breast cancer cells. Anal Bioanal Chem 397:643–654

19.

Singleton VL, Rossi JA (1965) Colorimetry of total phenolics with phosphomolybdic-phosphotungstic acid reagents. Am J Enol Vitic 16:144–158

20.

Waridel P, Wolfender J-L, Ndjoko K, Hobby KR, Major HJ, Hostettmann K (2001) Evaluation of quadrupole time-of-flight tandem mass spectrometry and ion-trap multiple-stage mass spectrometry for the differentiation of C-glycosidic flavonoid isomers. J Chromatogr A 926:29–41

21.

Mishio T, Honma T, Iwashina T (2006) Yellow flavonoids in Centaurea ruthenica as flower pigments. Biochem Syst Ecol 34:180–184

22.

Zhou L, Kang J, Fan L, Ma X, Zhao H, Han J, Wang B, Guo D (2008) Simultaneous analysis of coumarins and secoiridoids in Cortex Fraxini by high-performance liquid chromatography-diode array detection-electrospray ionization tandem mass spectrometry. J Pharm Biomed Anal 47:39–46

23.

Kazuma K, Takahashi T, Sato K, Takeuchi H, Matsumoto T, Okuno T (2000) Quinochalcones and flavonoids from fresh florets in different cultivars of Carthamus tinctorius L. Biosci Biotechnol Biochem 64:1588–1599

24.

Shimamura N, Miyase T, Umehara K, Warashina T, Fujii S (2006) Phytoestrogens from Aspalathus linearis. Biol Pharm Bull 29:1271–1274

25.

Rastrelli L, Saturnino P, Schettino O, Dini A (1995) Studies on the constituents of Chenopodium pallidicaule (Cañihua) seeds. Isolation and characterization of two new flavonol glycosides. J Agric Food Chem 43:2020–2024

26.

Xie C, Veitch NC, Houghton PJ, Simmonds MSJ (2003) Flavone C-glycosides from Viola yedoensis Makino. Chem Pharm Bull 51:1204–1207

27.

Gallo MBC, Rocha WC, Da Cunha US, Diogo FA, da Silva FC, Vieira PC (2006) Bioactivity of extracts and isolated compounds from Vitex polygama (Verbenaceae) and Siphoneugena densiflora (Myrtaceae) against Spodoptera frugiperda (Lepidoptera: Noctuidae). Pest Manag Sci 62:1072–1081

28.

Champagnat P, Heitz A, Carnat A, Fraisse D, Carnat AP, Lamaison JL (2008) Flavonoids from Vetiveria zizanioides and Vetiveria nigritana (Poaceae). Biochem Syst Ecol 36:68–70

29.

Li X, Xiong Z, Ying X, Cui L, Zhu W, Li FA (2006) A rapid ultra-performance liquid chromatography-electrospray ionization tandem mass spectrometric method for the qualitative and quantitative analysis of the constituents of the flower of Trollius ledibouri Reichb. Anal Chim Acta 580:170–180

30.

de Moraes SL, Tomaz JC, Lopes NP (2007) Liquid chromatography-tandem mass spectrometric method for determination of the anti-inflammatory compound vicenin-2 in the leaves of L. ericoides Mart. Biomed Chromatogr 21:925–930

31.

Bramati L, Minoggio M, Gardana C, Simonetti P, Mauri P, Pietta P (2002) Quantitative characterization of flavonoid compounds in rooibos tea (Aspalathus linearis) by LC-UV/DAD. J Agric Food Chem 50:5513–5519

32.

Philbin CS, Schwartz SJ (2007) Resolution of diastereomeric flavonoid (1S)-(−)-camphanic acid esters via reversed-phased HPLC. Phytochem 68:1206–1211

33.

Snijman PW, Swanevelder S, Joubert E, Green IR, Gelderblom WCA (2007) The antimutagenic acitivity of the major flavonoids of rooibos (Aspalathus linearis): some dose-response effects on mutagen activation-flavonoid interactions. Mutat Res 631:111–123

34.

Kazuno S, Yanagida M, Shindo N, Murayama K (2005) Mass spectrometric identification and quantification of glycosyl flavonoids, including dihydrochalcones with neutral loss scan mode. Anal Biochem 347:182–192

35.

Ma YL, Li QM, van Den Heuvel H, Claeys M (1997) Characterization of flavone and flavonol aglycones by collision-induced dissociation tandem mass spectrometry. Rapid Commun Mass Spectrom 11:1357–1364

36.

Fabre N, Rustan I, de Hoffmann E, Quetin-Leclercq J (2001) Determination of flavone, flavonol, and flavanone aglycones by negative ion liquid chromatography electrospray ion-trap mass spectrometry. J Am Soc Mass Spectrom 12:707–715

37.

Dueñas M, Mingo-Chornet H, Pérez-Alonso JJ, Di Paola-Naranjo R, González-Paramás AM, Santos-Buelga C (2008) Preparation of quercetin glucuronides and characterization by HPLC-DAD-ESI/MS. Eur Food Res Technol 227:1069–1076

38.

Ferreira D, Marais C, Steenkamp JA, Joubert E (1995) Rooibos tea as a likely health food supplement. In: Proceedings of the Recent Development of Technologies on Fundamental Foods for Health. Korean Society of Food Science and Technology, Seoul, Korea, pp 73–88

39.

Kowalewski Z, Mrugasiewicz K (1971) Flavonoid heterosides in Crataegus phenophyrum [Neue flavanon heteroside in Crataegus phenophyrum]. Planta Med 19:311–331

40.

Ozga JA, Saeed A, Wismer W, Reinecke DM (2007) Characterization of cyanidin- and quercetin-derived flavonoids and other phenolics in mature saskatoon fruits (Amelanchier alnifolia Nutt.). J Agric Food Chem 55:10414–10424

41.

Gattuso G, Caristi C, Gargiulli C, Bellocco E, Toscano G, Leuzzi U (2006) Flavonoid glycosides in bergamot juice (Citrus bergamia Risso). J Agric Food Chem 54:3929–3935
Acknowledgements
The authors are grateful to the Spanish Ministry of Education and Science (AGL2008-05108-C03-03), the Andalucian Regional Government Council of Innovation and Science (P07-AGR-02619, P09-CTS-4564, and P10-FQM-6563), and also to the Ministry of National Education of the Republic of Indonesia and University of Andalas for the Directorate General of Higher Education (DGHE) scholarship (Ref.: 2609/D4.4/2008). They thank their English colleague A. L. Tate for revising their English text.
About this article
Cite this article
Iswaldi, I., Arráez-Román, D., Rodríguez-Medina, I. et al. Identification of phenolic compounds in aqueous and ethanolic rooibos extracts (Aspalathus linearis) by HPLC-ESI-MS (TOF/IT). Anal Bioanal Chem 400, 3643–3654 (2011). https://doi.org/10.1007/s00216-011-4998-z
Received:

Revised:

Accepted:

Published:

Issue Date:
Keywords
Rooibos tea

Polyphenols

High-performance liquid chromatography (HPLC)

Mass spectrometry (MS)