Abstract
Three-dimensional (3D) topographic structures of acupuncture points were investigated by using synchrotron radiation in-line X-ray phase contrast computerized tomography. Two acupuncture points, named Zhongji (RN3) and Zusanli (ST36), were studied. We found an accumulation of microvessels at each acupuncture point region. Images of the tissues surrounding the acupuncture points do not show such kinds of structure. This is the first time that 3D images have revealed the specific structures of acupuncture points.
Access options
Buy single article
Instant access to the full article PDF.
US$ 39.95
Tax calculation will be finalised during checkout.
Subscribe to journal
Immediate online access to all issues from 2019. Subscription will auto renew annually.
US$ 119
Tax calculation will be finalised during checkout.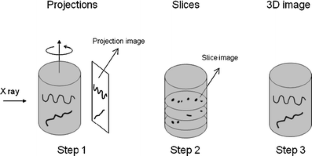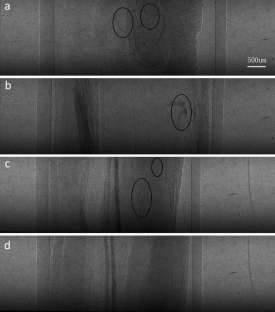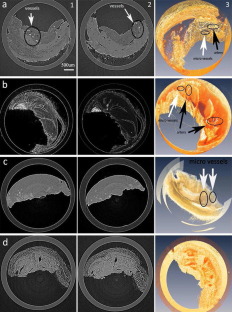 References
1.

Zhang Y, Yan XH, Liu CL et al (2006) Photoluminescence of acupuncture point "Waiqiu" in human superficial fascia. J Lumin 119–120:96–99

2.

Yan XH, Zhang XY, Liu CL et al (2009) Do acupuncture points exist? Phys Med Biol 54(9):N143–N150

3.

Andrew CA, Min P, Jessica RS et al (2010) Electrical impedance of acupuncture meridians: the relevance of subcutaneous collagenous bands. PLoS ONE 5(7):e11907

4.

Langevin HM, Yandow JA (2002) Relationship of acupuncture points and meridians to connective tissue planes. Anat Rec 269(6):257–265

5.

Fitzgerald R (2000) Phase-sensitive x-ray imaging. Phys Today 53:23–27

6.

Momose A (2005) Recent advances in x-ray phase imaging. Jpn J Appl Phys 44:6355–6359

7.

Mosose A (1995) Demonstration of phase-contrast X-ray computed tomography using an X-ray interferometer. Nucl Instrum Methods Phys Res A 352(3):622–628

8.

Dilmanian FA, Zhong Z, Ren B et al (2000) Computed tomography of x-ray index of refraction using the diffraction enhanced imaging method. Phys Med Biol 45(4):933–946

9.

Pfeiffer F, Kottler C, Bunk O, David C (2007) Hard X-ray phase tomography with low-brilliance sources. Phys Rev Lett 98:108105

10.

Raven C, Snigirev A, Snigireva I et al (1996) Phase-contrast microtomography with coherent high-energy synchrotron x rays. Appl Phys Lett 69(13):1826–1828

11.

Spanne P, Raven C, Snigireva I, Snigirev A (1999) In-line holography and phase-contrast microtomography with high energy x-rays. Phys Med Biol 44:741

12.

Shen XY, Wang H (1999) Acupuncture and Moxibustion. People's Medical Publishing House, Beijing, p 311 and 372

13.

Zheng LY, Xu ZX, Zhen XC et al (2003) Objective detection and labeling of the common acupuncture points in rabbits Shanghai. J Acupunct Moxibustion 22(5):26–29

14.

Chen RC, Xie HL, Luigi R et al (2010) Phase contrast micro-computed tomography of biological sample at SSRF. Tsinghua Sci Technol 15(1):102–107

15.

Kak AC, Slaney M (1988) Principles of computerized tomographic imaging. IEEE, New York

16.

Xie HL, Deng B, Du GH et al (2010) Advanced imaging technology and application of Shanghai synchrotron radiation source. Mod Phys 3:42–50

17.

Shanghai Synchrotron Radiation Facility (2011) SSRF homepage. http://ssrf.sinap.ac.cn/english/. Accessed 27 Feb 2011

18.

Gao CJ, Chen EY, Cai GJ (2005) X-anatomy study and computer image analysis of distribution of microvessel density in pulmonary carcinoma. Anat Clin 10(2):98–100
Acknowledgements
This work was supported by the National Basic Research Program of China (no. 2006CB504509) and the Project of the State Key Program of the National Science Foundation of China (Grant no. 10635060). We also would like to thank the staff of SSRF BL13W for technical support and their help in treatment of IL-XPCT images.
Additional information
Published in the special issue Imaging Techniques with Synchrotron Radiation with Guest Editor Cyril Petibois.
About this article
Cite this article
Zhang, D., Yan, X., Zhang, X. et al. Synchrotron radiation phase-contrast X-ray CT imaging of acupuncture points. Anal Bioanal Chem 401, 803–808 (2011). https://doi.org/10.1007/s00216-011-4913-7
Received:

Accepted:

Published:

Issue Date:
Keywords
Acupuncture point

Synchrotron radiation

X-ray

Phase contrast

Microvessel