Abstract
Recent developments, improvements, and trends in the ultra-trace determination of per- and polyfluoroalkyl substances (PFASs) in environmental and human samples are highlighted and the remaining challenges and uncertainties are outlined and discussed. Understanding the analytical implications of such things as adsorption of PFASs to surfaces, effects of differing matrices, varying PFAS isomer response factors, potential bias effects of sampling, sample preparation, and analysis is critical to measuring highly fluorinated compounds at trace levels. These intricate analytical issues and the potential consequences of ignoring to deal with them correctly are discussed and documented with examples. Isomer-specific analysis and the development of robust multi-chemical methods are identified as topical trends in method development for an ever-increasing number of PFASs of environmental and human interest. Ultimately, the state-of-the-art of current analytical method accuracy is discussed on the basis of results from interlaboratory comparison studies.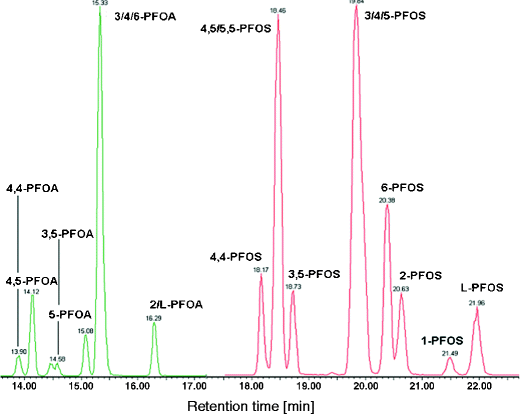 Access options
Buy single article
Instant access to the full article PDF.
USD 39.95
Price excludes VAT (USA)
Tax calculation will be finalised during checkout.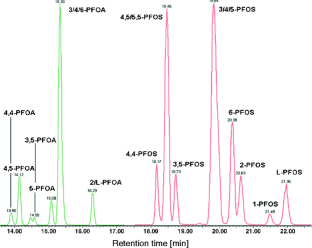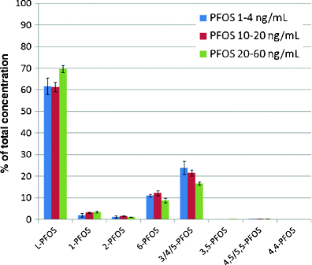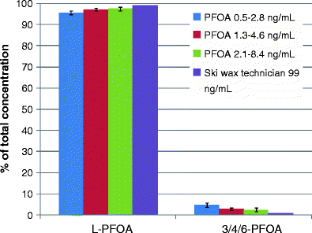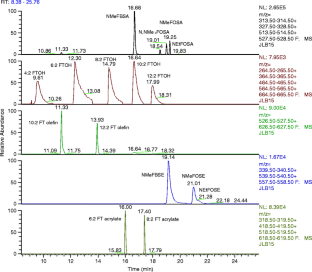 References
Martin JW, Kannan K, Berger U, de Voogt P, Field J, Franklin J, Giesy JP, Harner T, Muir DCG, Scott B, Kaiser M, Jaernberg U, Jones KC, Mabury SA, Schroeder H, Simcik M, Sottani C, Van Bavel B, Karrman A, Lindstroem G, van Leeuwen S (2004) Analytical challenges hamper perfluoroalkyl research. Environ Sci Technol 38:248A–255A

de Voogt P, Saez M (2006) Analytical chemistry of perfluorinated substances. Trends Anal Chem 25:326–342

Villagrasa M, Lopez de Alda M (2006) Environmental analysis of fluorinated alkyl substances by liquid chromatography-(tandem) mass spectrometry: a review. Anal Bioanal Chem 386:953–972

van Leeuwen SPJ, de Boer J (2007) Extraction and clean-up strategies for the analysis of poly- and perfluoroalkyl substances in environmental and human matrices. J Chromatogr A 1153:172–185

Larsen BS, Kaiser MA (2007) Challenges in perfluorooctanoic acid measurements. Anal Chem 79:3966–3973

Jahnke A, Berger U (2009) Trace analysis of per- and polyfluorinated alkyl substances in various matrices—how do current methods perform? J Chromatogr A 1216:410–421

Guidance for perfluorochemicals analysis (2010) Minnesota Pollution Control Agency. http://www.pca.state.mn.us/index.php/view-document.html?gid=13564. Accessed 13 Jan 2011

Giesey JP, Kannan K (2001) Global distribution of perfluorooctane sulfonate in wildlife. Environ Sci Technol 35:1339–1342

Kissa E (2001) Fluorinated surfactants and repellents, 2nd edn. Marcel Dekker, New York, p 80

Rayne S, Forest K (2009) Perfluoroalkyl sulfonic and carboxylic acids: a critical review of physicochemical properties, levels and patterns in waters and wastewaters, and treatment methods. J Environ Sci Health Pt A 44:1145–1199

Lehmler H (2005) Synthesis of environmentally relevant fluorinated surfactants: a review. Chemosphere 58:1471–1496

Rayne S, Forest K, Friesen KJ (2008) Congener-specific numbering systems for the environmentally relevant C4 through C8 perfluorinated homologue groups of alkyl sulfonates, carboxylates, telomer alcohols, olefins, and their derivatives. J Environ Sci Health Pt A 43:1391–1401

van Leeuwen SPJ, Swart CP, van der Veen I, de Boer J (2009) Significant improvements in the analysis of perfluorinated compounds in water and fish: results from an interlaboratory method evaluation study. J Chromatogr A 1216:401–409

Lindström G, Kärrman A, van Bavel B (2009) Accuracy and precision in the determination of perfluorinated chemicals in human blood verified by interlaboratory comparisons. J Chromatogr A 1216:394–400

Riddell N, Arsenault G, Benskin JP, Chittim B, Martin JW, McAlees A, McCrindle R (2009) Branched perfluorooctane sulfonate isomer quantification and characterization in blood serum samples by HPLC/ESI-MS(/MS). Environ Sci Technol 43:7902–7908

Vyas SM, Kania-Korwel I, Lehmler HJ (2007) Differences in the isomer composition of perfluoroctanesulfonyl (PFOS) derivatives. J Environ Sci Health Pt A 42:249–255

Benskin JP, Holt A, Martin JW (2009) Isomer-specific biotransformation rates of a perfluorooctane sulfonate (PFOS)-precursor by cytochrome P450 isozymes and human liver microsomes. Environ Sci Technol 43:8566–8572

Kärrman A, Langlois I, van Bavel B, Lindström G, Oehme M (2006) Identification and pattern of perfluorooctane sulfonate (PFOS) isomers in human serum and plasma. Environ Int 33:782–788

De Silva AO, Mabury SA (2006) Isomer distribution of perfluorocarboxylates in human blood: potential correlation to source. Environ Sci Technol 40:2903–2909

Benskin JP, Bataineh M, Martin JW (2007) Simultaneous characterization of perfluoroalkyl carboxylate, sulfonate, and sulfonamide isomers by liquid chromatography-tandem mass spectrometry. Anal Chem 79:6455–6464

Powley CR, George SW, Ryan TW, Buck RC (2005) Matrix effect-free analytical methods for determination of perfluorinated carboxylic acids in environmental matrices. Anal Chem 77:6353–6358

Martin JW, Muir DCG, Moody CA, Ellis DA, Kwan WC, Solomon KR, Mabury SA (2002) Collection of airborne fluorinated organics and analysis by gas chromatography/chemical ionization mass spectrometry. Anal Chem 74:584–590

Barber JL, Berger U, Chaemfa C, Huber S, Jahnke A, Temme C, Jones KC (2007) Analysis of per- and polyfluorinated alkyl substances in air samples from Northwest Europe. J Environ Monit 9:530–541

Jahnke A, Ahrens L, Ebinghaus R, Berger U, Barber JL, Temme C (2007) An improved method for the analysis of volatile polyfluorinated alkyl substances in environmental air samples. Anal Bioanal Chem 387:965–975

Dreyer A, Temme C, Sturm R, Ebinghaus R (2008) Optimized method avoiding solvent-induced response enhancement in the analysis of volatile and semi-volatile polyfluorinated alkylated compounds using gas chromatography-mass spectrometry. J Chromatogr A 1178:199–205

Oono S, Harada KH, Mahmoud MAM, Inoue K, Koizumi A (2008) Current levels of airborne polyfluorinated telomers in Japan. Chemosphere 73:932–937

Shoeib M, Harner T, Lee SC, Lane D, Zhu JP (2008) Sorbent impregnated polyurethane foam disk for passive air sampling of volatile fluorinated chemicals. Anal Chem 80:675–682

Sasaki K, Harada K, Saito N, Tsutsui T, Nakanishi S, Tsuzuki H, Koizumi A (2003) Impact of airborne perfluorooctane sulfonate on the human body burden and the ecological system. Bull Environ Contam Toxicol 71:408–413

Kim SK, Kannan K (2008) Perfluorinated acids in air, rain, snow, surface runoff, and lakes: relative importance of pathways to contamination of urban lakes. Environ Sci Technol 41:8328–8334

Arp HPH, Goss KU (2008) Irreversible sorption of trace concentrations of perfluorocarboxylic acids to fiber filters used for air sampling. Atmos Environ 42:6869–6872

Shoeib M, Harner T, Wilford BH, Jones KC, Zhu J (2005) Perfluorinated sulfonamides in indoor and outdoor air and indoor dust: occurrence, partitioning, and human exposure. Environ Sci Technol 39:6599–6606

Dreyer A, Shoeib M, Fiedler S, Barber JL, Harner T, Schramm KW, Jones KC, Ebinghaus R (2010) Field intercomparison on the determination of volatile and semi-volatile polyfluorinated compounds in air. Environ Chem 7:350–358

Reagan WK, Lindstrom KR, Thompson KL, Flaherty JM (2004) Analytical techniques and method validation for the measurement of selected semivolatile and nonvolatile organofluorochemicals in air. J Occup Environ Hyg 1:559–569

Miller J, Flaherty J, Wille R, Buck W, Morandi F, Isemura T (2007) Analysis of perfluorocarboxylic acids in air. J Occup Environ Hyg 4:174–183

Boulanger B, Peck AM, Schnoor JL, Hornbuckle KC (2005) Mass budget of perfluorooctane surfactants in Lake Ontario. Environ Sci Technol 39:74–79

Dreyer A, Ebinghaus R (2009) Polyfluorinated compounds in ambient air from ship-and land-based measurements in northern Germany. Atmos Environ 43:1527–1535

Shoeib M, Harner T, Vlahos P (2005) Perfluorinated chemicals in the Arctic atmosphere. Environ Sci Technol 39:74–79

Keller JM, Calafat AM, Kato K, Ellefson ME, Reagan WK, Strynar M, O'Connell S, Butt CM, Mabury SA, Small J, Muir DCG, Leigh SD, Schantz MM (2010) Determination of perfluorinated alkyl acid concentrations in human serum and milk standard reference materials. Anal Bioanal Chem 397:439–451

van Leeuwen SPJ, Kärrman A, van Bavel B, de Boer J, Lindström G (2006) Struggle for quality in determination of perfluorinated contaminants in environmental and human samples. Environ Sci Technol 40:7854–7860

Longnecker MP, Smith CS, Kissling GE, Hoppin JA, Butenhoff JL, Decker E, Ehresman DJ, Ellefson ME, Flaherty J, Gardner MS, Langlois E, LeBlanc A, Lindstrom AB, Reagen WK, Strynar MJ, Studabaker WB (2008) An interlaboratory study of perfluorinated alkyl compound levels in human plasma. Environ Res 107:152–159

Martin JW, Asher BJ, Beesoon S, Benskin JP, Ross MS (2010) PFOS or PreFOS? Are perfluorooctane sulfonate precursors (PreFOS) important determinants of human and environmental perfluorooctane sulfonate (PFOS) exposure? J Environ Monit 12:1979–2004
Acknowledgments
Million Woudneh and Richard Grace (AXYS Analytical Services Ltd), Barbara S. Larsen (DuPont), and Michael D. Aucoin and Kelly A. Rinehimer (URS Corporation) are acknowledged for their work in the polypropylene container adsorption studies. Catherine Moller, MTM Örebro University, is acknowledged for laboratory work. Jacob de Boer is acknowledged for useful comments on a draft chapter. All participants and organisations that contributed (financially) to the ILS studies are gratefully acknowledged.
About this article
Cite this article
Berger, U., Kaiser, M.A., Kärrman, A. et al. Recent developments in trace analysis of poly- and perfluoroalkyl substances. Anal Bioanal Chem 400, 1625–1635 (2011). https://doi.org/10.1007/s00216-011-4823-8
Received:

Revised:

Accepted:

Published:

Issue Date:

DOI: https://doi.org/10.1007/s00216-011-4823-8
Keywords
Perfluoro

Highly fluorinated

PFASs

Analysis

Environmental

Human