Abstract
In the present study, toremifene urinary excretion studies were evaluated in order to examine main metabolic reactions and to select target metabolites in doping control analysis. Urine samples from three female subjects were collected every 3 h for at least 15 days after the oral administration of a single dose of Fareston® (60 mg). The elemental compositions of the compounds detected were determined by liquid chromatography-mass spectrometry using a time-of-flight system with accurate mass measurement. More detailed structure elucidation was obtained by monitoring the presence or absence of structure-specific ions, using product ion scan and neutral loss acquisition modes, whereas the metabolites urinary profiles were evaluated in selected reaction monitoring acquisition mode. The results showed that the main routes of phase-I modifications involved carboxylation of the chlorinated side chain, N-demethylation and hydroxylation in different positions. Fifteen metabolites were found in all subjects studied, most of them were detected for more than 10 days in the free, glucuronide and sulphate fractions, with a maximum of excretion generally after 9–22 and 34–47 h from drug administration. These metabolites can be divided in two groups: metabolites with the characteristic chlorine isotope pattern and metabolites without the characteristic chlorine isotope pattern. The most abundant and long-term compounds were the carboxylated metabolites followed by the hydroxylated metabolites. Their product ions originating after collision-induced dissociation were observed to occur prevalently in the dimethylaminoethoxy and in the chlorinated side chains. These structure-specific ions were used to design screening and confirmation procedures to positively identify toremifene administration in doping control analysis.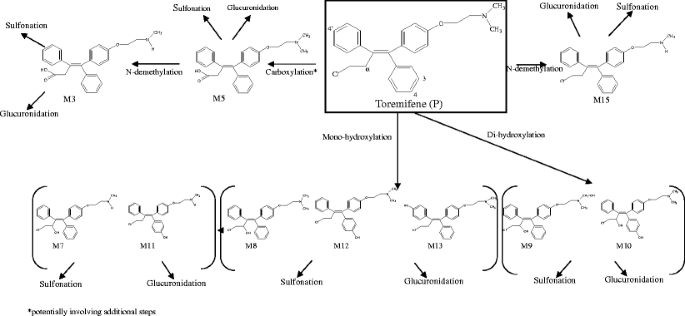 This is a preview of subscription content,
to check access.
Access this article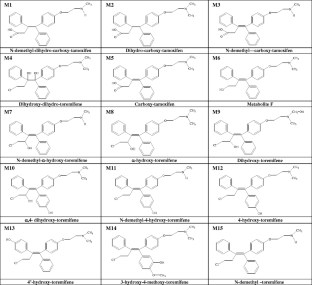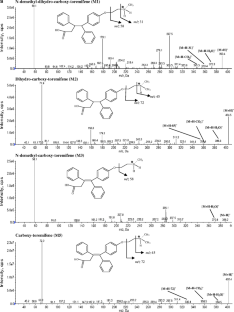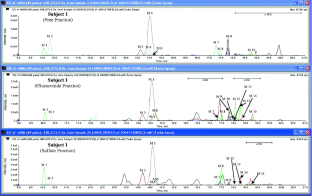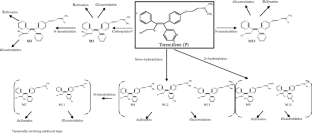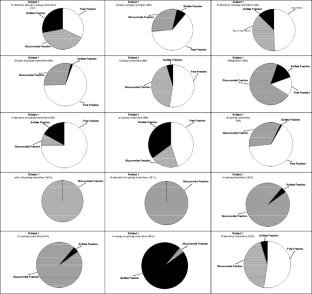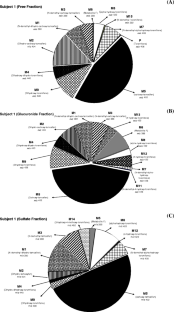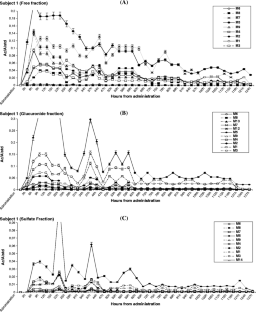 References
Dombernowsky P (1993) Breast Cancer Res Treat 25:57–63

Goldstein SR, Siddhanti S, Ciaccia AV, Plouffe L (2000) Hum Reprod Update 6(3):212–224

Kangas L (1990) J Steroid Biochem 36:191–195

Lien EA, Lønning PE (2000) Cancer Treat Rev 26:205–227

Morello KC, Wurz GT, DeGregorio MW (2002) Crit Rev Oncol Hematol 43:63–76

Sotaniemi EA, Anttila MI (1997) Cancer Chemother Pharmacol 40:185–188

Tomas E, Kauppila A, Blanco G, Apaja-Sarkkinen M, Laatikainen T (1995) Gynecol Oncol 59:261–266

Valavaara R, Pyrhonen S, Heikkinen M, Rissanen P, Blanco G, Tholix E, Nordman E, Taskinen D, Holsti L, Hajba A (1988) Eur J Cancer 24:785–790

Weibe VJ, Benz C, Shemano I, Cadman TB, DeGregorio MW (1990) Cancer Chemother Pharmacol 25:247–251

Johnson MD, Zuo H, Lee K-H, Trebley JP, Rae JM, Weatherman RV, Desta Z, Flockhart DA, Skaar TC (2004) Breast Cancer Res Treat 85(2):151–159

Jordan VG (2007) Steroids 72:829–842

Handelsman DJ (2006) J Clin Endocrinol Metab 91(5):1646–1653, Clinical review

Handelsman DJ (2008) Br J Pharmacol 154:598–605

The World Anti-Doping Code. The 2011 Prohibited List International Standard. World Anti-Doping Agency, Montreal, Canada. Available at: www.wada-ama.org

Russell M, Lim CK (2002) Biomed Chromatogr 16:361–363

Lim EK, Yuan Z-X, Ying K-E, Smith LL (1994) Liq Chromatogr 17:1773–1783

Webster LK, Crinis NA, Stokes KH, Bishop JF (1991) Chromatogr 565:482–487

Watanabe N, Irie T, Koyama M (1989) J Chromatogr 497:169–180

Taras TL, Wurz GT, Linares GR, DeGregorio MW (2000) Clin Pharmacokinet 5:327–334

Sipilä H, Kangas L, Vuorilehto L, Kalapudas A, Eloranta M, Sördevall M, Toivola R, Anttila M (1990) J Steroid Biochem 36:211–215

Jones RM, Lim CK (2002) Biomed Chomatogr 16:361–363

Berthou F, Dréano Y (1993) Chromatogr 616:117–127

Martinsen A, Gynther J (1996) J Chromatogr A 724:358–363

Fan PW, Zhang F, Bolton JL (2000) Chem Res Toxicol 13:45–52

Lohmann W, Karst U (2009) Anal Bioanal Chem 394:1341–1348

Mazzarino M, Fiacco I, de la Torre X, Botrè F (2008) Eur J Mass Spectrom 43:903–907

Mazzarino M, de la Torre X, Di Santo R, Fiacco I, Rosi F, Botrè F (2010) Rapid Commun Mass Spectrom 24:749–760

Mazzarino M, de la Torre X, Botrè F (2008) Anal Bioanal Chem 392:681–698

The WADA Technical Document TD2009MRPL (2009) Minimum required performance level for detection of prohibited substances. World Anti-Doping Agency, Montreal, Canada. Available at: www.wada-ama.org
Acknowledgement
This work has been supported in part by a Research Grant of the Italian Department of Health ("Ministero della Salute, Commissione per la vigilanza sul doping e sulla tutela sanitaria delle attività sportive").
Additional information
Published in the special issue Anti-Doping Analysis with Guest Editor Mario Thevis.
About this article
Cite this article
Mazzarino, M., de la Torre, X. & Botrè, F. Urinary excretion profiles of toremifene metabolites by liquid chromatography-mass spectrometry. Towards targeted analysis to relevant metabolites in doping control. Anal Bioanal Chem 401, 529–541 (2011). https://doi.org/10.1007/s00216-011-4695-y
Received:

Revised:

Accepted:

Published:

Issue Date:

DOI: https://doi.org/10.1007/s00216-011-4695-y
Keywords