Abstract
Cannabis is not only the most widely used illicit drug worldwide but is also regularly consumed along with ethanol. In previous studies, it was assumed that cannabis users develop cross-tolerance to ethanol effects. The present study was designed to compare the effects of ethanol in comparison to and in combination with a cannabis joint and investigate changes in pharmacokinetics. In this study, 19 heavy cannabis users participated and received three alcohol dosing conditions that were calculated to achieve steady blood alcohol concentrations (BAC) of about 0, 0.5 and 0.7 g/l during a 5-h time window. Subjects smoked a Δ9-tetrahydrocannabinol (THC) cigarette (400 μg/kg) 3 h post-onset of alcohol dosing. Blood samples were taken between 0 and 4 h after smoking. During the first hour, samples were collected every 15 min and every 30 min thereafter. Mean steady-state BACs reached 0, 0.36 and 0.5 g/l. The apparent elimination half-life of THC was slightly prolonged (1.59 vs. 1.93 h, p < 0.05) and the concentration 1 h after smoking was slightly lower (24 vs. 17 ng/ml, p < 0.05) with the higher ethanol dose. The prolonged THC elimination might be explained by a small ethanol-mediated change in distribution to and from deep compartments. Concentrations and pharmacokinetics of 11-hydroxy-THC and 11-nor-9-carboxy-THC (THCA) were not significantly influenced by ethanol. However, THCA concentrations appeared lower in both ethanol conditions, which might also be attributable to changes in distribution. Though not significant in the present study, this might be relevant in the interpretation of cannabinoid concentrations in blood.
Access options
Buy single article
Instant access to the full article PDF.
USD 39.95
Price excludes VAT (USA)
Tax calculation will be finalised during checkout.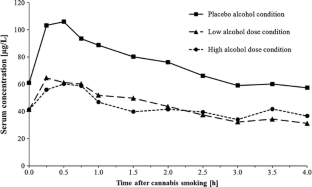 References
EMCDDA Annual Report 2009: the state of the drugs problem in Europe (2009) European Monitoring Centre for Drugs and Drug Addiction, Lisbon, Portugal. http://www.emcdda.europa.eu/situation/cannabis/3, accessed 24 Sep 2010

Office of Applied Studies, SAMHSA, RTI International (2009) Concurrent illicit drug and alcohol use. The NSDUH Report March 19, 2009

Koehm M, Kauert GF, Toennes SW (2010) Influence of ethanol on the pharmacokinetics of methylphenidate's metabolites ritalinic acid and ethylphenidate. Arzneimittelforschung 60:238–244

Perez-Reyes M (1994) The order of drug administration: its effects on the interaction between cocaine and ethanol. Life Sci 55:541–550

Bourland JA, Martin DK, Mayersohn M (1997) Carboxylesterase-mediated transesterification of meperidine (demerol) and methylphenidate (ritalin) in the presence of [2H6]ethanol: preliminary in vitro findings using a rat liver preparation. J Pharm Sci 86:1494–1496

Dean RA, Christian CD, Sample RH, Bosron WF (1991) Human liver cocaine esterases: ethanol-mediated formation of ethylcocaine. FASEB J 5:2735–2739

Linnoila M, Mattila MJ, Kitchell BS (1979) Drug interactions with alcohol. Drugs 18:299–311

Lane EA, Guthrie S, Linnoila M (1985) Effects of ethanol on drug and metabolite pharmacokinetics. Clin Pharmacokinet 10:228–247

Perez-Reyes M, Hicks RE, Bumberry J, Jeffcoat AR, Cook CE (1988) Interaction between marihuana and ethanol: effects on psychomotor performance. Alcohol Clin Exp Res 12:268–276

Lukas SE, Orozco S (2001) Ethanol increases plasma delta(9)-tetrahydrocannabinol (THC) levels and subjective effects after marihuana smoking in human volunteers. Drug Alcohol Depend 64:143–149

Lukas SE, Benedikt R, Mendelson JH, Kouri E, Sholar M, Amass L (1992) Marihuana attenuates the rise in plasma ethanol levels in human subjects. Neuropsychopharmacology 7:77–81

Benowitz NL, Jones RT (1977) Effects of delta-9-tetrahydrocannabinol on drug distribution and metabolism. Antipyrine, pentobarbital, and ethanol. Clin Pharmacol Ther 22:259–268

Ramaekers JG, Theunissen EL, Brouwer M de, Toennes SW, Moeller MR, Kauert G (2010) Tolerance and cross-tolerance to neurocognitive effects of THC and alcohol in heavy cannabis users. Psychopharmacology (Berl) (in press)

Ramaekers JG, Kauert G, van Ruitenbeek P, Theunissen EL, Schneider E, Moeller MR (2006) High-potency marijuana impairs executive function and inhibitory motor control. Neuropsychopharmacology 31:2296–2303

Toennes SW, Ramaekers JG, Theunissen EL, Moeller MR, Kauert GF (2008) Comparison of cannabinoid pharmacokinetic properties in occasional and heavy users smoking a marijuana or placebo joint. J Anal Toxicol 32:470–477

Kauert GF, Ramaekers JG, Schneider E, Moeller MR, Toennes SW (2007) Pharmacokinetic properties of delta9-tetrahydrocannabinol in serum and oral fluid. J Anal Toxicol 31:288–293

Grotenhermen F (2003) Pharmacokinetics and pharmacodynamics of cannabinoids. Clin Pharmacokinet 42:327–360

Mendelson J, Jones RT, Upton R, Jacob P (1995) Methamphetamine and ethanol interactions in humans. Clin Pharmacol Ther 57:559–568

Karschner EL, Schwilke EW, Lowe RH, Darwin WD, Herning RI, Cadet JL, Huestis MA (2009) Implications of plasma delta9-tetrahydrocannabinol, 11-hydroxy-THC, and 11-nor-9-carboxy-THC concentrations in chronic cannabis smokers. J Anal Toxicol 33:469–477

Glaz-Sandberg A, Dietz L, Nguyen H, Oberwittler H, Aderjan R, Mikus G (2007) Pharmacokinetics of 11-nor-9-carboxy-delta(9)-tetrahydrocannabinol (CTHC) after intravenous administration of CTHC in healthy human subjects. Clin Pharmacol Ther 82:63–69

Musshoff F, Madea B (2006) Review of biologic matrices (urine, blood, hair) as indicators of recent or ongoing cannabis use. Ther Drug Monit 28:155–163
Acknowledgements
This study was supported by a grant from the German Society "Bund gegen Alkohol und Drogen im Straßenverkehr e.V.".
Additional information
Published in the special issue Forensic Toxicology with Guest Editors Frank T. Peters, Hans H. Maurer, and Frank Musshoff.
About this article
Cite this article
Toennes, S.W., Schneider, K., Kauert, G.F. et al. Influence of ethanol on cannabinoid pharmacokinetic parameters in chronic users. Anal Bioanal Chem 400, 145–152 (2011). https://doi.org/10.1007/s00216-010-4449-2
Received:

Revised:

Accepted:

Published:

Issue Date:

DOI: https://doi.org/10.1007/s00216-010-4449-2
Keywords