Abstract
Of 13 thermal printing papers analyzed, 11 contained 8–17 g/kg bisphenol A (BPA). When taking hold of a receipt consisting of thermal printing paper for 5 s, roughly 1 μg BPA (0.2–6 μg) was transferred to the forefinger and the middle finger if the skin was rather dry and about ten times more if these fingers were wet or very greasy. This amount transferred to dry skin was neither significantly increased when taking hold of the paper at up to 10 sites, nor reduced when BPA-free paper was contacted afterwards. After 60–90 min, BPA applied to the skin as a solution in ethanol was only partially or no longer at all extractable with ethanol, whereas BPA transferred to the skin by holding thermal printer paper remained largely extractable after 2 h. This suggests that penetration of the skin depends on the conditions. Extractability experiments did not enable us to conclude whether BPA passes through the skin, but indicated that it can enter the skin to such a depth that it can no longer be washed off. If this BPA ends up in the human metabolism, exposure of a person repeatedly touching thermal printer paper for 10 h/day, such as at a cash register, could reach 71 μg/day, which is 42 times less than the present tolerable daily intake (TDI). However, if more than just the finger pads contact the BPA-containing paper or a hand cream enhances permeability of the skin, this margin might be smaller.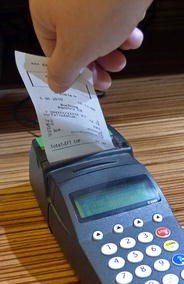 Access options
Buy single article
Instant access to the full article PDF.
US$ 39.95
Tax calculation will be finalised during checkout.
Subscribe to journal
Immediate online access to all issues from 2019. Subscription will auto renew annually.
US$ 119
Tax calculation will be finalised during checkout.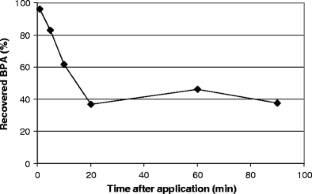 References
1.

European Food Safety Authority (EFSA) (2006) Opinion of the Scientific Panel on Food Additives, Flavourings, Processing Aids and Materials in Contact with Food on a request from the Commission related to 2,2-bis(4-hydroxphenyl)propane (bisphenol A) question number EFSA-Q-2005–100, adopted on 29 November 2006. The EFSA Journal 428:1–75

2.

NTP (2008) NTP-CERHR monograph on the potential human reproductive and developmental effects of bisphenol A, September 2008, NIH Publication No. 08 – 5994

3.

Myers JP et al (2009) Environ Health Perspect 117:309–314

4.

EFSA (2006) Opinion of the Scientific Panel on Food Additives, Flavourings, Processing Aids and Materials in Contact with Food on bisphenol A. The EFSA Journal 428:1–75

5.

EFSA (2008) Opinion on the toxicokinetics of bisphenol A. The EFSA Journal 759:1–10

6.

Kietzmann M, Kränke P, Möder M, Schrader S, Wahren M (1999) Isotopes Environ Health Stud 35:127–134

7.

Kaddar N, Harthé C, Déchaud H, Mappus E, Pugeat M (2008) J Toxicol Environ Health 71:471–473

8.

Biedermann-Brem S, Grob K, Fjeldal P (2008) Eur Food Res Technol 227:1053–1060
About this article
Cite this article
Biedermann, S., Tschudin, P. & Grob, K. Transfer of bisphenol A from thermal printer paper to the skin. Anal Bioanal Chem 398, 571–576 (2010). https://doi.org/10.1007/s00216-010-3936-9
Received:

Revised:

Accepted:

Published:

Issue Date:
Keywords
Thermal printer receipt

Skin contact

Exposure to bisphenol A

Skin permeability