Abstract
A new solid phase extraction method for rapid high performance liquid chromatography–UV determination of mitragynine in plasma has been developed. Optimal separation was achieved with an isocratic mobile phase consisting of acetonitrile–ammonium acetate buffer, 50 mM at pH 5.0 (50:50, v/v). The method had limits of detection and quantification of 0.025 and 0.050 μg/mL, respectively. The method was accurate and precise for the quantitative analysis of mitragynine in human and rat plasma with within-day and between-day accuracies between 84.0 and 109.6%, and their precision values were between 1.7 and 16.8%. Additional advantages over known methods are related to the solid phase extraction technique for sample preparation which yields a clean chromatogram, a short total analysis time, requires a smaller amount of plasma samples and has good assay sensitivity for bioanalytical application. The method was successfully applied in pharmacokinetic and stability studies of mitragynine. In the present study, mitragynine was found to be fairly stable during storage and sample preparation. The present study showed for the first time the detailed pharmacokinetic profiles of mitragynine. Following intravenous administration, mitragynine demonstrated a biphasic elimination from plasma. Oral absorption of the drug was slow, prolonged and was incomplete, with a calculated absolute oral bioavailability value of 3.03%. The variations observed in previous pharmacokinetic studies after oral administration of mitragynine could be attributed to its poor bioavailability rather than to the differences in assay method, metabolic saturation or mitragynine dose.
Access options
Buy single article
Instant access to the full article PDF.
US$ 39.95
Tax calculation will be finalised during checkout.
Subscribe to journal
Immediate online access to all issues from 2019. Subscription will auto renew annually.
US$ 119
Tax calculation will be finalised during checkout.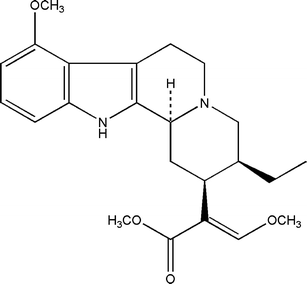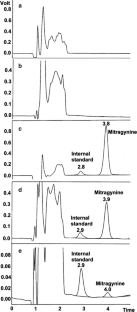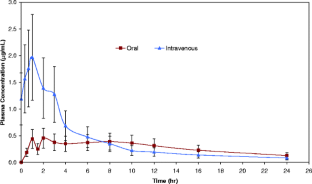 References
1.

Idid SZ, Saad LB (1988) ASEAN review of biodiversity and environmental conservation. Bangi, Malaysia, p 1

2.

Matsumoto K, Mizowaki M, Suchitra T, Takayama H, Sakai S, Aimi N, Watanabe H (1996) Life Sci 59:1149–1155

3.

Babu KM, McCurdy CR, Boyer EW (2008) Clin Toxicol 46:146–152

4.

Boyer EW, Babu KM, Adkins JE, McCurdy CR, Halpern JH (2008) Addiction 103:1048–1050

5.

Shellard EJ (1974) Bull Narc 2:41–55

6.

Houghton PJ, Latiff A, Said IM (1991) Phytochemistry 30:347–350

7.

Macko E, Weisbach JA, Douglas B (1972) Arch Int Pharmacodyn Thér 198:145–161

8.

Perry LM (1980) Medicinal plants of East and Southeast Asia. MIT Press, Cambridge, p 240

9.

Jansen KLR, Prast CJ (1988) J Ethnopharmacol 23:115–119

10.

Tohda M, Thongpraditchote S, Matsumoto K, Murakami Y, Sakai S, Aimi N, Takayama H, Tongroach P, Watanabe H (1997) Biol Pharm Bull 20:334–338

11.

Tsuchiya S, Miyashita S, Yamamoto M, Horie S, Sakai S, Aimi N, Takayama H, Watanabe K (2002) Eur J Pharmacol 443:185–188

12.

Watanabe K, Yano S, Syunji H, Yamamoto LH (1997) Life Sci 60:933–942

13.

Matsumoto K, Takayama H, Narita M, Nakamura A, Suzuki M, Suzuki T, Murayama T, Wongseripipatana S, Misawa K, Kitajima M, Tashima K, Horie S (2008) Neuropharmacology 55:154–165

14.

Parthasarathy S, Azizi J, Ramanathan S, Ismail S, Sasidharan S, Said MIM, Mansor SM (2009) Molecules 14:3964–3974

15.

Azizi J, Ismail S, Mordi MN, Ramanathan S, Said MIM, Mansor SM (2009) Molecules 15:432–441

16.

Janchawee B, Keawpradub N, Chittrakarn S, Prasettho S, Wararatananurak P, Sawangjareon K (2007) Biomed Chromatogr 21:176–183

17.

de Moraes NV, Moretti RAC, Lanchote VL, McCurdy CR, Lanchote VL (2009) J Chromatogr B 877:2593–2597

18.

Philipp AA, Wissenbach DK, Zoerntlein SW, Klein ON, Kanogsunthornrat J, Maurer HH (2009) J Mass Spectrom 44(8):1249–1261

19.

Wilfor SM, Smeds AI, Holmbom BR (2005) J Chromatogr A 1112:64–77

20.

Slanina J, Glatz Z (2004) J Chromatogr B 812:215–229

21.

Dufresne C, Favetta P, Paradis C, Boulieu R (2001) Clin Chem 47:600–602

22.

Gibaldi M, Perrier D (1982) Pharmacokinetics, 2nd edn. Dekker, New York
Acknowledgements
The authors would like to express their thanks to Asokan Muniandy, Zulkeflee Ismail and Salam Abdullah for their technical support. This project was funded by the Ministry of Science, Technology and Innovation (MOSTI) and a Universiti Sains Malaysia Research University grant. S.P. was supported by the Universiti Sains Malaysia fellowship scheme from the Institute for Postgraduate Studies, Universiti Sains Malaysia.
About this article
Cite this article
Parthasarathy, S., Ramanathan, S., Ismail, S. et al. Determination of mitragynine in plasma with solid-phase extraction and rapid HPLC–UV analysis, and its application to a pharmacokinetic study in rat. Anal Bioanal Chem 397, 2023–2030 (2010). https://doi.org/10.1007/s00216-010-3707-7
Received:

Revised:

Accepted:

Published:

Issue Date:
Keywords
Mitragynine

High performance liquid chromatography–UV detection

Solid phase extraction

Stability

Pharmacokinetic