Identification and differentiation of dragon's blood in works of art using gas chromatography/mass spectrometry
Abstract
Dragon's blood is a common but non-specific name for red-coloured resins that are produced by various plants, particularly exudations from plant species belonging to the genera Dracaena and Daemonorops. Although dragon's blood is mentioned in historic sources as a colourant, it has hardly ever been identified in real artworks. This paper reports the identification and discrimination of dragon's blood produced by Dracaena cinnabari, Dracaena draco as well as Daemonorops draco and Daemonorops micracantha by means of gas chromatography/mass spectrometry (GC/MS) within the context of a routine analysis of binding media used in works of art. The detection of specific flavonoid marker compounds in both underivatised and methylated methanol extracts provided the first evidence for the use of dragon's blood from all four species in various works of art from the fifteenth to nineteenth centuries. Dragon's blood was mainly used as a red colourant in gold lacquers as well as translucent glazes and paints, e.g. in reverse-glass paintings (Hinterglasmalerei).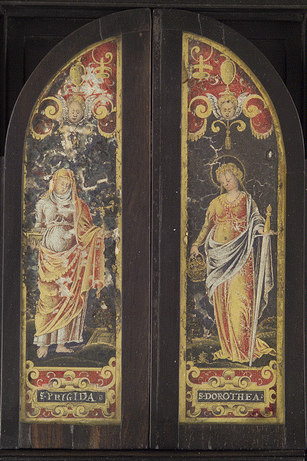 Keywords
Dragon's blood 
Dracaena
Daemonorops
Flavonoids 
Reverse-glass paintings 
Binding medium analysis 
Notes
Acknowledgements
We are especially thankful to Katja Lewerentz (1969–2009), who provided the first impetus to investigate dragon's blood with adequate botanical references in 2000, during her diploma thesis. Sadly, she is not able to experience the completion of this research in a bigger context and in connection with samples of works of art.
We are deeply grateful that several collections granted generous access to their precious botanical material; first of all, our thanks go to Dr Marc Nesbitt and Dr Monique Simmonds from the Royal Botanic Gardens Kew (UK). Also, we would like to thank Dr Vogl from the Botanische Sammlung Berlin–Dahlem (Germany), Dr Esser from the Botanical Garden Munich (Germany) and Dr Thomas Psota, Historisches Museum Bern (Switzerland).