Abstract
The National Institute of Standards and Technology (NIST) has a diverse collection of control materials derived from marine mammal blubber, fat, and serum. Standard Reference Material (SRM) 1945 Organics in Whale Blubber was recertified for polychlorinated biphenyl (PCB) congeners, organochlorine pesticides, and polybrominated diphenyl ether (PBDE) congeners. SRM 1945 has also been assigned mass fraction values for compounds not frequently determined in marine samples including toxaphene congeners, coplanar PCBs, and methoxylated PBDE congeners which are natural products. NIST also has assigned mass fraction values, as a result of interlaboratory comparison exercises, for PCB congeners, organochlorine pesticides, PBDE congeners, and fatty acids in six homogenate materials produced from marine mammal blubber or serum. The materials are available from NIST upon request; however, the supply is very limited for some of the materials. The materials include those obtained from pilot whale blubber (Homogenates III and IV), Blainville's beaked whale blubber (Homogenate VII), polar bear fat (Homogenate VI), and California sea lion serum (Marine Mammal Control Material-1 Serum) and blubber (Homogenate V).
Access options
Buy single article
Instant access to the full article PDF.
USD 39.95
Price excludes VAT (USA)
Tax calculation will be finalised during checkout.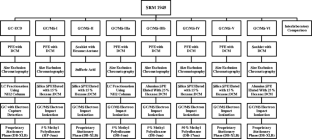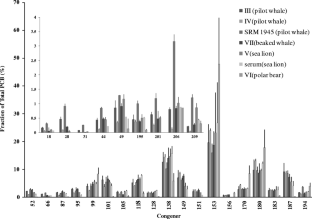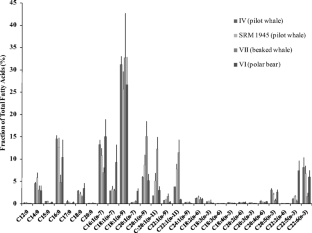 References
Hall AJ, McConnell BJ, Rowles TK, Aguilar A, Borrell A, Schwacke L, Reijnders PJ, Wells RS (2006) Environ Health Perspect 114(Suppl 1):60–64

Schwacke LH, Voit EO, Hansen LJ, Wells RS, Mitchum GB, Hohn AA, Fair PA (2002) Environ Toxicol Chem 21:2752–2764

Tanabe S, Tatsukawa R, Tanaka H, Maruyama K, Miyazaki N, Fujiyama T (1981) Agric Biol Chem 45:2569–2578

Budge SM, Iverson SJ, Koopman HN (2006) Marine Mammal Sci 22:759–801

Koopman HN, Zahorodny ZP (2008) Proc Biol Sci 275:2327–2334

Hansen LJ, Schwacke LH, Mitchum GB, Hohn AA, Wells RS, Zolman ES, Fair PA (2004) Sci Total Environ 319:147–172

Wells RS, Rhinehart HL, Hansen LJ, Sweeney JC, Townsend FI, Stone R, Casper DR, Scott MD, Hohn AA, Rowles TK (2004) Ecohealth 1:246–254

Struntz DJ, Kucklick JR, Schantz MM, Becker PR, McFee WE, tolen MK (2004) Marine Pollut Bull 48:164–173

Kucklick JR, Tuerk KJS, Vander Pol SS, Schantz MM, Wise SA (2004) Anal and Bioanal Chem 378:1147–1151

Schantz MM, Koster BJ, Oakley LM, Schiller SB, Wise SA (1995) Anal Chem 34:901–910

Zeisler R, Langland JK, Harrison SH (1983) Anal Chem 55:2434–2461

Kucklick JR,Pugh RS, Becker PR, Schantz MM, Poster DL, Wise SA, Rowles TK (2007) NIST Internal Report, NISTIR-, National Institute of Standards and Technology, pp 132

Becker PR, Wise SA (2006) J Environ Monitor 8:795–799

Poster DL, Schantz MM, Kucklick JR, de Alda MJ Lopez, Porter BJ, Pugh R, Wise SA (2004) Anal Bioanal Chem 378:1213–1231

Wise SA, Poster DL, Kucklick JR, Keller JM, VanderPol SS, Sander LC, Schantz MM (2006) Anal Bioanal Chem 386:1153–1190

Poster DL, Kucklick JR, Schantz MM, Vander Pol SS, Leigh SD, Wise SA (2007) Environ Sci Technol 41:2861–2867

Tuerk KJ, Kucklick JR, McFee WE, Pugh RS, Becker PR (2005) Environ Toxicol Chem 24:1079–1087

Kucklick JR, Helm PA (2006) Anal Bioanal Chem 386:819–836

Teuten EL, Xu L, Reddy CM (2005) Science 307:917–920

Tuerk KJ, Kucklick JR, Becker PR, Stapleton HM, Baker JE (2005) Environ Sci Technol 39:692–698

Wells RS, Tornero V, Borrell A, Aguilar A, Rowles TK, Rhinehart HL, Hofmann S, Jarman WM, Hohn AA, Sweeney JC (2005) Sci Total Environ 349:106–119

Sjödin A, Jones RS, Focant JF, Lapeza C, Wang RY, McGahee EE, Zhang YL, Turner WE, Slazyk B, Needham LL, Paterson DG (2004) Environ Health Perspect 112:654–658

Letcher RJ, Norstrom RJ, Bergman Å (1995) Sci Total Environ 160/161:409–420

Kucklick JR, Struntz WDJ, Becker PR, York GW, O'Hara TM, Bohonowych JE (2002) Sci Total Environ 287:45–59

Weston DP, Jarman WM, Cabana G, Bacon CE, Jacobson LA (2002) Environ Toxicol Chem 21:2216–2224

Cooper MH, Iverson SJ, Heras H (2005) J Comp Physiol B 175:133–145

McLaughlin J, Middaugh J, Boudreau D, Malcom G, Parry S, Tracy R, Newman W (2005) Atherosclerosis 181:353–362
Acknowledgements
The laboratory assistance of Jennifer Yordy, Aurore Guichard, Michael Ellisor is acknowledged. We thank those laboratories participating in the NIST Interlaboratory Comparison Program for Organic Constituents in Marine Mammals and the National Oceanic and Atmospheric Administration, National Marine Fisheries Service for financial support. We also thank the Marine Mammal Center in Sausalito, California for assistance in the collection of marine mammal serum.
Disclaimer
Certain commercial equipment and materials are identified in this paper to specify adequately the experimental procedure. Such identification does not imply recommendation or endorsement by NIST, nor does it imply that the materials or equipment identified are necessarily the best available for the purpose. The marine mammal reference materials with the exception of SRM 1945 are available upon request provided the requester secures the appropriate permits allowing import of the materials (if non US) and pays for shipping. SRM 1945 is available from NIST via its SRM sales group, see http://ts.nist.gov/measurementservices/referencematerials/index.cfm.
Electronic supplementary material
Below is the link to the electronic supplementary material.
About this article
Cite this article
Kucklick, J.R., Schantz, M.M., Pugh, R.S. et al. Marine mammal blubber reference and control materials for use in the determination of halogenated organic compounds and fatty acids. Anal Bioanal Chem 397, 423–432 (2010). https://doi.org/10.1007/s00216-010-3596-9
Received:

Revised:

Accepted:

Published:

Issue Date:

DOI: https://doi.org/10.1007/s00216-010-3596-9
Keywords
Persistent organic pollutants

Reference materials

Marine mammal

Fatty acids