Abstract
In the present work, it is proposed, for the first time, an on-line automatic renewable molecularly imprinted solid-phase extraction (MISPE) protocol for sample preparation prior to liquid chromatographic analysis. The automatic microscale procedure was based on the bead injection (BI) concept under the lab-on-valve (LOV) format, using a multisyringe burette as propulsion unit for handling solutions and suspensions. A high precision on handling the suspensions containing irregularly shaped molecularly imprinted polymer (MIP) particles was attained, enabling the use of commercial MIP as renewable sorbent. The features of the proposed BI-LOV manifold also allowed a strict control of the different steps within the extraction protocol, which are essential for promoting selective interactions in the cavities of the MIP. By using this on-line method, it was possible to extract and quantify riboflavin from different foodstuff samples in the range between 0.450 and 5.00 mg L−1 after processing 1,000 µL of sample (infant milk, pig liver extract, and energy drink) without any prior treatment. For milk samples, LOD and LOQ values were 0.05 and 0.17 mg L−1, respectively. The method was successfully applied to the analysis of two certified reference materials (NIST 1846 and BCR 487) with high precision (RSD < 5.5%). Considering the downscale and simplification of the sample preparation protocol and the simultaneous performance of extraction and chromatographic assays, a cost-effective and enhanced throughput (six determinations per hour) methodology for determination of riboflavin in foodstuff samples is deployed here.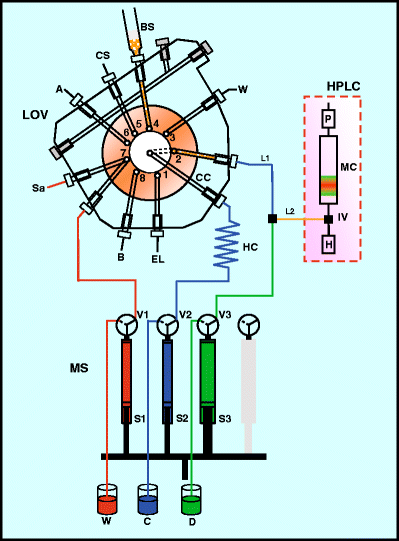 This is a preview of subscription content, log in to check access.
Access options
Buy single article
Instant access to the full article PDF.
US$ 39.95
Price includes VAT for USA
Subscribe to journal
Immediate online access to all issues from 2019. Subscription will auto renew annually.
US$ 157
This is the net price. Taxes to be calculated in checkout.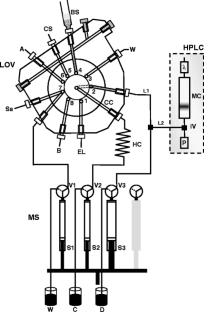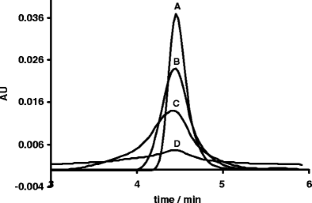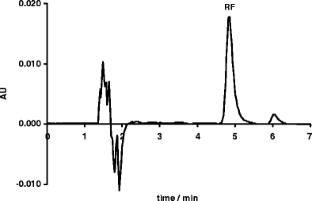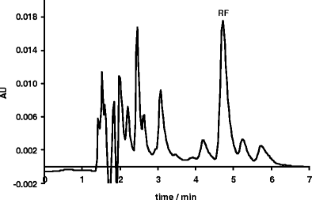 References
1.

Chen Y, Guo ZP, Wang XY, Qiu CG (2008) J Chromatogr A 1184:191–219

2.

Hyötyläinen T (2009) Anal Bioanal Chem 394:743–758

3.

Pichon V (2007) J Chromatogr A 1152:41–53

4.

He CY, Long YY, Pan JL, Li K, Liu F (2007) J Biochem Biophys Methods 70:133–150

5.

Mahony JO, Nolan K, Smyth MR, Mizaikoff B (2005) Anal Chim Acta 534:31–39

6.

Sellergren B (1994) Anal Chem 66:1578–1582

7.

Theodoridis G, Manesiotis P (2002) J Chromatogr A 948:163–169

8.

Pichon V, Haupt K (2006) J Liq Chromatogr Relat Technol 29:989–1023

9.

Manesiotis P, Hall AJ, Courtois J, Irgum K, Sellergren B (2005) Angewandte Chem-Intern Ed 44:3902–3906

10.

Hyötyläinen T (2007) J Chromatogr A 1153:14–28

11.

Dias ACB, Figueiredo EC, Grassi V, Zagatto EAG, Arruda MAZ (2008) Talanta 76:988–996

12.

Theodoridis GA, Zacharis CK, Voulgaropoulos AN (2007) J Biochem Biophys Methods 70:243–252

13.

Ruzicka J (2000) Analyst 125:1053–1060

14.

Miró M, Hartwell SK, Jakmunee J, Grudpan K, Hansen EH (2008) Trac-Trends Anal Chem 27:749–761

15.

Quintana JB, Miró M, Estela JM, Cerdà V (2006) Anal Chem 78:2832–2840

16.

Quintana JB, Boonjob W, Miró M, Cerdà V (2009) Anal Chem 81:4822–4830

17.

Sanchez BA, Capote FP, Jimenez JR, de Castro MDL (2008) J Chromatogr A 1207:46–54

18.

Hu L, Yang X, Wang C, Yuan H, Xiao D (2007) J Chromatogr B 856:245–251

19.

Kadara RO, Haggett BGD, Birch BJ (2006) J Agric Food Chem 54:4921–4924

20.

Albalá-Hurtado S, Veciana-Nogués MT, Izquierdo-Pulido M, Mariné-Font A (1997) J Chromatogr A 778:247–253

21.

Tang X, Cronin DA, Brunton NP (2006) J Food Compos Anal 19:831–837

22.

Miró M, Jonczyk S, Wang JH, Hansen EH (2003) J Anal Atomic Spectrom 18:89–98

23.

Segundo MA, Magalhães LM (2006) Anal Sci 22:3–8

24.

Wang JH, Hansen EH, Miró M (2003) Anal Chim Acta 499:139–147

25.

Song S, Peng C (2008) J Dispersion Sci Technol 29:1367–1372

26.

Sellergren B, Manesiotis P, Hall AJ, Boerje S, Panagiotis M (2004) Patent number WO 2004/067578 A1, World Intellectual Property Organization

27.

MIP Technologies AB/SUPELCO (2006) SupelMIP™ SPE—Riboflavin (Vitamin B2), http://www.sigmaaldrich.com/etc/medialib/docs/Supelco/Product_Information_Sheet/t706022.Par.0001.File.tmp/t706022.pdf, accessed on 2009/12/04

28.

Manesiotis P, Borrelli C, Aureliano CSA, Svensson C, Sellergren B (2009) J Mater Chem 19:6185–6193

29.

Kolev S, McKelvie I (Eds.) Advances in Flow Injection Analysis and Related Techniques, Elsevier, Amsterdam, 2008

30.

Boqué R, Van der Heyden Y (2009) LC GC Eur 22:82–85

31.

Gao YL, Guo F, Gokavi S, Chow A, Sheng QH, Guo MR (2008) Food Chem 110:769–776

32.

Zandomeneghi M, Carbonaro L, Zandomeneghi G (2007) J Agric Food Chem 55:5990–5994

33.

Vinas P, Balsalobre N, Lopez-Erroz C, Hernandez-Cordoba M (2004) J Agric Food Chem 52:1789–1794

34.

Zougagh M, Rios A (2008) Electrophoresis 29:3213–3219
Acknowledgments
This work was financially supported by FCT through project PTDC/AAC-AMB/104882/2008, by Spanish Ministry of Education and Science through project CTQ2007-64331, and by Integrated Action no E-48/09. Hugo M. Oliveira thanks Fundação para a Ciência e Tecnologia (FCT) and FSE (III Quadro Comunitário) for the PhD grant SFRH/BD/22494/2005. The authors thank Dr Ferran Hierro from the Microscopy Laboratory at the University of the Balearic Islands for providing the electron microscopy picture of the MIP material and Mr. Marcelo Vaz Osório for technical assistance.
Electronic supplementary materials
Below is the link to the electronic supplementary material.
About this article
Cite this article
Oliveira, H.M., Segundo, M.A., Lima, J.L.F.C. et al. Exploiting automatic on-line renewable molecularly imprinted solid-phase extraction in lab-on-valve format as front end to liquid chromatography: application to the determination of riboflavin in foodstuffs. Anal Bioanal Chem 397, 77–86 (2010). https://doi.org/10.1007/s00216-010-3522-1
Received:

Revised:

Accepted:

Published:

Issue Date:
Keywords
Solid-phase extraction

Molecularly imprinted polymer

Flow analysis

Lab-on-valve

Riboflavin

Foodstuff