Direct chiral determination of free amino acid enantiomers by two-dimensional liquid chromatography: application to control transformations in E-beam irradiated foodstuffs
Abstract
Changes in free amino acids content and its potential racemization in ready-to-eat foods treated with E-beam irradiation between 1 and 8 kGy for sanitation purposes were studied. A simple heart cut two-dimensional high performance liquid chromatographic method (LC–LC) for the simultaneous enantiomeric determination of three pairs of amino acids used as markers (tyrosine, phenylalanine, and tryptophan) is presented. The proposed method involves the use of two chromatographs in an LC–LC achiral–chiral coupling. Amino acids and their decomposition products were firstly separated in a primary column (C18) using a mixture of ammonium acetate buffer (20 mM, pH 6) (94%) and methanol (6%) as the mobile phase. Then, a portion of each peak was transferred by heart cutting through a switching valve to a teicoplanin-chiral column. Methanol (90%)/water (10%) was used as the mobile phase. Ultraviolet detection was at 260 nm. Detection limits were between 0.16 and 3 mg L−1 for each enantiomer. Recoveries were in the range 79–98%. The LC–LC method combined with the proposed sample extraction procedure is suitable for complex samples; it involves an online cleanup, and it prevents degradation of protein, racemization of L-enantiomers, and degradation of tryptophan. Under these conditions, D-amino acids were not found in any of the analyzed samples at detection levels of the proposed method.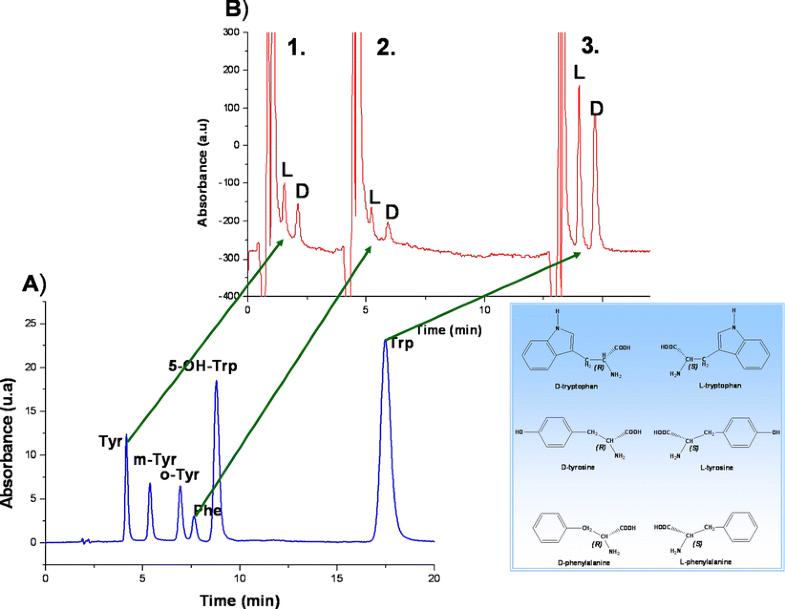 Keywords
Amino acids/peptides 
Chiral analysis 
Foods/beverages 
HPLC 
Multidimensional liquid chromatography 
Column switching 
Abbreviations
aa

Amino acid

CSP

Chiral stationary phase

e.e

Enantiomeric excess

ER1/2

Enantiomeric ratio

HPLC

High performance liquid chromatography

LC

Liquid chromatography

LC–LC

Heart cut two-dimensional high performance liquid chromatography

ODS

Octadecyl silane

SD

Standard deviation

TEAA

Triethylamine acetate
Notes
Acknowledgements
The present work has received financial support from the project TEMINYSA/CM (S-0505/AGR-0314) funded by the Dirección General de Universidades e Investigación, Consejería de Educación, Comunidad de Madrid, and the CTQ2008-05263 proyect founded by the Ministerio de Ciencia e Innovación. Vanesa Guillén Casla also wishes to thank the Comunidad de Madrid for the support through a "Personal Investigador de Apoyo" grant.