Abstract
A new method is presented for elemental and molecular analysis of halogen-containing samples by glow discharge time-of-flight mass spectrometry, consisting of detection of negative ions from a pulsed RF glow discharge in argon. Analyte signals are mainly extracted from the afterglow regime of the discharge, where the cross section for electron attachment increases. The formation of negative ions from sputtering of metals and metal oxides is compared with that for positive ions. It is shown that the negative ion signals of F− and TaO2F− are enhanced relative to positive ion signals and can be used to study the distribution of a tantalum fluoride layer within the anodized tantala layer. Further, comparison is made with data obtained using glow-discharge optical emission spectroscopy, where elemental fluorine can only be detected using a neon plasma. The ionization mechanisms responsible for the formation of negative ions in glow discharge time-of-flight mass spectrometry are briefly discussed.
Access options
Buy single article
Instant access to the full article PDF.
USD 39.95
Price excludes VAT (USA)
Tax calculation will be finalised during checkout.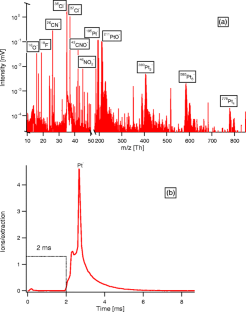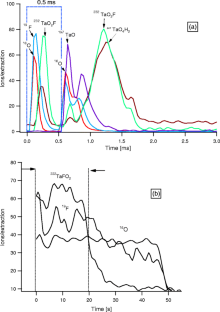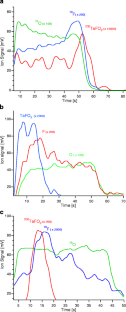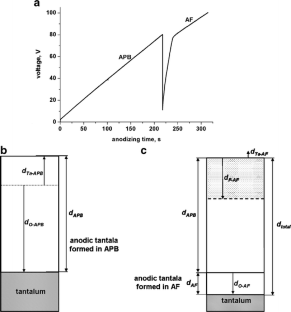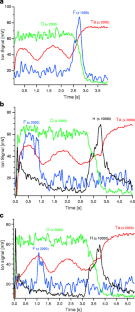 References
Nickel H, Broekaert JAC (1999) Fresenius' J Anal Chem 363:145–155

Pisonereo J, Fernández B, Günther D (2009) J Anal At Spectrom 24:1145–1160

Fulford JE, Quan ESK (1988) Appl Spectrosc 42:425–428

Oechsner H (1995) Int J Mass Spectrom Ion Process 143:271–282

Hoffmann V, Kasik M, Robinson PK, Venzago C (2005) Anal Bioanal Chem 381:173–188

Hohl M, Kanzari A, Michler J, Nelis T et al (2006) Surf Interface Anal 38:292–295

Weiss Z, Marshall K (1997) Thin Solid Films 308–309:382–388

Pisonero J (2006) Anal Bioanal Chem 384:47–49

Muniz AC, Pisonero J, Lobo L, Gonzalez C et al (2008) J Anal At Spectrom 23:1239–1246

Tuccitto N, Lobo L, Tempez A, Delfanti I et al (2009) Rapid Commun Mass Spectrom 23:549–556

Bogaerts A, Gijbels R (1998) Spectrochim Acta Part B 53:1–42

Pan C, King FL (1993) J Am Soc Mass Spectrom 4:727–732

King FL, Pan C (1993) Anal Chem 65:735–739

Vickers GH, Wilson DA, Hieftje GM (2002) Anal Chem 60:1808–1812

Bentz BL, Harrison WW (1981) Int J Mass Spectrom Ion Phys 37:167–176

Canulescu S, Whitby J, Fuhrer K, Hohl M et al (2009) J Anal At Spectrom 24:178–180

Tempez A, Canulescu S, Molchan IS, Döbeli M et al (2009) Surf Int Anal 41(12-13):966–973

Shimizu K, Kobayashi K, Thompson GE, Skeldon P et al (1996) Philos Mag, B 73:461–485

Pisonero J, Feldmann I, Bordel N, Sanz-Medel A et al (2005) Anal Bioanal Chem 382:1965–1974

Molchan IS, Thompson GE, Skeldon P, Trigoulet N et al (2009) J Anal At Spectrom 24:734–741

Stoffels E, Stoffels WW, Vender D, Haverlag M et al (1995) Contrib Plasma Phys 35:331–357

Overzet LJ, Lin Y, Luo L (1992) J Appl Phys 72:5579–5592

Wagatsuma K, Hirokawa K, Yamashita N (1996) Anal Chim Acta 324:147–154

Habazaki H, Fushimi K, Shimizu K, Skeldon P et al (2007) Electrochem Commun 9:1222–1227

Martín A, Menéndez A, Pereiro R, Bordel N et al (2007) Anal Bioanal Chem 388:1573–1582

Hodoroaba V-D, Hoffmann V, Steers EBM, Wetzig K (2000) J Anal At Spectrom 15:1075–1080
Acknowledgment
Financial support from the European Union in the form of a Framework 6 STREP grant for the "New Elemental and Molecular Depth Profiling Analysis of Advanced Materials by Modulated Radio Frequency Glow Discharge Time of Flight Mass Spectrometry" (EMDPA) project is also gratefully acknowledged.
About this article
Cite this article
Canulescu, S., Molchan, I.S., Tauziede, C. et al. Detection of negative ions in glow discharge mass spectrometry for analysis of solid specimens. Anal Bioanal Chem 396, 2871–2879 (2010). https://doi.org/10.1007/s00216-009-3366-8
Received:

Revised:

Accepted:

Published:

Issue Date:

DOI: https://doi.org/10.1007/s00216-009-3366-8
Keywords