Abstract
Since there is growing awareness of the strong dependence of the antioxidative function of selenium (Se) upon its chemical form, the stability of Se species during sample preparation is an important factor in obtaining qualitative and quantitative results. Many plant samples are rich in phenolic compounds (antioxidants), but data about their effect on specific Se species in extracts of plant samples are scarce. Therefore, the aim of this study was to investigate the effect of the most common phenolic substances in plant parts, namely tannin and the flavonoid rutin, on the concentration and/or transformation of several Se species (SeMet, SeCys2, SeMeSeCys, Se(VI) and Se(IV)) during sample preparation (24 h incubation at 37 °C) and storage (4 days at 4 °C). Moreover, the effect observed was then studied in a real sample, buckwheat, because this plant is known as a rich source of phenolics, especially tannin and rutin. Se speciation was carried out by on-line coupling of ion-exchange HPLC-ICP-MS after water and enzymatic (protease) hydrolysis. The results showed that the ratio between the two antioxidants has an important role. When the antioxidants were present together, the response for Se(IV) was observed to start to decrease only at a ratio of rutin to tannin of 1:100 (w/w), indicating the ratio between antioxidants in buckwheat seeds. After water extraction, only 40% and after enzymatic extraction 80% of Se(IV) remained, but no other Se compound was detected with the system used. Furthermore, the extracts were not stable during storage at 4 °C. Signals for other Se species were stable. The results obtained for buckwheat seeds showed a decrease in Se(IV) response during sample preparation and storage, comparable to the one obtained with the experiments performed in vitro. However, Se species in extracts of other buckwheat parts (leaves, stems and sprouts) were stable. These results indicate that reactions in the extraction process and during storage may affect Se speciation and may result in misidentifications and inaccurate values.
This is a preview of subscription content, log in to check access.
Access options
Buy single article
Instant access to the full article PDF.
US$ 39.95
Price includes VAT for USA
Subscribe to journal
Immediate online access to all issues from 2019. Subscription will auto renew annually.
US$ 157
This is the net price. Taxes to be calculated in checkout.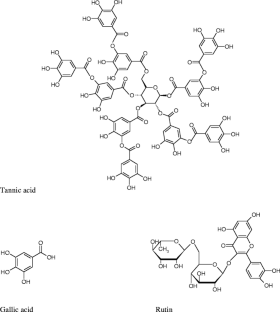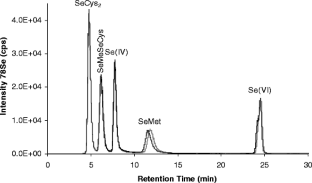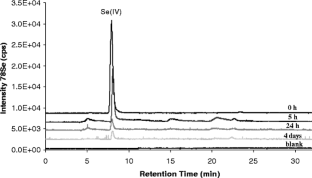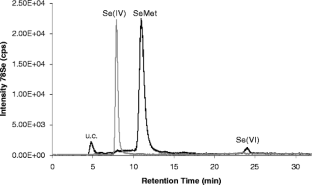 References
1.

Kreft I, Fabjan N (2006) Yasumoto K 98:508–512

2.

Wach A, Pyrzynska K, Biesega M (2007) Food Chem 100:699–704

3.

Ožbolt L, Kreft S, Kreft I, Germ M, Stibilj V (2008) Food Chem 110:691–696

4.

Silva BA, Malva OJ, Dias CPA (2008) Food Chemistry 110:611–619

5.

Munoz Olivas R, Quevauviller P, FX Donard O (1998) J Anal Chem 360:512–519

6.

Gomez Ariza JL, Morales E, Sanchez-Rodas D, Giraldez I (2000) Trends Anal Chem 19:200–209

7.

Lindemann T, Prange A, Dannecker W, Neidhart B (2000) J Anal Chem 368:214–220

8.

Moreno P, Quijano MA, Gutierrez AM, Perez-Conde MC, Camara C (2002) Anal Bioanal Chem 374:466–476

9.

Pyrzynska K (2002) Microchimica Acta 140:55–62

10.

Roberge MT, Borgerding AJ, Finley JW (2003) J Agric Food Chem 51:4191–4197

11.

Palacios O, Lobinski R (2007) Talanta 71:1813–1816

12.

Mazej D, Falnoga I, Veber M, Stibilj V (2006) Talanta 68:558–568

13.

Smrkolj P, Osvald M, Osvald J, Stibilj V (2007) Eur Food Res Technol 225:233–237

14.

Polatajko A, Jakubowski N, Szpunar J (2006) J Anal At Spectrom 21:639–654

15.

Pedrero Z, Madrid Y (2009) Anal Chim Acta 634:135–152. doi:10.1016/j.aca.2008.12.026

16.

Naczk M, Shahidi F (2004) J Chromatogr 1054:95–111

17.

Naczk M, Shahidi F (2006) J Pharm Biomed Anal 41:1523–1542

18.

Luthar Z (1992) Fagopyrum 12:36–42

19.

Salunkhe DK, Chavan JK, Kadam SS (1989) Dietary tannins: consequences and remedies. CRC, Boca Raton

20.

Steadman KJ, Burgoon MS, Lewis BA, Edwardson SE, Obendorf RL (2001) J Sci Food Agric 81:1094–1100

21.

Luthar Z, Kreft I (1999) Fagopyrum 16:61–65

22.

Kreft S, Knapp M, Kreft I (1999) J Agric Food Chem 47:4649–4652

23.

Holasova M, Smrcinova FH, Orsak M, Lachman J, Vavreinova S (2002) Food Res Int 35:207–211

24.

Fabjan N, Rode J, Košir IJ, Wang Z, Zhang Z, Kreft I (2003) J Agric Food Chem 51:6452–6455

25.

Kim SJ, Zaidul ISM, Suzuki T, Mukasa Y, Hashimoto N, Takigawa S, Noda T, Matsuura-Endo C, Yamauchi H (2008) Food Chem 110:814–820

26.

Eggum BO, Kreft I, Javornik B (1981) Qual Plant Plant Foods Hum Nutr 30:175–179

27.

Vogrinčič M, Cuderman P, Kreft I, Stibilj V (2007) Analytical Sciences 25:1357–1363

28.

Cuderman P, Ožbolt L, Kreft I, Stibilj V (2009) Food Chemistry (submitted for publication)

29.

Cuderman P, Kreft I, Germ M, Kovačevič M, Stibilj V (2008) J Agric Food Chem 56:9114–9120

30.

Smrkolj P, Stibilj V, Kreft I, Kapolna E (2005) Analytical Sciences 21:1501–1504

31.

Rayman MP (2000) Lancet 356:233–241

32.

Ellis DR, Salt DE (2003) Curr Opin Plant Biol 6:273–279

33.

Smrkolj P, Stibilj V (2004) Anal Chim Acta 512:11–17

34.

Kreft S, Štrukelj B, Gaberščik A, Kreft I (2002) J Exp Bot 53:1801–1804

35.

Kitaguchi T, Ogra Y, Iwashita Y, Suzuki TK (2008) Eur Food Res Technol 227:1455–1460
Acknowledgements
This work was financially supported by the Slovenian Research Agency through the programme P1-0143, contract 1000-05-310030 and project J7-9805. The authors would like to thank Prof. Ivan Kreft for donating the buckwheat seeds and Miss Maja Vogričič for milling them.
About this article
Cite this article
Cuderman, P., Stibilj, V. Stability of Se species in plant extracts rich in phenolic substances. Anal Bioanal Chem 396, 1433–1439 (2010). https://doi.org/10.1007/s00216-009-3324-5
Received:

Revised:

Accepted:

Published:

Issue Date:
Keywords
Se species

Phenolic substances

Stability

Buckwheat

HPLC-ICP-MS

Trace elements

Quality assurance/control

Biological samples