Characterization of polyadenylated cryIA(b) transcripts in maize MON810 commercial varieties
Abstract
The Zea mays L. event MON810 is one of the major commercialized genetically modified crops. The inserted expression cassette has a 3′ truncation partially affecting the cryIA(b) coding sequence, resulting in the lack of the NOS terminator, with transcription of the transgene reported to read-through 3′-past the truncation site. Here, we demonstrate that the cryIA(b) transgene gives rise to a variety of polyadenylated transcripts of different sizes that extend to around 1 kbp downstream the truncation site. A Stop codon at position +7 downstream the truncation site indicates the production of a transgenic protein with two additional amino acids; which is compatible with the reported size of the CryIA(b) protein in MON810. There is no evidence of the existence of other translated products. Several main 3′ transcription termination regions were detected close to the truncation site and in the transgene 3′ flanking sequence. Next to these main termination sites, we identified some sequence motifs that could potentially act as 3′-end-processing elements and drive termination of the transgene transcripts. The MON810 transgene has been introduced into different commercial varieties through breeding programs. Here, we demonstrate that there are no significant differences among the levels of transgene mRNA accumulation, major transcript sizes and 3′ termini profiles comparing a number of MON810 commercial varieties grown under similar environmental conditions. Commercial varieties of this event appear to be stable in terms of transgene expression.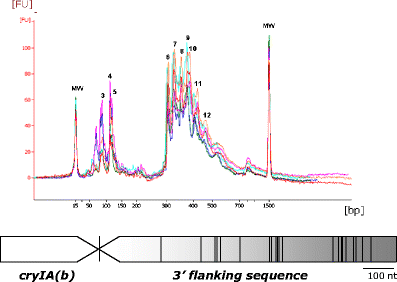 Keywords
GMO (genetically modified organism) 
MON810 maize 
Transgene mRNA 
3′-end-processing site 
Polyadenylated mRNA 
Abbreviations
CaMV

Cauliflower mosaic virus

BAC

Bacterial artificial chromosome

NOS

Nopaline synthetase

GMO

Genetically modified organism

mRNA

Messenger ribonucleic acid

CRM

Certified reference material

IRMM

Institute for Reference Materials and Measurements

Real-time RT-PCR

Reverse transcription coupled to real-time PCR

PCR

Polymerase chain reaction

cDNA

Complementary deoxyribonucleic acid

RACE 3′-PCR

Rapid amplification of cDNA ends
Notes
Acknowledgments
This work was financially supported by the EC FP6 project "Co-Extra" and by the Spanish MEC project with ref. AGL2007-65903/AGR.