Abstract
A simple layer-by-layer method to coat the bacterial cells with gold and silver nanoparticles (AuNPs and AgNPs) for the acquisition of surface-enhanced Raman scattering (SERS) spectra is reported. First, the bacteria cell wall is coated with poly (allylamine hydrochloride) (PAH), a positively charged polymer, and then with citrate reduced Au or AgNPs. In order to increase the stability of the coating, another layer of PAH is prepared on the surface. The SEM and AFM images indicate that the nanoparticles are in the form of both isolated and aggregated nanoparticles on the bacterial wall. The coating of bacterial cells with AgNPs or AuNPs not only serves for their preparation for SERS measurement but also helps to visualize the coated of bacterial cells under the ordinary white-light microscope objective due to efficient light-scattering properties of Au and AgNPs. A comparative study single versus aggregates of bacterial cells is also demonstrated for possible single bacterial detection with SERS. The two bacteria that differ in shape and cell wall biochemical structure, Escherichia coli and Staphylococcus cohnii, Gram-negative and -positive, respectively, are used as models. The preliminary results reveal that the approach could be used for single bacterial cell identification.
Access options
Buy single article
Instant access to the full article PDF.
USD 39.95
Price excludes VAT (USA)
Tax calculation will be finalised during checkout.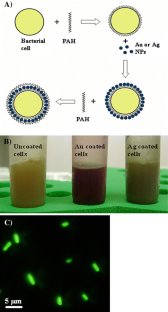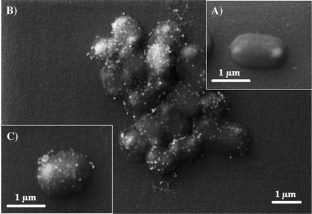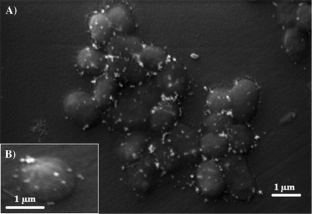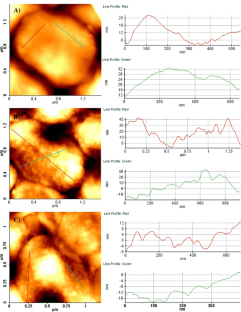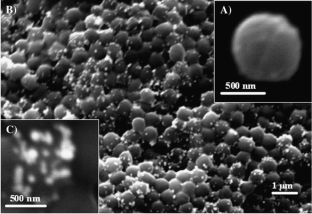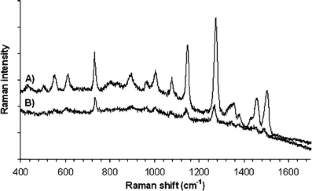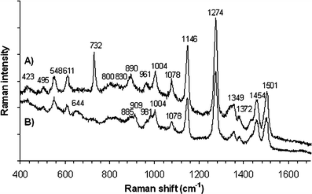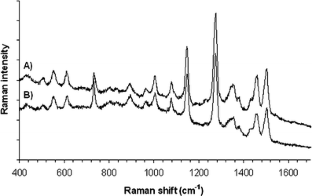 References
Kneipp K, Kneipp H, Kneipp J (2006) Acc Chem Res 39:443–450

Tang HW, Yang XB, Kirkham J, Smith DA (2007) Anal Chem 79:3646–3653

Yang THW, XB KJ, Smith DA (2008) Appl Spectrosc 62:1060–1069

Kneipp J, Kneipp H, Rajadurai A, Redmond RW, Kneipp K (2009) J Raman Spectrosc 40:1–5

Culha M, Adigüzel A, Yazici MM, Kahraman M, Sahin F, Güllüce M (2008) Appl Spectrosc 62:1226–1232

Guicheteau J, Argue L, Emge D, Hyre A, Jacobson M, Christesen S (2008) Appl Spectrosc 62:267–272

Goeller LJ, Riley MR (2007) Appl Spectrosc 61:679–685

Kahraman M, Yazici MM, Sahin F, Culha M (2007) J Biomed Opt 12: Art. No: 054015

Kahraman M, Yazici MM, Sahin F, Bayrak OF, Culha M (2007) Appl Spectrosc 61:479–485

Premasiri WR, Moir DT, Klempner MS, Krieger N, Jones G II, Ziegler LD (2005) J Phys Chem B 109:312–320

Laucks ML, Sengupta A, Junge K, Davis EJ, Swanson BD (2005) Appl Spectrosc 59:1222–1228

Kahraman M, Yazici MM, Sahin F, Culha M (2008) Langmuir 24:894–901

Kahraman M, Yazici MM, Sahin F, Bayrak OF, Topcu E, Culha M (2007) Inter J Environment Anal Chem 87:763–770

Decher G (1997) Science 277:1232–1237

Caruso F, Spasova M, Susha A, Giersig M, Caruso RA (2001) Chem Mater 13:109–116

Donath E, Sukhorukov GB, Caruso F, Davis SA, Möhwald H (1998) Angew Chem Int Ed 37:2202–2205

Park MK, Deng S, Advincula RC (2005) Langmuir 21:5272–5277

Gao C, Donath E, Mohwald H, Shen J (2002) Angew Chem Int Ed 41:3789–3793

Katagiri K, Caruso F (2004) Macromolecules 37:9947–9953

Angelatos AS, Radt B, Caruso F (2005) J Phys Chem B 109:3071–3076

Yap HP, Quinn JF, Ng SM, Cho J, Caruso F (2005) Langmuir 21:4328–4333

Wang Y, Yu A, Caruso F (2005) Angew Chem Int Ed 44:2888–2892

Caruso F, Trau D, Mohwald H, Renneberg R (2000) Langmuir 16:1485–1488

Holt B, Lam R, Meldrum FC, Stoyanov SD, Paunov VN (2007) Soft Matter 3:188–190

Chu LY, Yamaguchi T, Nakao S (2002) Adv Mater 14:386–389

Bäumler H, Neu B, Voigt A, Mitlöhner R, Leporatti S, Gao CY, Donath E, Kiesewetter H, Möhwald H, Meiselman HJ (2001) Microencapsulation 18:385–395

Diaspro A, Silvano D, Krol S, Cavalleri O, Gliozzi A (2002) Langmuir 18:5047–5050

Krol S, Nolte M, Diaspro A, Mazza D, Magrassi R, Gliozzi A, Fery A (2005) Langmuir 21:705–709

Fakhrullin RF, Zamaleeva AI, Morozov MV, Tazetdinova DI, Alimova FK, Hilmutdinov AK, Zhdanov RI, Kahraman M, Culha M (2009) Langmuir 25:4628–4634

Berry V, Gole A, Kundu S, Murphy CJ, Saraf RF (2005) J Am Chem Soc 127:17600–17601

Wilson WW, Wade MM, Holman SC, Champlin FR (2001) J Microbiol Methods 43:153–164

Lee PC, Meisel D (1982) J Phys Chem 86:3391–3395

Handley DA (1989) In: Hayat MA (ed) In colloidal gold: principles, methods, and. applications. Academic, New York, p 13 1

Jain PK, Huang X, El-Sayed IH, El-Sayed MA (2008) Acc Chem Res 41:1578–1586

El-Sayed IH, Huang X, El-Sayed MA (2005) Nano Lett 5:829–834

Mathews CK, van Holde KE, Ahern KG (1999) Addison-Wesley, San Francisco, Chapter 9, p. 305

Zeiri L, Bronk BV, Shabtai Y, Eichler J, Efrima S (2004) Appl Spectrosc 58:33–40

Jarvis RM, Goodacre R (2004) Anal Chem 76:40–47

Efrima S, Zeiri L (2009) J Raman Spectrosc 40:277–288
Acknowledgments
The authors greatly acknowledge the financial support of Yeditepe University during the course of this study. The authors also thank to Prof. Dr. Fikrettin Şahin and Prof. Sesin Kocagöz for their generous donations of S. cohnii and E. coli, respectively. Mehmet Kahraman and Alsu I. Zamaleeva contributed equally to this study.
Electronic supplementary material
Below is the link to the electronic supplementary material.
About this article
Cite this article
Kahraman, M., Zamaleeva, A.I., Fakhrullin, R.F. et al. Layer-by-layer coating of bacteria with noble metal nanoparticles for surface-enhanced Raman scattering. Anal Bioanal Chem 395, 2559–2567 (2009). https://doi.org/10.1007/s00216-009-3159-0
Received:

Revised:

Accepted:

Published:

Issue Date:

DOI: https://doi.org/10.1007/s00216-009-3159-0
Keywords
Layer-by-layer

SERS

Single bacterium

Gold and silver nanoparticles