Abstract
The number of commercially available genetically modified organisms (GMOs) and therefore the diversity of possible target sequences for molecular detection techniques are constantly increasing. As a result, GMO laboratories and the food production industry currently are forced to apply many different methods to reliably test raw material and complex processed food products. Screening methods have become more and more relevant to minimize the analytical effort and to make a preselection for further analysis (e.g., specific identification or quantification of the GMO). A multiplex real-time PCR kit was developed to detect the 35S promoter of the cauliflower mosaic virus, the terminator of the nopaline synthase gene of Agrobacterium tumefaciens, the 35S promoter from the figwort mosaic virus, and the bar gene of the soil bacterium Streptomyces hygroscopicus as the most widely used sequences in GMOs. The kit contains a second assay for the detection of plant-derived DNA to control the quality of the often processed and refined sample material. Additionally, the plant-specific assay comprises a homologous internal amplification control for inhibition control. The determined limits of detection for the five assays were 10 target copies/reaction. No amplification products were observed with DNAs of 26 bacterial species, 25 yeasts, 13 molds, and 41 not genetically modified plants. The specificity of the assays was further demonstrated to be 100% by the specific amplification of DNA derived from reference material from 22 genetically modified crops. The applicability of the kit in routine laboratory use was verified by testing of 50 spiked and unspiked food products. The herein described kit represents a simple and sensitive GMO screening method for the reliable detection of multiple GMO-specific target sequences in a multiplex real-time PCR reaction.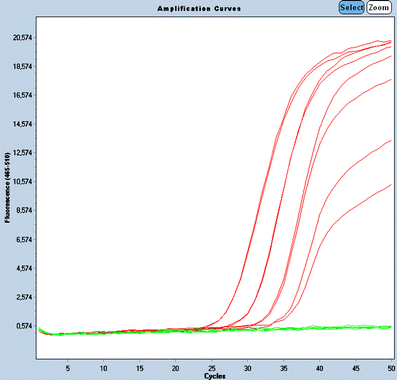 This is a preview of subscription content, log in to check access.
Access options
Buy single article
Instant access to the full article PDF.
US$ 39.95
Price includes VAT for USA
Subscribe to journal
Immediate online access to all issues from 2019. Subscription will auto renew annually.
US$ 157
This is the net price. Taxes to be calculated in checkout.
References
1.

Anklam E, Gadani F, Heinze P, Pijnenburg H, Van den Eede G (2002) Eur Food Res Technol 214:3–26

2.

Alexander TW, Reuter T, Aulrich K, Sharma R, Okine EK, Dixon WT, McAllister TA (2007) Anim Feed Sci Technol 133:31–62

3.

Miraglia M, Berdal KG, Brera C, Corbisier P, Holst-Jensen A, Kok EJ, Marvin HJP, Schimmel H, Rentsch J, van Rie JPPF, Zagon J (2004) Food Chem Toxicol 42:1157–1180

4.

Community Reference Laboratory, GM Food and Feed, Ispra. http://gmo-crl.jrc.ec.europa.eu/statusofdoss.htm

5.

Holst-Jensen A, Rønning SB, Løvseth A, Berdal KG (2003) Anal Bioanal Chem 375:985–993

6.

Wolf C, Scherzinger M, Wurz A, Pauli U, Hübner P, Lüthy J (2000) Eur Food Res Technol 210:367–372

7.

Marmiroli N, Maestri E, Gullì M, Malcevschi A, Peano C, Bordoni R, de Bellis G (2008) Anal Bioanal Chem 392:369–384

8.

James C (2008) ISAAA Brief 39

9.

Michelini E, Simoni P, Cevenini L, Mezzanotte L, Roda A (2008) Anal Bioanal Chem 392:355–367

10.

Waiblinger HU, Ernst B, Anderson A, Pietsch K (2008) Eur J Food Res Technol 226:1221–1228

11.

Technische Regel BVL L 00.00-122 (2008)

12.

Waiblinger HU, Boernsen B, Pietsch K (2008) Deut Lebensm-Rundsch 104:261–264

13.

AGBIOS. http://www.agbios.com/main.php

14.

Tengs T, Kristoffersen A, Berdal K, Thorstensen T, Butenko M, Nesvold H, Holst-Jensen A (2007) BMC Biotechnol 7:91

15.

Bennett MD, Leitch IJ (1997) Ann Bot 80:169–196

16.

Halpin C (2005) Plant Biotechnol 3:141–155

17.

Akiyama H, Watanabe T, Wakabayashi K, Nakade S, Yasui S, Sakata K, Chiba R, Spiegelhalter F, Hino A, Maitani T (2005) Anal Chem 77:7421–7428

18.

Xu W, Yuan Y, Luo Y, Bai W, Zhang C, Huang K (2009) J Agric Food Chem 57:395–402

19.

Chaouachi M, Chupeau G, Berard A, McKhann H, Romaniuk M, Giancola S, Laval V, Bertheau Y, Brunel D (2008) J Agric Food Chem 56:11596–11606

20.

Matsuoka T, Kuribara H, Akiyama H, Miura H, Goda Y, Kusakabe Y, Isshiki K, Toyoda M, Hino A (2001) J Food Hyg Soc Jpn 42:24–32

21.

James D, Schmidt A-M, Wall E, Green M, Masri S (2003) J Agric Food Chem 51:5829–5834

22.

Shrestha HK, Hwu K-K, Wang S-J, Liu L-F, Chang M-C (2008) J Agric Food Chem 56:8962–8968

23.

Onishi M, Matsuoka T, Kodama T, Kashiwaba K, Futo S, Akiyama H, Maitani T, Furui S, Oguchi T, Hino A (2005) J Agric Food Chem 53:9713–9721

24.

Germini A, Zanetti A, Salati C, Rossi S, Forre C, Schmid S, Marchelli R (2004) J Agric Food Chem 52:3275–3280

25.

Hernandez M, Rodriguez-Lazaro D, Zhang D, Esteve T, Pla M, Prat S (2005) J Agric Food Chem 53:3333–3337

26.

Gaudron T, Peters C, Boland E, Steinmetz A, Moris G (2009) Eur Food Res Technol 229:295–305

27.

Xu J, Miao H, Wu H, Huang W, Tang R, Qiu M, Wen J, Zhu S, Li Y (2006) Biosens Bioelectron 22:71–77

28.

Leimanis S, Hernández M, Fernández S, Boyer F, Burns M, Bruderer S, Glouden T, Harris N, Kaeppeli O, Philipp P, Pla M, Puigdomènech P, Vaitilingom M, Bertheau Y, Remacle J (2006) Plant Mol Biol 61:123–139

29.

Rønning SB, Vaïtilingom M, Berdal KG, Holst-Jensen A (2003) Eur Food Res Technol 216:347–354

30.

Huang C-C, Pan T-M (2005) J Agric Food Chem 53:3833–3839

31.

Hemmer W (1997) Foods derived from genetically modified organisms and detection methods. BATS-Report 2/1997, Agency for Biosafety Research and Assessment of Technology Impacts of the Swiss Priority Program Biotechnology of the Swiss National Science Foundation, Basel, Switzerland

32.

Salvi S, D'Orso F, Morelli G (2008) J Agric Food Chem 56:4320–4327

33.

Holden MJ, Blasic JR, Bussjaeger L, Kao C, Shokere LA, Kendall DC (2003) J Agric Food Chem 51:2468–2474

34.

Wilson IG (1997) Appl Environ Microbiol 63:3741–3751

35.

Cazzola ML, Petruccelli S (2006) Electronic J Biotechnol 9:320–325
About this article
Cite this article
Dörries, H., Remus, I., Grönewald, A. et al. Development of a qualitative, multiplex real-time PCR kit for screening of genetically modified organisms (GMOs). Anal Bioanal Chem 396, 2043–2054 (2010). https://doi.org/10.1007/s00216-009-3149-2
Received:

Revised:

Accepted:

Published:

Issue Date:
Keywords
Genetically modified organisms

GMO

Real-time PCR

Multiplex PCR

Screening