Abstract
Blue-painted pottery was produced in the New Kingdom, Egypt, and decorated with blue, red, and black pigment. In this study, two newly developed portable instruments, a portable X-ray fluorescence spectrometer and a portable X-ray powder diffractometer, were brought to the site on the outcrop at Northwest Saqqara, an archaeological site in Egypt, to verify their performance in on-site analysis of excavated artifacts at the site. Pigments used for the blue-painted pottery and plasters in the New Kingdom were analyzed by these instruments on the basis of both their chemical compositions and crystal-structural information. The blue pigments were identified as two different pigments, Egyptian blue and cobalt blue. The diffraction pattern of the blue pigment of the painted pottery exhibited that of spinel structure. The XRF spectrum of the blue pigment obtained by the same instrument from the same position indicates the presence of Mn, Co, Fe, Ni, and Zn. The possibility of compositional transitions of the cobalt blue pigment with time was revealed on by detailed analysis of the XRF data. The reason for the transitions is considered together with the archaeological background of the New Kingdom, Egypt.

Access options
Buy single article
Instant access to the full article PDF.
USD 39.95
Price includes VAT (USA)
Tax calculation will be finalised during checkout.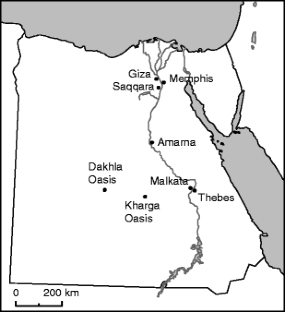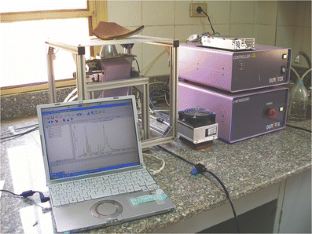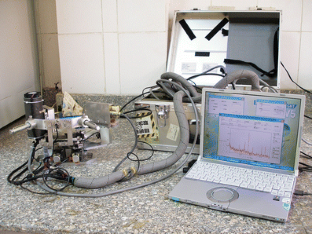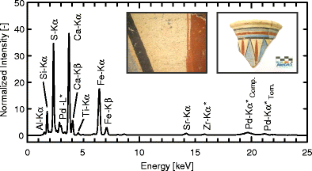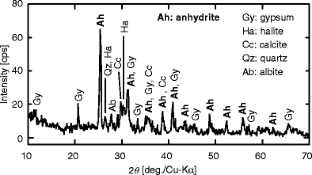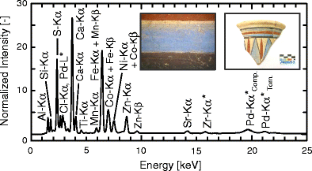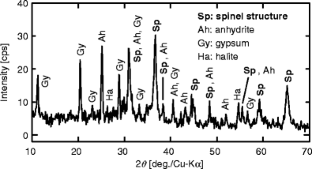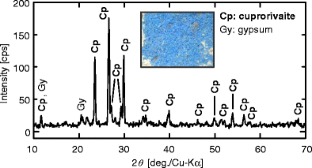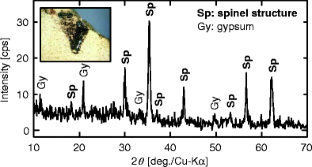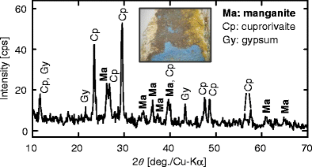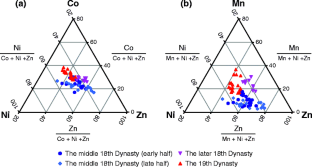 References
1.

Nakai I, Taguchi I, Yamasaki K (1991) Anal Sci 7 Suppl:365–368

2.

Dooryhée E, Martinetto P, Walter Ph, Anne M (2004) Radiat Phys Chem 71:863–868

3.

Pradell T, Molera J, Pantos E, Smith AD, Martin CM, Labrador A (2008) Appl Phys A 90:81–88

4.

Frierman JD, Bowman HR, Perlman I, York CM (1969) Sci 164:588

5.

Williams-Thorpe O, Potts PJ, Webb PC (1999) J Archaeol Sci 26:215–237

6.

Hocquet FP, Garnir HP, Marchal A, Clar M, Oger C, Strivay D (2008) X-Ray Spectrom 37:304–308

7.

Uda M, Nakamura M, Yoshimura S, Kondo J, Saito M, Shirai Y, Hasegawa S, Baba Y, Ikeda K, Ban Y, Matsuo A, Tamada M, Sunaga H, Oshio H, Yamashita D, Nakajima Y, Utaka T (2002) Nucl Instrum Methods Phys Res Sect B 189:382–386

8.

Uda M, Ishizaki A, Satoh R, Okada K, Nakajima Y, Yamashita D, Ohashi K, Sakuraba Y, Shimono A, Kojima D (2005) Nucl Instrum Methods Phys Res Sect B 239:77–84

9.

Sanada T, Hokura A, Nakai I, Maeo S, Nomura S, Taniguchi K, Utaka T, Yoshimura S (2003) Adv X-Ray Chem Anal 34:289–306 in Japanese

10.

Nakai I, Hokura A, Sanada T, Sawada T, Maeo S Taniguchi K (2006) Non-destr Exam Cult Objects Adv X-ray Anal 63–69

11.

Nakai I, Yamada S, Hokura A, Terada Y, Shindo Y, Utaka T (2005) X-Ray Spectrom 34:46–51

12.

Kikugawa K, Abe Y, Sanada T, Nakai I (2009) Adv X-Ray Chem Anal 40:325–337 in Japanese

13.

Tantrakarn K, Kato N, Hokura A, Nakai I, Fujii Y, Gluščević S (2009) X-Ray Spectrom 38:121–127

14.

Kato N, Nakai I, Shindo Y (2009) J Archaeol Sci 36:1698–1707

15.

Maeo S, Nakai I, Nomura S, Yamao H, Taniguchi K (2003) Adv X-Ray Chem Anal 34:125–132 in Japanese

16.

Nakai I, Maeo S, Tashiro T, Tantrakarn K, Utaka T, Taniguchi K (2007) Adv X-Ray Chem Anal 38:371–386 in Japanese

17.

Abe Y, Tantrakarn K, Nakai I, Maeo S, Utaka T, Taniguchi K (2008) Adv X-Ray Chem Anal 39:209–222 in Japanese

18.

Chiari G (2008) Nature 453:159

19.

Yoshimura S, Hasegawa S (1995) Waseda J Hum Sci 8:177–189 in Japanese

20.

The Society for the Egyptian Studies of Waseda University (1995–2009) The Journal of Egyptian Studies Occasional Publication No. 1–13. Waseda University Press, Tokyo (in Japanese)

21.

Riederer J (1974) Archaeometry 43:483–490

22.

Noll W, Hangst K (1975) Neues Jahrb Mineral Monatsh 209–214

23.

Noll W (1981) In: Hughes M (ed) Mineralogy and technology of the painted ceramics of ancient Egypt. British Museum, London

24.

Hope CA (1991) Cahiers de la Céramique Égyptienne 2:17–92

25.

Shortland AJ, Hope CA, Tite MS (2006) In: Maggetti M, Messiga B (eds) Geomaterials in cultural heritage. Geological Society, London, pp 91–99

26.

IAEA (2000) WinQXAS, Quantitative X-ray Analysis System for Windows, A Software from International Atomic Energy Agency. http://www.iaea.or.at/programmes/ripc/physics/faznic/winqxas.htm

27.

ICDD (2006) The Powder Diffraction File, PDF. International Centre for Diffraction Data, PA

28.

Bachmann HG, Everts H, Hope CA (1980) Mitt Dtsch Archäol Inst Abt Kairo 36:33–37

29.

Warachim H, Rzechula J, Pielak A (1985) Ceram Int 11:103–106

30.

Rehren T (2001) Archaeometry 43:483–490

31.

Shortland AJ, Tite MS, Ewart I (2006) Archaeometry 48:153–168

32.

Kaczmarczyk A (1986) Proc 24th Int Archaeom Symp 369–376

33.

Jaksch H, Seipel W, Weiner KL, Goresy AE (1983) Naturwissenschaften 70:525–535

34.

Lee L, Quirke S (2000) In: Nicholson PT, Shaw I (eds) Ancient Egyptian Materials and Technology. Cambridge University Press, Cambridge, pp 104–120

35.

Noll W, Holm R, Born L (1975) Angew Chem Int Ed 14:602–613

36.

Lucas A, Harris JR (1962) Ancient Egyptian Material and Industries, 4th edn. Hodder and Stoughton Educational, London
Acknowledgements
The Ourstex 100FA-II portable X-ray fluorescence spectrometer was jointly developed with the Ourstex Corporation. We are deeply grateful to Mr Y. Nakajima and Mr H. Nagai. Development and improvement of a portable X-ray powder diffractometer, the X-tec PT-APXRD were jointly carried out by the Institute of X-Ray Technologies Co., Ltd. We would like to express our gratitude to Dr K. Taniguchi, Mr T. Utaka, and S. Maeo.
About this article
Cite this article
Abe, Y., Nakai, I., Takahashi, K. et al. On-site analysis of archaeological artifacts excavated from the site on the outcrop at Northwest Saqqara, Egypt, by using a newly developed portable fluorescence spectrometer and diffractometer. Anal Bioanal Chem 395, 1987–1996 (2009). https://doi.org/10.1007/s00216-009-3141-x
Received:

Revised:

Accepted:

Published:

Issue Date:
Keywords
Archaeometry

Portable XRF

Portable XRD

Cobalt blue

On-site analysis