Abstract
A method for the simultaneous determination of seven commonly used artificial sweeteners in water is presented. The analytes were extracted by solid phase extraction using Bakerbond SDB 1 cartridges at pH 3 and analyzed by liquid chromatography electrospray ionization tandem mass spectrometry in negative ionization mode. Ionization was enhanced by post-column addition of the alkaline modifier Tris(hydroxymethyl)amino methane. Except for aspartame and neohesperidin dihydrochalcone, recoveries were higher than 75% in potable water with comparable results for surface water. Matrix effects due to reduced extraction yields in undiluted waste water were negligible for aspartame and neotame but considerable for the other compounds. The widespread distribution of acesulfame, saccharin, cyclamate, and sucralose in the aquatic environment could be proven. Concentrations in two influents of German sewage treatment plants (STPs) were up to 190 μg/L for cyclamate, about 40 μg/L for acesulfame and saccharin, and less than 1 μg/L for sucralose. Removal in the STPs was limited for acesulfame and sucralose and >94% for saccharin and cyclamate. The persistence of some artificial sweeteners during soil aquifer treatment was demonstrated and confirmed their environmental relevance. The use of sucralose and acesulfame as tracers for anthropogenic contamination is conceivable. In German surface waters, acesulfame was the predominant artificial sweetener with concentrations exceeding 2 μg/L. Other sweeteners were detected up to several hundred nanograms per liter in the order saccharin ≈ cyclamate > sucralose.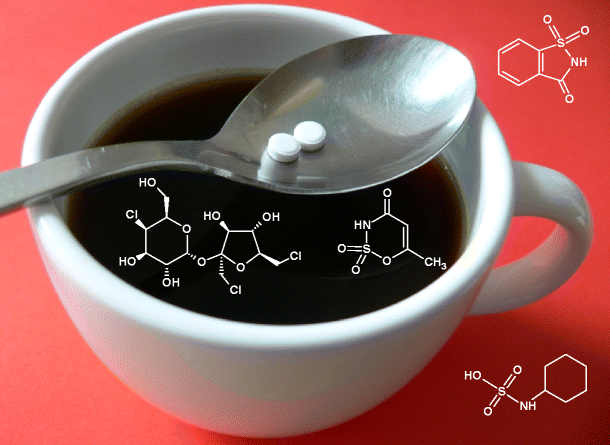 Access options
Buy single article
Instant access to the full article PDF.
USD 39.95
Price includes VAT (USA)
Tax calculation will be finalised during checkout.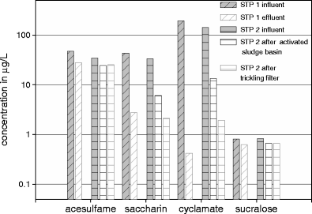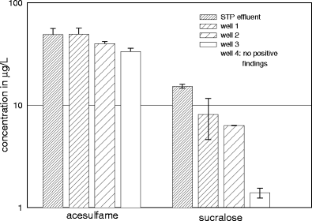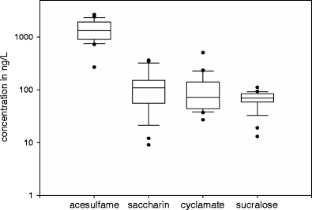 References
1.

Weihrauch MR, Diehl V (2004) Ann Oncol 15:1460–1465

2.

Kroger M, Meister K, Kava R (2006) Compr Rev Food Sci Food Safety 5:35–47

3.

Imfeld T (1993) Caries Res 27:50–55

4.

Strubig W (1988) Oralprophylaxe 10:68–73

5.

Grice HC, Goldsmith LA (2000) Food Chem Toxicol 38(Supplement 2):1–6

6.

Bandyopadhyay A, Ghoshal S, Mukherjee A (2008) Drug Chem Toxicol 31:447–457

7.

Magnuson BA, Burdock GA, Doull J, Kroes RM, Marsh GM, Pariza MW, Spencer PS, Waddell WJ, Walker R, Williams GM (2007) Crit Rev Toxicol 37:629–727

8.

FDA (2006) FDA Consum Mag 40:27–28

9.

EU (1994) European Parliament and Council Directive 94/35/EC of 30 June 1994 on sweeteners for use in foodstuffs

10.

EU (2003) European Parliament and Council Directive 2003/115/EC of 22 December 2003 amending Directive 94/35/EC on sweeteners for use in foodstuffs

11.

Oser BL, Carson S, Cox GE, Vogin EE, Sternberg SS (1975) Toxicology 4:315–330

12.

CFSAN/Office of Food Additive Safety (2009) U.S. Food and Drug Administration, Silver Spring http://www.foodsafety.gov/∼dms/opa-abey.html. Accessed 12 Jan 2009

13.

Renwick AG (1986) Xenobiotica 16:1057–1071

14.

Taylor JM, Weinberger MA, Friedman L (1980) Toxicol Appl Pharmacol 54:57–75

15.

Squire RA (1985) Food Chem Toxicol 23:491–497

16.

Cohen SM, Arnold LL, Emerson JL (2008) Agro Food Ind Hi Tec 19:24

17.

Information document on the proposal to reinstate saccharin for use as a sweetener in foods in Canada (2007) Health Canada, Ottawa http://www.hc-sc.gc.ca/fn-an/alt_formats/hpfb-dgpsa/pdf/securit/saccharin_prop-eng.pdf. Accessed 14 Feb 2009

18.

Shaywitz BA, Anderson GM, Novotny EJ, Ebersole JS, Sullivan CM, Gillespie SM (1994) Ann Neurol 35:98–103

19.

Tsakiris S, Giannoulia-Karantana A, Simintzi I, Schulpis KH (2006) Pharmacol Res 53:1–5

20.

Simintzi I, Schulpis KH, Angelogianni P, Liapi C, Tsakiris S (2007) Pharmacol Res 56:155–159

21.

Soffritti M, Belpoggi F, Esposti DD, Lambertini L, Tibaldi E, Rigano A (2006) Environ Health Perspec 114:379–385

22.

Soffritti M, Belpoggi F, Tibaldi E, Esposti DD, Lauriola M (2007) Environ Health Perspec 115:1293–1297

23.

Duffy VB, Sigman-Grant M (2004) J Am Diet Assoc 104:255–275

24.

Varnam AH, Sutherland JM (1994) Beverages: technology. Chemistry and microbiology. Aspen, Gaithersburg

25.

Choi JM, Yoon BS, Lee SK, Hwang JK, Ryang R (2007) Biol Pharm Bull 30:324–330

26.

Roberts A, Renwick AG, Sims J, Snodin DJ (2000) Food Chem Toxicol 38(Supplement 2):31–41

27.

Bigal ME, Krymchantowski AV (2006) Headache 46:515–517

28.

Patel RM, Sarma R, Grimsley E (2006) Headache 46:1303–1304

29.

Brorström-Lundén E, Svenson A, Victor T, Woldegiorgis A, Remberger M, Kaj L, Dye C, Bjerke A, Schlabach M (2008) Measurements of sucralose in the Swedish screening program 2007

30.

Loos R, Gawlik BM, Boettcher K, Locoro G, Contini S, Bidoglio G (2009) J Chromatogr A 1216:1126–1131

31.

Hernando MD, Petrovic M, Fernandez-Alba AR, Barcelo D (2004) J Chromatogr A 1046:133–140

32.

Shen JC, Lu SG, Zhuang ZX, Wang XR, Lee FSC (2005) Int J Mass Spectrom 243:163–169

33.

Freitas LG, Gotz CW, Ruff M, Singer HP, Muller SR (2004) J Chromatogr A 1028:277–286

34.

Drewes JE, Heberer T, Reddersen K (2002) Water Sci Technol 46:73–80

35.

Quanrud DM, Hafer J, Karpiscak MM, Zhang HM, Lansey K, Arnold RG (2003) Water Res 37:3401–3411

36.

Yoo HH, Miller JH, Lansey K, Reinhard M (2006) J Environ Eng-Asce 132:674–682

37.

Labare MP, Alexander M (1993) Environ Toxicol Chem 12:797–804

38.

Labare MP, Alexander M (1994) Appl Microbiol Biotechnol 42:173–178
Acknowledgments
This study was financially supported by the German Ministry of Education and Research as part of the project 02WA0901. The assistance by our project partners in organizing and execution of the sampling campaigns in the SAT field is kindly acknowledged. We thank the municipalities of Eggenstein-Leopoldshafen and Karlsruhe for providing waste water samples for this study. Furthermore, we thank Doreen Richter for the careful corrections and fruitful discussions on the manuscript.
Electronic supplementary material
Below is the link to the electronic supplementary material.
About this article
Cite this article
Scheurer, M., Brauch, HJ. & Lange, F.T. Analysis and occurrence of seven artificial sweeteners in German waste water and surface water and in soil aquifer treatment (SAT). Anal Bioanal Chem 394, 1585–1594 (2009). https://doi.org/10.1007/s00216-009-2881-y
Received:

Revised:

Accepted:

Published:

Issue Date:
Keywords
Artificial sweeteners

Sucralose

Acesulfame

Surface water

Waste water

Soil aquifer treatment