Abstract
Diffuse reflectance near-infrared spectroscopy (NIR) combined with partial least squares (PLS) data treatment has been employed for the rapid and nondestructive determination of sedimentary humic substances. Forty one samples of surface estuarine sediments, taken during distinct seasonal periods from different locations across Ria de Arousa (northwest of Spain), were scanned at wavelengths from 833 to 2,976 nm (12,000 to 3,360 cm−1). Twenty four samples were randomly selected, from previous hierarchical cluster analysis of their NIR spectra, for the calibration set, and the 17 remaining samples were assigned to the validation set. NIR spectra of calibration samples were correlated to measured values of humic acids (HAs) and fulvic acids (FAs), which ranged from 1.53 to 28.17 mg/g and from 0.37 to 2.45 mg/g, respectively, using PLS regression and multiplicative scattering correction on the raw and first-derivative NIR spectra, respectively. Low root mean square error of prediction values of 4.3 mg HA/g sediment and 0.25 mg FA/g sediment were obtained. Good residual prediction deviation values of 1.16 and 1.2 were obtained for HA and FA, respectively, allowing the PLS models built to be considered as appropriate tools for screening purposes.
Access options
Buy single article
Instant access to the full article PDF.
US$ 39.95
Tax calculation will be finalised during checkout.
Subscribe to journal
Immediate online access to all issues from 2019. Subscription will auto renew annually.
US$ 119
Tax calculation will be finalised during checkout.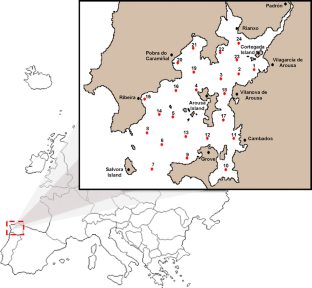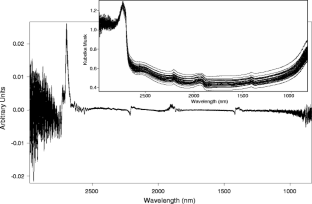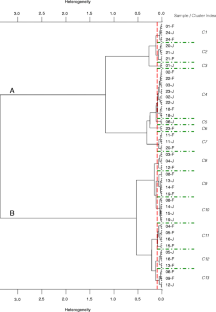 References
1.

Piccolo A (2002) Adv Agron 75:57–134

2.

Fiorentino G, Spaccini R, Piccolo A (2006) Talanta 68(4):1135–1142

3.

Baldock JA, Masiello CA, Gélins Y, Hedges JI (2004) Mar Chem 92(1–4):39–64

4.

Aiken GR, McKnight DM, Wershaw RL, MacCarthy P (1985) Humic substances in soil, sediment and water. Wiley, New York

5.

Belzile N, Joly HA, Li H (1997) Can J Chem 75(1):14–27

6.

Butkuté B, Slepetiené A (2004) Chemija 15(2):12–20

7.

Moreda-Piñeiro A, Bermejo-Barrera A, Bermejo-Barrera P (2004) Anal Chim Acta 524(1–2):97–107

8.

Moreda-Piñeiro A, Seco-Gesto EM, Bermejo-Barrera A, Bermejo-Barrera P (2006) Chemosphere 64(5):866–873

9.

Moros J, Iñón FA, Garrigues S, de la Guardia M (2007) Anal Chim Acta 584(1):215–222

10.

Moros J, Armenta S, Garrigues S, de la Guardia M (2007) Talanta 72(1):72–79

11.

Moros J, Iñón FA, Garrigues S, de la Guardia M (2005) Anal Chim Acta 538(1–2):181–193

12.

Moros J, Iñón FA, Khanmohammadi M, Garrigues S, de la Guardia M (2006) Anal Bioanal Chem 385(4):708–715

13.

Massart DL, Vandeginste BGM, Buydens LMC, de Jong S, Lewi PJ, Verbeke J (1997) Handbook of chemometrics and qualimetrics (part A and B). Elsevier, Amsterdam

14.

Fearn T (2002) Handbook of vibrational spectroscopy. Wiley, Chichester

15.

Ben-Dor E, Inbar Y, Chen Y (1997) Remote Sens Environ 61(1):1–15

16.

Kooistra L, Wanders J, Epema GF, Leuven RSEW, Wehrens R, Buydens LMC (2003) Anal Chim Acta 484(2):189–200
Acknowledgements
Authors acknowledge the financial support of the Ministerio de Educación y Ciencia (Project CTQ2005–05604, FEDER) and Direcció General d'Investigació i Transferència Tecnològica de la Generalitat Valenciana (Project ACOMP/2007/131).
Electronic supplementary material
Below is the linked to the electronic supplementary material
About this article
Cite this article
Moros, J., Herbello-Hermelo, P., Moreda-Piñeiro, A. et al. Screening of humic and fulvic acids in estuarine sediments by near-infrared spectrometry. Anal Bioanal Chem 392, 541–549 (2008). https://doi.org/10.1007/s00216-008-2279-2
Received:

Revised:

Accepted:

Published:

Issue Date:
Keywords
Hierarchical cluster analysis

Partial least squares

Diffuse reflectance Fourier transform near-infrared

Estuarine sediments

Humic and fulvic acids