Molecularly imprinted solid-phase extraction and flow-injection chemiluminescence for trace analysis of 2,4-dichlorophenol in water samples
Abstract
Highly sensitive flow-injection chemiluminescence (CL) combined with molecularly imprinted solid-phase extraction (MISPE) has been used for determination of 2,4-dichlorophenol (2,4-DCP) in water samples. The molecularly imprinted polymer (MIP) for 2,4-DCP was prepared by non-covalent molecular imprinting methods, using 4-vinylpyridine (4-VP) and ethylene glycol dimethacrylate (EGDMA) as the monomer and cross-linker, respectively. 2,4-DCP could be selectively adsorbed by the MIP and the adsorbed 2,4-DCP was determined by its enhancing effect on the weak chemiluminescence reaction between potassium permanganate and luminol. The enhanced CL intensity was linear in the range from 1 × 10−7 to 2 × 10−5g mL−1. The LOD (S/N = 3) was 1.8 × 10−8g mL−1, and the relative standard deviation (RSD) was 3.0% (n = 11) for 1.4 × 10−6g mL−1. The proposed method had been successfully applied to the determination of 2,4-DCP in river water.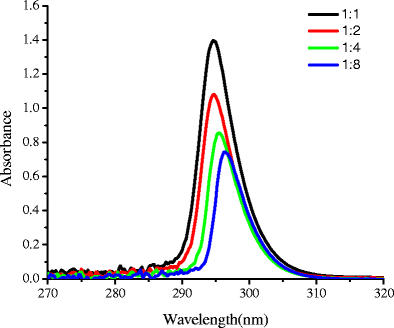 Keywords
Molecularly imprinted polymer 
2, 4-Dichlorophenol 
Flow chemiluminescence 
Molecularly imprinted solid-phase extraction 
Notes
Acknowledgements
This work was supported by the National Natural Science Foundation of China (Grant Nos. 20437020 and 20621703) and the Major Research Program of the Chinese Academy of Sciences (KZCX3-SW-432).