Abstract
The mandatory requirement in many countries to declare the amount of trans fat present in food products and dietary supplements has led to a need for sensitive and accurate methodologies for the rapid quantitation of total trans fats and oils. Capillary gas chromatography (GC) and infrared spectroscopy (IR) are the two methods most commonly used to identify and quantify trans fatty acids for food labeling purposes (see the article by Delmonte and Rader in this ABC issue for a detailed presentation of GC methodology). The present article provides a comprehensive review of the IR technique and the current attenuated total reflection (ATR) Fourier-transform (FT) IR methodologies for the rapid determination of total trans fats and oils. This review also addresses potential sources of interferences and inaccuracies in FTIR determinations, particularly those done at low trans levels. Recent observations have shown that the presence of saturated fats caused interferences in the FTIR spectra observed for trans triacylglycerols. The recognition and resolution of previously unresolved quantitative issues improved the accuracy and sensitivity of the FTIR methodology. Once validated, it is anticipated that the new negative second-derivative ATR-FTIR procedure will make IR spectroscopy more suitable than ever, and a rapid alternative and/or complementary method to GC, for the rapid determination of total trans fats for regulatory compliance.

This is a preview of subscription content, log in to check access.
Access options
Buy single article
Instant access to the full article PDF.
US$ 39.95
Price includes VAT for USA
Subscribe to journal
Immediate online access to all issues from 2019. Subscription will auto renew annually.
US$ 157
This is the net price. Taxes to be calculated in checkout.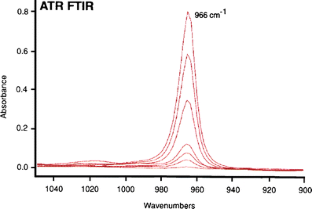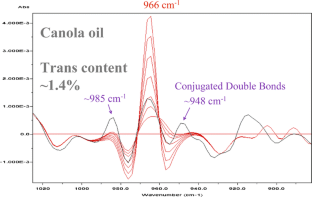 References
1.

Ratnayake WMN, Zehaluk C (2005) In: Akoh CC, Lai O-M (eds) Healthful lipids. AOCS Press, Champaign, IL, pp 1–32

2.

Schrimpf-Moss J, Wilkening V (2005) In: Kodali DR, List GR (eds) Trans fats alternatives. AOCS Press, Champaign, IL, pp 26–33

3.

Department of Health and Human Services, FDA (2003) Food labeling; trans fatty acids in nutrition labeling; nutrient content claims, and health claims; final rule. Fed Reg 68(133):41434–41506

4.

Kodali DR, List GR (eds) (2005) Trans fats alternatives. AOCS Press, Champaign, IL

5.

Mossoba MM, Kramer JKG, Delmonte P, Yurawecz MP, Rader JI (2005) In: Kodali DR, List GR (eds) Trans fats alternatives. AOCS Press, Champaign, IL, pp 47–70

6.

Milosevic M, Milosevic V, Kramer JKG, Azizian H, Mossoba MM (2004) Lipid Technol 16:252–255

7.

Mossoba MM, Kramer JKG, Milosevic V, Milosevic M, Azizian H (2007) J Am Oil Chem Soc (in press) DOI 10.1007/s11746-007-1038-4

8.

Mossoba MM, Yurawecz MP, McDonald RE (1996) J Am Oil Chem Soc 73:1003–1009

9.

Firestone D (ed) (1999) Official method Cd 14d-99. In: Official methods and recommended practices, 5th edn. American Oil Chemists' Society, Champaign, IL

10.

Adam M, Mossoba MM, Lee T (2000) J Am Oil Chem Soc 77:457–462

11.

AOAC (2000) Method 2000.10. In: Official methods of analysis, 17th edn. AOAC International, Gaithersburg, MD

12.

Mossoba MM, Adam M, Lee T (2001) J AOAC Int 84:1144–1150

13.

Firestone D, Sheppard A (1992) In: Christie WW (ed) Lipid methodology-one. The Oily Press, Ayr, UK, pp 273–322

14.

Firestone D, LaBouliere P (1965) J Assoc Off Anal Chem 48:437–443

15.

Mossoba MM, Kramer JKG, Fritsche J, Yurawecz MP, Eulitz K, Ku Y, Rader JI (2001) J Am Oil Chem Soc 78:631–634

16.

Christy AA, Egeberg PK, Ostensen ET (2003) Vibr Spectrosc 33:37–48

17.

Azizian H, Kramer JKG (2005) Lipids 40:855–867

18.

Azizian H, Ramalian AR, Winsborough SL, Kramer JKG, Hernadez M, Mossoba MM (2004) Lipid Technol 16:229–231

19.

Firestone D (ed) (1999) Official Method Cd 14-95. In: Official methods and recommended practices, 5th edn. American Oil Chemists' Society, Champaign, IL

20.

AOAC (1997) Method 965.34. In: Official methods of analysis, 17th edn. AOAC International, Gaithersburg, MD

21.

Harrick NJ (1967) Internal reflection spectroscopy. Wiley-Interscience, New York

22.

Mirabella FM (ed) (1992) Internal reflection spectroscopy (Practical Spectroscopy Series, vol. 15). Marcel Dekker, New York

23.

Ismail AA, Nicodemo A, Sedman J, van de Voort FR, Holzbauer IE (1998) In: Hamilton RJ, Cast J (eds) Spectral properties of lipids. Sheffield Academic Press/CRC Press, Boca Raton, FL, pp 235–269
About this article
Cite this article
Mossoba, M.M., Milosevic, V., Milosevic, M. et al. Determination of total trans fats and oils by infrared spectroscopy for regulatory compliance. Anal Bioanal Chem 389, 87–92 (2007). https://doi.org/10.1007/s00216-007-1262-7
Received:

Revised:

Accepted:

Published:

Issue Date:
Keywords
Fourier transform infrared

Attenuated total reflection

Trans fats

Validated official methods