Abstract
We report the development of a novel quartz crystal microbalance immunosensor with the simultaneous measurement of resonance frequency and motional resistance for the detection of antibodies to double-stranded DNA (dsDNA). The immobilization of poly(l-lysine) and subsequent complexation with DNA resulted in formation of a sensitive dsDNA-containing nanofilm on the surface of a gold electrode. Atomic force microscopy has been applied for the characterization of a poly(l-lysine)–DNA film. After the blocking with bovine serum albumin, the immunosensor in flow-injection mode was used to detect the antibodies to dsDNA in purified protein solutions of antibodies to dsDNA and to single-stranded DNA, monoclonal human immunoglobulin G, DNase I and in blood serum of patients with bronchial asthma and systemic lupus erythematosus. Experimental results indicate high sensitivity and selectivity of the immunosensor.

Access options
Buy single article
Instant access to the full article PDF.
USD 39.95
Price excludes VAT (USA)
Tax calculation will be finalised during checkout.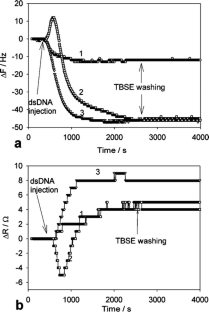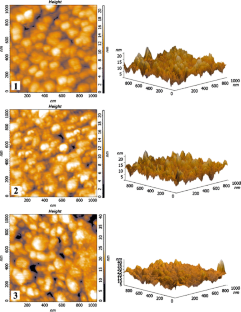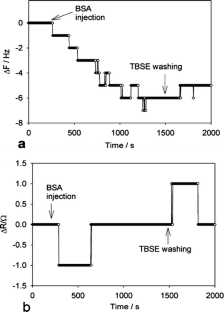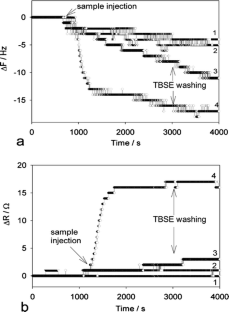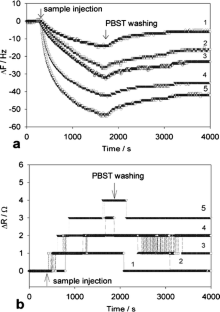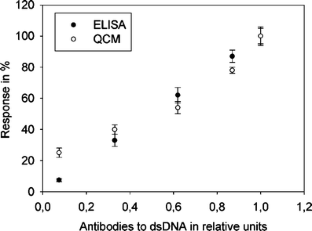 References
Kurien BT, Scofield RH (2006) Scand J Immunol 64:227–235

Li CK, David A, Isenberg DA (2006) Medicine 34:445–452

Bell C, Talal N, Schur PH (1975) Arthritis Rheum 18:535–540

Tektonidou MG, Anapliotou M, Vlachoyiannopoulos P, Moutsopoulos HM (2004) Ann Rheum Dis 63:1159–1161

Katakura M, Yamada T, Aizawa T, Hiramatsu K, Yukimura Y, Ishihara M, Takasu N, Maruyama K, Kameko M, Kanai M (1987) J Clin Endocrinol Metab 64:405–408

Nevinsky GA, Buneva VN (2003) J Cell Mol Med 7:265–276

Hahn BH (1998) New Engl J Med 338:1359–1368

Grabar P (1983) Immunol Today 4:337–349

Pisetsky DS (2004) Autoimmun Rew 3:500–504

Deocharan B, Qing X, Beger E, Putterman C (2002) Lupus 11:865–871

Shuster AM, Gololobov GV, Kvashuk OA, Bogomolova AE, Smimov IE, Gabibov AG (1992) Science 256:665–667

González-Buitrago JM, González C (2006) Clin Chim Acta 365:50–57

Keyhani J, Jafari-Far F, Einollahi N, Ghadirian E, Keyhani E (1998) Immunol Lett 62:81–86

Babkina SS, Ulakhovich NA, Zyavkina YI (2004) Anal Chim Acta 502:23–30

Evtugyn G, Mingaleva A, Budnikov H, Stoikova E, Vinter V, Eremin S (2003) Anal Chim Acta 479:125–134

Tran TT, Reich CF III, Alam M, Pisetsky DS (2003) Clin Immunol 109:278–287

Haugbro K, Nossent JC, Winkler T, Figenschau Y, Rekvig OP (2004) Ann Rheum Dis 63:386–394

Sauerbrey GZ (1959) Z Phys 155:2333–2336

Marx KA (2003) Biomacromolecules 4:1099–1120, and references therein

Carmon KS, Baltus RE, Luck LA (2004) Biochemistry 43:14249–14256

Abdelmaksoud M, Lee SM, Padgett CW, Irving DL, Brenner DW, Krim J (2006) Langmuir 22:9606–9609

Su XL, Li Y (2005) Biosens Bioelectron 21:840–848

Cho Y, Kim S, Kim Y, Lim HK, Lee K, Yoon D, Lim G, Pak YE, Ha TH, Kim K (2004) J Colloid Interface Sci 278:44–52

Pang L, Li J, Jiang J, Shen G, Yu R (2006) Anal Biochem 358:99–103

Mannelli I, Minunni M, Tombelli S, Mascini M (2003) Biosens Bioelectron 18:129–140

Takahashi S, Matsuno H, Furusawa H, Okahata Y (2002) Nucleic Acids Res Suppl 2:71–72

Lazerges M, Perrot H, Zeghib N, Antoine E, Compere C (2006) Sens Actuators B 120:329–337

Dupont-Filliard A, Billon M, Livache T, Guillerez S (2004) Anal Chim Acta 515:271–277

Duman M, Saber R, Pişkin E (2003) Biosens Bioelectron 18:1355–1363

Fakhrullin RF, Kharintsev SS, Konovalova OA, Salakhov MK, Vinter VG (2005) Probl Nonlinear Anal Eng Syst 23:37–48

Fakhrullin RF, Vinter VG, Abramova ZI, Anchikova LI, Podshivalina EY, Konovalova OA, Nagulin KU, Salakhov MK (2006) Biomed Technol Radioelectronics 8–9:67–79 (in Russian)

Chimenti D, Marchini S, Bombardieri S, Migliorini P (2000) J Autoimmun 15:9–13

Laemmli UK (1970) Nature 227:680–685

Laos K, Parker R, Moffat J, Wellner N, Ring SG (2006) Carbohydr Polym 65:235–242

Kanazawa KK, Gordon JG (1985) Anal Chim Acta 175:99–105

Voinova MV, Jonson M, Kasemo B (2002) Biosens Bioelectron 17:835–841

Lee SW, Hisberg WD, Kanazawa KK (2002) Anal Chem 74:125–131

Xie Q, Zhang Y, Xiang C, Tang J, Li Y, Zhao Q, Yao Z (2001) Anal Sci 17:613–620

Ren K, Wang Y, Ji J, Lin Q, Shen J (2005) Colloids Surf B 46:63–69

Muller M (2001) Biomacromolecules 2:262–269

Nevzorova TA, Vinter VG, Konovalova OA, Salakhov MK (2006) Biochemistry (Moscow) 71:1238–1246

Tasneem S, Ali R (2001) J Autoimmun 17:199–205

Katayose Katayose S, Kataoka S (1997) Bioconjugate Chem 8:702–707
Acknowledgements
The support of Federal Center of Shared Facilities for Physicochemical Investigations of Substances and Materials (Kazan, Tatarstan) is gratefully acknowledged. This study is dedicated to the loving memory of Prof. Victor G. Vinter.
Additional information
In memoriam Prof. Victor G. Vinter
About this article
Cite this article
Fakhrullin, R.F., Vinter, V.G., Zamaleeva, A.I. et al. Quartz crystal microbalance immunosensor for the detection of antibodies to double-stranded DNA. Anal Bioanal Chem 388, 367–375 (2007). https://doi.org/10.1007/s00216-007-1230-2
Received:

Revised:

Accepted:

Published:

Issue Date:

DOI: https://doi.org/10.1007/s00216-007-1230-2
Keywords
Quartz crystal microbalance

Atomic force microscopy

Antibodies to double-stranded DNA

Systemic lupus erythematosus

Bronchial asthma

Immunosensor