Abstract
Synthetic musk fragrances have been measured in water, air, sediments, sewage sludge, and biota worldwide. As the study of the environmental fate and impacts of these compounds progresses, the need for Standard Reference Materials (SRMs) for these compounds to facilitate analytical method improvement and interlaboratory comparisons becomes increasingly important. The National Institute of Standards and Technology (NIST) issues environmental matrix SRMs with certified concentrations for a variety of persistent organic pollutants including polycyclic aromatic hydrocarbons (PAHs), chlorinated pesticides, and polychlorinated biphenyl congeners (PCBs). Until now synthetic musk fragrance concentrations have not been reported in NIST SRMs. The objective of this study was to provide reference values for several commonly detected synthetic musk fragrances in several NIST natural matrix SRMs. In this study five polycyclic musk fragrances [HHCB (1,3,4,6,7,8-hexahydro-4,6,6,7,8,8-hexamethylcyclopenta-γ-2-benzopyran), AHTN (7-acetyl-1,1,3,4,4,6-hexamethyl-1,2,3,4-tetrahydronaphthalene), ADBI (4-acetyl-1,1-dimethyl-6-tert-butylindane), AHMI (6-acetyl-1,1,2,3,3,5-hexamethylindane), and ATII (5-acetyl-1,1,2,6-tetramethyl-3-isopropylindane] and two nitro musk fragrances [musk xylene (1-tert-butyl-3,5-dimethyl-2,4,6-trinitrobenzene) and musk ketone (4-tert-butyl-3,5-dinitro-2,6-dimethylacetophenone)] were measured in selected environmental SRMs. Gas chromatography–electron impact mass spectrometry (GC/EI-MS) was used for all analyses. HHCB was the most frequently detected synthetic musk fragrance and was detected in SRM 2585 Organic Contaminants in House Dust, SRM 2781 Domestic Sludge, SRM 1974b Organics in Mussel Tissue (Mytilus edulis), and SRM 1947 Lake Michigan Fish Tissue. It was not detected in SRM 1946 Lake Superior Fish Tissue or SRM 1945 Organics in Whale Blubber. Concentrations of HHCB in these SRMs ranged from 1.12 ng/g in SRM 1947 to 92,901 ng/g in SRM 2781. All of the polycyclic musk fragrances were detected in SRM 2781 and all of the target compounds were detected in SRM 2585.
Access options
Buy single article
Instant access to the full article PDF.
USD 39.95
Price excludes VAT (USA)
Tax calculation will be finalised during checkout.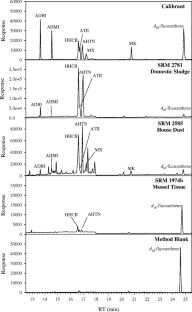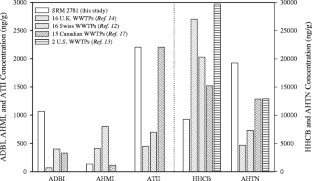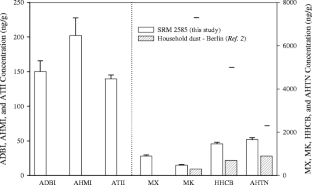 References
Peck AM, Hornbuckle KC (2004) Environ Sci Technol 38:367–372

Fromme H, Lahrz T, Piloty M, Gebhart H, Oddoy A, Ruden H (2004) Indoor Air 14:188–195

Kallenborn R, Gatermann R, Planting S, Rimkus GG, Lund M, Schlabach M, Burkow IC (1999) J Chromatogr A 846:295–306

Winkler M, Headley JV, Peru KM (2000) J Chromatogr A 903:203–210

Buerge IJ, Buser HR, Muller MD, Poiger T (2003) Environ Sci Technol 37:5636–5644

Simonich SL, Federle TW, Eckhoff WS, Rottiers A, Webb S, Sabaliunas D, De Wolf W (2002) Environ Sci Technol 36:2839–2847

Simonich SL, Begley WM, Debaere G, Eckhoff WS (2000) Environ Sci Technol 34:959–965

Ricking M, Schwarzbauer J, Hellou J, Svenson A, Zitko V (2003) Mar Pollut Bull 46:410–417

Heberer T, These A (2000) Abstr Pap Am Chem S 219:U624–U624

Fromme H, Otto T, Pilz K, Neugebauer F (1999) Chemosphere 39:1723–1735

Kupper T, Berset JD, Etter-Holzer R, Furrer R, Tarradellas J (2004) Chemosphere 54:1111–1120

Difrancesco AM, Chiu PC, Standley LJ, Allen HE, Salvito DT (2004) Environ Sci Technol 38:194–201

Stevens JL, Northcott GL, Stern GA, Tomy GT, Jones KC (2003) Environ Sci Technol 37:462–467

Ternes TA, Bonerz M, Herrmann N, Loffler D, Keller E, Lacida BB, Alder AC (2005) J Chromatogr A 1067:213–223

Bester K (2004) Chemosphere 57:863–870

Lee HB, Peart TE, Sarafin K (2003) Water Qual Res J Can 38:683–702

Nakata H (2005) Environ Sci Technol 39:3430–3434

Osemwengie LI, Steinberg S (2003) J Chromatogr A 993:1–15

Kallenborn R, Gatermann R, Nygard T, Knutzen J, Schlabach M (2001) Fresen Environ Bull 10:832–842

Gatermann R, Hellou J, Huhnerfuss H, Rimkus G, Zitko V (1999) Chemosphere 38:3431–3441

Seinen W, Lemmen JG, Pieters RH, Verbruggen EM, van der Burg B (1999) Toxicol Lett 111:161–168

Bitsch N, Dudas C, Korner W, Failing K, Biselli S, Rimkus G, Brunn H (2002) Arch Environ Contam Toxicol 43:257–264

Luckenbach T, Epel D (2005) Environ Health Persp 113:17–24

Luckenbach T, Ilaria C, Epel D (2004) Mar Environ Res 58:215–219

Bester K (2005) J Environ Monitor 7:43–51

Osemwengie LI, Steinberg S (2001) J Chromatogr A 932:107–118

Osemwengie LI, Gerstenberger SL (2004) J Environ Monitor 6:533–539

Kannan K, Reiner JL, Yun SH, Perrotta EE, Tao L, Johnson-Restrepo B, Rodan BD (2005) Chemosphere 61:693–700

Yang J-J, Metcalfe CD (206) Sci Total Environ 363:149–165

Bester K, Huhnerfuss H, Lange W, Rimkus GG, Theobald N (1998) Water Res 32:1857–1863

Rimkus GG (1999) Toxicol Lett 111:37–56

Berset JD, Bigler P, Herren D (2000) Anal Chem 72:2124–2131

Gatermann R, Huhnerfuss H, Rimkus G, Attar A, Kettrup A (1998) Chemosphere 36:2535–2547
Acknowledgements
We would like to thank Bill Lee at the National Water Research Institute and Mike Welch at the National Institute of Standards and Technology for helpful comments on the manuscript.
Disclaimer
Certain commercial equipment, instruments, or materials are identified in this paper to specify adequately the experimental procedure. Such identification does not imply recommendation or endorsement by the National Institute of Standards and Technology, nor does it imply that the materials or equipment identified are necessarily the best for the purpose.
About this article
Cite this article
Peck, A.M., Kucklick, J.R. & Schantz, M.M. Synthetic musk fragrances in environmental Standard Reference Materials. Anal Bioanal Chem 387, 2381–2388 (2007). https://doi.org/10.1007/s00216-006-0671-3
Received:

Revised:

Accepted:

Published:

Issue Date:

DOI: https://doi.org/10.1007/s00216-006-0671-3
Keywords
Reference materials

Organic compounds

PPCPs

Personal care products

Synthetic musks