Abstract
Covalently modified surfaces represent a unique state of matter that is not well described by liquid or solid phase models. The chemical bond in tethered alkanes imparts order to the surface in the form of anisotropic properties that are evident in chromatographic and spectroscopic studies. An understanding of the structure, conformation, and organization of alkyl-modified surfaces is requisite to the design of improved materials and the optimal utilization of existing materials. In recent years, the study of alkyl-modified surfaces has benefited from advances in modern analytical instrumentation. Aspects of alkyl chain conformation and motion have been investigated through the use of nuclear magnetic resonance spectroscopy, Fourier transform infrared spectroscopy, Raman spectroscopy, fluorescence spectroscopy, and neutron scattering studies. Chromatography provides complementary evidence of alkyl chain organization through interactions with solute probes. Computational simulations offer insights into the structure of covalently modified surfaces that may not be apparent through empirical observation. This manuscript reviews progress achieved in the study of the architecture of alkyl-modified surfaces.
Access options
Buy single article
Instant access to the full article PDF.
USD 39.95
Price excludes VAT (USA)
Tax calculation will be finalised during checkout.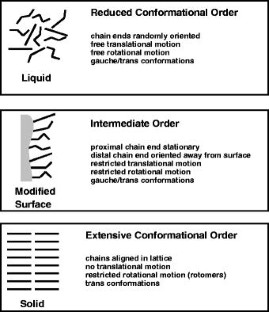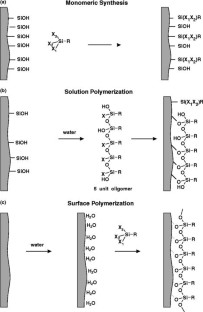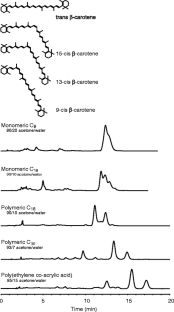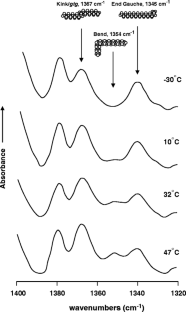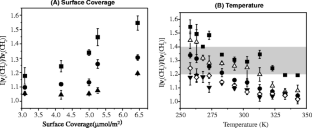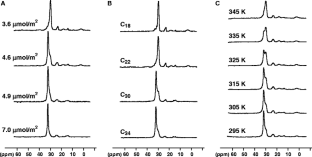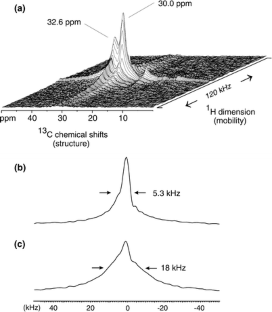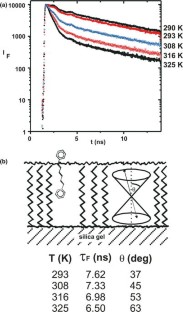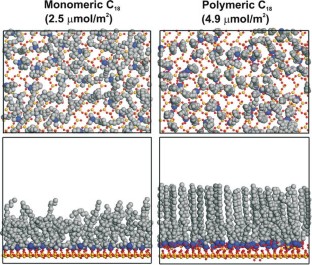 References
Abel EW, Pollard FH, Uden PC, Nickless G (1966) J Chromatogr 22:23–28

Stewart HNM, Perry SG (1968) J Chromatogr 37:97

Neue UD (1997) HPLC columns, theory, technology, and practice. Wiley, New York

Unger KK (1979) Porous silica. Elsevier, Amsterdam

Neue UD (2000) In: Meyers RA (ed) Encyclopedia of analytical chemistry. Wiley, Chichester, pp 11450–11472

Unger KK (1998) Packings and stationary phases in chromatographic techniques. Marcel Dekker, New York

Saito Y, Ohta H, Jinno K (2003) J Sep Sci 26:225–241

Vervoort RJM, Ruyter E, Debets AJJ, Claessens HA, Cramers CA, De Jong GJ (2002) J Chromatogr A 964:67–76

Sander LC, Sharpless KE, Pursch M (2000) J Chromatogr A 880:189–202

Dorsey JG, Cooper WT (1994) Anal Chem 66:857A–867A

Sander LC, Wise SA (1993) J Chromatogr 656:335–351

Unger KK (1990) Chromatogr Sci 47:43–85

Unger KK (1990) Chromatogr Sci 47:235–249

Engelhardt H, Low H, Eberhardt W, Mauss M (1989) Chromatographia 27:535–543

Sander LC, Wise SA (1987) CRC Crit Rev Anal Chem 18:299–415

Sander LC, Wise SA (1984) Anal Chem 56:504–510

Sander LC, Wise SA (1995) Anal Chem 67:3284–3292

Fatunmbi HO, Bruch MD, Wirth MJ (1993) Anal Chem 65:2048–2054

Adrianov KA, Izmaylov BA (1967) J Organomet Chem 8:435–441

Sander LC, Wise SA (1984) J Chromatogr 316:163–181

Gee ML, Healy TW, White LR (1990) J Colloid Interface Sci 140:450–465

Ulman A (1996) Chem Rev 96:1533–1554

Parikh AN, Schivley MA, Koo E, Seshadri K, Aurentz D, Mueller K, Allara DL (1997) J Am Chem Soc 119:3135–3143

Wirth MJ, Fatunmbi HO (1992) Anal Chem 64:2783–2786

Wirth MJ, Fatunmbi HO (1993) Anal Chem 65:822–826

Fairbank RWP, Xiang Y, Wirth MJ (1995) Anal Chem 67:3879–3885

Rustamov I, Farcas T, Ahmed F, Chan F, LoBrutto R, McNair HM, Kazakevich YV (2001) J Chromatogr A 913:49–63

Berendsen GE, de Galan L (1978) J Liq Chromatogr 1:561–586

Sandoval JE, Pesek JJ (1989) Anal Chem 61:2067–2075

Montes MC, van Amen C, Pesek JJ, Sandoval JE (1994) J Chromatogr A 688:31–45

Pesek JJ, Matyska MT, Sandoval JE, Williamsen EJ (1996) J Liq Chromatogr Relat Technol 19:2843–2865

Pesek JJ, Matyska MT, Williamsen EJ, Evanchic M, Hazari V, Konjuh K, Takhar S, Tranchina R (1997) J Chromatogr A 786:219–228

Pesek JJ, Matyska MT, Takhar S (1998) Chromatographia 48:631–636

Pesek JJ, Matyska MT, Oliva M, Evanchic M (1998) J Chromatogr A 818:145–154

Wegmann J, Albert K, Pursch M, Sander LC (2001) Anal Chem 73:1814–1820

Chowdhury MAJ, Ihara H, Sagawa T, Hirayama C (2000) J Chromatogr A 877:71–85

Chowdhury MAJ, Ihara H, Sagawa T, Hirayama C (2000) Chromatographia 52:45–50

Chowdhury MA, Ihara H, Sagawa T, Hirayama C (2000) J Liq Chromatogr Relat Technol 23:2289–2302

Ulman A (1990) Adv Mater 2:573–582

Karger BL, Gant JR, Hartkopf A, Weiner PH (1976) J Chromatogr 128:65–78

Horvath Cs, Melander WR, Molnar I (1976) J Chromatogr 125:129–156

Horvath Cs, Melander WR (1977) J Chromatogr Sci 15:393–404

Ogan K, Katz E, Slavin W (1979) Anal Chem 51:1315–1320

Katz ED, Ogan KL (1980) J Liq Chromatogr 3:1151–1163

Ogan K, Katz E (1980) J Chromatogr 188:115–127

US Environmental Protection Agency (1979) Fed Regist 44:233

Sander LC, Pursch M, Wise SA (1999) Anal Chem 71:4821–4830

Jinno K (1997) Chromatographic separations based on molecular recognition. Wiley, New York

Sander LC, Wise SA (1989) Anal Chem 61:1749–1754

Hesselink W, Schiffer RHNA, Kootstra PR (1995) J Chromatogr A 697:165–174

Ooms B (1996) LC GC 14:306, 308, 312, 314,

Sander LC, Wise SA (2001) J Sep Sci 24:910–920

Sentell KB, Henderson AN (1991) Anal Chim Acta 246:139–149

Sander LC, Wise SA (1987) Anal Chem 59:2309–2313

Bell CM, Sander LC, Fetzer JC, Wise SA (1996) J Chromatogr 753:37–45

Wise SA, Bonnett WJ, Guenther FR, May WE (1981) J Chromatogr Sci 19:457–465

Janini GM, Johnston K, Zielinski WL (1975) Anal Chem 47:670–674

Janini GM, Muschik GM, Schroer JA, Zielinski WL (1976) Anal Chem 48:1879–1883

Janini GM, Muschik GM, Zielinski WL (1976) Anal Chem 48:809–813

Radecki A, Lamparczyk H, Kaliszan R (1979) Chromatographia 12:595–599

Wise SA, Sander LC, Chang H, Markides KE, Lee ML (1988) Chromatographia 25:473–480

(1998) SRM 869a, Column Selectivity Test Mixture for Liquid Chromatography (Polycyclic Aromatic Hydrocarbons), Certificate of Analysis, NIST, Gaithersburg, MD

Lesellier E, Tchapla A, Krstulovic AM (1993) J Chromatogr 645:29–39

Pursch M, Sander LC, Albert K (1996) Anal Chem 68:4107–4113

Tanaka N, Tokuda Y, Iwaguchi K, Araki M (1982) J Chromatogr 239:761–772

Lochmüller CH, Wilder DR (1979) J Chromatogr Sci 17:574–579

Berendsen GE, de Galan L (1980) J Chromatogr 196:21–37

Tanaka N, Sakagami K, Araki M (1980) Chem Lett 587–590

Jinno K (1982) Chromatographia 15:667–668

Hansen RH, Harris JM (1996) Anal Chem 68:2879–2884

Egelhaaf HJ, Oelkrug D, Pursch M, Albert K (1997) J Fluorescence 7:311–316

Pursch M, Brindle R, Ellwanger A, Sander LC, Bell CM, Haendel H, Albert K (1997) Solid State NMR 9:191–201

Sander LC, Sharpless KE, Craft NE, Wise SA (1994) Anal Chem 66:1667–1674

Fetzer JC, Biggs WR (1989) Chromatographia 27:118–122

Saito Y, Ohta H, Jinno K (2004) Anal Chem 76:266A–272A

Wolcott RG, Dolan JW (1999) LC GC 17:316–321

Morrison RD, Dolan JW (2000) LC GC 18:936–939

Scott RPW, Simpson CF (1980) J Chromatogr 197:11–20

Lochmüller CH, Hunnicutt ML (1986) J Phys Chem 90:4318–4322

Montgomery ME, Green MA, Wirth MJ (1992) Anal Chem 64:1170–1175

Doyle CA, Vickers TJ, Mann CK, Dorsey JG (1997) J Chromatogr A 779:91–112

Li ZB, Rutan SC, Dong SN (1996) Anal Chem 68:124–129

Henry MC, Wolf LK, Messmer MC (2003) J Phys Chem B 107:2765–2770

Przybyciel M, Majors RE (2002) LC GC 20:516–523

Nagae N, Enami T, Doshi S (2002) LC GC North Am 20:964–972

Bidlingmeyer BA, Broske AD (2004) J Chromatogr Sci 42:100–106

Majors RE, Przybyciel M (2002) LC GC 20:584–593

Snyder RG, Schachtschneider JH (1963) Spectrochim Acta 19:85–116

Snyder RG (1967) J Chem Phys 47:1316–1360

Snyder RG, Maroncelli M, Qi SP, Strauss HL (1981) Science 214:188–190

Maroncelli M, Qi SP, Strauss HL, Snyder RG (1982) J Am Chem Soc 104:6237–6247

Sander LC, Callis JB, Field LR (1983) Anal Chem 55:1068–1075

Jinno K, Wu J, Ichikawa M, Takata I (1993) Chromatographia 37:627–634

Senak L, Davies MA, Mendelsohn R (1991) J Phys Chem 95:2565–2571

Singh S, Wegmann J, Albert K, Muller K (2002) J Phys Chem B 106:878–888

Srinivasan G, Pursch M, Sander LC, Muller K (2004) Langmuir 20:1746–1752

Parikh AN, Beers JD, Shreve AP, Swanson BI (1999) Langmuir 15:5369–5381

Allara DL, Parikh AN, Rondelez F (1995) Langmuir 11:2357–2360

Gao W, Reven L (1995) Langmuir 11:1860–1863

Badia A, Cuccia L, Demers L, Morin F, Lennox RB (1997) J Am Chem Soc 119:2682–2692

Voicu R, Badia A, Morin F, Lennox RB, Ellis TH (2001) Chem Mater 13:2266–2271

Pemberton JE, Ho MK, Orendorff CJ, Ducey MW (2001) J Chromatogr A 913:243–252

Ducey MW Jr, Orendorff CJ, Pemberton JE, Sander LC (2002) Anal Chem 74:5576–5584

Ducey MW Jr, Orendorff CJ, Pemberton JE, Sander LC (2002) Anal Chem 74:5585–5592

Orendorff CJ, Ducey MW, Pemberton JE (2002) J Phys Chem A 106:6991–6998

Orendorff CJ, Ducey MW Jr, Pemberton JE, Sander LC (2003) Anal Chem 75:3360–3368

Orendorff CJ, Ducey MW Jr, Pemberton JE, Sander LC (2003) Anal Chem 75:3369–3375

Doyle CA, Vickers TJ, Mann CK, Dorsey JG (2000) J Chromatogr A 877:41–59

Doyle CA, Vickers TJ, Mann CK, Dorsey JG (2000) J Chromatogr A 877:25–39

Larsson K, Rand RP (1973) Biochim Biophys Acta 326:245

Ho M, Cai M, Pemberton JE (1997) Anal Chem 69:2613–2616

Ho M, Pemberton JE (1998) Anal Chem 70:4915–4920

Sentell KB (1993) J Chromatogr A 656:231–263

Pursch M, Sander LC, Albert K (1999) Anal Chem 71:733a–741a

Albert K (2003) J Sep Sci 26:215–224

Grant DM, Paul EG (1964) J Am Chem Soc 86:2984–2990

Earl WL, Vanderhart DL (1982) J Magn Reson 48:35–54

Pursch M, Strohschein S, Handel H, Albert K (1996) Anal Chem 68:386–393

Strohschein S, Pursch M, Lubda D, Albert K (1998) Anal Chem 70:13–18

Jinno K, Ibuki T, Tanaka N, Okamoto M, Fetzer JC, Biggs WR, Griffiths PR, Olinger JM (1989) J Chromatogr 461:209–227

Cheng J, Fone M, Ellsworth MW (1996) Solid State NMR 7:135–140

Pursch M (1997) Neue Synthesewege zur Darstellung von langkettigen Alklinterphasen-Untersuchungen zur Oberflächenmorphologie durch Festkörper-NMR-Spektroskopie und HPLC. Universität Tübingen, Tübingen Germany

Pursch M, Sander LC, Egelhaaf HJ, Raitza M, Wise SA, Oelkrug D, Albert K (1999) J Am Chem Soc 121:3201–3213

Zeigler RC, Maciel GE (1991) J Phys Chem 95:7345–7353

Sindorf DW, Maciel GE (1983) J Am Chem Soc 105:1848–1851

Gilpin RK, Gangoda ME (1984) Anal Chem 56:1470–1473

Albert K, Evers B, Bayer E (1985) J Magn Reson 62:428–436

Gangoda M, Gilpin RK, Figueirinhas J (1989) J Phys Chem 93:4815–4818

Gangoda ME, Gilpin RK (1990) Langmuir 6:941–944

Zeigler RC, Maciel GE (1991) J Am Chem Soc 113:6349–6358

Kelusky EC, Fyfe CA (1986) J Am Chem Soc 108:1746–1749

Lochmüller CH, Marshall DB, Wilder DR (1981) Anal Chim Acta 130:31–42

Lochmüller CH, Marshall DB, Harris JM (1981) Anal Chim Acta 131:263–269

Stahlberg J, Almgren M (1985) Anal Chem 57:817–821

Carr JW, Harris JM (1986) Anal Chem 58:626–631

Thulstrup EW, Michl J (1989) Elementary polarization spectroscopy. VCH, New York

Lochmüller CH, Colborn AS, Hunnicutt ML, Harris JM (1983) Anal Chem 55:1344–1348

Lochmüller CH, Colborn AS, Hunnicutt ML, Harris JM (1984) J Am Chem Soc 106:4077–4082

Bogar RG, Thomas JC, Callis JB (1984) Anal Chem 56:1080–1084

Rangnekar VM, Foley JT, Oldham PB (1992) Appl Spectrosc 46:827–831

Stahlberg J, Almgren M, Alsins J (1988) Anal Chem 60:2487–2493

Zulli SL, Kovaleski JM, Zhu XR, Harris JM, Wirth MJ (1994) Anal Chem 66:1708–1712

Kovaleski JM, Wirth MJ (1996) J Phys Chem 100:10304–10309

Kovaleski JM, Wirth MJ (1997) J Phys Chem B 101:5545–5548

Hansen RL, Harris JM (1995) Anal Chem 67:492–498

Kovaleski JM, Wirth MJ (1995) J Phys Chem 99:4091–4095

Wirth MJ, Swinton DJ (1998) Anal Chem 70:5264–5271

Ludes MD, Wirth MJ (2002) Anal Chem 74:386–393

Wirth MJ, Swinton DJ, Ludes MD (2003) J Phys Chem B 107:6258–6268

Wirth MJ, Burbage JD (1991) Anal Chem 63:1311–1317

Burbage JD, Wirth MJ (1992) J Phys Chem 96:5943–5948

Wright PB, Lamb E, Dorsey JG, Kooser RG (1992) Anal Chem 64:785–789

Beaufils JP, Hennion MC, Rosset R (1985) Anal Chem 57:2593–2596

Glinka CJ, Sander LC, Wise SA, Berk NF (1990) Mat Res Soc Symp Proc 166:415–420

Sander LC, Glinka CJ, Wise SA (1990) Anal Chem 62:1099–1101

Wasserman SR, Whitesides GM, Tidswell IM, Ocko BM, Pershan PS, Axe JD (1989) J Am Chem Soc 111:5852–5861

Wheeler JF, Beck TL, Klatte SJ, Cole LA, Dorsey JG (1993) J Chromatogr A 656:317–333

Hansen SJ, Callis JB (1983) J Chromatogr Sci 21:560–563

Jinno K, Nagoshi T, Tanaka N, Okamoto M, Fetzer JC, Biggs WR (1988) J Chromatogr 436:1–10

Beck TL, Klatte SJ (2000) Unified Chromatogr 748:67–81

Young DC (2001) Computational chemistry, a practical guide for applying techniques to real-world problems. Wiley-Interscience, New York

Leach AR (2001) Molecular modelling: principles and applications 2nd edn. Prentice Hall, London

Klatte SJ, Beck TL (1993) J Phys Chem 97:5727–5734

Klatte SJ, Beck TL (1995) J Phys Chem 99:16024–16032

Yarovsky I, Aguilar MI, Hearn MTW (1994) J Chromatogr A 660:75–84

Yarovsky I, Aguilar ML, Hearn MTW (1995) Anal Chem 67:2145–2153

Ban K, Saito Y, Jinno K (2004) Anal Sci 20:1403–1408

Mountain RD, Hubbard JB, Meuse CW, Simmons V (2001) J Phys Chem B 105:9503–9508

Slusher JT, Mountain RD (1999) J Phys Chem B 103:1354–1362

Lippa KA, Sander LC, Mountain RD (2004) Molecular dynamics simulations of alkylsilane stationary phase order and disorder. Unpublished work

Sun H (1998) J Phys Chem B 102:7338–7364

Wick CD, Siepmann JI, Schure MR (2004) Anal Chem 76:2886–2892

Wick CD, Siepmann JI, Schure MR (2002) Anal Chem 74:3518–3524

Wick CD, Siepmann JI, Schure MR (2001) J Phys Chem B 105:10961–10966

Schure MR (1998) Adv Chromatogr 39:139–200

Zhuravlev ND, Siepmann JI, Schure MR (2001) Anal Chem 73:4006–4011

Snyder RG, Strauss HL, Elliger CA (1982) J Phys Chem 86:5145–5150

Parikh AN, Allara DL, Azouz IB, Rondelez F (1994) J Phys Chem 98:7577–7590

Engel LW, Prendergast FG (1981) Biochemistry 20:7338–7345

Pursch M, Vanderhart DL, Sander LC, Gu X, Nguyen T, Wise SA (2000) J Am Chem Soc 122:6997–7011

Engelhardt H, Nikolov M, Arangio M, Scherer M (1998) Chromatographia 48:183–189

Pesek JJ, Matyska MT, Pan XF (2003) J Chromatogr A 992:57–65

Lesellier E, Tchapla A (2003) HPLC 2003 in Nice, France

Raitza M, Herold M, Ellwanger A, Gauglitz G, Albert K (2000) Macromol Chem Phys 201:825–829

Wasserman SR, Tao YT, Whitesides GM (1989) Langmuir 5:1074

Silberzan P, Leger L, Ausserre D, Benattar JJ (1991) Langmuir 7:1647–1651

Ellison EH, Marshall DB (1991) J Phys Chem 95:808–813
About this article
Cite this article
Sander, L.C., Lippa, K.A. & Wise, S.A. Order and disorder in alkyl stationary phases. Anal Bioanal Chem 382, 646–668 (2005). https://doi.org/10.1007/s00216-005-3127-2
Received:

Revised:

Accepted:

Published:

Issue Date:

DOI: https://doi.org/10.1007/s00216-005-3127-2
Keywords
Conformational order

Stationary phase

Alkyl-modified surface

Raman spectroscopy

Nuclear magnetic resonance

Molecular dynamics simulation