Perfluorinated exohedral potassium-metallofullerene K···C n F n (n = 20 or 60): partial interior and surface excess electron state
Abstract
The fullerene [60] can bind a variety of metal to form exohedral metallofullerenes with special chemical and physical properties. However, how about the structure and properties of the perfluorinated exohedral metallofullerene with excess electron? The structures of K···C20F20 (C 5v), K···C60F60 (C 3v), and K···C60F60 (C 6v) with all real frequencies are represented at the B3LYP/6-31G(d) theory level. The large ionization potentials of 7.066 ~ 7.422 eV suggest the large stabilities of them. Owing to the interpolarization between K and C n F n (n = 20 or 60) cage, an electron transfers from K atom to the perfluorinated cage (C20F20 or C60F60) to form excess electron and long K+···C n F n − ionic bond (length > 2.9 Å) with interaction energies of −78.24 ~ −93.72 kcal/mol. Comparing to the solvated electron e−@C n F n (n = 20 or 60) with interior state, under the effect of counterion K+, partial excess electron is pulled from the interior to the surface of the cage to form partial interior and surface excess electron state. It is found that cage size and shape influence excess electron absorption spectrum, which may be important for the design of the new optical and photoelectric materials or devices with good performances.
Graphical abstract
Existence of the cage and counterion cause the formation of partial interior and surface excess electron state.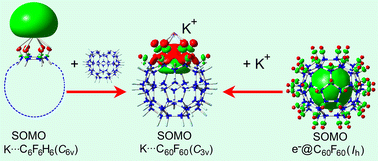 Keywords
Excess electron 
Perfluorinated exohedral metallofullerene 
Partial interior and surface state 
Notes
Acknowledgments
This work was supported by the National Natural Science Foundation of China (No. 20773046).