Abstract
Background
For most psychiatric conditions, including alcohol use disorder (AUD), FDA-approved pharmacological treatments are limited and their efficacy is restricted to only certain subgroups of patients. Scientific interest in the potential of psychedelic drugs has dramatically increased because of clinical preliminary evidence of efficacy in treating various psychiatric disorders. One of the most promising compounds belonging to this class of molecules is psilocybin. Here, to elucidate the therapeutic potential and treatment modalities of this drug, we investigated the effect of psilocybin on alcohol drinking and seeking in genetically selected Marchigian Sardinian alcohol-preferring (msP) rats, a well validated animal model of AUD characterized by excessive drinking and seeking.
Methods
Using male and female msP rats, we tested the effect of psilocybin on home cage voluntary alcohol consumption. We also tested the effect of the drug on the alcohol deprivation effect (ADE) model of relapse and on cue-induced reinstatement of alcohol seeking after a period of abstinence. Finally, we evaluated if psilocybin may disrupt the reconsolidation process of alcohol-related memory.
Results
Psilocybin did not reduce alcohol consumption, nor it prevented increased alcohol drinking after a period of forced abstinence and cue-induced reinstatement of alcohol-seeking. Noteworthy, in a memory retrieval-reconsolidation paradigm, psilocybin markedly attenuated resumption of alcohol seeking.
Conclusions
Altogether these data suggest that, despite psilocybin does not affect alcohol drinking and relapse, it may be highly effective if used to block the reconsolidation process of alcohol-related memories. This opens to the possibility of using this psychedelic drug in clinical settings in which AUD patients undergo procedures to recall the memory of alcohol and are then treated with psilocybin during the memory reconsolidation phase.
Access options
Buy single article
Instant access to the full article PDF.
USD 39.95
Price excludes VAT (USA)
Tax calculation will be finalised during checkout.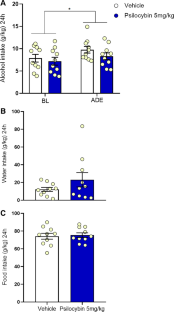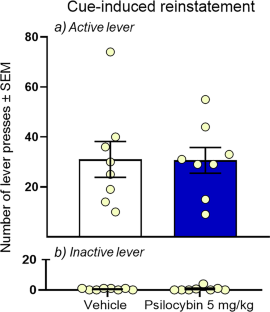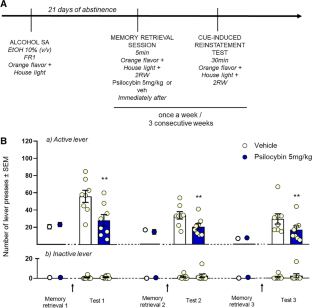 References
Barak S, Goltseker K (2021) Targeting the reconsolidation of licit drug memories to prevent relapse: focus on alcohol and nicotine. Int J Mol Sci 22(8):4090

Becker HC, Lopez MF (2004) Increased ethanol drinking after repeated chronic ethanol exposure and withdrawal experience in C57BL/6 mice. Alcohol Clin Exp Res 28(12):1829–1838

Bernardi RE, Lattal KM, Berger SP (2007) Anisomycin disrupts a contextual memory following reactivation in a cocaine-induced locomotor activity paradigm. Behav Neurosci 121(1):156–163

Bogenschutz MP (2013) Studying the effects of classic hallucinogens in the treatment of alcoholism: rationale, methodology, and current research with psilocybin. Curr Drug Abuse Rev 6(1):17–29

Bogenschutz MP, Forcehimes AA, Pommy JA, Wilcox CE, Barbosa PC, Strassman RJ (2015) Psilocybin-assisted treatment for alcohol dependence: a proof-of-concept study. J Psychopharmacol 29(3):289–299

Bogenschutz MP, Ross S, Bhatt S, Baron T, Forcehimes AA, Laska E, Mennenga SE, O'Donnell K, Owens LT, Podrebarac S, Rotrosen J, Tonigan JS, Worth L (2022) Percentage of heavy drinking days following psilocybin-assisted psychotherapy vs placebo in the treatment of adult patients with alcohol use disorder: a randomized clinical trial. JAMA Psychiatry 79(10):953–962

Borruto AM, Stopponi S, Li H, Weiss F, Roberto M, Ciccocioppo R (2021) Genetically selected alcohol-preferring msP rats to study alcohol use disorder: anything lost in translation? Neuropharmacology 15(186):108446

Cameron LP, Benson CJ, Dunlap LE, Olson DE (2018) Effects of N, N-dimethyltryptamine on rat behaviors relevant to anxiety and depression. ACS Chem Neurosci 9(7):1582–1590

Carter OL, Burr DC, Pettigrew JD, Wallis GM, Hasler F, Vollenweider FX (2005) Using psilocybin to investigate the relationship between attention, working memory, and the serotonin 1A and 2A receptors. J Cogn Neurosci 17(10):1497–1508

Ciccocioppo R, Economidou D, Cippitelli A, Cucculelli M, Ubaldi M, Soverchia L, Lourdusamy A, Massi M (2006) Genetically selected Marchigian Sardinian alcohol-preferring (msP) rats: an animal model to study the neurobiology of alcoholism. Addict Biol 11(3–4):339–355

Cooney NL, Litt MD, Morse PA, Bauer LO, Gaupp L (1997) Alcohol cue reactivity, negative-mood reactivity, and relapse in treated alcoholic men. J Abnorm Psychol 106(2):243–250

Das RK, Gale G, Walsh K, et al. (2019) Ketamine can reduce harmful drinking by pharmacologically rewriting drinking memories [published correction appears in Nat Commun. 2020 11;11(1):3065]. Nat Commun 10(1):5187

Daws RE, Timmermann C, Giribaldi B, Sexton JD, Wall MB, Erritzoe D, Roseman L, Nutt D, Carhart-Harris R (2022) Increased global integration in the brain after psilocybin therapy for depression. Nat Med 28(4):844–851

De Veen BT, Schellekens AF, Verheij MM, Homberg JR (2017) Psilocybin for treating substance use disorders? Expert Rev Neurother 17(2):203–212

Doss MK, Považan M, Rosenberg MD, Sepeda ND, Davis AK, Finan PH, Smith GS, Pekar JJ, Barker PB, Griffiths RR, Barrett FS (2021) Psilocybin therapy increases cognitive and neural flexibility in patients with major depressive disorder. Transl Psychiatry 11(1):574

Dudai Y (2004) The neurobiology of consolidations, or, how stable is the engram? Annu Rev Psychol 55:51–86

Finn DA, Snelling C, Fretwell AM, Tanchuck MA, Underwood L, Cole M, Crabbe JC, Roberts AJ (2007) Increased drinking during withdrawal from intermittent ethanol exposure is blocked by the CRF receptor antagonist D-Phe-CRF(12–41). Alcohol Clin Exp Res 31(6):939–949

Fuhrmann D, Knoll LJ, Blakemore SJ (2015) Adolescence as a sensitive period of brain development. Trends Cogn Sci 19(10):558–566

Gallimore AR (2015) Restructuring consciousness -the psychedelic state in light of integrated information theory. Front Hum Neurosci 12(9):346

Golden CT, Chadderton P (2022) Psilocybin reduces low frequency oscillatory power and neuronal phase-locking in the anterior cingulate cortex of awake rodents. Sci Rep 12(1):12702

Grant BF, Chou SP, Saha TD, Pickering RP, Kerridge BT, Ruan WJ, Huang B, Jung J, Zhang H, Fan A, Hasin DS (2017) Prevalence of 12-month alcohol use, high-risk drinking, and DSM-IV alcohol use disorder in the United States, 2001–2002 to 2012–2013: results from the national epidemiologic survey on alcohol and related conditions. JAMA Psychiat 74(9):911–923

Grob CS, Danforth AL, Chopra GS, Hagerty M, McKay CR, Halberstadt AL, Greer GR (2011) Pilot study of psilocybin treatment for anxiety in patients with advanced-stage cancer. Arch Gen Psychiatry 68(1):71–78

Healy CJ (2021) The acute effects of classic psychedelics on memory in humans. Psychopharmacology 238(3):639–653

Hellemans KG, Everitt BJ, Lee JL (2006) Disrupting reconsolidation of conditioned withdrawal memories in the basolateral amygdala reduces suppression of heroin seeking in rats. J Neurosci 26(49):12694–9

Hyman SE, Malenka RC, Nestler EJ (2006) Neural mechanisms of addiction: the role of reward-related learning and memory. Annu Rev Neurosci 29:565–598

Ivan Ezquerra-Romano I, Lawn W, Krupitsky E, Morgan CJA (2018) Ketamine for the treatment of addiction: evidence and potential mechanisms. Neuropharmacology 142:72–82

Jefsen O, Højgaard K, Christiansen SL, Elfving B, Nutt DJ, Wegener G, Müller HK (2019) Psilocybin lacks antidepressant-like effect in the Flinders sensitive line rat. Acta Neuropsychiatr 31(4):213–219

Jefsen OH, Elfving B, Wegener G, Müller HK (2021) Transcriptional regulation in the rat prefrontal cortex and hippocampus after a single administration of psilocybin. J Psychopharmacol 35(4):483–493

Johnson M, Richards W, Griffiths R (2008) Human hallucinogen research: guidelines for safety. J Psychopharmacol 22(6):603–620

Johnson MW, Garcia-Romeu A, Cosimano MP, Griffiths RR (2014) Pilot study of the 5-HT2AR agonist psilocybin in the treatment of tobacco addiction. J Psychopharmacol 28(11):983–992

Kelley AE (2004) Memory and addiction: shared neural circuitry and molecular mechanisms. Neuron. 44(1):161–79

Koob GF, Roberts AJ, Kieffer BL, Heyser CJ, Katner SN, Ciccocioppo R, Weiss F (2003) Animal models of motivation for drinking in rodents with a focus on opioid receptor neuropharmacology. Recent Dev Alcohol 16:263–281

Lapidus KA, Levitch CF, Perez AM et al (2014) A randomized controlled trial of intranasal ketamine in major depressive disorder. Biol Psychiatry 76(12):970–976

Lee JL, Di Ciano P, Thomas KL, Everitt BJ (2005) Disrupting reconsolidation of drug memories reduces cocaine-seeking behavior. Neuron. 47(6):795–801

Lee JL, Milton AL, Everitt BJ (2006) Cue-induced cocaine seeking and relapse are reduced by disruption of drug memory reconsolidation. J Neurosci. 26(22):5881–7

Litten RZ, Falk DE, Ryan ML, Fertig J, Leggio L (2018) Advances in pharmacotherapy development: human clinical studies. Handb Exp Pharmacol 248:579–613

Ly C, Greb AC, Cameron LP, Wong JM, Barragan EV, Wilson PC, Burbach KF, Soltanzadeh Zarandi S, Sood A, Paddy MR, Duim WC, Dennis MY, McAllister AK, Ori-McKenney KM, Gray JA, Olson DE (2018) Psychedelics promote structural and functional neural plasticity. Cell Rep. 23(11):3170–3182

MacLean KA, Johnson MW, Griffiths RR (2011) Mystical experiences occasioned by the hallucinogen psilocybin lead to increases in the personality domain of openness. J Psychopharmacol 25(11):1453–1461

Martin-Fardon R, Weiss F (2013) Modeling relapse in animals. Curr Top Behav Neurosci 13:403–432

McCulloch DE, Knudsen GM, Barrett FS, Doss MK, Carhart-Harris RL, Rosas FE, Deco G, Kringelbach ML, Preller KH, Ramaekers JG, Mason NL, Müller F, Fisher PM (2022) Psychedelic resting-state neuroimaging: a review and perspective on balancing replication and novel analyses. Neurosci Biobehav Rev 138:104689

McGaugh JL (2000) Memory–a century of consolidation. Science. 287(5451):248–51

McKenna DJ, Repke DB, Lo L, Peroutka SJ (1990) Differential interactions of indolealkylamines with 5-hydroxytryptamine receptor subtypes. Neuropharmacology 29(3):193–198

Meinhardt MW, Güngör C, Skorodumov I, Mertens LJ, Spanagel R (2020) Psilocybin and LSD have no long-lasting effects in an animal model of alcohol relapse. Neuropsychopharmacology 45(8):1316–1322

Meinhardt MW, Pfarr S, Fouquet G et al (2021) Psilocybin targets a common molecular mechanism for cognitive impairment and increased craving in alcoholism. Sci Adv 7(47):2eabh2399

Miller CA, Marshall JF (2005) Molecular substrates for retrieval and reconsolidation of cocaine-associated contextual memory. Neuron. 47(6):873–84

Misanin JR, Miller RR, Lewis DJ (1968) Retrograde amnesia produced by electroconvulsive shock after reactivation of a consolidated memory trace. Science. 160(3827):554–5

Monti PM, Binkoff JA, Abrams DB, Zwick WR, Nirenberg TD, Liepman MR (1987) Reactivity of alcoholics and nonalcoholics to drinking cues. J Abnorm Psychol 96(2):122–126

Morici JF, Ciccia L, Malleret G, Gingrich JA, Bekinschtein P, Weisstaub NV (2015) Serotonin 2a receptor and serotonin 1a receptor interact within the medial prefrontal cortex during recognition memory in mice. Front Pharmacol. 6:298 (Published 2015 Dec 23)

Morici JF, Cicuttin G, Silva A et al (2022) Serotonin type 2a receptor in the prefrontal cortex controls perirhinal cortex excitability during object recognition memory recall. Neuroscience 497:196–205

Muthukumaraswamy SD, Carhart-Harris RL, Moran RJ, Brookes MJ, Williams TM, Errtizoe D, Sessa B, Papadopoulos A, Bolstridge M, Singh KD, Feilding A, Friston KJ, Nutt DJ (2013) Broadband cortical desynchronization underlies the human psychedelic state. J Neurosci. 33(38):15171–83

Nader K, Schafe GE, Le Doux JE (2000) Fear memories require protein synthesis in the amygdala for reconsolidation after retrieval. Nature 406(6797):722–6

O'Brien CP, Childress AR, McLellan AT, Ehrman R (1992) Classical conditioning in drug-dependent humans. Ann N Y Acad Sci 28(654):400–415

Petrakis IL, Simpson TL (2017) Posttraumatic stress disorder and alcohol use disorder: a critical review of pharmacologic treatments. Alcohol Clin Exp Res 41(2):226–237

Rambousek L, Palenicek T, Vales K, Stuchlik A (2014) The effect of psilocin on memory acquisition, retrieval, and consolidation in the rat. Front Behav Neurosci 8:180 (Published 2014 16)

Rimondini R, Sommer W, Heilig M (2003) A temporal threshold for induction of persistent alcohol preference: behavioral evidence in a rat model of intermittent intoxication. J Stud Alcohol 64(4):445–449

Robinson MJ, Franklin KB (2007) Effects of anisomycin on consolidation and reconsolidation of a morphine-conditioned place preference. Behav Brain Res. 178(1):146–53

Schneider M (2013) Adolescence as a vulnerable period to alter rodent behavior. Cell Tissue Res 354(1):99–106

Shao LX, Liao C, Gregg I, Davoudian PA, Savalia NK, Delagarza K, Kwan AC (2021) Psilocybin induces rapid and persistent growth of dendritic spines in frontal cortex in vivo. Neuron 109(16):2535-2544.e4

Sinha R (2001) How does stress increase risk of drug abuse and relapse? Psychopharmacology 158(4):343–359. https://doi.org/10.1007/s002130100917

Tabakoff B, Hoffman PL (2000) Animal models in alcohol research. Alcohol Res Health 24(2):77–84

Vejmola Č, Tylš F, Piorecká V, Koudelka V, Kadeřábek L, Novák T, Páleníček T (2021) Psilocin, LSD, mescaline, and DOB all induce broadband desynchronization of EEG and disconnection in rats with robust translational validity. Transl Psychiatry. 11(1):506

Vengeliene V, Heidbreder CA, Spanagel R (2007) The effects of lamotrigine on alcohol seeking and relapse. Neuropharmacology 53(8):951–957

Vengeliene V, Bilbao A, Spanagel R (2014) The alcohol deprivation effect model for studying relapse behavior: a comparison between rats and mice. Alcohol 48(3):313–320

Von der Goltz C, Vengeliene V, Bilbao A, Perreau-Lenz S, Pawlak CR, Kiefer F, Spanagel R (2009) Cue-induced alcohol-seeking behaviour is reduced by disrupting the reconsolidation of alcohol-related memories. Psychopharmacology 205(3):389–397

Witkiewitz K, Litten RZ, Leggio L (2019) Advances in the science and treatment of alcohol use disorder. Sci Adv. 5(9):eaax4043

Worrell SD, Gould TJ (2021) Therapeutic potential of ketamine for alcohol use disorder. Neurosci Biobehav Rev 126:573–589

Xue YX, Luo YX, Wu P, Shi HS, Xue LF, Chen C, Zhu WL, Ding ZB, Bao YP, Shi J, Epstein DH, Shaham Y, Lu L (2012) A memory retrieval-extinction procedure to prevent drug craving and relapse. Science. 336(6078):241–5
Acknowledgements
We are thankful to Gessica De Santis and Alessandra Vadalà for helping with the experiments and Rina Righi, Agostino Marchi, and Matteo Valzano for animal breeding and expert technical assistance.
Funding
This research was supported by grant ERA-NET Neuron Psi-Alc and by Eva-Maria and Rutger Hetzler Foundation grant Psy-Alc to RC, NIAAA - AA014351 (FW and RC) and NIAAA - AA017447 (MR and RC).
Ethics declarations
Conflict of interest
The authors declare no competing interests.
Additional information
Publisher's note
Springer Nature remains neutral with regard to jurisdictional claims in published maps and institutional affiliations.
Rights and permissions
Springer Nature or its licensor (e.g. a society or other partner) holds exclusive rights to this article under a publishing agreement with the author(s) or other rightsholder(s); author self-archiving of the accepted manuscript version of this article is solely governed by the terms of such publishing agreement and applicable law.
About this article
Cite this article
Benvenuti, F., Colombo, D., Soverchia, L. et al. Psilocybin prevents reinstatement of alcohol seeking by disrupting the reconsolidation of alcohol-related memories. Psychopharmacology 240, 1521–1530 (2023). https://doi.org/10.1007/s00213-023-06384-w
Received:

Accepted:

Published:

Issue Date:

DOI: https://doi.org/10.1007/s00213-023-06384-w
Keywords