Abstract
Background and aim
Post-traumatic stress disorder (PTSD), a chronic debilitating condition that affects nearly 5–10% of American adults, is treated with a handful of FDA-approved drugs that provide at best symptomatic relief and exert multiple side effects. Preclinical and clinical evidence shows that inhibitors of the enzyme fatty acid amide hydrolase (FAAH), which deactivates the endocannabinoid anandamide, exhibit anxiolytic-like properties in animal models. In the present study, we investigated the effects of two novel brain-permeable FAAH inhibitors – the compounds ARN14633 and ARN14280 – in a rat model of predator stress-induced long-term anxiety used to study PTSD.
Methods
We exposed male Sprague–Dawley rats to 2,5-dihydro-2,4,5-trimethylthiazoline (TMT), a volatile constituent of fox feces, and assessed anxiety-like behaviors in the elevated plus maze (EPM) test seven days later. We measured FAAH activity using a radiometric assay and brain levels of FAAH substrates by liquid chromatography/tandem mass spectrometry.
Results
Rats challenged with TMT developed persistent (≥ 7 days) anxiety-like symptoms in the EPM test. Intraperitoneal administration of ARN14633 or ARN14280 1 h before testing suppressed TMT-induced anxiety-like behaviors with median effective doses (ED50) of 0.23 and 0.33 mg/kg, respectively. The effects were negatively correlated (ARN14663: R2 = 0.455; ARN14280: R2 = 0.655) with the inhibition of brain FAAH activity and were accompanied by increases in brain FAAH substrate levels.
Conclusions
The results support the hypothesis that FAAH-regulated lipid signaling serves important regulatory functions in the response to stress and confirm that FAAH inhibitors may be useful for the management of PTSD.
This is a preview of subscription content,
to check access.
Access this article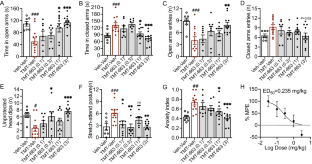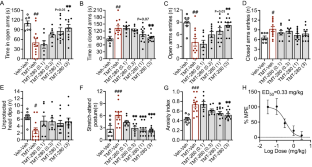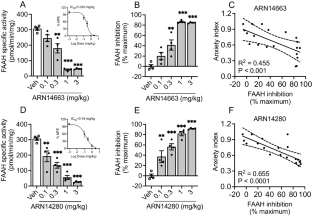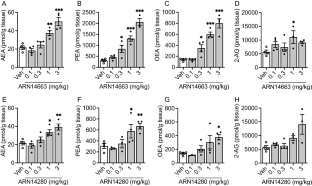 Similar content being viewed by others
Data availability
Data will be made available upon reasonable request.
References
Ahern GP (2003) Activation of TRPV1 by the satiety factor oleoylethanolamide. J Biol Chem 278:30429–30434

Alexander W (2012) Pharmacotherapy for Post-traumatic Stress Disorder In Combat Veterans: Focus on Antidepressants and Atypical Antipsychotic Agents. P T 37:32–38

American Psychiatric Association (2022). Trauma- and Stressor-Related Disorders. In Diagnostic and statistical manual of mental disorders (5th ed., text rev.)

Bluett RJ, Gamble-George JC, Hermanson DJ, Hartley ND, Marnett LJ, Patel S (2014) Central anandamide deficiency predicts stress-induced anxiety: behavioral reversal through endocannabinoid augmentation. Transl Psychiatry 4:e408

Bortolato M, Mangieri RA, Fu J, Kim JH, Arguello O, Duranti A, Tontini A, Mor M, Tarzia G, Piomelli D (2007) Antidepressant-like activity of the fatty acid amide hydrolase inhibitor URB597 in a rat model of chronic mild stress. Biol Psychiatry 62:1103–1110

Carobrez AP, Bertoglio LJ (2005) Ethological and temporal analyses of anxiety-like behavior: the elevated plus-maze model 20 years on. Neurosci Biobehav Rev 29:1193–1205

Cohen H, Yehuda R (2011) Gender differences in animal models of posttraumatic stress disorder. Dis Markers 30:141–150

Connor M, Vaughan CW, Vandenberg RJ (2010) N-acyl amino acids and N-acyl neurotransmitter conjugates: neuromodulators and probes for new drug targets. Br J Pharmacol 160:1857–1871

Cukor J, Wyka K, Jayasinghe N, Difede J (2010) The nature and course of subthreshold PTSD. J Anxiety Disord 24:918–923

Danandeh A, Vozella V, Lim J, Oveisi F, Ramirez GL, Mears D, Wynn G, Piomelli D (2018) Effects of fatty acid amide hydrolase inhibitor URB597 in a rat model of trauma-induced long-term anxiety. Psychopharmacology 235:3211–3221

Ferguson JM (2001) SSRI Antidepressant Medications: Adverse Effects and Tolerability. Prim Care Companion J Clin Psychiatry 3:22–27

Fidelman S, Mizrachi Zer-Aviv T, Lange R, Hillard CJ, Akirav I (2018) Chronic treatment with URB597 ameliorates post-stress symptoms in a rat model of PTSD. Eur Neuropsychopharmacol 28:630–642

Fotio Y, Jung KM, Palese F, Obenaus A, Tagne AM, Lin L, Rashid TI, Pacheco R, Jullienne A, Ramirez J, Mor M, Spadoni G, Jang C, Hohmann AG, Piomelli D (2021) NAAA-regulated lipid signaling governs the transition from acute to chronic pain. Sci Adv 7:eabi8834

Gaetani S, Cuomo V, Piomelli D (2003) Anandamide hydrolysis: a new target for anti-anxiety drugs? Trends Mol Med 9:474–478

Glaser R, Kiecolt-Glaser JK (2005) Stress-induced immune dysfunction: implications for health. Nat Rev Immunol 5:243–251

Glass M, Dragunow M, Faull RL (1997) Cannabinoid receptors in the human brain: a detailed anatomical and quantitative autoradiographic study in the fetal, neonatal and adult human brain. Neuroscience 77:299–318

Gobbi G, Bambico FR, Mangieri R, Bortolato M, Campolongo P, Solinas M, Cassano T, Morgese MG, Debonnel G, Duranti A, Tontini A, Tarzia G, Mor M, Trezza V, Goldberg SR, Cuomo V, Piomelli D (2005) Antidepressant-like activity and modulation of brain monoaminergic transmission by blockade of anandamide hydrolysis. Proc Natl Acad Sci U S A 102:18620–18625

Godlewski G, Offertaler L, Wagner JA, Kunos G (2009) Receptors for acylethanolamides-GPR55 and GPR119. Prostaglandins Other Lipid Mediat 89:105–111

Gorzalka BB, Hill MN (2009) Integration of endocannabinoid signaling into the neural network regulating stress-induced activation of the hypothalamic-pituitary-adrenal axis. Curr Top Behav Neurosci 1:289–306

Greco R, Demartini C, Zanaboni AM, Francavilla M, Reggiani A, Realini N, Scarpelli R, Piomelli D, Tassorelli C (2022) Potentiation of endocannabinoids and other lipid amides prevents hyperalgesia and inflammation in a pre-clinical model of migraine. J Headache Pain 23:79

Griebel G, Stemmelin J, Lopez-Grancha M, Fauchey V, Slowinski F, Pichat P, Dargazanli G, Abouabdellah A, Cohen C, Bergis OE (2018) The selective reversible FAAH inhibitor, SSR411298, restores the development of maladaptive behaviors to acute and chronic stress in rodents. Sci Rep 8:2416

Gunduz-Cinar O, Hill MN, McEwen BS, Holmes A (2013a) Amygdala FAAH and anandamide: mediating protection and recovery from stress. Trends Pharmacol Sci 34:637–644

Gunduz-Cinar O, MacPherson KP, Cinar R, Gamble-George J, Sugden K, Williams B, Godlewski G, Ramikie TS, Gorka AX, Alapafuja SO, Nikas SP, Makriyannis A, Poulton R, Patel S, Hariri AR, Caspi A, Moffitt TE, Kunos G, Holmes A (2013b) Convergent translational evidence of a role for anandamide in amygdala-mediated fear extinction, threat processing and stress-reactivity. Mol Psychiatry 18:813–823

Helpman L, Marin MF, Papini S, Zhu X, Sullivan GM, Schneier F, Neria M, Shvil E, Malaga Aragon MJ, Markowitz JC, Lindquist MA, Wager T, Milad M, Neria Y (2016) Neural changes in extinction recall following prolonged exposure treatment for PTSD: A longitudinal fMRI study. Neuroimage Clin 12:715–723

Herkenham M, Lynn AB, Little MD, Johnson MR, Melvin LS, de Costa BR, Rice KC (1990) Cannabinoid receptor localization in brain. Proc Natl Acad Sci U S A 87:1932–1936

Hill MN, Patel S (2013) Translational evidence for the involvement of the endocannabinoid system in stress-related psychiatric illnesses. Biol Mood Anxiety Disord 3:19

Hill MN, McLaughlin RJ, Morrish AC, Viau V, Floresco SB, Hillard CJ, Gorzalka BB (2009) Suppression of amygdalar endocannabinoid signaling by stress contributes to activation of the hypothalamic-pituitary-adrenal axis. Neuropsychopharmacology 34:2733–2745

Hill MN, McLaughlin RJ, Bingham B, Shrestha L, Lee TT, Gray JM, Hillard CJ, Gorzalka BB, Viau V (2010a) Endogenous cannabinoid signaling is essential for stress adaptation. Proc Natl Acad Sci U S A 107:9406–9411

Hill MN, Patel S, Campolongo P, Tasker JG, Wotjak CT, Bains JS (2010b) Functional interactions between stress and the endocannabinoid system: from synaptic signaling to behavioral output. J Neurosci 30:14980–14986

Hill MN, Bierer LM, Makotkine I, Golier JA, Galea S, McEwen BS, Hillard CJ, Yehuda R (2013a) Reductions in circulating endocannabinoid levels in individuals with post-traumatic stress disorder following exposure to the World Trade Center attacks. Psychoneuroendocrinology 38:2952–2961

Hill MN, Kumar SA, Filipski SB, Iverson M, Stuhr KL, Keith JM, Cravatt BF, Hillard CJ, Chattarji S, McEwen BS (2013b) Disruption of fatty acid amide hydrolase activity prevents the effects of chronic stress on anxiety and amygdalar microstructure. Mol Psychiatry 18:1125–1135

Hoskins M, Pearce J, Bethell A, Dankova L, Barbui C, Tol WA, van Ommeren M, de Jong J, Seedat S, Chen H, Bisson JI (2015) Pharmacotherapy for post-traumatic stress disorder: systematic review and meta-analysis. Br J Psychiatry 206:93–100

Ivy D, Palese F, Vozella V, Fotio Y, Yalcin A, Ramirez G, Mears D, Wynn G, Piomelli D (2020) Cannabinoid CB2 receptors mediate the anxiolytic-like effects of monoacylglycerol lipase inhibition in a rat model of predator-induced fear. Neuropsychopharmacology 45:1330–1338

Kathuria S, Gaetani S, Fegley D, Valino F, Duranti A, Tontini A, Mor M, Tarzia G, La Rana G, Calignano A, Giustino A, Tattoli M, Palmery M, Cuomo V, Piomelli D (2003) Modulation of anxiety through blockade of anandamide hydrolysis. Nat Med 9:76–81

Lim J, Igarashi M, Jung KM, Butini S, Campiani G, Piomelli D (2016) Endocannabinoid Modulation of Predator Stress-Induced Long-Term Anxiety in Rats. Neuropsychopharmacology 41:1329–1339

Lin HC, Mao SC, Gean PW (2006) Effects of intra-amygdala infusion of CB1 receptor agonists on the reconsolidation of fear-potentiated startle. Learn Mem 13:316–321

Lin HC, Mao SC, Su CL, Gean PW (2009) The role of prefrontal cortex CB1 receptors in the modulation of fear memory. Cereb Cortex 19:165–175

Mayo LM, Asratian A, Linde J, Morena M, Haataja R, Hammar V, Augier G, Hill MN, Heilig M (2020) Elevated Anandamide, Enhanced Recall of Fear Extinction, and Attenuated Stress Responses Following Inhibition of Fatty Acid Amide Hydrolase: A Randomized, Controlled Experimental Medicine Trial. Biol Psychiatry 87:538–547

Mayo LM, Rabinak CA, Hill MN, Heilig M (2022) Targeting the Endocannabinoid System in the Treatment of Posttraumatic Stress Disorder: A Promising Case of Preclinical-Clinical Translation? Biol Psychiatry 91:262–272

Moise AM, Eisenstein SA, Astarita G, Piomelli D, Hohmann AG (2008) An endocannabinoid signaling system modulates anxiety-like behavior in male Syrian hamsters. Psychopharmacology 200:333–346

Moreira FA, Kaiser N, Monory K, Lutz B (2008) Reduced anxiety-like behaviour induced by genetic and pharmacological inhibition of the endocannabinoid-degrading enzyme fatty acid amide hydrolase (FAAH) is mediated by CB1 receptors. Neuropharmacology 54:141–150

Morena M, Patel S, Bains JS, Hill MN (2016) Neurobiological Interactions Between Stress and the Endocannabinoid System. Neuropsychopharmacology 41:80–102

Neumeister A, Normandin MD, Pietrzak RH, Piomelli D, Zheng MQ, Gujarro-Anton A, Potenza MN, Bailey CR, Lin SF, Najafzadeh S, Ropchan J, Henry S, Corsi-Travali S, Carson RE, Huang Y (2013) Elevated brain cannabinoid CB1 receptor availability in post-traumatic stress disorder: a positron emission tomography study. Mol Psychiatry 18:1034–1040

Newsom RJ, Osterlund C, Masini CV, Day HE, Spencer RL, Campeau S (2012) Cannabinoid receptor type 1 antagonism significantly modulates basal and loud noise induced neural and hypothalamic-pituitary-adrenal axis responses in male Sprague-Dawley rats. Neuroscience 204:64–73

Patel S, Hillard CJ (2008) Adaptations in endocannabinoid signaling in response to repeated homotypic stress: a novel mechanism for stress habituation. Eur J Neurosci 27:2821–2829

Pellow S, Chopin P, File SE, Briley M (1985) Validation of open:closed arm entries in an elevated plus-maze as a measure of anxiety in the rat. J Neurosci Methods 14:149–167

Piomelli D, MabouTagne A (2022) Endocannabinoid-Based Therapies. Annu Rev Pharmacol Toxicol 62:483–507

Ramot A, Akirav I (2012) Cannabinoid receptors activation and glucocorticoid receptors deactivation in the amygdala prevent the stress-induced enhancement of a negative learning experience. Neurobiol Learn Mem 97:393–401

Rauch SAM, Kim HM, Powell C, Tuerk PW, Simon NM, Acierno R, Allard CB, Norman SB, Venners MR, Rothbaum BO, Stein MB, Porter K, Martis B, King AP, Liberzon I, Phan KL, Hoge CW (2019) Efficacy of Prolonged Exposure Therapy, Sertraline Hydrochloride, and Their Combination Among Combat Veterans With Posttraumatic Stress Disorder: A Randomized Clinical Trial. JAMA Psychiat 76:117–126

Renner V, Schellong J, Bornstein S, Petrowski K (2022) Stress-induced pro- and anti-inflammatory cytokine concentrations in female PTSD and depressive patients. Transl Psychiatry 12:158

Rodgers RJ, Dalvi A (1997) Anxiety, defence and the elevated plus-maze. Neurosci Biobehav Rev 21:801–810

Schnurr PP, Friedman MJ, Engel CC, Foa EB, Shea MT, Chow BK, Resick PA, Thurston V, Orsillo SM, Haug R, Turner C, Bernardy N (2007) Cognitive behavioral therapy for posttraumatic stress disorder in women: a randomized controlled trial. JAMA 297:820–830

Schwendt M, Shallcross J, Hadad NA, Namba MD, Hiller H, Wu L, Krause EG, Knackstedt LA (2018) A novel rat model of comorbid PTSD and addiction reveals intersections between stress susceptibility and enhanced cocaine seeking with a role for mGlu5 receptors. Transl Psychiatry 8:209

Shallcross J, Hamor P, Bechard AR, Romano M, Knackstedt L, Schwendt M (2019) The Divergent Effects of CDPPB and Cannabidiol on Fear Extinction and Anxiety in a Predator Scent Stress Model of PTSD in Rats. Front Behav Neurosci 13:91

Spagnolo PA, Ramchandani VA, Schwandt ML, Kwako LE, George DT, Mayo LM, Hillard CJ, Heilig M (2016) FAAH Gene Variation Moderates Stress Response and Symptom Severity in Patients with Posttraumatic Stress Disorder and Comorbid Alcohol Dependence. Alcohol Clin Exp Res 40:2426–2434

Staples LG (2010) Predator odor avoidance as a rodent model of anxiety: learning-mediated consequences beyond the initial exposure. Neurobiol Learn Mem 94:435–445

Stopponi S, Fotio Y, Domi A, Borruto AM, Natividad L, Roberto M, Ciccocioppo R, Cannella N (2018) Inhibition of fatty acid amide hydrolase in the central amygdala alleviates co-morbid expression of innate anxiety and excessive alcohol intake. Addict Biol 23:1223–1232

Verbitsky A, Dopfel D, Zhang N (2020) Rodent models of post-traumatic stress disorder: behavioral assessment. Transl Psychiatry 10:132

Wiley JL, Dewey MA, Jefferson RG, Winckler RL, Bridgen DT, Willoughby KA, Martin BR (2000) Influence of phenylmethylsulfonyl fluoride on anandamide brain levels and pharmacological effects. Life Sci 67:1573–1583

Willoughby KA, Moore SF, Martin BR, Ellis EF (1997) The biodisposition and metabolism of anandamide in mice. J Pharmacol Exp Ther 282:243–247

Yasmin F, Colangeli R, Morena M, Filipski S, van der Stelt M, Pittman QJ, Hillard CJ, Teskey GC, McEwen BS, Hill MN, Chattarji S (2020) Stress-induced modulation of endocannabinoid signaling leads to delayed strengthening of synaptic connectivity in the amygdala. Proc Natl Acad Sci U S A 117:650–655

Yehuda R, Hoge CW, McFarlane AC, Vermetten E, Lanius RA, Nievergelt CM, Hobfoll SE, Koenen KC, Neylan TC, Hyman SE (2015) Post-traumatic stress disorder. Nat Rev Dis Primers 1:15057
Acknowledgements
Kayla Chang and Cecilia Thien Dang assisted during behavioral experiments.
Funding
This work was supported by a contract from Endosane Pharmaceuticals GmbH (to DP). The company was not involved in the study's design, execution, or data analysis.
Ethics declarations
Competing interest
D.P. is an inventor in patent applications, owned by the Regents of the University of California, which protect the composition and use of ARN14663, ARN14280, and other FAAH inhibitors.
Additional information
Publisher's note
Springer Nature remains neutral with regard to jurisdictional claims in published maps and institutional affiliations.
This article belongs to a Special Issue on Cannabis and Cannabinoids
Rights and permissions
Springer Nature or its licensor (e.g. a society or other partner) holds exclusive rights to this article under a publishing agreement with the author(s) or other rightsholder(s); author self-archiving of the accepted manuscript version of this article is solely governed by the terms of such publishing agreement and applicable law.
About this article
Cite this article
Fotio, Y., Mabou Tagne, A., Jung, KM. et al. Fatty acid amide hydrolase inhibition alleviates anxiety-like symptoms in a rat model used to study post-traumatic stress disorder. Psychopharmacology (2023). https://doi.org/10.1007/s00213-023-06358-y
Received:

Accepted:

Published:

DOI: https://doi.org/10.1007/s00213-023-06358-y
Keywords