Abstract
Studies with cannabidiol (CBD) suggest that this compound has anxiolytic properties and may mediate the reconsolidation and extinction of aversive memories. The objective of this study was to test whether the administration of CBD 300 mg before the recall of traumatic events attenuated symptoms usually induced by recall in subjects diagnosed with posttraumatic stress disorder (PTSD) and if its potential effects interfere with the reconsolidation of aversive memories. The double-blind trial included 33 participants of both sexes, aged between 18 and 60 years, diagnosed with PTSD according to the SCID-5 and randomly allocated to two groups treated with CBD (n = 17) and placebo (n = 16). In the first experimental section, participants were matched by sex, age, body mass index (BMI), and PTSD symptoms as assessed with the Posttraumatic Stress Disorder Checklist (PCL-5). On the same day, participants prepared the behavior test, recording accounts of their traumas in digital audio for a minute and a half and then imagining the trauma for 30 s. After 7 days, participants received CBD (300 mg) or placebo and performed the behavioral test, listening to the trauma account and imagining themselves in that situation. Before and after the behavioral test, subjective changes in mood and anxiety were recorded (Visual and Analogical Mood Scale — VAMS and STAI-state), along with physiological correlates of anxiety blood pressure (BP), heart rate (HR), and salivary cortisol (SC). Seven days later, participants underwent the same procedures as the previous session, but without the pharmacological intervention, to assess the effect on reconsolidation of traumatic memories. We found that CBD significantly attenuated the increase in the VAMS scale cognitive impairment factor scores, under the CBD's effect, with this effect remaining 1 week after drug administration. No significant differences between the effects of CBD and placebo on anxiety, alertness, and discomfort induced by the recall of the traumatic event during the pharmacological intervention and in the subsequent week, in the absence of it. There were no significant differences between the CBD and placebo groups regarding physiological data (BP, HR, and SC). The attenuation of cognitive impairments during trauma recall under the effect of CBD may have interfered with the reconsolidation of traumatic memories concerning its association with cognitive impairments.
Access options
Buy single article
Instant access to the full article PDF.
USD 39.95
Price excludes VAT (USA)
Tax calculation will be finalised during checkout.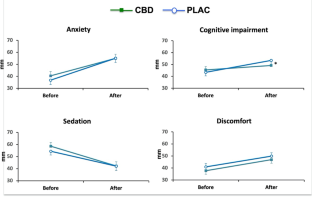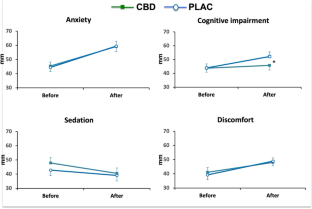 References
American Psychiatric Association (APA). Diagnostic and statistical manual of mental disorders. 5th ed. São Paulo: Manole, 2013.

Araújo AC, Lotufo FN (2014) A nova classificação Americana para os Transtornos Mentais: o Dsm-5. Rev Bras Ter Comport Cogn 16(1):67–82

Berardi A, Schelling G, Campolongo P (2016) The endocannabinoid system and Post Traumatic Stress Disorder (PTSD): from preclinical findings to innovative therapeutic approaches in clinical settings. Pharmacol Res 111:668–678

Bergamaschi MM, Queiroz RH, Chagas MHN, De Oliveira DCG, De Martinis BS, Kapczinski F, Quevedo J, Roesler R, Schroder N, Nardi AE, Martin-Santos R, Hallak JEC, Zuardi AW, Crippa JAS (2011) Cannabidiol reduces the anxiety induced by simulated public speaking in treatment-naïve social phobia patients. Neuropsychopharmacol 36(6):1219–1226

Biaggio AMP, Natalício L, Spielberg C (1977) Desenvolvimento da forma experimental em português do Inventário de Ansiedade Traço-Estado (IDATE) de Spielberger. Arq Bras Psic Apli 29(3):31–44

Binotto AL, Santos LL, Lourosa QL, Sant'anna SC, Zanetti ACG, Marque JMA (2012) Interface saúde da família & saúde mental: uma estratégia para o cuidado. Rev Bras Med Fam Comunidade 7(23), p.83–89

Bitencourt RM, Takahashi RN (2018) Cannabidiol as a therapeutic alternative for post-traumatic stress disorder: from bench research to confirmation in human trials. Front Neurosci 12:502

Bitencourt RM, Pamplona FA, Takahashi RN (2008) Facilitation of contextual fear memory extinction and anti-anxiogenic effects of AM404 and cannabidiol in conditioned rats. Eur Neuropsychopharmacol 18(12):849–859

Bisogno T, Hanus L, De Petrocellis L et al (2001) Molecular targets for cannabidiol and its synthetic analogues: effect on vanilloid VR1 receptors and on the cellular uptake and enzymatic hydrolysis of anandamide. Br J Pharmacol 134(4):845–852

Campos AC, Ferreira FR, Guimarães FS (2012) Cannabidiol blocks long- lasting behavioral consequences of predator threat stress: possible involvement of 5HT1A receptors. J Psychiatr Res 46(11):1501–1510

Carmi L, Fostick L, Burshtein S, Cwikel-Hamzany S, Zohar J (2016) Ptsd treatment in light of DSM-5 and the "golden hours" concept. Spectrums 1(21):279–282

Crippa JAS, Zuardi AW, Hallak JEC (2010) Therapeutical use of the cannabinoids in psychiatry. Rev Bras Psiquiatr 32(Suppl1):S56-66

Das RK, Kamboj SK, Ramadas M, Yogan K, Gupta V, Redman E, Curran HV, Morgan CJ (2013) Cannabidiol enhances consolidation of explicit fear extinction in humans. Psychopharmacology 226(4):781–792

Davidson JR, Hughes D, Blazer DG, George LK (1991) Post-traumatic stress disorder in the community: an epidemiological study. Psychol Med 21(3):713–721

Ehlers A, Clark DM (2000) A cognitive model of posttraumatic stress disorder. Behav Res Ther., v.38, n.4, p.319–345Einarsson, E.Ö.; Nader, K. Involvement of the anterior cingulate cortex in formation, consolidation, and reconsolidation of recent and remote contextual fear memory. Learn Mem., v.19, n.10, p.449-452, 2012.

Einarsson EÖ, Nader K (2012) Involvement of the anterior cingulate cortex in formation, consolidation, and reconsolidation of recent and remote contextual fear memory. Learn Mem 19(10):449–452

First MB, Willians JBW, Karg RS, Spitzer RL (2017) Entrevista Clínica e Estruturada para os transtornos do DSM-V – SCID-5 – CV. Porto Alegre: Artmed

Gros Df, Price M, Magruder KM, Frueh BC (2012) Symptom overlap in posttraumatic stress disorder and major depression. Psychiatry Res., v.196, n. 2–3, p. 267–270

Guimarães FS, Chiaretti TM, Graeff FG, Zuardi AW (1990) Antianxiety effect of cannabidiol in the elevated plus-maze. Psychopharmacology 100:558–559

Halligan SL, Michael T, Clark DM, Ehlers A (2003) Posttraumatic stress disorder following assault: the role of cognitive processing, trauma memory, and appraisals. J Consult Clin Psychol 71(3):419–431

Janoff-Bulman R (1985) The aftermath of victimisation: rebuilding shattered assumptions. In C. R. Figley, Traumaand its wake: the study and treatment of posttraumatic stress disorder. New York: Brunner and Mazel. pp. 15–35

Kamprath K, Marsicano G, Tang J, Monory K, Bisogno T, Di Marzo V, Lutz B, Wotjak CT (2006) Cannabinoid Cb1 receptor mediates fear extinction via habituation-like processes. J Neurosci 26(25):6677–6686

Kessler RC, Sonnega A, Bromet E, Hughes M, Nelson CB (1995) Posttraumatic stress disorder in the National Comorbidity Survey. Arch Gen Psychiatry 52(12):1048–1060

Kessler RC, Berglund P, Delmer O (2005) Lifetime prevalence and age-of-onset distributions of DSM-IV disorders in the National Comorbidity Survey Replication. Arch Gen Psychiatry 62(6):593–602

Lindauer RTL, Van Meijel EPM, Jalink M, Olff M, Carlier IVE, Gersons BPR (2006) Heart rate responsivity to script-driven imagery in posttraumatic stress disorder: specificity of response and effects of psychotherapy. Psychosom Med 68:33–40

Linares IM, Zuardi AW, Pereira LC, Queiroz RH, Mechoulam R, Guimarães FS, Crippa JA (2019) Cannabidiol presents an inverted U-shaped dose-response curve in a simulated public speaking test. Braz J Psychiatry 41(1):9–14

Miot HA (2011) Sample size in clinical and experimental trials. J Vasc Bras 10(4):275–278

Monfils MH, Cowansage KK, Klann E, Ledoux JE (2009) Extinction-reconsolidation boundaries: key to persistent attenuation of fear memories. Science 324(5929):951–955

Norris H (1971) The action of sedatives on brain stem oculomotor systems in man. Neuropharmacology 10(2):181–191

Osório FL, Silva TDA, Santos RG, Hortes M, Chagas N, Chagas NM, Sanches Rf, Crippa JAS (2019) Posttraumatic stress disorder checklist for DSM-5 (PCL-5): transcultural adaptation of the Brazilian version. Arch Clin Psychiatry., v. 44, n.1, p.10–19

Osório FL, Loureiro SR, Hallak JEC, Machado-De-Sousa JP, Ushirohira JM, Baes CVW, et al. (2019) Clinical validity and intrarater and test-retest reliability of the Structured Clinical Interview for DSM-5 - Clinician Version (SCID-5-CV). Psychiatry Clin Neurosci, v.73, n.12, p.754–760

Pamplona FA, Takahashi RN (2006) Win 55212–2 impairs contextual fear conditioning through the activation of CB1 cannabinoid receptors. Neurosci Lett 397(1–2):88–92

Parente ACBV, Garcia-Leal C, Del-Bem CM, Guimarães FS, Graeff FG (2005) Subjective and neurovegetative changes in health volunteers and panic patients performing simulated public speaking. Eur Neuropsychopharmacol 15(6):663–671

Pitman R, Sanders K, Zusman R (2002) Pilot study of secondary prevention of posttraumatic stress disorder with propranolol. Biol Psychiatry 51(2):189–192

Schiller D, Monfils MH, Raio CM, Johnson DC, Ledoux JE, Phelps EA (2010) Preventing the return of fear in humans using reconsolidation update mechanisms. Nature 463(7277):49–53

Schiller D, Phelps EA (2011) Does reconsolidation occur in humans? Front Behav Neurosci 5(24):5–24

Shalev AY, Freedman S, Peri T, Brandes D, Sahar T, Orr Sp and others (1998) Prospective study of posttraumatic stress disorder and depression following trauma. Am J Psychiatry., v.155, p.630–637

Spielberger CD, Gorsuch RL, Lushene RE (1970) Manual for state-trait anxiety inventory. Consulting Psychologist Press, Palo Alto, CA

Stern CA, Gazarini L, Takahashi RN, Guimarães FS, Bertoglio LJ (2012) On disruption of fear memory by reconsolidation blockade: evidence from cannabidiol treatment. Neuropsychopharmacology 37(9):2132–2142

Stern CA, Gazarini L, Vanxossen AC, Zuardi AW, Guimarães FS, Takahashi RN, Bertoglio LJ (2014) Involvement of the prelimbic cortex in the disruptive effect of cannabidiol on fear memory reconsolidation. 27th ECNP Congress

Stern CA, Gazarini L, Vanvossen AC, Zuardi AW, Galve-Roperh I, Guimaraes FS, Takahashi RN, Bertoglio LJ (2015) Δ9-Tetrahydrocannabinol alone and combined with cannabidiol mitigate fear memory through reconsolidation disruption. Eur Neuropsychopharmacol 25(6):958–965

Stern CAJ, Da Silva TR, Raymundi AM, De Souza CP, Hiroaki-Sato VA, Kato L, Guimarães FS, Andreatini R, Takahashi RN, Bertoglio LJ (2017) Cannabidiol disrupts the consolidation of specific and generalized fear memories via dorsal hippocampus CB1 and CB2 receptors. Neuropharmacology 125:220–230

Van Minnen A, Zoellner LA, Harned MS, Mills K (2015) Changes in comorbid conditions after prolonged exposure for PTSD: a literature review. Curr Psychiatry Rep 17(3):549

Weathers FW, Litz BT, Keane TM, Palmieri PA, Marx BP, Schnurr PP (2013) The PTSD Checklist for DSM-5 (PCL-5) [Internet]. 2013 [2018 Apr 2]. Available from: https://www.ptsd.va.gov/professional/assessment/adult-sr/ptsd-checklist.asp

Wolf SA, Bick-Sander A, Fabel K, Leal-Galicia P, Tauber S, Ramirez-Rodriguez G, et al. (2010) Cannabinoid receptor Cb1 mediates baseline and activity-induced survival of new neurons in adult hippocampal neurogenesis. Cell Commun Signal, v. 8, n. 12

Zuardi AW, Karniol IG (1981) Estudo transcultural de uma escala de auto-avaliação para estados subjetivos. J Bras Psiquiatr 30(5):403–406

Zuardi AW, Shirakawa I, Finkelfarb E, Karniol IG (1982) Action of cannabidiol on the anxiety and other effects produced by delta 9-THC in normal subjects. Psychopharmacology (Berl). v.76, n.3, p.245–250

Zuardi AW, Cosme RA, Graeff FG, Guimarães FS (1993) Effects of ipsapirone and cannabidiol on human experimental anxiety. J Psychopharmacol., v.7 (1Suppl), p.82–88

Zuardi AW, Crippa JAS, Hallak JEC, Campos AC, Guimarães FS (2017a) The anxiolytic effects of cannabidiol. In: Handbook of cannabis and related pathologies, V Preedy (Ed). Academic Press: e131-e139

Zuardi AW, Rodrigues NP, Silva AL, Bernardo SA, Hallak JEC, Guimarães FS, Crippa JAS (2017b) Inverted U-shaped dose-response curve of the anxiolytic effect of cannabidiol during public speaking in real life. Front Pharmacol 11(8):259

Zuardi AW (2008) Cannabidiol: from an inactive cannabinoid to a drug with wide spectrum of action. Braz J Psychiatry 30(3):271–280
Funding
This work was supported by the Fundação de Amparo à Pesquisa do Estado de São Paulo (FAPESP), and by the Instituto Nacional de Ciência e Tecnologia Translational em Medicina (INCT-TM; CNPq/FAPESP; 2008/09009–2; 2020/ 05416–4). JAC received a grant from the University Global Partnership Network (UGPN) – Global Priorities in Cannabinoid Research Excellence Program. JAC, JEH, and AWZ are recipients of CNPq research fellowships. The funders had no role in the design and conduct of the study; collection, management, analysis, and interpretation of the data; preparation, review, or approval of the manuscript; and decision to submit the manuscript for publication.
Ethics declarations
Conflict of interest
JAC, JEH, and AWZ are coinventors of the patent "Fluorinated CBD compounds, compositions and uses thereof. Pub. No.: WO/2014/108899. International Application No.: PCT/IL2014/050023," Def. US number Reg. 62193296; July 29, 2015; INPI on August 19, 2015 (BR1120150164927; Mechoulam R, Zuardi AW, Kapczinski F, Hallak JEC, Guimarães FS, Crippa JAS, Breuer A). Universidade de São Paulo (USP) has licensed this patent to Phytecs Pharm (USP Resolution No. 15.1.130002.1.1) and has an agreement with Prati-Donaduzzi to "develop a pharmaceutical product containing synthetic CBD and prove its safety and therapeutic efficacy in the treatment of epilepsy, schizophrenia, Parkinson's disease, and anxiety disorders." JAC, JEH, and AWZ are coinventors of the patent "Cannabinoid-containing oral pharmaceutical composition, method for preparing and using same," INPI on September 16th, 2016 (BR 112018005423–2). JASC is a consultant and/or has received speaker fees and/or sits on the advisory board and/or receives research funding from Janssen-Cilag, Torrent Pharm, Prati-Donaduzzi, PurMed Global, BSPG Pharm, and the Australian Centre for Cannabinoid Clinical and Research Excellence (ACRE) – National Health and Medical Research Council (NHMRC) over the past 3 years. JEH was a consultant from BSPG-Pharm and PurMed Global over the past 3 years. The other authors declare that they have no conflicts of interest.
Additional information
Publisher's note
Springer Nature remains neutral with regard to jurisdictional claims in published maps and institutional affiliations.
This article belongs to a Special Issue on Cannabis and Cannabinoids
About this article
Cite this article
Bolsoni, L.M., Crippa, J.A.S., Hallak, J.E.C. et al. Effects of cannabidiol on symptoms induced by the recall of traumatic events in patients with posttraumatic stress disorder. Psychopharmacology 239, 1499–1507 (2022). https://doi.org/10.1007/s00213-021-06043-y
Received:

Accepted:

Published:

Issue Date:

DOI: https://doi.org/10.1007/s00213-021-06043-y
Keywords