Abstract
Rationale
Adolescent exposure to ∆9-tetrahydrocannabinol (THC), the psychotropic constituent of cannabis, might affect brain development, and in rodent models leads to long-term behavioral and physiological alterations. Yet, the basic pharmacology of this drug in adolescent rodents, especially when ingested via ecologically relevant routes like aerosol inhalation, commonly referred to as "vaping," is still poorly characterized. Moreover, sex differences exist in THC metabolism, kinetics, and behavioral effects, but these have not been rigorously examined after vapor dosing in adolescents.
Objectives
We investigated the pharmacokinetics and pharmacodynamics of aerosolized THC (30 min inhalation exposure, 25 or 100 mg/ml) in adolescent Wistar rats of both sexes.
Methods
Liquid chromatography/mass spectrometry analysis of THC and its major metabolites was conducted on blood plasma and brain tissue at 5, 30, 60, and 120 min following a 30-min aerosol dosing session. Effects on activity in a novel environment for 120 min after aerosol, and temperature, were measured in separate rats.
Results
We found sex-dependent differences in the pharmacokinetics of THC and its active (11-OH-THC) and inactive (11-COOH-THC) metabolites in the blood and brain, along with dose- and sex-dependent effects on anxiety-like and exploratory behaviors; namely, greater 11-OH-THC levels accompanied by greater behavioral effects in females at the low dose but similar hypothermic effects in both sexes at the high dose.
Conclusions
These results provide a benchmark for dosing adolescent rats with aerosolized (or "vaped") THC, which could facilitate adoption by other labs of this potentially human-relevant THC exposure model to understand cannabis effects on the developing brain.
This is a preview of subscription content,
to check access.
Access this article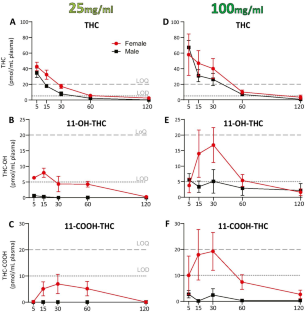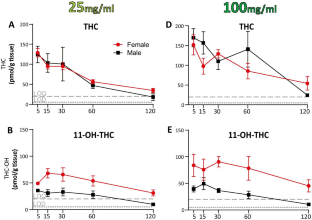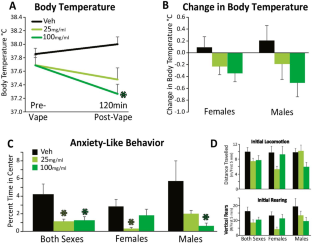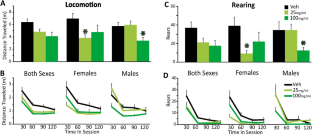 References
Abela AR, Rahbarnia A, Wood S, Le AD, Fletcher PJ (2019) Adolescent exposure to Delta9-tetrahydrocannabinol delays acquisition of paired-associates learning in adulthood. Psychopharmacol 236:1875–1886

Bayrampour H, Zahradnik M, Lisonkova S, Janssen P (2019) Women's perspectives about cannabis use during pregnancy and the postpartum period: an integrative review. Prev Med 119:17–23

Bruijnzeel AW, Knight P, Panunzio S, Xue S, Bruner MM, Wall SC, Pompilus M, Febo M, Setlow B (2019) Effects in rats of adolescent exposure to cannabis smoke or THC on emotional behavior and cognitive function in adulthood. Psychopharmacol 236:2773–2784

Carliner H, Brown QL, Sarvet AL, Hasin DS (2017) Cannabis use, attitudes, and legal status in the U.S.: A review. Prev Med 104:13–23

Chadwick B, Miller ML, Hurd YL (2013) Cannabis use during adolescent development: susceptibility to psychiatric illness. Front Psychiatry 4:129

Cooper ZD, Craft RM (2018) Sex-dependent effects of cannabis and cannabinoids: a translational perspective. Neuropsychopharmacol 43:34–51

Cooper ZD, Haney M (2009) Comparison of subjective, pharmacokinetic, and physiological effects of marijuana smoked as joints and blunts. Drug Alcohol Depend 103:107–113

Craft RM, Britch SC, Buzitis NW, Clowers BH (2019) Age-related differences in Delta(9)-tetrahydrocannabinol-induced antinociception in female and male rats. Exp Clin Psychopharmacol 27:338–347

Craft RM, Haas AE, Wiley JL, Yu Z, Clowers BH (2017) Gonadal hormone modulation of (9)-tetrahydrocannabinol-induced antinociception and metabolism in female versus male rats. Pharmacol Biochem Behav 152:36–43

Craft RM, Marusich JA, Wiley JL (2013) Sex differences in cannabinoid pharmacology: a reflection of differences in the endocannabinoid system? Life Sci 92:476–481

De Gregorio D, Dean Conway J, Canul ML, Posa L, Bambico FR, Gobbi G (2020) Effects of chronic exposure to low doses of Delta9-tetrahydrocannabinol in adolescence and adulthood on serotonin/norepinephrine neurotransmission and emotional behaviors. Int J Neuropsychopharmacol.

Dukes AJ, Fowler JP, Lallai V, Pushkin AN, Fowler CD (2020) Adolescent cannabinoid and nicotine exposure differentially alters adult nicotine self-administration in males and females. Nicotine Tob Res 22:1364–1373

Freels TG, Baxter-Potter LN, Lugo JM, Glodosky NC, Wright HR, Baglot SL, Petrie GN, Yu Z, Clowers BH, Cuttler C, Fuchs RA, Hill MN, McLaughlin RJ (2020) Vaporized cannabis extracts have reinforcing properties and support conditioned drug-seeking behavior in rats. J Neurosci 40:1897–1908

Friedman AL, Meurice C, Jutkiewicz EM (2019) Effects of adolescent Delta9-tetrahydrocannabinol exposure on the behavioral effects of cocaine in adult Sprague-Dawley rats. Exp Clin Psychopharmacol 27:326–337

Gibula-Tarlowska E, Wydra K, Kotlinska JH (2020) Deleterious effects of ethanol, delta(9)-tetrahydrocannabinol (thc), and their combination on the spatial memory and cognitive flexibility in adolescent and adult male rats in the Barnes maze task. Pharmaceutics 12.

Gill EW, Jones G (1972) Brain levels of 1-tetrahydrocannabinol and its metabolites in mice–correlation with behaviour, and the effect of the metabolic inhibitors SKF 525A and piperonyl butoxide. Biochem Pharmacol 21:2237–2248

Gilpin NW, Richardson HN, Cole M, Koob GF (2008) Vapor inhalation of alcohol in rats. Curr Protoc Neurosci Chapter 9: Unit 9 29.

Gilpin NW, Whitaker AM, Baynes B, Abdel AY, Weil MT, George O (2014) Nicotine vapor inhalation escalates nicotine self-administration. Addict Biol 19:587–592

Glodosky NC, Cuttler C, Freels TG, Wright HR, Rojas MJ, Baglot SL, Hill MN, McLaughlin RJ (2020) Cannabis vapor self administration elicits sex and dosespecific alterations in stress reactivity in rats. Neurobiol Stress 13:100260

Gomes FV, Guimaraes FS, Grace AA (2015) Effects of pubertal cannabinoid administration on attentional set-shifting and dopaminergic hyper-responsivity in a developmental disruption model of schizophrenia. Int J Neuropsychopharmacol 18.

Hamidullah S, Lutelmowski CD, Creighton SD, Luciani KR, Frie JA, Winters BD, Khokhar JY (2021) Effects of vapourized THC and voluntary alcohol drinking during adolescence on cognition, reward, and anxiety-like behaviours in rats. Prog Neuropsychopharmacol Biol Psychiatry 106:110141

Hlozek T, Uttl L, Kaderabek L, Balikova M, Lhotkova E, Horsley RR, Novakova P, Sichova K, Stefkova K, Tyls F, Kuchar M, Palenicek T (2017) Pharmacokinetic and behavioural profile of THC, CBD, and THC+CBD combination after pulmonary, oral, and subcutaneous administration in rats and confirmation of conversion in vivo of CBD to THC. Eur Neuropsychopharmacol 27:1223–1237

Huestis MA, Henningfield JE, Cone EJ (1992) Blood cannabinoids. I. Absorption of THC and formation of 11-OH-THC and THCCOOH during and after smoking marijuana. J Anal Toxicol 16:276–282

Kallupi M, George O (2017) Nicotine vapor method to induce nicotine dependence in rodents. Curr Protoc Neurosci 80:8 41 1-8 41 10

Kruse LC, Cao JK, Viray K, Stella N, Clark JJ (2019) Voluntary oral consumption of delta(9)-tetrahydrocannabinol by adolescent rats impairs reward-predictive cue behaviors in adulthood. Neuropsychopharmacology 44:1406–1414

Lecca D, Scifo A, Pisanu A, Valentini V, Piras G, Sil A, Cadoni C, Di Chiara G (2020) Adolescent cannabis exposure increases heroin reinforcement in rats genetically vulnerable to addiction. Neuropharmacology 166:107974

Lecca S, Luchicchi A, Scherma M, Fadda P, Muntoni AL, Pistis M (2019) Delta(9)-tetrahydrocannabinol during adolescence attenuates disruption of dopamine function induced in rats by maternal immune activation. Front Behav Neurosci 13:202

Manwell LA, Mallet PE (2015) Comparative effects of pulmonary and parenteral delta(9)-tetrahydrocannabinol exposure on extinction of opiate-induced conditioned aversion in rats. Psychopharmacology 232:1655–1665

Miller ML, Chadwick B, Dickstein DL, Purushothaman I, Egervari G, Rahman T, Tessereau C, Hof PR, Roussos P, Shen L, Baxter MG, Hurd YL (2019) Adolescent exposure to delta(9)-tetrahydrocannabinol alters the transcriptional trajectory and dendritic architecture of prefrontal pyramidal neurons. Mol Psychiatry 24:588–600

Moore CF, Davis CM, Harvey EL, Taffe MA, Weerts EM (2021) Appetitive antinociceptive and hypothermic effects of vaped and injected delta-9-tetrahydrocannabinol (THC) in rats: exposure and dose-effect comparisons by strain and sex. Pharmacol Biochem Behav 202:173116

Nadulski T, Pragst F, Weinberg G, Roser P, Schnelle M, Fronk EM, Stadelmann AM (2005) Randomized, double-blind, placebo-controlled study about the effects of cannabidiol (CBD) on the pharmacokinetics of delta9-tetrahydrocannabinol (THC) after oral application of THC verses standardized cannabis extract. Ther Drug Monit 27:799–810

Nguyen JD, Aarde SM, Vandewater SA, Grant Y, Stouffer DG, Parsons LH, Cole M, Taffe MA (2016) Inhaled delivery of delta(9)-tetrahydrocannabinol (THC) to rats by e-cigarette vapor technology. Neuropharmacology 109:112–120

Nguyen JD, Creehan KM, Kerr TM, Taffe MA (2020) Lasting effects of repeated (9)-tetrahydrocannabinol vapour inhalation during adolescence in male and female rats. Br J Pharmacol 177:188–203

Nguyen JD, Grant Y, Creehan KM, Hwang CS, Vandewater SA, Janda KD, Cole M, Taffe MA (2019) Delta(9)-tetrahydrocannabinol attenuates oxycodone self-administration under extended access conditions. Neuropharmacol 151:127–135

Orihuel J, Gomez-Rubio L, Valverde C, Capellan R, Roura-Martinez D, Ucha M, Ambrosio E, Higuera-Matas A (2021) Cocaine-induced Fos expression in the rat brain: modulation by prior delta(9)-tetrahydrocannabinol exposure during adolescence and sex-specific effects. Brain Res 1764:147480

Poulia N, Delis F, Brakatselos C, Lekkas P, Kokras N, Dalla C, Antoniou K (2020) Escalating low-dose delta(9)-tetrahydrocannabinol exposure during adolescence induces differential behavioral and neurochemical effects in male and female adult rats. Eur J Neurosci 52:2681–2693

Renard J, Rosen LG, Loureiro M, De Oliveira C, Schmid S, Rushlow WJ, Laviolette SR (2016) Adolescent cannabinoid exposure induces a persistent sub-cortical hyper-dopaminergic state and associated molecular adaptations in the prefrontal cortex. Cereb Cortex.

Rubino T, Parolaro D (2011) Sexually dimorphic effects of cannabinoid compounds on emotion and cognition. Front Behav Neurosci 5:64

Rubino T, Parolaro D (2015a) The impact of exposure to cannabinoids in adolescence: insights from animal models. Biol Psychiatry.

Rubino T, Parolaro D (2015) Sex-dependent vulnerability to cannabis abuse in adolescence. Front Psychiatry 6:56

Rubino T, Zamberletti E, Parolaro D (2012) Adolescent exposure to cannabis as a risk factor for psychiatric disorders. J Psychopharmacol 26:177–188

Ruiz CM, Torrens A, Castillo E, Perrone CR, Cevallos J, Inshishian VC, Harder EV, Justeson DN, Huestis MA, Swarup V, Piomelli D, Mahler SV (2021) Pharmacokinetic, behavioral, and brain activity effects of delta(9)-tetrahydrocannabinol in adolescent male and female rats. Neuropsychopharmacol 46:959–969

Schneider M (2008) Puberty as a highly vulnerable developmental period for the consequences of cannabis exposure. Addict Biol 13:253–263

Schoch H, Huerta MY, Ruiz CM, Farrell MR, Jung KM, Huang JJ, Campbell RR, Piomelli D, Mahler SV (2018) Adolescent cannabinoid exposure effects on natural reward seeking and learning in rats. Psychopharmacol 235:121–134

Silva L, Black R, Michaelides M, Hurd YL, Dow-Edwards D (2016) Sex and age specific effects of delta-9-tetrahydrocannabinol during the periadolescent period in the rat: the unique susceptibility of the prepubescent animal. Neurotoxicol Teratol.

Smith LC, Kallupi M, Tieu L, Shankar K, Jaquish A, Barr J, Su Y, Velarde N, Sedighim S, Carrette LLG, Klodnicki M, Sun X, de Guglielmo G, George O (2020) Validation of a nicotine vapor self-administration model in rats with relevance to electronic cigarette use. Neuropsychopharmacol 45:1909–1919

Spear LP (2016) Consequences of adolescent use of alcohol and other drugs: studies using rodent models. Neurosci Biobehav Rev 70:228–243

Stringfield SJ, Torregrossa MM (2021) Intravenous self-administration of delta-9-THC in adolescent rats produces long-lasting alterations in behavior and receptor protein expression. Psychopharmacol 238:305–319

Taffe MA, Aarde SM, Cole M (2014) Development and validation of a device for the intrapulmonary delivery of cannabinoids and stimulants to rats Society for Neuroscience Annual Meeting, Chicago, IL

Taffe MA, Creehan KM, Vandewater SA, Kerr TM, Cole M (2021) Effects of delta(9)-tetrahydrocannabinol (THC) vapor inhalation in Sprague-Dawley and Wistar rats. Exp Clin Psychopharmacol 29:1–13

Torrens A, Vozella V, Huff H, McNeil B, Ahmed F, Ghidini A, Mahler SV, Huestis MA, Das A, Piomelli D (2020) Comparative pharmacokinetics of delta(9)-tetrahydrocannabinol in adolescent and adult male mice. J Pharmacol Exp Ther 374:151–160

Tseng AH, Craft RM (2001) Sex differences in antinociceptive and motoric effects of cannabinoids. Eur J Pharmacol 430:41–47

Tseng AH, Harding JW, Craft RM (2004) Pharmacokinetic factors in sex differences in delta 9-tetrahydrocannabinol-induced behavioral effects in rats. Behav Brain Res 154:77–83

Volkow ND, Baler RD, Compton WM, Weiss SR (2014) Adverse health effects of marijuana use. N Engl J Med 370:2219–2227

Volkow ND, Swanson JM, Evins AE, DeLisi LE, Meier MH, Gonzalez R, Bloomfield MA, Curran HV, Baler R (2016) Effects of cannabis use on human behavior, including cognition, motivation, and psychosis: a review. JAMA Psychiat 73:292–297

Vozella V, Zibardi C, Ahmed F, Piomelli D (2019) Fast and sensitive quantification of delta(9)-tetrahydrocannabinol and its main oxidative metabolites by liquid chromatography/tandem mass spectrometry. Cannabis Cannabinoid Res 4:110–123

Watanabe K, Tanaka T, Yamamoto I, Yoshimura H (1988) Brain microsomal oxidation of delta 8- and delta 9-tetrahydrocannabinol. Biochem Biophys Res Commun 157:75–80

Weimar HV, Wright HR, Warrick CR, Brown AM, Lugo JM, Freels TG, McLaughlin RJ (2020) Long-term effects of maternal cannabis vapor exposure on emotional reactivity social, behavior, and behavioral flexibility in offspring. Neuropharmacology 179:108288

Wiley JL, Barrus DG, Farquhar CE, Lefever TW, Gamage TF (2021) Sex, species and age: effects of rodent demographics on the pharmacology of (9)-tetrahydrocannabinol. Prog Neuropsychopharmacol Biol Psychiatry 106:110064

Wiley JL, Burston JJ (2014) Sex differences in Delta(9)-tetrahydrocannabinol metabolism and in vivo pharmacology following acute and repeated dosing in adolescent rats. Neurosci Lett 576:51–55
Acknowledgements
We thank Maury Cole at La Jolla Alcohol Research, Inc., for advice on vapor equipment design.
Funding
These studies were funded by NIH P50 DA044118 and R01 DA051831 and the State of California Tobacco-Related Disease Research Program grants T31IR1767, T29IR0618, and T30FT0967.
Ethics declarations
Conflict of interest
The authors declare no competing interests.
Additional information
Publisher's note
Springer Nature remains neutral with regard to jurisdictional claims in published maps and institutional affiliations.
Ruiz CM, Torrens A, And Lallai V Denotes equal effort.
About this article
Cite this article
Ruiz, C.M., Torrens, A., Lallai, V. et al. Pharmacokinetic and pharmacodynamic properties of aerosolized ("vaped") THC in adolescent male and female rats. Psychopharmacology 238, 3595–3605 (2021). https://doi.org/10.1007/s00213-021-05976-8
Received:

Accepted:

Published:

Issue Date:

DOI: https://doi.org/10.1007/s00213-021-05976-8
Keywords