Abstract
Rationale
Ketamine is a novel, rapid-acting antidepressant for treatment refractory depression (TRD); however, clinical durability is poor and treatment response trajectories vary. Little is known about which patient characteristics predict faster or more durable ketamine responses. Ketamine's antidepressant mechanism may involve modulation of glutamatergic signaling and long-term potentiation (LTP); these neuroplasticity pathways are also attenuated with older age.
Objective
A retrospective analysis examining the impact of patient age on the speed and durability of ketamine's antidepressant effects in 49 veterans receiving serial intravenous ketamine infusions for TRD.
Method
The relationship between age and percent change in Beck Depression Inventory (BDI-II) scores was compared across six serial ketamine infusions (twice-weekly for 3 weeks) using a linear-mixed model.
Results
A significant Age-X-Infusion number interaction (F = 3.01, p = .0274) indicated that the relationship between age and treatment response depended on infusion number. Follow-up tests showed that younger age significantly predicted greater clinical improvement at infusion #4 (t = 3.02, p = .004); this relationship was attenuated at infusion #5 (t = 1.95, p = .057) and was absent at infusion #6. Age was not a significant predictor of treatment durability, defined as percent change in BDI-II 3 weeks following infusion #6.
Conclusions
These data preliminarily suggest that younger age is associated with a faster response over six serial ketamine infusions; by infusion #6 and subsequent weeks of clinical follow-up, age no longer predicts ketamine's antidepressant activity. Age may mediate the speed but not the durability or total efficacy of ketamine treatment, suggesting that dissociable mechanisms may underlie differing aspects of ketamine's antidepressant activity.
Access options
Buy single article
Instant access to the full article PDF.
USD 39.95
Price includes VAT (USA)
Tax calculation will be finalised during checkout.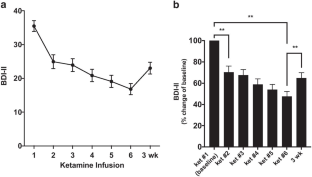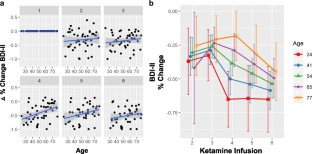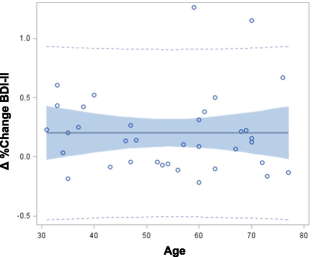 References
Abdallah CG, Averill LA, Gueorguieva R, Goktas S, Purohit P, Ranganathan M, Sherif M, Ahn KH, D'Souza DC, Formica R, Southwick SM, Duman RS, Sanacora G, Krystal JH (2020) Modulation of the antidepressant effects of ketamine by the mTORC1 inhibitor rapamycin. Neuropsychopharmacology 45:990–997

Aleksandrova LR, Phillips AG, Wang YT (2017) Antidepressant effects of ketamine and the roles of AMPA glutamate receptors and other mechanisms beyond NMDA receptor antagonism. J Psychiatry Neurosci 42:222–229

Anand A, Charney DS, Oren DA, Berman RM, Hu XS, Cappiello A, Krystal JH (2000) Attenuation of the neuropsychiatric effects of ketamine with lamotrigine: support for hyperglutamatergic effects of N-methyl-D-aspartate receptor antagonists. Arch Gen Psychiatry 57:270–276

Berman RM, Cappiello A, Anand A, Oren DA, Heninger GR, Charney DS, Krystal JH (2000) Antidepressant effects of ketamine in depressed patients. Biol Psychiatry 47:351–354

Brown JC, DeVries WH, Korte JE, Sahlem GL, Bonilha L, Short EB, George MS (2020) NMDA receptor partial agonist, d-cycloserine, enhances 10 Hz rTMS-induced motor plasticity, suggesting long-term potentiation (LTP) as underlying mechanism. Brain Stimul 13:530–532

Cantone M, Bramanti A, Lanza G, Pennisi M, Bramanti P, Pennisi G, Bella R (2017) Cortical Plasticity in Depression. ASN Neuro 9:1759091417711512

Chen MH, Cheng CM, Gueorguieva R, Lin WC, Li CT, Hong CJ, Tu PC, Bai YM, Tsai SJ, Krystal JH, Su TP (2019) Maintenance of antidepressant and antisuicidal effects by D-cycloserine among patients with treatment-resistant depression who responded to low-dose ketamine infusion: a double-blind randomized placebo-control study. Neuropsychopharmacology 44:2112–2118

Citri A, Malenka RC (2008) Synaptic plasticity: multiple forms, functions, and mechanisms. Neuropsychopharmacology 33:18–41

Cornwell BR, Salvadore G, Furey M, Marquardt CA, Brutsche NE, Grillon C, Zarate CA Jr (2012) Synaptic potentiation is critical for rapid antidepressant response to ketamine in treatment-resistant major depression. Biol Psychiatry 72:555–561

Dunner DL, Rush AJ, Russell JM, Burke M, Woodard S, Wingard P, Allen J (2006) Prospective, long-term, multicenter study of the naturalistic outcomes of patients with treatment-resistant depression. J Clin Psychiatry 67:688–695

Fava M, Freeman MP, Flynn M, Judge H, Hoeppner BB, Cusin C, Ionescu DF, Mathew SJ, Chang LC, Iosifescu DV, Murrough J, Debattista C, Schatzberg AF, Trivedi MH, Jha MK, Sanacora G, Wilkinson ST, Papakostas GI (2020) Double-blind, placebo-controlled, dose-ranging trial of intravenous ketamine as adjunctive therapy in treatment-resistant depression (TRD). Mol Psychiatry 25:1592–1603

Fekadu A, Wooderson SC, Markopoulo K, Donaldson C, Papadopoulos A, Cleare AJ (2009) What happens to patients with treatment-resistant depression? A systematic review of medium to long term outcome studies. J Affect Disord 116:4–11

Freeman MP, Hock RS, Papakostas GI, Judge H, Cusin C, Mathew SJ, Sanacora G, Iosifescu DV, DeBattista C, Trivedi MH, Fava M (2020) Body mass index as a moderator of treatment response to ketamine for major depressive disorder. J Clin Psychopharmacol 40:287–292

George D, Galvez V, Martin D, Kumar D, Leyden J, Hadzi-Pavlovic D, Harper S, Brodaty H, Glue P, Taylor R, Mitchell PB, Loo CK (2017) Pilot randomized controlled trial of titrated subcutaneous ketamine in older patients with treatment-resistant depression. Am J Geriatr Psychiatry 25:1199–1209

Henley JM, Wilkinson KA (2013) AMPA receptor trafficking and the mechanisms underlying synaptic plasticity and cognitive aging. Dialogues Clin Neurosci 15:11–27

Ibrahim L, Diazgranados N, Franco-Chaves J, Brutsche N, Henter ID, Kronstein P, Moaddel R, Wainer I, Luckenbaugh DA, Manji HK, Zarate CA Jr (2012) Course of improvement in depressive symptoms to a single intravenous infusion of ketamine vs add-on riluzole: results from a 4-week, double-blind, placebo-controlled study. Neuropsychopharmacology 37:1526–1533

Judd LL, Akiskal HS, Zeller PJ, Paulus M, Leon AC, Maser JD, Endicott J, Coryell W, Kunovac JL, Mueller TI, Rice JP, Keller MB (2000) Psychosocial disability during the long-term course of unipolar major depressive disorder. Arch Gen Psychiatry 57:375–380

Li N, Lee B, Liu RJ, Banasr M, Dwyer JM, Iwata M, Li XY, Aghajanian G, Duman RS (2010) mTOR-dependent synapse formation underlies the rapid antidepressant effects of NMDA antagonists. Science 329:959–964

Lynch MA (1998) Analysis of the mechanisms underlying the age-related impairment in long-term potentiation in the rat. Rev Neurosci 9:169–201

Marton T, Barnes DE, Wallace A, Woolley JD (2019) Concurrent use of buprenorphine, methadone, or naltrexone does not inhibit ketamine's antidepressant activity. Biol Psychiatry 85:e75–e76

Mathew SJ, Murrough JW, aan het Rot M, Collins KA, Reich DL, Charney DS, (2010) Riluzole for relapse prevention following intravenous ketamine in treatment-resistant depression: a pilot randomized, placebo-controlled continuation trial. Int J Neuropsychopharmacol 13:71–82

da Frota M, Ribeiro C, Riva-Posse P (2017) Use of Ketamine in Elderly Patients with Treatment-Resistant Depression. Curr Psychiatry Rep 19:107

Monteggia LM, Zarate C Jr (2015) Antidepressant actions of ketamine: from molecular mechanisms to clinical practice. Curr Opin Neurobiol 30:139–143

Muller-Dahlhaus JF, Orekhov Y, Liu Y, Ziemann U (2008) Interindividual variability and age-dependency of motor cortical plasticity induced by paired associative stimulation. Exp Brain Res 187:467–475

Murrough JW, Perez AM, Pillemer S, Stern J, Parides MK, aan het Rot M, Collins KA, Mathew SJ, Charney DS, Iosifescu DV (2013) Rapid and longer-term antidepressant effects of repeated ketamine infusions in treatment-resistant major depression. Biol Psychiatry 74:250–6

Muthukumaraswamy SD, Shaw AD, Jackson LE, Hall J, Moran R, Saxena N (2015) Evidence that Subanesthetic Doses of Ketamine Cause Sustained Disruptions of NMDA and AMPA-Mediated Frontoparietal Connectivity in Humans. J Neurosci 35:11694–11706

Newport DJ, Carpenter LL, McDonald WM, Potash JB, Tohen M, Nemeroff CB, Biomarkers APACoRTFoN, Treatments (2015) Ketamine and Other NMDA Antagonists: early clinical trials and possible mechanisms in depression. Am J Psychiatry 172:950–66

Niciu MJ, Luckenbaugh DA, Ionescu DF, Guevara S, Machado-Vieira R, Richards EM, Brutsche NE, Nolan NM, Zarate CA Jr (2014) Clinical predictors of ketamine response in treatment-resistant major depression. J Clin Psychiatry 75:e417–e423

Ochs-Ross R, Daly EJ, Zhang Y, Lane R, Lim P, Morrison RL, Hough D, Manji H, Drevets WC, Sanacora G, Steffens DC, Adler C, McShane R, Gaillard R, Wilkinson ST, Singh JB (2020) Efficacy and safety of esketamine nasal spray plus an oral antidepressant in elderly patients with treatment-resistant depression-TRANSFORM-3. Am J Geriatr Psychiatry 28:121–141

Porto FH, Fox AM, Tusch ES, Sorond F, Mohammed AH, Daffner KR (2015) In vivo evidence for neuroplasticity in older adults. Brain Res Bull 114:56–61

Rouaud E, Billard JM (2003) D-cycloserine facilitates synaptic plasticity but impairs glutamatergic neurotransmission in rat hippocampal slices. Br J Pharmacol 140:1051–1056

Sanacora G, Frye MA, McDonald W, Mathew SJ, Turner MS, Schatzberg AF, Summergrad P, Nemeroff CB, American Psychiatric Association Council of Research Task Force on Novel B, Treatments (2017) A consensus statement on the use of ketamine in the treatment of mood disorders. JAMA Psychiatry 74:399–405

Sanacora G, Zarate CA, Krystal JH, Manji HK (2008) Targeting the glutamatergic system to develop novel, improved therapeutics for mood disorders. Nat Rev Drug Discov 7:426–437

Schwarz G (1978) Estimating the Dimension of a Model. Ann Stat 6:461–464

Shiroma PR, Johns B, Kuskowski M, Wels J, Thuras P, Albott CS, Lim KO (2014) Augmentation of response and remission to serial intravenous subanesthetic ketamine in treatment resistant depression. J Affect Disord 155:123–129

Singh JB, Fedgchin M, Daly EJ, De Boer P, Cooper K, Lim P, Pinter C, Murrough JW, Sanacora G, Shelton RC, Kurian B, Winokur A, Fava M, Manji H, Drevets WC, Van Nueten L (2016) A double-blind, randomized, placebo-controlled, dose-frequency study of intravenous ketamine in patients with treatment-resistant depression. Am J Psychiatry 173:816–826

Spriggs MJ, Cadwallader CJ, Hamm JP, Tippett LJ, Kirk IJ (2017) Age-related alterations in human neocortical plasticity. Brain Res Bull 130:53–59

Srivastava S, Gangwar RS, Kumar A (2015) Safety and efficacy of ketamine infusion in late onset depression, and conversion to treatment response. Indian J Psychiatry 57:328–329

Szymkowicz SM, Finnegan N, Dale RM (2014) Failed response to repeat intravenous ketamine infusions in geriatric patients with major depressive disorder. J Clin Psychopharmacol 34:285–286

Whyte EM, Dew MA, Gildengers A, Lenze EJ, Bharucha A, Mulsant BH, Reynolds CF (2004) Time course of response to antidepressants in late-life major depression: therapeutic implications. Drugs Aging 21:531–554

Wilkinson ST, Katz RB, Toprak M, Webler R, Ostroff RB, Sanacora G (2018) Acute and longer-term outcomes using ketamine as a clinical treatment at the Yale Psychiatric Hospital. J Clin Psychiatry 79(4):17m11731 

Williams NR, Heifets BD, Blasey C, Sudheimer K, Pannu J, Pankow H, Hawkins J, Birnbaum J, Lyons DM, Rodriguez CI, Schatzberg AF (2018) Attenuation of antidepressant effects of ketamine by opioid receptor antagonism. Am J Psychiatry 175:1205–1215

Yoon G, Petrakis IL, Krystal JH (2019) Association of combined naltrexone and ketamine with depressive symptoms in a case series of patients with depression and alcohol use disorder. JAMA Psychiat 76:337–338

Zarate CA Jr, Singh JB, Carlson PJ, Brutsche NE, Ameli R, Luckenbaugh DA, Charney DS, Manji HK (2006) A randomized trial of an N-methyl-D-aspartate antagonist in treatment-resistant major depression. Arch Gen Psychiatry 63:856–864

Zhou W, Wang N, Yang C, Li XM, Zhou ZQ, Yang JJ (2014) Ketamine-induced antidepressant effects are associated with AMPA receptors-mediated upregulation of mTOR and BDNF in rat hippocampus and prefrontal cortex. Eur Psychiatry 29:419–423
Ethics declarations
Conflict of interest
The authors declare no competing interests.
Additional information
Publisher's note
Springer Nature remains neutral with regard to jurisdictional claims in published maps and institutional affiliations.
Supplementary Information
Below is the link to the electronic supplementary material.
About this article
Cite this article
Pennybaker, S., Roach, B.J., Fryer, S.L. et al. Age affects temporal response, but not durability, to serial ketamine infusions for treatment refractory depression. Psychopharmacology 238, 3229–3237 (2021). https://doi.org/10.1007/s00213-021-05939-z
Received:

Accepted:

Published:

Issue Date:
Keywords
Ketamine

Psychopharmacology

Geropsychiatry

Aging

Depression