Abstract
Rationale
Given that many patients being treated for opioid-use disorder continue to use drugs, identifying clusters of patients who share similar patterns of use might provide insight into the disorder, the processes that affect it, and ways that treatment can be personalized.
Objectives and methods
We applied hierarchical clustering to identify patterns of opioid and cocaine use in 309 participants being treated with methadone or buprenorphine (in a buprenorphine–naloxone formulation) for up to 16 weeks. A smartphone app was used to assess stress and craving at three random times per day over the course of the study.
Results
Five basic patterns of use were identified: frequent opioid use, frequent cocaine use, frequent dual use (opioids and cocaine), sporadic use, and infrequent use. These patterns were differentially associated with medication (methadone vs. buprenorphine), race, age, drug-use history, drug-related problems prior to the study, stress-coping strategies, specific triggers of use events, and levels of cue exposure, craving, and negative mood. Craving tended to increase before use in all except those who used sporadically. Craving was sharply higher during the 90 min following moderate-to-severe stress in those with frequent use, but only moderately higher in those with infrequent or sporadic use.
Conclusions
People who share similar patterns of drug-use during treatment also tend to share similarities with respect to psychological processes that surround instances of use, such as stress-induced craving. Cluster analysis combined with smartphone-based experience sampling provides an effective strategy for studying how drug use is related to personal and environmental factors.
Access options
Buy single article
Instant access to the full article PDF.
USD 39.95
Price excludes VAT (USA)
Tax calculation will be finalised during checkout.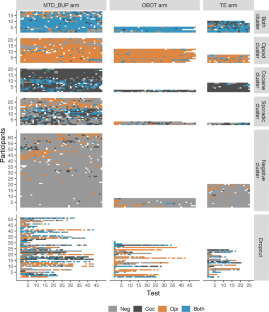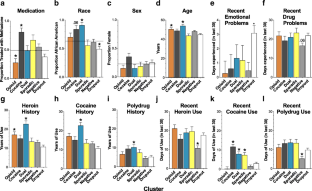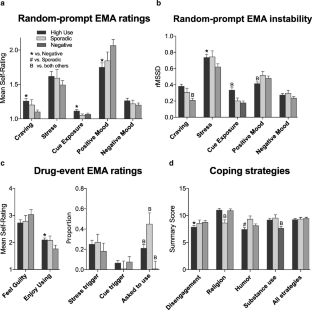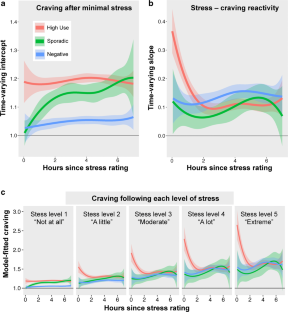 References
Adamson SJ, Sellman JD, Frampton CM (2009) Patient predictors of alcohol treatment outcome: a systematic review. J Subst Abus Treat 36:75–86

Ahmadi J, Kampman K, Dackis C (2006) Outcome predictors in cocaine dependence treatment trials. Am J Addict 15:434–439

Bates D, Mächler M, Bolker B, Walker S (2015) Fitting linear mixed-effects models using lme4. J Stat Softw 67

Beitchman JH, Adlaf EM, Douglas L, Atkinson L, Young A, Johnson CJ, Escobar M, Wilson B (2009) Comorbidity of psychiatric and substance use disorders in late adolescence: a cluster analytic approach. Am J Drug Alcohol Abuse 27:421–440

Bolger N, Laurenceau JP (2013) Intensive longitudinal methods: an introduction to diary and experience sampling research. Guilford Press, New York

Carver CS, Scheier MF, Weintraub JK (1989) Assessing coping strategies: a theoretically based approach. J Pers Soc Psychol 56:267–283

Core Team R (2018) R: A language and environment for statistical computing. R Foundation for Statistical Computing, Vienna

Ding X, Salmeron BJ, Wang J, Yang Y, Stein EA, Ross TJ (2018) Evidence of subgroups in smokers as revealed in clinical measures and evaluated by neuroimaging data: a preliminary study. Addict Biol 24:777–786

Dobler-Mikola A, Hattenschwiler J, Meili D, Beck T, Boni E, Modestin J (2005) Patterns of heroin, cocaine, and alcohol abuse during long-term methadone maintenance treatment. J Subst Abus Treat 29:259–265

Edwards SA, Bondy SJ, Kowgier M, McDonald PW, Cohen JE (2010) Are occasional smokers a heterogeneous group? An exploratory study. Nicotine Tob Res 12:1195–1202

Epstein DH, Tyburski M, Craig IM, Phillips KA, Jobes ML, Vahabzadeh M, Mezghanni M, Lin JL, Furr-Holden CDM, Preston KL (2014) Real-time tracking of neighborhood surroundings and mood in urban drug misusers: application of a new method to study behavior in its geographical context. Drug Alcohol Depend 134:22–29

Epstein DH, Willner-Reid J, Vahabzadeh M, Mezghanni M, Lin JL, Preston KL (2009) Real-time electronic diary reports of cue exposure and mood in the hours before cocaine and heroin craving and use. Arch Gen Psychiatry 66:88–94

FDA (2018) Public meeting on patent-focused drug development for opioid use disorder. https://www.fda.gov/industry/prescription-drug-user-fee-amendments/fda-led-patient-focused-drug-development-pfdd-public-meetings#opioid

Fox HC, Hong KI, Siedlarz K, Sinha R (2008) Enhanced sensitivity to stress and drug/alcohol craving in abstinent cocaine-dependent individuals compared to social drinkers. Neuropsychopharmacology 33:796–805

Fox J, Weisberg S (2019) An R companion to applied regression. Sage, Thousand Oaks

Friedman ES, Davis LL, Zisook S, Wisniewski SR, Trivedi MH, Fava M, Rush AJ (2012) Baseline depression severity as a predictor of single and combination antidepressant treatment outcome: results from the CO-MED trial. Eur Neuropsychopharmacol 22:183–199

Fronk GE, Sant'Ana SJ, Kaye JT, Curtin JJ (2020) Stress allostasis in substance use disorders: promise, progress, and emerging priorities in clinical research. Annu Rev Clin Psychol 16:401–430

Furnari M, Epstein DH, Phillips KA, Jobes ML, Kowalczyk WJ, Vahabzadeh M, Lin JL, Preston KL (2015) Some of the people, some of the time: field evidence for associations and dissociations between stress and drug use. Psychopharmacology 232:3529–3537

Gabadinho A, Ritschard G, Muller NS, Studer M (2011) Analyzing and visualizing state sequences in R with TraMineR. J Stat Softw 40:1–37

Gastberger S, Baumgartner MR, Soyka M, Quednow BB, Hulka LM, Herdener M, Seifritz E, Mutschler J (2019) Concomitant heroin and cocaine use among opioid-dependent patients during methadone, buprenorphine or morphine opioid agonist therapy. Eur Addict Res 25:207–212

Gaus W (2015) Interpretation of statistical significance – exploratory versus confirmative testing in clinical trials, epidemiological studies, meta-analyses and toxicological screening (using Ginkgo biloba as an example). Clin Exp Pharmacol 05

Giacomuzzi SM, Riemer Y, Ertl M, Kemmler G, Rössler H, Hinterhuber H, Kurz M (2003) Buprenorphine versus methadone maintenance treatment in an ambulant setting: a health-related quality of life assessment. Addiction 98:693–702

Ginexi EM, Riley W, Atienza AA, Mabry PL (2014) The promise of intensive longitudinal data capture for behavioral health research. Nicotine Tob Res 16(Suppl 2):S73–S75

Hartel DM, Schoenbaum EE, Selwyn PA, Kline J, Davenny K, Klein RS, Friedland GH (1995) Heroin use during methadone maintenance treatment: the importance of methadone dose and cocaine use. Am J Public Health 85:83–88

Hassanbeigi A, Askari J, Hassanbeigi D, Pourmovahed Z (2013) The relationship between stress and addiction. Procedia Soc Behav Sci 84:1333–1340

Hastie T, Tibshirani R, Friedman J (2017) Unsupervised learning. In: Diggle P, Gather U, Zeger S (eds) The elements of statistical learning: data mining, inference, and prediction. Springer, New York, pp 485–585

Hennig C (2015) What are the true clusters? Pattern Recogn Lett 64:53–62

James G, Witten D, Hastie T, Tibshirani R (2013) Unsupervised learning. In: Casella G, Fienberg S, Olkin I (eds) An introduction to statistical learning – with applications in R. Springer, New York, pp 373–418

Jobes ML, Ghitza UE, Epstein DH, Phillips KA, Heishman SJ, Preston KL (2011) Clonidine blocks stress-induced craving in cocaine users. Psychopharmacology 218:83–88

Kennard BD, Mayes TL, Chahal Z, Nakonezny PA, Moorehead A, Emslie GJ (2018) Predictors and moderators of relapse in children and adolescents with major depressive disorder. J Clin Psychiatr 79:15m10330

Kiluk BD, Babuscio TA, Nich C, Carroll KM (2017) Initial validation of a proxy indicator of functioning as a potential tool for establishing a clinically meaningful cocaine use outcome. Drug Alcohol Depend 179:400–407

Kowalczyk WJ, Bertz JW, Moran LM, Phillips KA, Ghitza UE, Epstein DH, Preston KL (2017) Clonidine increases the likelihood that abstinence can withstand unstructured time in buprenorphine-maintained outpatients. J Addict Med 11:454–460

Laffaye C, McKellar JD, Ilgen MA, Moos RH (2008) Predictors of 4-year outcome of community residential treatment for patients with substance use disorders. Addiction 103:671–680

Lanza ST, Vasilenko SA, Liu X, Li R, Piper ME (2014) Advancing the understanding of craving during smoking cessation attempts: a demonstration of the time-varying effect model. Nicotine Tob Res 16(Suppl 2):S127–S134

Latkin CA, Knowlton AR, Hoover D, Mandell W (1999) Drug network characteristics as a predictor of cessation of drug use among adult injection drug users: a prospective study. Am J Drug Alcohol Abuse 25:463–473

Li R, Dziak JD, Tan X, Huang L, Wagner AT, Yang J (2017) TVEM (time-varying effect modeling) SAS macro users' guide (version 3.1.1) http://methodology.psu.edu. The Methodology Center, Pennsylvania State University, University Park, PA

Ling W, Hillhouse MP, Saxon AJ, Mooney LJ, Thomas CM, Ang A, Matthews AG, Hasson A, Annon J, Sparenborg S, Liu DS, McCormack J, Church S, Swafford W, Drexler K, Schuman C, Ross S, Wiest K, Korthuis PT, Lawson W, Brigham GS, Knox PC, Dawes M, Rotrosen J (2016) Buprenorphine + naloxone plus naltrexone for the treatment of cocaine dependence: the Cocaine Use Reduction with Buprenorphine (CURB) study. Addiction 111:1416–1427

Linton SL, Cooper HL, Luo R, Karnes C, Renneker K, Haley DF, Hunter-Jones J, Ross Z, Bonney L, Rothenberg R (2016) People and places: relocating to neighborhoods with better economic and social conditions is associated with less risky drug/alcohol network characteristics among African American adults in Atlanta, GA. Drug Alcohol Depend 160:30–41

Lukasiewicz M, Fareng M, Benyamina A, Blecha L, Reynaud M, Falissard B (2007) Ecological momentary assessment in addiction. Expert Rev Neurother 7:939–950

Maechler M, Rousseeuw P, Struyf A, Hubert M, Hornik K (2018) cluster: cluster analysis basics and extensions, R package version 2.0.7-1

Magallon-Neri E, Diaz R, Forns M, Goti J, Canalda G, Castro-Fornieles J (2012) Subtypes of adolescents with substance use disorders and psychiatric comorbidity using cluster and discriminant analysis of MMPI-A profiles. Adicciones 24:219–227

Magura S, Kang SY, Nwakeze PC, Demsky S (1998) Temporal patterns of heroin and cocaine use among methadone patients. Subst Use Misuse 33:2441–2467

Marsch LA (2020) Digital health data-driven approaches to understand human behavior. Neuropsychopharmacology 1–6

Maryland Department of Health (2018) Unintentional Drug- and Alcohol-Related Intoxication Deaths in Maryland Annual Report 2017. https://bha.health.maryland.gov/OVERDOSE_PREVENTION/Documents/Drug_Intox_Report_2017pdf

McLellan AT, Luborsky L, Cacciola J, Griffith J, Evans F, Barr HL, O'Brien CP (1985) New data from the Addiction Severity Index. Reliability and validity in three centers. J Nerv Ment Dis 173:412–423

Mello NK, Lukas SE, Mendelson JH, Drieze J (1993) Naltrexone–buprenorphine interactions: effects on cocaine self-administration. Neuropsychopharmacology 9:211–224

Milligan GW, Cooper MC (1987) Methodology review: clustering methods. Appl Psychol Meas 11:329–354

Montoya ID, Gorelick DA, Preston KL, Schroeder JR, Umbricht A, Cheskin LJ, Lange WR, Contoreggi C, Johnson RE, Fudala PJ (2004) Randomized trial of buprenorphine for treatment of concurrent opiate and cocaine dependence. Clin Pharmacol Ther 75:34–48

Moran LM, Kowalczyk WJ, Phillips KA, Vahabzadeh M, Lin JL, Mezghanni M, Epstein DH, Preston KL (2018) Sex differences in daily life stress and craving in opioid-dependent patients. Am J Drug Alcohol Abuse 44:512–523

Negus SS, Mello NK (2004) Effects of chronic methadone treatment on cocaine- and food-maintained responding under second-order, progressive-ratio and concurrent-choice schedules in rhesus monkeys. Drug Alcohol Depend 74:297–309

Neupert SD, Desmarais SL, Gray JS, Cohn AM, Doherty S, Knight K (2017) Daily stressors as antecedents, correlates, and consequences of alcohol and drug use and cravings in community-based offenders. Psychol Addict Behav 31:315–325

Norris KC, Eneanya ND, Boulware LE (2021) Removal of race from estimates of kidney function: first, do no harm. JAMA 325:135–137

Panlilio LV, Stull SW, Bertz JW, Burgess-Hull AJ, Kowalczyk WJ, Phillips KA, Epstein DH, Preston KL (2020) Beyond abstinence and relapse: cluster analysis of drug-use patterns during treatment as an outcome measure for clinical trials. Psychopharmacology 237:3369–3381

Panlilio LV, Stull SW, Kowalczyk WJ, Phillips KA, Schroeder JR, Bertz JW, Vahabzadeh M, Lin J-L, Mezghanni M, Nunes EV, Epstein DH, Preston KL (2019) Stress, craving and mood as predictors of early dropout from opioid agonist therapy. Drug Alcohol Depend 202:200–208

Pelloux Y, Giorla E, Montanari C, Baunez C (2019) Social modulation of drug use and drug addiction. Neuropharmacology 159:107545

Preston KL, Epstein DH (2011) Stress in the daily lives of cocaine and heroin users: relationship to mood, craving, relapse triggers, and cocaine use. Psychopharmacology 218:29–37

Preston KL, Kowalczyk WJ, Phillips KA, Jobes ML, Vahabzadeh M, Lin JL, Mezghanni M, Epstein DH (2017) Context and craving during stressful events in the daily lives of drug-dependent patients. Psychopharmacology 234:2631–2642

Preston KL, Kowalczyk WJ, Phillips KA, Jobes ML, Vahabzadeh M, Lin JL, Mezghanni M, Epstein DH (2018a) Before and after: craving, mood, and background stress in the hours surrounding drug use and stressful events in patients with opioid-use disorder. Psychopharmacology 235:2713–2723

Preston KL, Kowalczyk WJ, Phillips KA, Jobes ML, Vahabzadeh M, Lin JL, Mezghanni M, Epstein DH (2018b) Exacerbated craving in the presence of stress and drug cues in drug-dependent patients. Neuropsychopharmacology 43:859–867

Preston KL, Schroeder JR, Kowalczyk WJ, Phillips KA, Jobes ML, Vahabzadeh M, Lin JL, Mezghanni M, Epstein DH (2018) End-of-day reports of daily hassles and stress in men and women with opioid-use disorder: relationship to momentary reports of opioid and cocaine use and stress. Drug Alcohol Depend 193:21–28. https://doi.org/10.1016/j.drugalcdep.2018.08.023

Preston KL, Silverman K, Higgins ST, Brooner RK, Montoya I, Schuster CR, Cone EJ (1998) Cocaine use early in treatment predicts outcome in a behavioral treatment program. J Consult Clin Psychol 66:691–696

Preston KL, Sullivan JT, Strain EC, Bigelow GE (1996) Enhancement of cocaine's abuse liability in methadone maintenance patients. Psychopharmacology 123:15–25

Preston KL, Vahabzadeh M, Schmittner J, Lin JL, Gorelick DA, Epstein DH (2009) Cocaine craving and use during daily life. Psychopharmacology 207:291–301

Roos CR, Nich C, Mun CJ, Babuscio TA, Mendonca J, Miguel AQC, DeVito EE, Yip SW, Witkiewitz K, Carroll KM, Kiluk BD (2019) Clinical validation of reduction in cocaine frequency level as an endpoint in clinical trials for cocaine use disorder. Drug Alcohol Depend 205:107648

Roos CR, Nich C, Mun CJ, Mendonca J, Babuscio TA, Witkiewitz K, Carroll KM, Kiluk BD (2019) Patterns of cocaine use during treatment: associations with baseline characteristics and follow-up functioning. J Stud Alcohol Drugs 80:431–440

Rosnow RL, Rosenthal R (1996) Computing contrasts, effect sizes, and counternulls on other people's published data: general procedures for research consumers. Psychol Methods 1:331–340

Rosnow RL, Rosenthal R, Rubin DB (2000) Contrasts and correlations in effect-size estimation. Psychol Sci 11:446–453

Roux P, Lions C, Vilotitch A, Michel L, Mora M, Maradan G, Marcellin F, Spire B, Morel A, Carrieri PM, group AMs (2016) Correlates of cocaine use during methadone treatment: implications for screening and clinical management (ANRS Methaville study). Harm Reduct J 13:12

Rubin M (2017) Do p values lose their meaning in exploratory analyses? It depends how you define the familywise error rate. Rev Gen Psychol 21:269–275

Schottenfeld RS, Pakes JR, Oliveto A, Ziedonis D, Kosten TR (1997) Buprenorphine vs methadone maintenance treatment for concurrent opioid dependence and cocaine abuse. Arch Gen Psychiatry 54:713–720

Schottenfeld RS, Pakes J, Ziedonis D, Kosten TR (1993) Buprenorphine: dose-related effects on cocaine and opioid use in cocaine-abusing opioid-dependent humans. Biol Psychiatry 34:66–74

Scott CK, Dennis ML, Gustafson DH (2018) Using ecological momentary assessments to predict relapse after adult substance use treatment. Addict Behav 83:116–122

Shiffman S, Stone AA, Hufford MR (2008) Ecological momentary assessment. Annu Rev Clin Psychol 4:1–32

Shiyko M, Naab P, Shiffman S, Li R (2014) Modeling complexity of EMA data: time-varying lagged effects of negative affect on smoking urges for subgroups of nicotine addiction. Nicotine Tob Res 16(Suppl 2):S144–S150

Silverman K, Bigelow GE, Stitzer ML (1998) 15 – Treatment of cocaine abuse in methadone maintenance patients. In: Higgins ST, Katz JL (eds) Cocaine abuse. Academic Press, San Diego, pp 363–388

Sinha R (2009) Modeling stress and drug craving in the laboratory: implications for addiction treatment development. Addict Biol 14:84–98

Sinha R, Talih M, Malison R, Cooney N, Anderson GM, Kreek MJ (2003) Hypothalamic-pituitary-adrenal axis and sympatho-adreno-medullary responses during stress-induced and drug cue-induced cocaine craving states. Psychopharmacology 170:62–72

Stine SM, Kosten TR (1994) Reduction of opiate withdrawal-like symptoms by cocaine abuse during methadone and buprenorphine maintenance. Am J Drug Alcohol Abuse 20:445–458

Strain EC, Preston KL, Stitzer ML, Liebson IA, Bigelow GE (2010) The effects of cocaine in buprenorphine-maintained outpatient volunteers. Am J Addict 3:129–143

Studer M, Ritschard G (2016) What matters in differences between life trajectories: a comparative review of sequence dissimilarity measures. J R Stat Soc: Ser A (Stat Soc) 179:481–511

Tan X, Shiyko MP, Li R, Li Y, Dierker L (2012) A time-varying effect model for intensive longitudinal data. Psychol Methods 17:61–77

Tiffany ST, Wray JM (2012) The clinical significance of drug craving. Ann N Y Acad Sci 1248:1–17

Vida R, Brownlie EB, Beitchman JH, Adlaf EM, Atkinson L, Escobar M, Johnson CJ, Jiang H, Koyama E, Bender D (2009) Emerging adult outcomes of adolescent psychiatric and substance use disorders. Addict Behav 34:800–805

Wang NS, Brown VL, Grabowski J, Meisch RA (2001) Reinforcement by orally delivered methadone, cocaine, and methadone–cocaine combinations in rhesus monkeys: are the combinations better reinforcers? Psychopharmacology 156:63–72

Wasserstein RL, Lazar NA (2016) The ASA statement on p-values: context, process, and purpose. Am Stat 70:129–133

Wickham H (2009) ggplot2: elegant graphics for data analysis. Springer, New York
Funding
This study was supported by the Intramural Research Program of NIH, NIDA. S.W.S. was supported by National Science Foundation grant DGE1255832. S.T.L. was supported by National Institute on Drug Abuse grant NIDA P50-DA039838. The authors report no conflicts of interest.
Additional information
Publisher's note
Springer Nature remains neutral with regard to jurisdictional claims in published maps and institutional affiliations.
Supplementary Information
About this article
Cite this article
Panlilio, L.V., Stull, S.W., Bertz, J.W. et al. Beyond abstinence and relapse II: momentary relationships between stress, craving, and lapse within clusters of patients with similar patterns of drug use. Psychopharmacology 238, 1513–1529 (2021). https://doi.org/10.1007/s00213-021-05782-2
Received:

Accepted:

Published:

Issue Date:

DOI: https://doi.org/10.1007/s00213-021-05782-2
Keywords
Ecological momentary assessment

Opioid use disorder

Time-varying effects modeling (TVEM)

Stress

Craving

Cocaine

Buprenorphine

Methadone