Abstract
Rationale
Past research suggests that people with opioid dependence show increased consumption of sweet food, but it is unclear if this is influenced by altered taste preference and/or taste perception.
Objectives
We tested whether people prescribed opioid substitution therapy (OST) exhibited a shift in preference towards sweeter flavours, and altered perception of sweetness, and explored whether these measures of taste preference/perception were associated with measures of opioid use.
Methods
Three groups of participants (people prescribed OST, n=36; people with past opioid dependence, but now abstinent from all opioids, n=18; and controls with no history of substance dependence other than nicotine, n=29) provided ratings of "sweetness", "liking", and "desire" of 4 solutions with varying concentrations of sucrose.
Results
We did not find significant differences between groups in the effect of sucrose concentration on "sweetness", "liking", or "desire" ratings. However, among those prescribed OST, frequency of recent illicit opioid use was associated with reduced perception of "sweetness" of low sucrose concentrations. Higher methadone dose was associated with a shift towards liking sweeter concentrations. Among those with past opioid dependence, longer duration of abstinence from opioids was associated with a shift towards liking sweeter concentrations.
Conclusions
Among people currently dependent on opioids, reduced sensitivity to low levels of sweetness and increased preference for sweeter flavours may be associated with increased dependence on opioids. Among those who have ceased opioid use, the association between preference for sweeter flavours and duration of abstinence is a novel finding that deserves further investigation.
Access options
Buy single article
Instant access to the full article PDF.
US$ 39.95
Tax calculation will be finalised during checkout.
Subscribe to journal
Immediate online access to all issues from 2019. Subscription will auto renew annually.
US$ 119
Tax calculation will be finalised during checkout.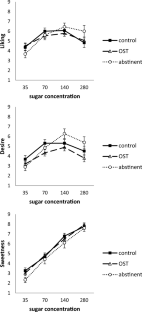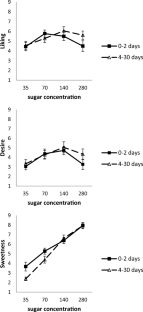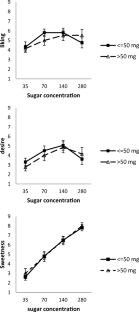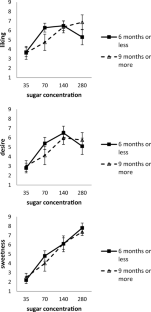 References
Alves D, Costa AF, Custódio D, Natário L, Ferro-Lebres V, Andrade F (2011) Housing and employment situation, body mass index and dietary habits of heroin addicts in methadone maintenance treatment. Heroin Addict Relat Clin Prob 13:11–14

American Psychiatric Association (2000) Diagnostic and statistical manual of mental disorders (4th ed., Text Revision). Washington

Arbisi PA, Billington CJ, Levine AS (1999) The effect of naltrexone on taste detection and recognition threshold. Appetite 32:241–249. https://doi.org/10.1006/appe.1998.0217

Avena NM, Rada P, Hoebel BG (2008) Evidence for sugar addiction: behavioral and neurochemical effects of intermittent, excessive sugar intake. Neurosci Biobehav Rev 32:20–39. https://doi.org/10.1016/j.neubiorev.2007.04.019

Barbano MF, Cador M (2006) Differential regulation of the consummatory, motivational and anticipatory aspects of feeding behavior by dopaminergic and opioidergic drugs. Neuropsychopharmacology 31:1371–1381. https://doi.org/10.1038/sj.npp.1300908

Bogucka-Bonikowska A et al (2002) Taste function in methadone-maintained opioid-dependent men. Drug Alcohol Depend 68:113–117

Cohen J (1988) Statistical Power Analysis for the Behavioral Sciences. 2nd edn. Lawrence Erlbaum Associates, Hillsdale

Cooper SJ (1983) Effects of opiate agonists and antagonists on fluid intake and saccharin choice in the rat. Neuropharmacology 22:323–328

Daniels S, Pratt M, Zhou Y, Leri F (2018) Effect of steady-state methadone on high fructose corn syrup consumption in rats. J Psychopharmacol 32:215–222. https://doi.org/10.1177/0269881117742116

Drewnowski A, Krahn DD, Demitrack MA, Nairn K, Gosnell BA (1992) Taste responses and preferences for sweet high-fat foods: evidence for opioid involvement. Physiol Behav 51:371–379

Drewnowski A, Henderson SA, Driscoll A, Rolls BJ (1996) Salt taste perceptions and preferences are unrelated to sodium consumption in healthy older adults. J Am Diet Assoc 96:471–474. https://doi.org/10.1016/S0002-8223(96)00131-9

Eikemo M, Loseth GE, Johnstone T, Gjerstad J, Willoch F, Leknes S (2016) Sweet taste pleasantness is modulated by morphine and naltrexone. Psychopharmacology 233:3711–3723. https://doi.org/10.1007/s00213-016-4403-x

Fantino M, Hosotte J, Apfelbaum M (1986) An opioid antagonist, naltrexone, reduces preference for sucrose in humans. Am J Phys 251:R91–R96. https://doi.org/10.1152/ajpregu.1986.251.1.R91

First MB, Spitzer RL, Gibbon M, Williams JBW (2002) Structured clinical interview for DSM-IV-TR axis I disorders, research version, patient edition (SCID-I/P). Biometrics Research, New York State Psychiatric Institute, New York

Franken IH, Rassin E, Muris P (2007) The assessment of anhedonia in clinical and non-clinical populations: further validation of the Snaith-Hamilton pleasure scale (SHAPS). J Affect Disord 99:83–89. https://doi.org/10.1016/j.jad.2006.08.020

Frisina PG, Sclafani A (2002) Naltrexone suppresses the late but not early licking response to a palatable sweet solution: opioid hedonic hypothesis reconsidered. Pharmacol Biochem Behav 74:163–172

Gard DE, Gard MG, Kring AM, John OP (2006) Anticipatory and consummatory components of the experience of pleasure: a scale development study. J Res Pers 40:1086–1102. https://doi.org/10.1016/j.jrp.2005.11.001

Garfield JBB, Cotton SM, Allen NB, Cheetham A, Kras M, Yucel M, Lubman DI (2017) Evidence that anhedonia is a symptom of opioid dependence associated with recent use. Drug Alcohol Depend 177:29–38. https://doi.org/10.1016/j.drugalcdep.2017.03.012

Gosnell BA, Majchrzak MJ (1989) Centrally administered opioid peptides stimulate saccharin intake in nondeprived rats. Pharmacol Biochem Behav 33:805–810

Gossop M, Darke S, Griffiths P, Hando J, Powis B, Hall W, Strang J (1995) The severity of dependence scale (SDS): psychometric properties of the SDS in English and Australian samples of heroin, cocaine and amphetamine users. Addiction 90:607–614

Green A et al (2013) Opiate agonists and antagonists modulate taste perception in opiate-maintained and recently detoxified subjects. J Psychopharmacol 27:265–275. https://doi.org/10.1177/0269881112472567

Grimm JW, Manaois M, Osincup D, Wells B, Buse C (2007) Naloxone attenuates incubated sucrose craving in rats. Psychopharmacology 194:537–544. https://doi.org/10.1007/s00213-007-0868-y

Kampov-Polevoy AB, Tsoi MV, Zvartau EE, Neznanov NG, Khalitov E (2001) Sweet liking and family history of alcoholism in hospitalized alcoholic and non-alcoholic patients. Alcohol Alcohol 36:165–170. https://doi.org/10.1093/alcalc/36.2.165

Kirkham TC, Cooper SJ (1988) Naloxone attenuation of sham feeding is modified by manipulation of sucrose concentration. Physiol Behav 44:491–494

Langleben DD, Busch EL, O'Brien CP, Elman I (2012) Depot naltrexone decreases rewarding properties of sugar in patients with opioid dependence. Psychopharmacology 220:559–564. https://doi.org/10.1007/s00213-011-2503-1

Levine AS, Murray SS, Kneip J, Grace M, Morley JE (1982) Flavor enhances the antidipsogenic effect of naloxone. Physiol Behav 28:23–25

Li X, Caprioli D, Marchant NJ (2015) Recent updates on incubation of drug craving: a mini-review. Addict Biol 20:872–876. https://doi.org/10.1111/adb.12205

Lubman DI, Garfield JB, Gwini SM, Cheetham A, Cotton SM, Yucel M, Allen NB (2018) Dynamic associations between opioid use and anhedonia: a longitudinal study in opioid dependence. J Psychopharmacol 32:957–964. https://doi.org/10.1177/0269881118791741

Lynch WC, Libby L (1983) Naloxone suppresses intake of highly preferred saccharin solutions in food deprived and sated rats. Life Sci 33:1909–1914. https://doi.org/10.1016/0024-3205(83)90675-6

Milano WC, Wild KD, Hui YZ, Hubbell CL, Reid LD (1988) PCP, THC, ethanol, and morphine and consumption of palatable solutions. Pharmacol Biochem Behav 31:893–897

Nathan PJ, O'Neill BV, Bush MA, Koch A, Tao WX, Maltby K, Napolitano A, Brooke AC, Skeggs AL, Herman CS, Larkin AL, Ignar DM, Richards DB, Williams PM, Bullmore ET (2012) Opioid receptor modulation of hedonic taste preference and food intake: a single-dose safety, pharmacokinetic, and pharmacodynamic investigation with GSK1521498, a novel mu-opioid receptor inverse agonist. J Clin Pharmacol 52:464–474. https://doi.org/10.1177/0091270011399577

Nolan LJ, Scagnelli LM (2007) Preference for sweet foods and higher body mass index in patients being treated in long-term methadone maintenance. Subst Use Misuse 42:1555–1566. https://doi.org/10.1080/10826080701517727

Peles E, Schreiber S, Sason A, Adelson M (2016) Risk factors for weight gain during methadone maintenance treatment. Subst Abus 37:613–618. https://doi.org/10.1080/08897077.2016.1179705

Pickens CL, Airavaara M, Theberge F, Fanous S, Hope BT, Shaham Y (2011) Neurobiology of the incubation of drug craving. Trends Neurosci 34:411–420. https://doi.org/10.1016/j.tins.2011.06.001

Reiner DJ, Fredriksson I, Lofaro OM, Bossert JM, Shaham Y (2019) Relapse to opioid seeking in rat models: behavior, pharmacology and circuits. Neuropsychopharmacology 44:465–477. https://doi.org/10.1038/s41386-018-0234-2

Roura-Martinez D et al (2020) Central nucleus of the amygdala as a common substrate of the incubation of drug and natural reinforcer seeking. Addict Biol 25(2):e12706. https://doi.org/10.1111/adb.12706

Satel SL, Kosten TR, Schuckit MA, Fischman MW (1993) Should protracted withdrawal from drugs be included in DSM-IV? Am J Psychiatry 150:695–704. https://doi.org/10.1176/ajp.150.5.695

Schoenbaum GM, Martin RJ, Roane DS (1989) Relationships between sustained sucrose-feeding and opioid tolerance and withdrawal. Pharmacol Biochem Behav 34:911–914

Shi J, Zhao LY, Epstein DH, Zhang XL, Lu L (2007) Long-term methadone maintenance reduces protracted symptoms of heroin abstinence and cue-induced craving in Chinese heroin abusers. Pharmacol Biochem Behav 87:141–145. https://doi.org/10.1016/j.pbb.2007.04.010

Smith CM, Garfield JBB, Attawar A, Lubman DI, Lawrence AJ (2019) The influence of opioid dependence on salt consumption and related psychological parameters in mice and humans. Drug Alcohol Depend 203:19–26. https://doi.org/10.1016/j.drugalcdep.2019.05.021

Snaith RP, Hamilton M, Morley S, Humayan A, Hargreaves D, Trigwell P (1995) A scale for the assessment of hedonic tone the Snaith-Hamilton pleasure scale. Br J Psychiatry 167:99–103. https://doi.org/10.1192/bjp.167.1.99

Sobell LC, Sobell MB (1996) Timeline Followback user's guide: a calendar method for assessing alcohol and drug use. Addiction Research Foundation, Toronto

Taha SA, Norsted E, Lee LS, Lang PD, Lee BS, Woolley JD, Fields HL (2006) Endogenous opioids encode relative taste preference. Eur J Neurosci 24:1220–1226. https://doi.org/10.1111/j.1460-9568.2006.04987.x

Uejima JL, Bossert JM, Poles GC, Lu L (2007) Systemic and central amygdala injections of the mGluR2/3 agonist LY379268 attenuate the expression of incubation of sucrose craving in rats. Behav Brain Res 181:292–296. https://doi.org/10.1016/j.bbr.2007.04.019

Ward HG, Nicklous DM, Aloyo VJ, Simansky KJ (2006) Mu-opioid receptor cellular function in the nucleus accumbens is essential for hedonically driven eating. Eur J Neurosci 23:1605–1613. https://doi.org/10.1111/j.1460-9568.2006.04674.x

Weafer J, Lyon N, Hedeker D, de Wit H (2017) Sweet taste liking is associated with subjective response to amphetamine in women but not men. Psychopharmacology 234:3185–3194. https://doi.org/10.1007/s00213-017-4702-x

Zador D, Lyons Wall PM, Webster I (1996) High sugar intake in a group of women on methadone maintenance in south western Sydney. Aust Addict 91:1053–1061

Zhang M, Kelley AE (1997) Opiate agonists microinjected into the nucleus accumbens enhance sucrose drinking in rats. Psychopharmacology 132:350–360

Zhang M, Kelley AE (2002) Intake of saccharin, salt, and ethanol solutions is increased by infusion of a mu opioid agonist into the nucleus accumbens. Psychopharmacology 159:415–423. https://doi.org/10.1007/s00213-001-0932-y
Acknowledgements
We would like to thank the pharmacies that distributed our recruitment leaflets to their OST patients, as well as the rehabilitation and supported accommodation services (Bridge Program, Odyssey House, Oxford Houses, Quin House, Raymond Hader Clinic, Reconstructing Life After Dependency (RLAD), Self Help Addiction Resource Centre (SHARC), and Windana Drug and Alcohol Recovery), who generously allowed us access to their residents and facilities. We would also like to thank Cassandra Jovic for her assistance in developing online advertising used to help recruit control group participants.
Availability of data and materials
Due to the conditions of ethical approval, individual level data (including deidentified data) is confidential and cannot be disclosed to people who were not approved as project personnel by the Monash University Human Research Ethics Committee. Data can only therefore be made available with further approval from the MUHREC, and anyone interested in accessing it should contact the corresponding author.
Funding
This research was funded by the National Health and Medical Research Council (NHMRC Project grant 1079891). The NHMRC had no role in designing this study, analysing or interpreting the data, writing this manuscript, or the decision to submit it for publication.
Ethics declarations
Conflict of interest
Joshua B. B. Garfield has no conflicts of interest to declare. Dan I. Lubman has provided consultancy advice to Lundbeck and Indivior; has received travel support and speaker honoraria from Astra Zeneca, Janssen, Lundbeck, Shire, and Servier; and has been an investigator on an untied education grant from Sequirus, unrelated to the current work. None of these organisations were involved in the present project or stand to benefit from its findings.
Additional information
Publisher's note
Springer Nature remains neutral with regard to jurisdictional claims in published maps and institutional affiliations.
Supplementary Information
About this article
Cite this article
Garfield, J.B.B., Lubman, D.I. Associations between opioid dependence and sweet taste preference. Psychopharmacology (2021). https://doi.org/10.1007/s00213-021-05774-2
Received:

Accepted:

Published:
Keywords
Opioid dependence

Opioid use disorder

Sugar

Opioid substitution therapy

Methadone

Heroin

Opioid abstinence