Abstract
Rationale
Laboratory research in adults indicates that alcohol-related subjective effects are enhanced under some social conditions. However, it is unknown whether this "social facilitation" of alcohol effects occurs in adolescents and is associated with alcohol use in the natural ecology.
Objectives
We examined associations of social facilitation of alcohol-related subjective effects with subsequent alcohol use among a relatively high-risk group of adolescents who reported drinking alcohol both with friends and alone.
Methods
Los Angeles high school students from a prospective study (N = 142; 51% female; 10th graders) completed a baseline survey that assessed alcohol-related "positive" and "negative" subjective effects in two contexts: social (alcohol with friends) and solitary (alcohol alone); social facilitation was calculated as the difference between social and solitary. Students then completed five semi-annual surveys spanning 30 months (2014–2017) assessing 30-day alcohol use (days used, number of drinks, binge drinking).
Results
Greater social facilitation of positive effects was significantly associated with greater number of alcohol use days (RR [95% CI] = 1.48 [1.19, 1.82]; p < .001), greater number of drinks (RR [95% CI] = 1.38 [1.14, 1.66]; p = .001), and greater odds of binge drinking (OR [95% CI] = 1.75 [1.20, 2.57]; p = .004). Similar associations were found with social positive effects. There were no significant associations between solitary positive effects—or any negative effects—and alcohol use outcomes.
Conclusions
Social facilitation can be measured outside of the laboratory. Relatively high-risk drinking adolescents who are more susceptible to the social facilitation of subjective alcohol effects are more likely to use more alcohol and binge drink.
Access options
Buy single article
Instant access to the full article PDF.
US$ 39.95
Tax calculation will be finalised during checkout.
Subscribe to journal
Immediate online access to all issues from 2019. Subscription will auto renew annually.
US$ 119
Tax calculation will be finalised during checkout.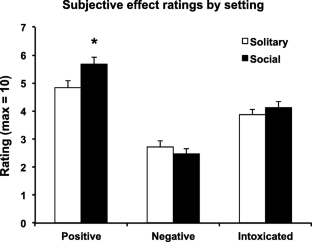 References
Acosta MC, Eissenberg T, Nichter M, Nichter M, Balster RL, Tobacco Etiology Research N (2008) Characterizing early cigarette use episodes in novice smokers. Addict Behav 33:106–121. https://doi.org/10.1016/j.addbeh.2007.09.005

Attwood AS, Penton-Voak IS, Goodwin C, Munafo MR (2012) Effects of acute nicotine and alcohol on the rating of attractiveness in social smokers and alcohol drinkers. Drug Alcohol Depend 125:43–48. https://doi.org/10.1016/j.drugalcdep.2012.03.014

Barrington-Trimis JL, Cho J, Ewusi-Boisvert E, Hasin D, Unger JB, Miech RA, Leventhal AM (2020) Risk of persistence and progression of use of 5 cannabis products after experimentation among adolescents. JAMA network open 3:e1919792-e1919792

Beck KH, Thombs DL, Summons TG (1993) The social context of drinking scales: construct validation and relationship to indicants of abuse in an adolescent population. Addict Behav 18:159–169

Brown SA, Christiansen BA, Goldman MS (1987) The Alcohol Expectancy Questionnaire: an instrument for the assessment of adolescent and adult alcohol expectancies. J Stud Alcohol 48:483–491

Cho J, Goldenson NI, Pester MS, Khoddam R, Bello MS, Dunton GF, Belcher BR, Leventhal AM (2018) Longitudinal associations between anhedonia and body mass index trajectory groups among adolescents. J Adolesc Health 63:81–87

Cho J, Goldenson NI, Kirkpatrick MG, Barrington-Trimis JL, Pang RD, Leventhal AM (2020) Developmental patterns of tobacco product and cannabis use initiation in high school addiction

Creswell KG, Chung T, Clark DB, Martin CS (2014) Solitary alcohol use in teens is associated with drinking in response to negative affect and predicts alcohol problems in young adulthood. Clin Psychol Sci 2:602–610

de Wit H, Phillips TJ (2012) Do initial responses to drugs predict future use or abuse? Neurosci Biobehav Rev 36:1565–1576. https://doi.org/10.1016/j.neubiorev.2012.04.005

de Wit H, Sayette M (2018) Considering the context: social factors in responses to drugs in humans. Psychopharmacology 235:935–945. https://doi.org/10.1007/s00213-018-4854-3

Doty P, de Wit H (1995) Effect of setting on the reinforcing and subjective effects of ethanol in social drinkers. Psychopharmacology 118:19–27. https://doi.org/10.1007/bf02245245

Eaton DK et al. (2010) Youth risk behavior surveillance-United States, 2009 MMWR Surveill Summ 59:1-142

Fairbairn CE (2017) Drinking among strangers: a meta-analysis examining familiarity as a moderator of alcohol's rewarding effects. Psychol Addict Behav 31:255

Fairbairn CE, Sayette MA, Aalen OO, Frigessi A (2015a) Alcohol and emotional contagion: an examination of the spreading of smiles in male and female drinking groups. Clin Psychol Sci 3:686–701. https://doi.org/10.1177/2167702614548892

Fairbairn CE, Sayette MA, Wright AG, Levine JM, Cohn JF, Creswell KG (2015b) Extraversion and the rewarding effects of alcohol in a social context. J Abnorm Psychol 124:660–673. https://doi.org/10.1037/abn0000024

Fairbairn CE, Bresin K, Kang D, Rosen IG, Ariss T, Luczak SE, Barnett NP, Eckland NS (2018) A multimodal investigation of contextual effects on alcohol's emotional rewards. J Abnorm Psychol 127:359–373. https://doi.org/10.1037/abn0000346

Fischman MW, Foltin RW (1991) Utility of subjective-effects measurements in assessing abuse liability of drugs in humans. Br J Addict 86:1563–1570. https://doi.org/10.1111/j.1360-0443.1991.tb01749.x

Forsyth A, Barnard M (2000) Preferred drinking locations of Scottish adolescents. Health Place 6:105–115

Foulkes L, Blakemore S-J (2016) Is there heightened sensitivity to social reward in adolescence? Curr Opin Neurobiol 40:81–85

Friemel CM, Spanagel R, Schneider M (2010) Reward sensitivity for a palatable food reward peaks during pubertal developmental in rats. Front Behav Neurosci 4:39

Galvan A, Hare TA, Parra CE, Penn J, Voss H, Glover G, Casey B (2006) Earlier development of the accumbens relative to orbitofrontal cortex might underlie risk-taking behavior in adolescents. J Neurosci 26:6885–6892

Halkitis PN, Green KA, Mourgues P (2005) Longitudinal investigation of methamphetamine use among gay and bisexual men in New York City: findings from Project BUMPS. J Urban Health 82:i18–i25. https://doi.org/10.1093/jurban/jti020

Hatfield E, Cacioppo JT, Rapson RL (1993) Emotional contagion. Curr Dir Psychol Sci 2:96–100

Kairouz S, Greenfield TK (2007) A comparative multi-level analysis of contextual drinking in American and Canadian adults. Addiction 102:71–80. https://doi.org/10.1111/j.1360-0443.2006.01655.x

King AC, de Wit H, McNamara PJ, Cao D (2011) Rewarding, stimulant, and sedative alcohol responses and relationship to future binge drinking. Arch Gen Psychiatry 68:389–399. https://doi.org/10.1001/archgenpsychiatry.2011.26

King AC, McNamara PJ, Hasin DS, Cao D (2014) Alcohol challenge responses predict future alcohol use disorder symptoms: a 6-year prospective study. Biol Psychiatry 75:798–806. https://doi.org/10.1016/j.biopsych.2013.08.001

Kirkpatrick MG, de Wit H (2013) In the company of others: social factors alter acute alcohol effects. Psychopharmacology 230:215–226. https://doi.org/10.1007/s00213-013-3147-0

Kuntsche E, Knibbe R, Gmel G, Engels R (2006) Who drinks and why? A review of socio-demographic, personality, and contextual issues behind the drinking motives in young people. Addict Behav 31:1844–1857

Leventhal AM, Strong DR, Kirkpatrick MG, Unger JB, Sussman S, Riggs NR, Stone MD, Khoddam R, Samet JM, Audrain-McGovern J (2015) Association of electronic cigarette use with initiation of combustible tobacco product smoking in early adolescence. JAMA 314:700–707. https://doi.org/10.1001/jama.2015.8950

Martin CS, Earleywine M, Musty RE, Perrine MW, Swift RM (1993) Development and validation of the Biphasic Alcohol Effects Scale. Alcohol Clin Exp Res 17:140–146. https://doi.org/10.1111/j.1530-0277.1993.tb00739.x

McCabe SE, West BT, Veliz P, Frank KA, Boyd CJ (2014) Social contexts of substance use among U.S. high school seniors: a multicohort national study. J Adolesc Health 55:842–844. https://doi.org/10.1016/j.jadohealth.2014.06.017

Miech RA, Johnston LD, O'malley PM, Bachman JG, Schulenberg JE (2015) Monitoring the future National Survey Results on drug use, 1975–2014. Volume 1, Secondary School Students Institute for Social Research

Min Y, Agresti A (2005) Random effect models for repeated measures of zero-inflated count data. Stat Model 5:1–19

Morean ME, Corbin WR, Treat TA (2013) The Subjective Effects of Alcohol Scale: development and psychometric evaluation of a novel assessment tool for measuring subjective response to alcohol. Psychol Assess 25:780–795. https://doi.org/10.1037/a0032542

Muthén B, Muthén BO (2009) Statistical analysis with latent variables. Wiley New York

Parker LL, Penton-Voak IS, Attwood AS, Munafo MR (2008) Effects of acute alcohol consumption on ratings of attractiveness of facial stimuli: evidence of long-term encoding. Alcohol Alcohol 43:636–640. https://doi.org/10.1093/alcalc/agn065

Pliner P, Cappell H (1974) Modification of affective consequences of alcohol: a comparison of social and solitary drinking. J Abnorm Psychol 83:418–425. https://doi.org/10.1037/h0036884

Quigley BM, Collins RL (1999) The modeling of alcohol consumption: a meta-analytic review. J Stud Alcohol 60:90–98

Ra CK et al (2018) Association of digital media use with subsequent symptoms of attention-deficit/hyperactivity disorder among adolescents. Jama 320:255–263

Rodgers J, Buchanan T, Pearson C, Parrott AC, Ling J, Hefferman TM, Scholey AB (2006) Differential experiences of the psychobiological sequelae of ecstasy use: quantitative and qualitative data from an internet study. J Psychopharmacol 20:437–446. https://doi.org/10.1177/0269881105058777

Samson HH, Fromme K (1984) Social drinking in a simulated tavern: an experimental analysis. Drug Alcohol Depend 14:141–163. https://doi.org/10.1016/0376-8716(84)90040-1

Sayette MA (1999) Does drinking reduce stress? Alcohol Res Health 23:250–255

Sayette MA et al (2012) Alcohol and group formation: a multimodal investigation of the effects of alcohol on emotion and social bonding. Psychol Sci 23:869–878. https://doi.org/10.1177/0956797611435134

Sher KJ (1985) Subjective effects of alcohol: the influence of setting and individual differences in alcohol expectancies. J Stud Alcohol 46:137–146. https://doi.org/10.15288/jsa.1985.46.137

Sher KJ, Wood MD (2005) Subjective effects of alcohol II mind-altering drugs: the science of subjective experience

Single E, Wortley S (1993) Drinking in various settings as it relates to demographic variables and level of consumption: findings from a national survey in Canada. J Stud Alcohol 54:590–599. https://doi.org/10.15288/jsa.1993.54.590

Skrzynski CJ, Creswell KG (2020) Associations between solitary drinking and increased alcohol consumption, alcohol problems, and drinking to cope motives in adolescents and young adults: a systematic review and meta-analysis addiction

Stangl BL et al. (2019) Suggestibility is associated with alcohol self-administration, subjective alcohol effects, and self-reported drinking behavior. Journal of psychopharmacology:0269881119827813

Stein L, Katz B, Colby SM, Barnett NP, Golembeske C, Lebeau-Craven R, Monti P (2007) Validity and reliability of the alcohol expectancy questionnaire-adolescent, brief. J Child Adolesc Subst Abuse 16:115–127

Thompson MP, Ho C-h, Kingree JB (2007) Prospective associations between delinquency and suicidal behaviors in a nationally representative sample. J Adolesc Health 40:232–237

Tucker JS, Ellickson PL, Collins RL, Klein DJ (2006) Does solitary substance use increase adolescents' risk for poor psychosocial and behavioral outcomes? A 9-year longitudinal study comparing solitary and social users. Psychol Addict Behav 20:363–372

Urošević S, Collins P, Muetzel R, Lim K, Luciana M (2012) Longitudinal changes in behavioral approach system sensitivity and brain structures involved in reward processing during adolescence. Dev Psychol 48:1488

Vittinghoff E, Glidden DV, Shiboski SC, McCulloch CE (2011) Regression methods in biostatistics: linear, logistic, survival, and repeated measures models. Springer Science & Business Media

Zakharova E, Wade D, Izenwasser S (2009) Sensitivity to cocaine conditioned reward depends on sex and age. Pharmacol Biochem Behav 92:131–134
Funding
Supported by the American Cancer Society MRSG-16-165-01-CPPB (Matthew Kirkpatrick) and the National Institute on Drug Abuse R01-DA033296 (Adam Leventhal).
Ethics declarations
Conflict of interest
The authors declare that they have no conflict of interest.
Additional information
Publisher's note
Springer Nature remains neutral with regard to jurisdictional claims in published maps and institutional affiliations.
Supplementary information
About this article
Cite this article
Kirkpatrick, M.G., Cho, J., Stone, M.D. et al. Social facilitation of alcohol subjective effects in adolescents: Associations with subsequent alcohol use. Psychopharmacology 238, 887–897 (2021). https://doi.org/10.1007/s00213-020-05740-4
Received:

Accepted:

Published:

Issue Date:
Keywords
Social

Context

Alcohol

Humans

Adolescents

Subjective effects

Binge drinking