Abstract
Rationale
The impact of the microbiota on the gut-brain axis is increasingly appreciated. A growing body of literature demonstrates that use of dietary fibre and prebiotics can manipulate the microbiota and affect host health. However, the influence on cognition and acute stress response is less well understood.
Objectives
The objective of this study was to investigate the efficacy of a dietary fibre, polydextrose (PDX), in improving cognitive performance and acute stress responses through manipulation of the gut microbiota in a healthy population.
Methods
In this double-blind, randomised, placebo-controlled, crossover design study, 18 healthy female participants received 12.5 g Litesse®Ultra (> 90% PDX polymer) or maltodextrin for 4 weeks. Cognitive performance, mood, acute stress responses, microbiota composition, and inflammatory markers were assessed pre- and post-intervention.
Results
PDX improved cognitive flexibility as evidenced by the decrease in the number of errors made in the Intra-Extra Dimensional Set Shift (IED) task. A better performance in sustained attention was observed through higher number of correct responses and rejections in the Rapid Visual Information Processing (RVP) task. Although there was no change in microbial diversity, abundance of Ruminiclostridium 5 significantly increased after PDX supplementation compared with placebo. PDX supplementation attenuated the increase of adhesion receptor CD62L on classical monocytes observed in the placebo group.
Conclusions
Supplementation with the PDX resulted in a modest improvement in cognitive performance. The results indicate that PDX could benefit gut-to-brain communication and modulate behavioural responses.
Access options
Buy single article
Instant access to the full article PDF.
USD 39.95
Price excludes VAT (USA)
Tax calculation will be finalised during checkout.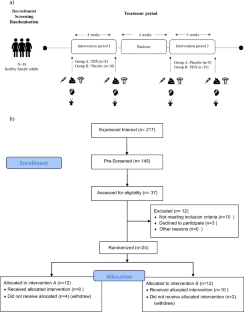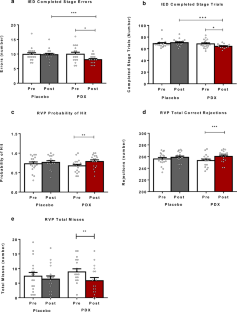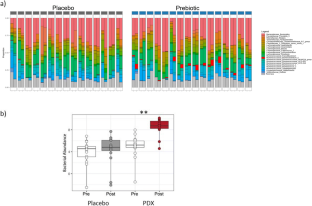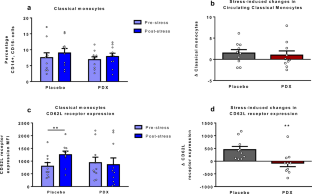 References
Allen AP et al (2016) Bifidobacterium longum 1714 as a translational psychobiotic: modulation of stress, electrophysiology and neurocognition in healthy volunteers. Transl Psychiatry 6:e939–e939

Allen AP, Dinan TG, Clarke G, Cryan JF (2017) A psychology of the human brain–gut–microbiome axis. Soc Personal Psychol Compass 11:e12309

Amplicon P, Clean-Up P, Index P (2013) 16s metagenomic sequencing library preparation

Beck AT, Steer RA, Brown GK (1996) Beck depression inventory-II San Antonio. 78:490–498

Berding K, Donovan SM (2018) Diet can impact microbiota composition in children with autism spectrum disorder. Front Neurosci 12:515

Bindels LB, Delzenne NM, Cani PD, Walter J (2015) Towards a more comprehensive concept for prebiotics. Nat Rev Gastroenterol Hepatol 12:303–310. https://doi.org/10.1038/nrgastro.2015.47

Bjelland I, Dahl AA, Haug TT, Neckelmann D (2002) The validity of the Hospital Anxiety and Depression Scale: an updated literature review. J Psychosom Res 52:69–77

Boehme M et al (2019) Mid-life microbiota crises: middle age is associated with pervasive neuroimmune alterations that are reversed by targeting the gut microbiome. Mol Psychiatry. https://doi.org/10.1038/s41380-019-0425-1

Burokas A et al (2017) Targeting the microbiota-gut-brain axis: prebiotics have anxiolytic and antidepressant-like effects and reverse the impact of chronic stress in mice. Biol Psychiatry 82:472–487. https://doi.org/10.1016/j.biopsych.2016.12.031

Callahan BJ, McMurdie PJ, Rosen MJ, Han AW, Johnson AJA, Holmes SP (2016) DADA2: High-resolution sample inference from Illumina amplicon data. Nat Methods 13:581–583. https://doi.org/10.1038/nmeth.3869

Chen J et al (2017) Dysbiosis of intestinal microbiota and decrease in paneth cell antimicrobial peptide level during acute necrotizing pancreatitis in rats. PLoS One 12:e0176583. https://doi.org/10.1371/journal.pone.0176583

Cohen S, Kamarck T, Mermelstein R (1983) A global measure of perceived stress. J Health Soc Behav:385–396

Costabile A et al (2012) Impact of polydextrose on the faecal microbiota: a double-blind, crossover, placebo-controlled feeding study in healthy human subjects. Br J Nutr 108:471–481. https://doi.org/10.1017/S0007114511005782

Derogatis LR, Unger R (2010) Symptom checklist-90-revised. The Corsini encyclopedia of psychology:1-2

Dhabhar FS, Malarkey WB, Neri E, McEwen BS (2012) Stress-induced redistribution of immune cells--from barracks to boulevards to battlefields: a tale of three hormones--Curt Richter Award winner. Psychoneuroendocrinology 37:1345–1368. https://doi.org/10.1016/j.psyneuen.2012.05.008

Dinan TG, Stanton C, Cryan JF (2013) Psychobiotics: a novel class of psychotropic. Biol Psychiatry 74:720–726

Dinan TG et al (2019) Feeding melancholic microbes: MyNewGut recommendations on diet and mood. Clin Nutr 38:1995–2001. https://doi.org/10.1016/j.clnu.2018.11.010

Fava F et al (2007) Effect of polydextrose on intestinal microbes and immune functions in pigs. Br J Nutr 98:123–133. https://doi.org/10.1017/S0007114507691818

Fernandes AD, Macklaim JM, Linn TG, Reid G, Gloor GB (2013) ANOVA-like differential expression (ALDEx) analysis for mixed population RNA-Seq. PLoS One 8:e67019. https://doi.org/10.1371/journal.pone.0067019

Fleming SA, Monaikul S, Patsavas AJ, Waworuntu RV, Berg BM, Dilger RN (2019) Dietary polydextrose and galactooligosaccharide increase exploratory behavior, improve recognition memory, and alter neurochemistry in the young pig. Nutr Neurosci 22:499–512. https://doi.org/10.1080/1028415X.2017.1415280

Fouhy F et al (2015) The effects of freezing on faecal microbiota as determined using MiSeq sequencing and culture-based investigations. PLoS One 10

Gibson GR, Beatty ER, Wang X, Cummings JH (1995) Selective stimulation of bifidobacteria in the human colon by oligofructose and inulin. Gastroenterology 108:975–982. https://doi.org/10.1016/0016-5085(95)90192-2

Gronier B, Savignac HM, Di Miceli M, Idriss SM, Tzortzis G, Anthony D, Burnet PWJ (2018) Increased cortical neuronal responses to NMDA and improved attentional set-shifting performance in rats following prebiotic (B-GOS((R))) ingestion. Eur Neuropsychopharmacol 28:211–224. https://doi.org/10.1016/j.euroneuro.2017.11.001

Harrington J, Fitzgerald AP, Layte R, Lutomski J, Molcho M, Perry IJ (2011) Sociodemographic, health and lifestyle predictors of poor diets. Public Health Nutr 14:2166–2175

Hibberd AA et al (2019) Probiotic or synbiotic alters the gut microbiota and metabolism in a randomised controlled trial of weight management in overweight adults. Benefic Microbes 10:121–135. https://doi.org/10.3920/BM2018.0028

Holscher HD (2017) Dietary fiber and prebiotics and the gastrointestinal microbiota. Gut Microbes 8:172–184. https://doi.org/10.1080/19490976.2017.1290756

Holscher HD, Caporaso JG, Hooda S, Brulc JM, Fahey GC Jr, Swanson KS (2015) Fiber supplementation influences phylogenetic structure and functional capacity of the human intestinal microbiome: follow-up of a randomized controlled trial. Am J Clin Nutr 101:55–64. https://doi.org/10.3945/ajcn.114.092064

Hull S, Re R, Tiihonen K, Viscione L, Wickham M (2012) Consuming polydextrose in a mid-morning snack increases acute satiety measurements and reduces subsequent energy intake at lunch in healthy human subjects. Appetite 59:706–712. https://doi.org/10.1016/j.appet.2012.08.004

Ibarra A et al (2017) Effects of polydextrose with breakfast or with a midmorning preload on food intake and other appetite-related parameters in healthy normal-weight and overweight females: an acute, randomized, double-blind, placebo-controlled, and crossover study. Appetite 110:15–24. https://doi.org/10.1016/j.appet.2016.12.002

Jandhyala SM, Talukdar R, Subramanyam C, Vuyyuru H, Sasikala M, Nageshwar Reddy D (2015) Role of the normal gut microbiota. World J Gastroenterol 21:8787–8803. https://doi.org/10.3748/wjg.v21.i29.8787

Kao A-C, Safarikova J, Marquardt T, Mullins B, Lennox BR, Burnet PW (2019) Pro-cognitive effect of a prebiotic in psychosis: a double blind placebo controlled cross-over study. Schizophr Res 208

Kendig MD, Lin CS, Beilharz JE, Rooney KB, Boakes RA (2014) Maltodextrin can produce similar metabolic and cognitive effects to those of sucrose in the rat. Appetite 77:1–12

Kim C, Johnson NF, Cilles SE, Gold BT (2011) Common and distinct mechanisms of cognitive flexibility in prefrontal cortex. J Neurosci 31:4771–4779. https://doi.org/10.1523/JNEUROSCI.5923-10.2011

Lasselin J et al (2016) Low-grade inflammation is a major contributor of impaired attentional set shifting in obese subjects. Brain Behav Immun 58:63–68. https://doi.org/10.1016/j.bbi.2016.05.013

Long-Smith C, O'Riordan KJ, Clarke G, Stanton C, Dinan TG, Cryan JF (2020) Microbiota-gut-brain axis: new therapeutic opportunities. Annu Rev Pharmacol Toxicol 60:477–502

Martinez KB, Leone V, Chang EB (2017) Western diets, gut dysbiosis, and metabolic diseases: are they linked? Gut Microbes 8:130–142. https://doi.org/10.1080/19490976.2016.1270811

McVey Neufeld KA, O'Mahony SM, Hoban AE, Waworuntu RV, Berg BM, Dinan TG, Cryan JF (2019) Neurobehavioural effects of Lactobacillus rhamnosus GG alone and in combination with prebiotics polydextrose and galactooligosaccharide in male rats exposed to early-life stress. Nutr Neurosci 22:425–434. https://doi.org/10.1080/1028415X.2017.1397875

Mika A et al (2014) 155. Dietary prebiotics increase Bifidobacterium spp. and Lactobacillus spp. in the gut and promote stress resistance. Brain Behav Immun 40:e45

Möhle L et al (2016) Ly6C(hi) Monocytes provide a link between antibiotic-induced changes in gut microbiota and adult hippocampal neurogenesis. Cell Rep 15:1945–1956. https://doi.org/10.1016/j.celrep.2016.04.074

Nelson HE, Willison J (1991) National adult reading test (NART). Nfer-Nelson Windsor

Pardo JV, Fox PT, Raichle ME (1991) Localization of a human system for sustained attention by positron emission tomography. Nature 349:61–64. https://doi.org/10.1038/349061a0

Peuranen S, Tiihonen K, Apajalahti J, Kettunen A, Saarinen M, Rautonen N (2004) Combination of polydextrose and lactitol affects microbial ecosystem and immune responses in rat gastrointestinal tract. Br J Nutr 91:905–914. https://doi.org/10.1079/BJN20041114

Rea K, Dinan TG, Cryan JF (2016) The microbiome: a key regulator of stress and neuroinflammation. Neurobiol Stress 4:23–33. https://doi.org/10.1016/j.ynstr.2016.03.001

Roytio H, Ouwehand AC (2014) The fermentation of polydextrose in the large intestine and its beneficial effects. Benefic Microbes 5:305–313. https://doi.org/10.3920/BM2013.0065

Salonen A et al (2014) Impact of diet and individual variation on intestinal microbiota composition and fermentation products in obese men. ISME J 8:2218–2230. https://doi.org/10.1038/ismej.2014.63

Sarkar A, Lehto SM, Harty S, Dinan TG, Cryan JF, Burnet PW (2016) Psychobiotics and the manipulation of bacteria–gut–brain signals. Trends Neurosci 39:763–781

Sarkar A et al (2018) The microbiome in psychology and cognitive neuroscience trends. Cogn Sci 22:611–636. https://doi.org/10.1016/j.tics.2018.04.006

Savignac HM, Corona G, Mills H, Chen L, Spencer JP, Tzortzis G, Burnet PW (2013) Prebiotic feeding elevates central brain derived neurotrophic factor, N-methyl-D-aspartate receptor subunits and D-serine. Neurochem Int 63:756–764. https://doi.org/10.1016/j.neuint.2013.10.006

Schley PD, Field CJ (2002) The immune-enhancing effects of dietary fibres and prebiotics. Br J Nutr 87(Suppl 2):S221–S230. https://doi.org/10.1079/BJNBJN/2002541

Schmidt K, Cowen PJ, Harmer CJ, Tzortzis G, Errington S, Burnet PW (2015) Prebiotic intake reduces the waking cortisol response and alters emotional bias in healthy volunteers. Psychopharmacology 232:1793–1801. https://doi.org/10.1007/s00213-014-3810-0

Schwabe L, Haddad L, Schachinger H (2008) HPA axis activation by a socially evaluated cold-pressor test. Psychoneuroendocrinology 33:890–895. https://doi.org/10.1016/j.psyneuen.2008.03.001

Sheehan D, Moran C, Shanahan F (2015) The microbiota in inflammatory bowel disease. J Gastroenterol 50:495–507. https://doi.org/10.1007/s00535-015-1064-1

Silk DB, Davis A, Vulevic J, Tzortzis G, Gibson GR (2009) Clinical trial: the effects of a trans-galactooligosaccharide prebiotic on faecal microbiota and symptoms in irritable bowel syndrome. Aliment Pharmacol Ther 29:508–518. https://doi.org/10.1111/j.1365-2036.2008.03911.x

Smith LK, Wissel EF (2019) Microbes and the mind: how bacteria shape affect, neurological processes, cognition, social relationships, development, and pathology. Perspect Psychol Sci 14:397–418. https://doi.org/10.1177/1745691618809379

Smith AP, Sutherland D, Hewlett P (2015) An investigation of the acute effects of oligofructose-enriched inulin on subjective wellbeing, mood and cognitive performance. Nutrients 7:8887–8896. https://doi.org/10.3390/nu7115441

Stenman LK et al (2016) Probiotic with or without fiber controls body fat mass, associated with serum zonulin, in overweight and obese adults-randomized controlled trial. EBioMedicine 13:190–200. https://doi.org/10.1016/j.ebiom.2016.10.036

Storey J, Bass A, Dabney A, Robinson D (2015) qvalue: Q-value estimation for false discovery rate control. R package version 2.0. 0 Available at github com/jdstorey/qvalue. Accessed 14 Apr 2017

Strati F et al (2017) New evidences on the altered gut microbiota in autism spectrum disorders. Microbiome 5:24. https://doi.org/10.1186/s40168-017-0242-1

Tang R et al (2018) 16S rRNA gene sequencing reveals altered composition of gut microbiota in individuals with kidney stones. Urolithiasis 46:503–514. https://doi.org/10.1007/s00240-018-1037-y

Tap J et al (2015) Gut microbiota richness promotes its stability upon increased dietary fibre intake in healthy adults. Environ Microbiol 17:4954–4964. https://doi.org/10.1111/1462-2920.13006

Tarr AJ, Galley JD, Fisher SE, Chichlowski M, Berg BM, Bailey MT (2015) The prebiotics 3′Sialyllactose and 6′Sialyllactose diminish stressor-induced anxiety-like behavior and colonic microbiota alterations: evidence for effects on the gut-brain axis. Brain Behav Immun 50:166–177. https://doi.org/10.1016/j.bbi.2015.06.025

Tolhurst G et al (2012) Short-chain fatty acids stimulate glucagon-like peptide-1 secretion via the G-protein-coupled receptor FFAR2. Diabetes 61:364–371. https://doi.org/10.2337/db11-1019

van de Wouw M, Boehme M, Dinan TG, Cryan JF (2019) Monocyte mobilisation, microbiota & mental illness. Brain Behav Immun 81:74–91. https://doi.org/10.1016/j.bbi.2019.07.019

van de Wouw M et al (2020) The role of the microbiota in acute stress-induced myeloid immune cell trafficking. Brain Behav Immun 84:209–217. https://doi.org/10.1016/j.bbi.2019.12.003

Yu Z, Morrison M (2004) Improved extraction of PCR-quality community DNA from digesta and fecal samples. Biotechniques 36:808–812. https://doi.org/10.2144/04365ST04
Acknowledgements
We thank Anne Marie Cusack for assistance in study visit and collection of biological samples; Danielle Dorland, Sara Hojabri, and Cassandra Morel for facilitating the socially evaluated cold pressor and initial sample processing; Eline Sundt and Con Moran for data entry; Grainne Cremin cortisol analysis; Prof. Paul Cotter, Dr. Fiona Crispie, and Ms. Laura Finnegan from the Teagasc Next Gen DNA Sequencing Centre for their role in relation to the 16S rRNA sequencing; as well as Dr. Panagiota Stamou, Dr. Ken Nally, and the APC Microbiome Ireland flow cytometry platform for their technical expertise. We would also like to thank Dr. Elaine Patterson and Dr. Arthur Ouwehand, DuPont Nutrition & Biosciences, for scientific input. Lastly, the authors would like to thank all the volunteers who participated in the study.
Funding
The author(s) disclosed receipt of the following financial support for the research, authorship, and/or publication of this article: The dietary fibre was supplied by DuPont Nutrition & Biosciences as a gift. This study was funded in part by MyNewGut, an EU 7th Framework Programme under Grant Agreement 613979. The EU is not liable for the content presented in this publication. The study was also funded by APC Microbiome Ireland. APC Microbiome Ireland is a research centre funded by Science Foundation Ireland (SFI), through the Irish Government's National Development Plan (grant no. 12/RC/2273).
Ethics declarations
Conflict of interest
APC Microbiome Ireland has conducted studies in collaboration with several companies, including GSK, Pfizer, Cremo, Wyeth, Mead Johnson, Nutricia, 4D Pharma, and DuPont. T. G. D. has been an invited speaker at meetings organized by Servier, Lundbeck, Janssen, and AstraZeneca and has received research funding from Mead Johnson, Cremo, Wellness, Nutricia, and 4D Pharma. J. F. C. has been an invited speaker at meetings organized by Mead Johnson, Yakult, and Alkermes, and has received research funding from Mead Johnson, Cremo, Nutricia, and DuPont. C.S. has been an invited speaker at meetings organized by Nutricia and received research funding from Mead Johnson, Cremo, Nutricia, and DuPont. All other authors report no conflict of interest.
Additional information
Publisher's note
Springer Nature remains neutral with regard to jurisdictional claims in published maps and institutional affiliations.
Kirsten Berding and Caitriona M. Long-Smith are co-first authors
About this article
Cite this article
Berding, K., Long-Smith, C.M., Carbia, C. et al. A specific dietary fibre supplementation improves cognitive performance—an exploratory randomised, placebo-controlled, crossover study. Psychopharmacology 238, 149–163 (2021). https://doi.org/10.1007/s00213-020-05665-y
Received:

Accepted:

Published:

Issue Date:

DOI: https://doi.org/10.1007/s00213-020-05665-y
Keywords
Microbiota

Short-chain fatty acids

Dietary fibre

Prebiotic

Polydextrose

Cognition

Stress

Inflammation