Abstract
Rationale
Recent research has shown that classical serotonergic psychedelic (CSP) drugs may be used to ameliorate certain health issues and disorders. Here we hypothesised that CSP experiences, through their ability to induce awe and ego-dissolution, may result in a reduction of maladaptive narcissistic personality traits, such as a strong sense of entitlement and lack of empathy.
Objectives
Our objective was to investigate whether high levels of awe and ego dissolution during recent CSP experiences are associated with currently lower levels of maladaptive narcissism.
Methods
In this pre-registered high-powered (N = 414) study, we used an online retrospective survey asking participants to describe their 'most awe-inspiring, impressive, significant, or emotionally intense experience', as well as several validated scales to test our hypothesis.
Results
A statistically significant mediation model indicated that recent CSP-induced experiences were associated with currently increased feelings of connectedness and affective empathetic drive, which in turn were associated with decreased exploitative-entitled narcissism. This relationship held even when taking into account sensation-seeking personality features. We found no evidence for feelings of ego dissolution to have the same effect.
Conclusions
Feelings of awe, but not ego dissolution, during recent CSP experiences were associated with increased feelings of connectedness and empathy, which in turn were associated with decreased levels of maladaptive narcissism personality features. This suggests that CSPs hold therapeutic potential for disorders involving connectedness and empathy, such as the treatment of pathological narcissism, and that the induction of connectedness through awe appears to be the driving force behind this potential.
Access options
Buy single article
Instant access to the full article PDF.
USD 39.95
Price includes VAT (USA)
Tax calculation will be finalised during checkout.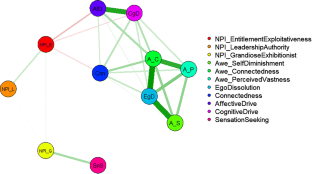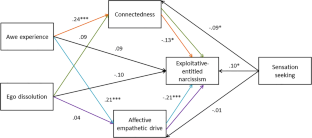 References
Ackerman RA, Corretti CA, Carson KJ (2018) Psychometric properties of the narcissistic personality inventory. In: Handbook of Trait Narcissism. Springer, pp 125-131

Ames DR, Rose P, Anderson CP (2006) The NPI-16 as a short measure of narcissism. J Res Pers 40:440–450

Aron A, Aron EN, Smollan D (1992) Inclusion of other in the self scale and the structure of interpersonal closeness. J Pers Soc Psychol 63:596–612

Bai Y, Maruskin LA, Chen S, Gordon AM, Stellar JE, McNeil GD, Keltner D (2017a) Awe, the diminished self, and collective engagement: universals and cul- tural variations in the small self. J Pers Soc Psychol 113:185–209

Bai Y et al (2017b) Awe, the diminished self, and collective engagement: universals and cultural variations in the small self. J Pers Soc Psychol 113:185–209

Barrett FS, Johnson MW, Griffiths RR (2015) Validation of the revised Mystical Experience Questionnaire in experimental sessions with psilocybin. J Psychopharmacol 29:1182–1190

Barry CT, Frick PJ, Adler KK, Grafeman SJ (2007) The predictive utility of narcissism among children and adolescents: evidence for a distinction betweenadaptive and maladaptive narcissism. J Child Fam Stud 16:508–521

Batchelder L, Brosnan M, Ashwin C (2017) The development and validation of the empathy components questionnaire (ECQ). PLoS One 12:e0169185

Beauregard M (2011) Neuroscience and spirituality–findings and consequences. In: Neuroscience, consciousness and spirituality. Springer, pp 57–73

Bogenschutz MP, Forcehimes AA, Pommy JA, Wilcox CE, Barbosa PCR, Strassman RJ (2015) Psilocybin-assisted treatment for alcohol dependence: a proof-of-concept study. J Psychopharmacol 29:289–299

Brailovskaia J, Bierhoff HW, Margraf J (2019) How to identify narcissism with 13 items? Validation of the German narcissistic personality inventory–13 (G-NPI-13). Assessment 26:630–644

Brown RP, Budzek K, Tamborski M (2009) On the meaning and measure of narcissism. Personal Soc Psychol Bull 35:951–964

Cai H, Luo YL (2018) Distinguishing between adaptive and maladaptive narcissism. In: Handbook of Trait Narcissism. Springer, pp 97-104

Carhart-Harris RL, Goodwin GM (2017) The therapeutic potential of psychedelic drugs: past, present, and future. Neuropsychopharmacology 42:2105–2113

Carhart-Harris RL et al (2012) Neural correlates of the psychedelic state as determined by fMRI studies with psilocybin. Proc Natl Acad Sci 109:2138–2143

Carhart-Harris RL, Bolstridge M, Rucker J, Day CM, Erritzoe D, Kaelen M, Bloomfield M, Rickard JA, Forbes B, Feilding A, Taylor D, Pilling S, Curran VH, Nutt DJ (2016) Psilocybin with psychological support for treatment-resistant depression: an open-label feasibility study. Lancet Psychiatry 3:619–627

Carhart-Harris RL, Bolstridge M, Day CMJ, Rucker J, Watts R, Erritzoe DE, Kaelen M, Giribaldi B, Bloomfield M, Pilling S, Rickard JA, Forbes B, Feilding A, Taylor D, Curran HV, Nutt DJ (2018a) Psilocybin with psychological support for treatment-resistant depression: six-month follow-up. Psychopharmacology 235:399–408

Carhart-Harris RL, Erritzoe D, Haijen E, Kaelen M, Watts R (2018b) Psychedelics and connectedness. Psychopharmacology 235:547–550

Cuff BM, Brown SJ, Taylor L, Howat DJ (2016) Empathy: a review of the concept. Emot Rev 8:144–153

D'Argembeau A, Comblain C, Van der Linden M (2003) Phenomenal characteristics of autobiographical memories for positive, negative, and neutral events. Appl Cognit Psychol: Off J Soc Appl Res Memory Cognition 17:281–294

Dolder PC, Schmid Y, Müller F, Borgwardt S, Liechti ME (2016) LSD acutely impairs fear recognition and enhances emotional empathy and sociality. Neuropsychopharmacology 41:2638–2646

Edinger-Schons LM (2019) Oneness beliefs and their effect on life satisfaction Psychology of Religion and Spirituality

Fido D, Richardson M (2019) Empathy mediates the relationship between nature connectedness and both callous and uncaring traits. Ecopsychology 11:130–137

Gentile B, Miller JD, Hoffman BJ, Reidy DE, Zeichner A, Campbell WK (2013) A test of two brief measures of grandiose narcissism: The Narcissistic Personality Inventory–13 and the Narcissistic Personality Inventory-16. Psychol Assess 25:1120–1136

Griffiths RR, Richards WA, McCann U, Jesse R (2006) Psilocybin can occasion mystical-type experiences having substantial and sustained personal meaning and spiritual significance. Psychopharmacology 187:268–283

Griffiths RR, Richards WA, Johnson MW, McCann UD, Jesse R (2008) Mystical-type experiences occasioned by psilocybin mediate the attribution of personal meaning and spiritual significance 14 months later. J Psychopharmacol 22:621–632

Griffiths RR, Johnson MW, Richards WA, Richards BD, McCann U, Jesse R (2011) Psilocybin occasioned mystical-type experiences: immediate and persisting dose-related effects. Psychopharmacology 218:649–665

Griffiths RR et al (2016) Psilocybin produces substantial and sustained decreases in depression and anxiety in patients with life-threatening cancer: a randomized double-blind trial. J Psychopharmacol 30:1181–1197

Hendricks PS (2018) Awe: a putative mechanism underlying the effects of classic psychedelic-assisted psychotherapy. Int Rev Psychiatry 30:331–342

Hepper EG, Hart CM, Meek R, Cisek S, Sedikides C (2014a) Narcissism and empathy in young offenders and non-offenders. Eur J Personal 28:201–210

Hepper EG, Hart CM, Sedikides C (2014b) Moving Narcissus: can narcissists be empathic? Personal Soc Psychol Bull 40:1079–1091

Holze F et al (2020) Distinct acute effects of LSD, MDMA, and D-amphetamine in healthy subjects. Neuropsychopharmacology 45:462–471

Hoyle RH, Stephenson MT, Palmgreen P, Lorch EP, Donohew RL (2002) Reliability and validity of a brief measure of sensation seeking personality and individual differences 32:401-414

Jaffe LT, Archer RP (1987) The prediction of drug use among college students from MMPI MCMI, and sensation seeking scales. J Pers Assess 51:243–253

Jankowiak-Siuda K, Zajkowski W (2013) A neural model of mechanisms of empathy deficits in narcissism. Med Sci Monitor: Int Med J Exp Clin Res 19:934

Johnson MW, Garcia-Romeu A, Griffiths RR (2017) Long-term follow-up of psilocybin-facilitated smoking cessation. Am J Drug Alcohol Abuse 43:55–60

Johnstone B, McCormack G, Yoon DP, Smith ML (2012) Convergent/divergent validity of the brief multidimensional measure of religiousness/spirituality: empirical support for emotional connectedness as a "spiritual" construct. J Relig Health 51:529–541

Kline P (2013) Handbook of psychological testing. Routledge

Leamy M, Bird V, Le Boutillier C, Williams J, Slade M (2011) Conceptual framework for personal recovery in mental health: systematic review and narrative synthesis. Br J Psychiatry 199:445–452

Lebedev AV, Lovden M, Rosenthal G, Feilding A, Nutt DJ, Carhart-Harris RL (2015) Finding the self by losing the self: neural correlates of ego-dissolution under psilocybin. Hum Brain Mapp 36:3137–3153. https://doi.org/10.1002/hbm.22833

Lee RM, Dean BL, Jung K-R (2008) Social connectedness, extraversion, and subjective well-being: testing a mediation model personality and individual differences 45:414-419

Lerner M, Lyvers M (2006) Values and beliefs of psychedelic drug users: a cross-cultural study. J Psychoactive Drugs 38:143–147

Liechti ME (2017) Modern clinical research on LSD. Neuropsychopharmacology 42:2114–2127

Lyons T, Carhart-Harris RL (2018) Increased nature relatedness and decreased authoritarian political views after psilocybin for treatment-resistant depression. J Psychopharmacol 32:811–819

Lyvers M, Meester M (2012) Illicit use of LSD or psilocybin, but not MDMA or nonpsychedelic drugs, is associated with mystical experiences in a dose-dependent manner. J Psychoactive Drugs 44:410–417

MacLean KA, Johnson MW, Griffiths RR (2011) Mystical experiences occasioned by the hallucinogen psilocybin lead to increases in the personality domain of openness. J Psychopharmacol 25:1453–1461

Mason NL, Mischler E, Uthaug MV, Kuypers KP (2019) Sub-acute effects of psilocybin on empathy, creative thinking, and subjective well-being. J Psychoactive Drugs 1–12

Maxwell K, Donnellan MB, Hopwood CJ, Ackerman RA (2011) The two faces of Narcissus? An empirical comparison of the narcissistic personality inventory and the pathological narcissism inventory. Personality Individ Differ 50:577–582

Meffert H, Gazzola V, Den Boer JA, Bartels AA, Keysers C (2013) Reduced spontaneous but relatively normal deliberate vicarious representations in psychopathy. Brain 136:2550–2562

Miller JD, Campbell WK, Young DL, Lakey CE, Reidy DE, Zeichner A, Goodie AS (2009) Examining the relations among narcissism, impulsivity, and self-defeating behaviors. J Pers 77:761–794

Milliere R (2017) Looking for the self: phenomenology, neurophysiology and philosophical significance of drug-induced ego dissolution. Front Hum Neurosci 11:245

Mithoefer MC et al (2018) 3, 4-methylenedioxymethamphetamine (MDMA)-assisted psychotherapy for post-traumatic stress disorder in military veterans, firefighters, and police officers: a randomised, double-blind, dose-response, phase 2 clinical trial. Lancet Psychiatry 5:486–497

Morgan C, McAndrew A, Stevens T, Nutt D, Lawn W (2017) Tripping up addiction: the use of psychedelic drugs in the treatment of problematic drug and alcohol use. Curr Opin Behav Sci 13:71–76

Müller F, Dolder PC, Schmidt A, Liechti ME, Borgwardt S (2018) Altered network hub connectivity after acute LSD administration. NeuroImage: Clinical 18:694–701

Nichols DE (2004) Hallucinogens. Pharmacol Ther 101:131–181

Nichols DE (2016) Psychedelics. Pharmacol Rev 68:264–355

Nour MM, Evans L, Nutt D, Carhart-Harris RL (2016) Ego-dissolution and psychedelics: validation of the ego-dissolution inventory (EDI). Front Hum Neurosci 10:269

Pahnke WN (1963) Drugs and mysticism: an analysis of the relationship between psychedelic drugs and the mystical consciousness: a thesis. Harvard University

Palhano-Fontes F et al (2019) Rapid antidepressant effects of the psychedelic ayahuasca in treatment-resistant depression: a randomized placebo-controlled trial. Psychol Med 49:655–663

Paulhus DL (2001) Normal narcissism: two minimalist accounts. Psychol Inq 12:228–230

Piff PK, Dietze P, Feinberg M, Stancato DM, Keltner D (2015) Awe, the small self, and prosocial behavior. J Pers Soc Psychol 108:883–899

Pokorny T, Preller KH, Kometer M, Dziobek I, Vollenweider FX (2017) Effect of psilocybin on empathy and moral decision-making. Int J Neuropsychopharmacol 20:747–757

Preller KH, Vollenweider FX (2016) Phenomenology, structure, and dynamic of psychedelic states. In: Behavioral Neurobiology of Psychedelic Drugs. Springer, pp 221-256

Raskin R, Terry H (1988) A principal-components analysis of the Narcissistic Personality Inventory and further evidence of its construct validity. J Pers Soc Psychol 54:890–902

Ross S et al (2016) Rapid and sustained symptom reduction following psilocybin treatment for anxiety and depression in patients with life-threatening cancer: a randomized controlled trial. J Psychopharmacol 30:1165–1180

Schmid Y, Liechti ME (2018) Long-lasting subjective effects of LSD in normal subjects. Psychopharmacology 235:535–545

Sedikides C, Rudich EA, Gregg AP, Kumashiro M, Rusbult C (2004) Are normal narcissists psychologically healthy?: self-esteem matters. J Pers Soc Psychol 87:400–416

Singh JB, Fedgchin M, Daly EJ, de Boer P, Cooper K, Lim P, Pinter C, Murrough JW, Sanacora G, Shelton RC, Kurian B, Winokur A, Fava M, Manji H, Drevets WC, van Nueten L (2016) A double-blind, randomized, placebo-controlled, dose-frequency study of intravenous ketamine in patients with treatment-resistant depression. Am J Psychiatr 173:816–826

Stellar JE, Gordon A, Anderson CL, Piff PK, McNeil GD, Keltner D (2018) Awe and humility. J Pers Soc Psychol 114:258–269

Talarico JM, LaBar KS, Rubin DC (2004) Emotional intensity predicts autobiographical memory experience. Mem Cogn 32:1118–1132

Trigwell JL, Francis AJ, Bagot KL (2014) Nature connectedness and eudaimonic well-being: spirituality as a potential mediator. Ecopsychology 6:241–251

Turton S, Nutt DJ, Carhart-Harris RL (2014) A qualitative report on the subjective experience of intravenous psilocybin administered in an FMRI environment. Curr Drug Abuse Rev 7:117–127

Twenge JM, Campbell WK (2009) The narcissism epidemic: living in the age of entitlement. Simon and Schuster,

Urbonaviciute G, Hepper E, Cropley M (2017) Cognitive and affective empathy in grandiose and vulnerable narcissism: a meta-analytic review. Paper presented at the XVth International Congress of the International Society for the Study of Personality Disorders, Heidelberg, Germany,

van Elk M, Karinen A, Specker E, Stamkou E, Baas M (2016) 'Standing in Awe': the effects of awe on body perception and the relation with absorption Collabra 2

van Elk M, van der Zwaag W, Arciniegas A, van Schie HT, Sauter D (2019) Reduced default mode network activity during the experience of awe. Hum Brain Mapp 40:3561–3574

Wai M, Tiliopoulos N (2012) The affective and cognitive empathic nature of the dark triad of personality. Personal Individ Differ 52:794–799

Watts R, Day C, Krzanowski J, Nutt D, Carhart-Harris R (2017) Patients' accounts of increased "connectedness" and "acceptance" after psilocybin for treatment-resistant depression. J Humanist Psychol 57:520–564

Yaden DB, le Nguyen KD, Kern ML, Belser AB, Eichstaedt JC, Iwry J, Smith ME, Wintering NA, Hood RW Jr, Newberg AB (2017) Of roots and fruits: a comparison of psychedelic and nonpsychedelic mystical experiences. J Humanist Psychol 57:338–353

Yaden DB, Kaufman SB, Hyde E, Chirico A, Gaggioli A, Zhang JW, Keltner D (2018) The development of the Awe Experience Scale (AWE-S): a multifactorial measure for a complex emotion The journal of positive psychology:1-15

Zaki J (2014) Empathy: a motivated account. Psychol Bull 140:1608–1647

Zhang JW, Piff PK, Iyer R, Koleva S, Keltner D (2014) An occasion for unselfing: beautiful nature leads to prosociality. J Environ Psychol 37:61–72
Ethics declarations
Conflict of interest
The authors declare that they have no conflict of interest.
Additional information
Publisher's note
Springer Nature remains neutral with regard to jurisdictional claims in published maps and institutional affiliations.
Electronic supplementary material
About this article
Cite this article
van Mulukom, V., Patterson, R.E. & van Elk, M. Broadening Your Mind to Include Others: The relationship between serotonergic psychedelic experiences and maladaptive narcissism. Psychopharmacology 237, 2725–2737 (2020). https://doi.org/10.1007/s00213-020-05568-y
Received:

Accepted:

Published:

Issue Date:
Keywords
Psychedelics

Narcissism

Awe

Empathy

Ego

Connectedness

Serotonergic

Personality