Abstract
Rationale
Cognitive impairment is a primary feature of many neuropsychiatric disorders and there is a need for new therapeutic options. Catechol-O-methyltransferase (COMT) inhibitors modulate cortical dopaminergic function and have been proposed as potential cognitive enhancers. Unfortunately, currently available COMT inhibitors are not good candidates due to either poor blood-brain barrier penetration or severe toxicity.
Objectives
To address the need for safe, brain-penetrant COMT inhibitors, we tested multiple novel compounds in a set of preclinical in vivo efficacy assays in rats to determine their ability to inhibit COMT function and viability as potential clinical candidates.
Methods
We measured the change in concentration of dopamine (DA) metabolites in cerebrospinal fluid (CSF) from the cisterna magna and extracellular fluid (ECF) from the frontal cortex produced by our novel compounds. Additionally, we tested the effects of our brain-penetrant COMT inhibitors in an attentional set-shifting assay (ASST). We benchmarked the performance of the novel COMT inhibitors to the effects produced by the known COMT inhibitor tolcapone.
Results
We found that multiple COMT inhibitors, exemplified by LIBD-1 and LIBD-3, significantly modulated dopaminergic function measured as decreases in homovanillic acid (HVA) and increases in 3,4-Dihydroxyphenylacetic acid (DOPAC), two DA metabolites, in CSF and the frontal cortex. Additionally, we found that LIBD-1 significantly improved cognitive flexibility in the ASST, an effect previously reported following tolcapone administration.
Conclusions
These results demonstrate that LIBD-1 is a novel COMT inhibitor with promising in vivo activity and the potential to serve as a new therapy for cognitive impairment.
Access options
Buy single article
Instant access to the full article PDF.
USD 39.95
Price includes VAT (USA)
Tax calculation will be finalised during checkout.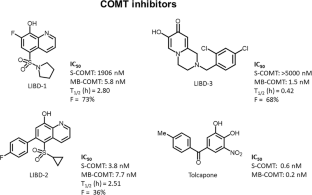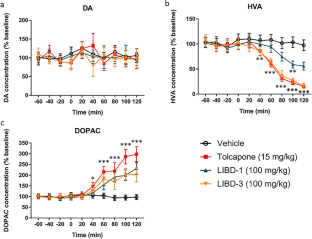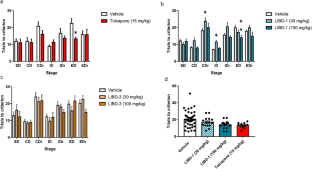 References
Acquas E, Carboni E, de Ree RH, Da Prada M, Di Chiara G (1992) Extracellular concentrations of dopamine and metabolites in the rat caudate after oral administration of a novel catechol-O-methyltransferase inhibitor Ro 40-7592. J Neurochem 59:326–330

Apud JA, Mattay V, Chen J, Kolachana BS, Callicott JH, Rasetti R, Alce G, Iudicello JE, Akbar N, Egan MF, Goldberg TE, Weinberger DR (2007) Tolcapone improves cognition and cortical information processing in normal human subjects. Neuropsychopharmacology 32:1011–1020

Apud JA, Weinberger DR (2007) Treatment of cognitive deficits associated with schizophrenia: potential role of catechol-O-methyltransferase inhibitors. CNS Drugs 21:535–557

Axelrod J, Tomchick R (1958) Enzymatic O-methylation of epinephrine and other catechols. J Biol Chem 233:702–705

Beeldman E, Raaphorst J, Klein Twennaar M, Govaarts R, Pijnenburg YAL, de Haan RJ, de Visser M, Schmand BA (2018) The cognitive profile of behavioural variant FTD and its similarities with ALS: a systematic review and meta-analysis. J Neurol Neurosurg Psychiatry 89:995–1002

Birrell JM, Brown VJ (2000) Medial frontal cortex mediates perceptual attentional set shifting in the rat. J Neurosci 20:4320–4324

Buchler I, Akuma D, Au VQ, Carr G, de Leon P, DePasquale M, Ernst G, Huang Y, Kimos M, Kolobova A, Poslusney MS, Wei H, Swinnen D, Montel F, Moureau F, Jigorel E, Schulze MS, Wood M, Barrow JC (2018) Optimization of 8-hydroxyquinolines as inhibitors of catechol O-methyltransferase. J Med Chem. 61:9647–9665

Cameron IGM, Wallace DL, Al-Zughoul A, Kayser AS, D'Esposito M (2018) Effects of tolcapone and bromocriptine on cognitive stability and flexibility. Psychopharmacology (Berl) 235:1295–1305

Chen J, Lipska BK, Halim N, Ma QD, Matsumoto M, Melhem S, Kolachana BS, Hyde TM, Herman MM, Apud J, Egan MF, Kleinman JE, Weinberger DR (2004) Functional analysis of genetic variation in catechol-O-methyltransferase (COMT): effects on mRNA, protein, and enzyme activity in postmortem human brain. Am J Hum Genet 75:807–821

Dias R, Robbins TW, Roberts AC (1996) Primate analogue of the Wisconsin Card Sorting Test: effects of excitotoxic lesions of the prefrontal cortex in the marmoset. Behav Neurosci 110:872–886

Egan MF, Goldberg TE, Kolachana BS, Callicott JH, Mazzanti CM, Straub RE, Goldman D, Weinberger DR (2001) Effect of COMT Val108/158 Met genotype on frontal lobe function and risk for schizophrenia. Proc Natl Acad Sci U S A 98:6917–6922

Ernst G, Akuma D, Au V, Buchler IP, Byers S, Carr GV, Defays S, de Leon P, Demaude T, DePasquale M, Durieu V, Huang Y, Jigorel E, Kimos M, Kolobova A, Montel F, Moureau F, Poslusney M, Swinnen D, Vandergeten M-C, Van houtvin N, Wei H, White N, Wood M, Barrow JC (2019) Synthesis and evaluation of bicyclic hydroxypyridones as inhibitors of Catechol-O-Methyltransferase. ACS Med. Chem. Lett. 10(11):1573–1578

Gallagher CL, Bell B, Palotti M, Oh J, Christian BT, Okonkwo O, Sojkova J, Buyan-Dent L, Nickles RJ, Harding SJ, Stone CK, Johnson SC, Holden JE (2015) Anterior cingulate dopamine turnover and behavior change in Parkinson's disease. Brain Imaging Behav 9:821–827

Gasparini M, Fabrizio E, Bonifati V, Meco G (1997) Cognitive improvement during Tolcapone treatment in Parkinson's disease. J Neural Transm (Vienna) 104:887–894

Grant JE, Odlaug BL, Chamberlain SR, Hampshire A, Schreiber LR, Kim SW (2013) A proof of concept study of tolcapone for pathological gambling: relationships with COMT genotype and brain activation. Eur Neuropsychopharmacol 23:1587–1596

Gratwicke J, Jahanshahi M, Foltynie T (2015) Parkinson's disease dementia: a neural networks perspective. Brain 138:1454–1476

Haasio K (2010) Toxicology and safety of COMT inhibitors. Int Rev Neurobiol 95:163–189

Hsu WY, Lane HY, Lin CH (2018) Medications used for cognitive enhancement in patients with schizophrenia, bipolar disorder, Alzheimer's disease, and Parkinson's disease. Front Psychiatry 9:91

Jain R, Katic A (2016) Current and investigational medication delivery systems for treating attention-deficit/hyperactivity disorder. Prim Care Companion CNS Disord 18

Kaenmaki M, Tammimaki A, Myohanen T, Pakarinen K, Amberg C, Karayiorgou M, Gogos JA, Mannisto PT (2010) Quantitative role of COMT in dopamine clearance in the prefrontal cortex of freely moving mice. J Neurochem 114:1745–1755

Keefe RS (2014) Cognition and motivation as treatment targets in schizophrenia. JAMA Psychiatry 71:987–988

Laatikainen LM, Sharp T, Harrison PJ, Tunbridge EM (2013) Sexually dimorphic effects of catechol-O-methyltransferase (COMT) inhibition on dopamine metabolism in multiple brain regions. PLoS One 8:e61839

Lane CA, Hardy J, Schott JM (2018) Alzheimer's disease. Eur J Neurol 25:59–70

Lapish CC, Ahn S, Evangelista LM, So K, Seamans JK, Phillips AG (2009) Tolcapone enhances food-evoked dopamine efflux and executive memory processes mediated by the rat prefrontal cortex. Psychopharmacology (Berl) 202:521–530

Lee LO, Prescott CA (2014) Association of the catechol-O-methyltransferase val158met polymorphism and anxiety-related traits: a meta-analysis. Psychiatr Genet 24:52–69

Lewis DA, Melchitzky DS, Sesack SR, Whitehead RE, Auh S, Sampson A (2001) Dopamine transporter immunoreactivity in monkey cerebral cortex: regional, laminar, and ultrastructural localization. J Comp Neurol 432:119–136

Limousin P, Pollak P, Gervason-Tournier CL, Hommel M, Perret JE (1993) Ro 40-7592, a COMT inhibitor, plus levodopa in Parkinson's disease. Lancet 341:1605

Lotta T, Vidgren J, Tilgmann C, Ulmanen I, Melen K, Julkunen I, Taskinen J (1995) Kinetics of human soluble and membrane-bound catechol O-methyltransferase: a revised mechanism and description of the thermolabile variant of the enzyme. Biochemistry 34:4202–4210

Mahat MY, Fakrudeen Ali Ahamed N, Chandrasekaran S, Rajagopal S, Narayanan S, Surendran N (2012) An improved method of transcutaneous cisterna magna puncture for cerebrospinal fluid sampling in rats. J Neurosci Methods 211:272–279

Malhotra AK, Kestler LJ, Mazzanti C, Bates JA, Goldberg T, Goldman D (2002) A functional polymorphism in the COMT gene and performance on a test of prefrontal cognition. Am J Psychiatry 159:652–654

Matsumoto M, Weickert CS, Akil M, Lipska BK, Hyde TM, Herman MM, Kleinman JE, Weinberger DR (2003) Catechol O-methyltransferase mRNA expression in human and rat brain: evidence for a role in cortical neuronal function. Neuroscience 116:127–137

McCane AM, DeLory MJ, Timm MM, Janetsian-Fritz SS, Lapish CC, Czachowski CL (2018) Differential COMT expression and behavioral effects of COMT inhibition in male and female Wistar and alcohol preferring rats. Alcohol 67:15–22

Meiser J, Weindl D, Hiller K (2013) Complexity of dopamine metabolism. Cell Commun Signal 11:34

Miskowiak KW, Kjaerstad HL, Stottrup MM, Svendsen AM, Demant KM, Hoeffding LK, Werge TM, Burdick KE, Domschke K, Carvalho AF, Vieta E, Vinberg M, Kessing LV, Siebner HR, Macoveanu J (2017) The catechol-O-methyltransferase (COMT) Val158Met genotype modulates working memory-related dorsolateral prefrontal response and performance in bipolar disorder. Bipolar Disord 19:214–224

Moron JA, Brockington A, Wise RA, Rocha BA, Hope BT (2002) Dopamine uptake through the norepinephrine transporter in brain regions with low levels of the dopamine transporter: evidence from knock-out mouse lines. J Neurosci 22:389–395

Muller T, Investigators TS (2014) Tolcapone addition improves Parkinson's disease associated nonmotor symptoms. Ther Adv Neurol Disord 7:77–82

Muslimovic D, Post B, Speelman JD, Schmand B (2005) Cognitive profile of patients with newly diagnosed Parkinson disease. Neurology 65:1239–1245

Nieoullon A (2002) Dopamine and the regulation of cognition and attention. Prog Neurobiol 67:53–83

Nirogi R, Kandikere V, Mudigonda K, Bhyrapuneni G, Muddana N, Saralaya R, Benade V (2009) A simple and rapid method to collect the cerebrospinal fluid of rats and its application for the assessment of drug penetration into the central nervous system. J Neurosci Methods 178:116–119

Papaleo F, Lipska BK, Weinberger DR (2012) Mouse models of genetic effects on cognition: relevance to schizophrenia. Neuropharmacology 62:1204–1220

Papaleo F, Sannino S, Piras F, Spalletta G (2015) Sex-dichotomous effects of functional COMT genetic variations on cognitive functions disappear after menopause in both health and schizophrenia. Eur Neuropsychopharmacol 25:2349–2363

Paterson IA, Davis BA, Durden DA, Juorio AV, Yu PH, Ivy G, Milgram W, Mendonca A, Wu P, Boulton AA (1995) Inhibition of MAO-B by (-)-deprenyl alters dopamine metabolism in the macaque (Macaca facicularis) brain. Neurochem Res 20:1503–1510

Popik P, Nikiforuk A (2015) Attentional set-shifting paradigm in the rat. Curr Protoc Neurosci 72: 9 51 1-13.

Reches A, Fahn S (1984) Catechol-O-methyltransferase and Parkinson's disease. Adv Neurol 40:171–179

Risbrough V, Ji B, Hauger R, Zhou X (2014) Generation and characterization of humanized mice carrying COMT158 Met/Val alleles. Neuropsychopharmacology 39:1823–1832

Robinson RG, Smith SM, Wolkenberg SE, Kandebo M, Yao L, Gibson CR, Harrison ST, Polsky-Fisher S, Barrow JC, Manley PJ, Mulhearn JJ, Nanda KK, Schubert JW, Trotter BW, Zhao Z, Sanders JM, Smith RF, McLoughlin D, Sharma S, Hall DL, Walker TL, Kershner JL, Bhandari N, Hutson PH, Sachs NA (2012) Characterization of non-nitrocatechol pan and isoform specific catechol-O-methyltransferase inhibitors and substrates. ACS Chem Neurosci 3:129–140

Sannino S, Gozzi A, Cerasa A, Piras F, Scheggia D, Manago F, Damiano M, Galbusera A, Erickson LC, De Pietri TD, Bifone A, Tsaftaris SA, Caltagirone C, Weinberger DR, Spalletta G, Papaleo F (2015) COMT genetic reduction produces sexually divergent effects on cortical anatomy and working memory in mice and humans. Cereb Cortex 25:2529–2541

Sannino S, Padula MC, Manago F, Schaer M, Schneider M, Armando M, Scariati E, Sloan-Bena F, Mereu M, Pontillo M, Vicari S, Contarini G, Chiabrera C, Pagani M, Gozzi A, Eliez S, Papaleo F (2017) Adolescence is the starting point of sex-dichotomous COMT genetic effects. Transl Psychiatry 7:e1141

Tammimaki A, Kaenmaki M, Kambur O, Kulesskaya N, Keisala T, Karvonen E, Garcia-Horsman JA, Rauvala H, Mannisto PT (2010) Effect of S-COMT deficiency on behavior and extracellular brain dopamine concentrations in mice. Psychopharmacology (Berl) 211:389–401

Tenhunen J, Salminen M, Jalanko A, Ukkonen S, Ulmanen I (1993) Structure of the rat catechol-O-methyltransferase gene: separate promoters are used to produce mRNAs for soluble and membrane-bound forms of the enzyme. DNA Cell Biol 12:253–263

Tenhunen J, Salminen M, Lundstrom K, Kiviluoto T, Savolainen R, Ulmanen I (1994) Genomic organization of the human catechol O-methyltransferase gene and its expression from two distinct promoters. Eur J Biochem 223:1049–1059

Tenhunen J, Ulmanen I (1993) Production of rat soluble and membrane-bound catechol O-methyltransferase forms from bifunctional mRNAs. Biochem J 296(Pt 3):595–600

Tunbridge EM, Bannerman DM, Sharp T, Harrison PJ (2004) Catechol-o-methyltransferase inhibition improves set-shifting performance and elevates stimulated dopamine release in the rat prefrontal cortex. J Neurosci 24:5331–5335

Valomon A, Holst SC, Borrello A, Weigend S, Muller T, Berger W, Sommerauer M, Baumann CR, Landolt HP (2018) Effects of COMT genotype and tolcapone on lapses of sustained attention after sleep deprivation in healthy young men. Neuropsychopharmacology 43:1599–1607

Wanneveich M, Jacqmin-Gadda H, Dartigues JF, Joly P (2018) Projections of health indicators for chronic disease under a semi-Markov assumption. Theor Popul Biol 119:83–90

Watkins P (2000) COMT inhibitors and liver toxicity. Neurology 55: S51-2; discussion S53-6.

Wood RL, Worthington A (2017) Neurobehavioral abnormalities associated with executive dysfunction after traumatic brain injury. Front Behav Neurosci 11:195

Yavich L, Forsberg MM, Karayiorgou M, Gogos JA, Mannisto PT (2007) Site-specific role of catechol-O-methyltransferase in dopamine overflow within prefrontal cortex and dorsal striatum. J Neurosci 27:10196–10209

Zhang G, Buchler IP, DePasquale M, Wormald M, Liao G, Wei H, Barrow JC, Carr GV (2019) Development of a PC12 cell based assay for screening catechol-O-methyltransferase inhibitors. ACS Chem Neurosci 10:4221–4226

Zhang Y, Feng S, Nie K, Zhao X, Gan R, Wang L, Zhao J, Tang H, Gao L, Zhu R, Wang L, Zhang Y (2016) Catechol-O-methyltransferase Val158Met polymorphism influences prefrontal executive function in early Parkinson's disease. J Neurol Sci 369:347–353
Acknowledgments
The authors thank Michael Poslusney and Noelle White for technical assistance, Richard Brammer for statistical analysis of the microdialysis data, Elizabeth Tunbridge for advice on the ASST assay, and Daniel R. Weinberger for constructive comments on a draft of this manuscript.
Funding
This work was funded by the US National Institutes of Health grant R01MH107126 and The Lieber Institute for Brain Development.
Ethics declarations
All procedures were approved by the local Animal Care and Use Committee and were in compliance with the Guide for the Care and Use of Laboratory Animals.
Conflict of interest
IPB and JCB are inventors on patents that include the novel COMT inhibitors (WO2016123576 and WO2017091818). HLR, RSK, LP, and SCC are employees of RenaSci Ltd. The remaining authors have nothing to disclose.
Additional information
Publisher's note
Springer Nature remains neutral with regard to jurisdictional claims in published maps and institutional affiliations.
About this article
Cite this article
Byers, S., Buchler, I.P., DePasquale, M. et al. Novel, non-nitrocatechol catechol-O-methyltransferase inhibitors modulate dopamine neurotransmission in the frontal cortex and improve cognitive flexibility. Psychopharmacology 237, 2695–2707 (2020). https://doi.org/10.1007/s00213-020-05566-0
Received:

Accepted:

Published:

Issue Date:
Keywords
Catechol-O-methyltransferase

Dopamine

Tolcapone

Cortex

Executive function

Microdialysis

Rat

Schizophrenia

Parkinson's disease

Cognitive impairment