Abstract
Rationale
The regular consumption of very small doses of psychedelic drugs (known as microdosing) has been a source of growing media and community attention in recent years. However, there is currently limited clinical and social research evidence on the potential role of microdosing as therapies for mental and substance use disorders.
Objectives
This paper examined subjective experiences of microdosing psychedelics to improve mental health or to cease or reduce substance use, and examined sociodemographic and other covariates of perceived improvements in mental health that individuals attributed to microdosing.
Methods
An international online survey was conducted in 2018 and examined people's experiences of using psychedelics for self-reported therapeutic or enhancement purposes. This paper focuses on 1102 respondents who reported current or past experience of psychedelic microdosing.
Results
Twenty-one percent of respondents reported primarily microdosing as a therapy for depression, 7% for anxiety, 9% for other mental disorders and 2% for substance use cessation or reduction. Forty-four percent of respondents perceived that their mental health was "much better" as a consequence of microdosing. In a multivariate analysis, perceived improvements in mental health from microdosing were associated with a range of variables including gender, education, microdosing duration and motivations, and recent use of larger psychedelic doses.
Conclusions
Given the promising findings of clinical trials of standard psychedelic doses as mental health therapies, clinical microdosing research is needed to determine its potential role in psychiatric treatment, and ongoing social research to better understand the use of microdosing as self-managed mental health and substance use therapies.
Access options
Buy single article
Instant access to the full article PDF.
US$ 39.95
Tax calculation will be finalised during checkout.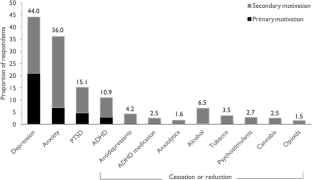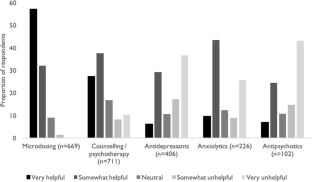 References
Anderson T, Petranker R, Christopher A, Rosenbaum D, Weissman C, Dinh-Williams L-A, Hui K, Hapke E (2019a) Psychedelic microdosing benefits and challenges: an empirical codebook. Harm Reduct J 16:43

Anderson T, Petranker R, Rosenbaum D, Weissman CR, Dinh-Williams L-A, Hui K, Hapke E, Farb NA (2019b) Microdosing psychedelics: personality, mental health, and creativity differences in microdosers. Psychopharmacology 236:731–740

Antonovsky A (1993) The structure and properties of the sense of coherence scale. Soc Sci Med 36:725–733

Argento E, Tupper KW, Socias ME (2019) The tripping point: the potential role of psychedelic-assisted therapy in the response to the opioid crisis. Int J Drug Policy 66:80–81

Bershad AK, Schepers ST, Bremmer MP, Lee R, de Wit H (2019) Acute subjective and behavioral effects of microdoses of LSD in healthy human volunteers. Biol Psychiatry 86:792–800

Bogenschutz MP, Forcehimes AA, Pommy JA, Wilcox CE, Barbosa P, Strassman RJ (2015) Psilocybin-assisted treatment for alcohol dependence: a proof-of-concept study. J Psychopharmacol 29:289–299

Carhart-Harris R, Bolstridge M, Day C, Rucker J, Watts R, Erritzoe D, Kaelen M, Giribaldi B, Bloomfield M, Pilling S (2018) Psilocybin with psychological support for treatment-resistant depression: six-month follow-up. Psychopharmacology 235:399–408

Castaneda AE, Tuulio-Henriksson A, Marttunen M, Suvisaari J, Lönnqvist J (2008) A review on cognitive impairments in depressive and anxiety disorders with a focus on young adults. J Affect Disord 106:1–27

Cipriani A, Furukawa TA, Salanti G, Chaimani A, Atkinson LZ, Ogawa Y, Leucht S, Ruhe HG, Turner EH, Higgins JP (2018) Comparative efficacy and acceptability of 21 antidepressant drugs for the acute treatment of adults with major depressive disorder: a systematic review and network meta-analysis. Lancet 391:1357–1366

Conway CR, George MS, Sackeim HA (2017) Toward an evidence-based, operational definition of treatment-resistant depression: when enough is enough. JAMA Psychiat 74:9–10

Dean J (2017) Micro-dosing: the drug habit your boss is gonna love. GQ January 4. Available via https://www.gq.com/story/micro-dosing-lsd

Fadiman J (2011) The psychedelic explorer's guide: safe, therapeutic, and sacred journeys. Park Street Press, Rochester

Fadiman J, Korb S (2019) Might microdosing psychedelics be safe and beneficial? An initial exploration. J Psychoactive Drugs 51:118–122

Gasser P, Holstein D, Michel Y, Doblin R, Yazar-Klosinski B, Passie T, Brenneisen R (2014) Safety and efficacy of lysergic acid diethylamide-assisted psychotherapy for anxiety associated with life-threatening diseases. J Nerv Ment Dis 202:513–520

Glatter R (2015) LSD microdosing: the new job enhancer in Silicon Valley and beyond? Forbes November 27. Available via https://www.forbes.com/sites/robertglatter/2015/11/27/lsd-microdosing-the-new-job-enhancer-in-silicon-valley-and-beyond/#1261fba7188a

Grant BF, Saha TD, Ruan WJ, Goldstein RB, Chou SP, Jung J, Zhang H, Smith SM, Pickering RP, Huang B (2016) Epidemiology of DSM-5 drug use disorder: results from the National Epidemiologic Survey on Alcohol and Related Conditions–III. JAMA Psychiat 73:39–47

Griffiths RR, Johnson MW, Carducci MA, Umbricht A, Richards WA, Richards BD, Cosimano MP, Klinedinst MA (2016) Psilocybin produces substantial and sustained decreases in depression and anxiety in patients with life-threatening cancer: a randomized double-blind trial. J Psychopharmacol 30:1181–1197

Hoskins M, Pearce J, Bethell A, Dankova L, Barbui C, Tol WA, Van Ommeren M, De Jong J, Seedat S, Chen H (2015) Pharmacotherapy for post-traumatic stress disorder: systematic review and meta-analysis. Br J Psychiatry 206:93–100

Hupli A, Berning M, Zhuparris A, Fadiman J (2019) Descriptive assemblage of psychedelic microdosing: netnographic study of Youtube™ videos and on-going research projects. Perform Enhanc Health 6:129–138

Hutchinson P, Moerman DE (2018) The meaning response, "placebo," and methods. Perspect Biol Med 61:361–378

Hutten NR, Mason NL, Dolder PC, Kuypers KP (2019a) Motives and side-effects of microdosing with psychedelics among users. Int J Neuropsychopharmacol 22:426–434

Hutten NR, Mason NL, Dolder PC, Kuypers KP (2019b) Self-rated effectiveness of microdosing with psychedelics for mental and physical health problems amongst microdosers. Front Psych 10:672

Johnson MW, Garcia-Romeu A, Cosimano MP, Griffiths RR (2014) Pilot study of the 5-HT2AR agonist psilocybin in the treatment of tobacco addiction. J Psychopharmacol 28:983–992

Johnson MW, Garcia-Romeu A, Griffiths RR (2017) Long-term follow-up of psilocybin-facilitated smoking cessation. Am J Drug Alcohol Abuse 43:55–60

Johnstad PG (2018) Powerful substances in tiny amounts: an interview study of psychedelic microdosing. Nordic Stud Alcohol Drugs 35:39–51

Kavenská V, Simonová H (2015) Ayahuasca tourism: participants in shamanic rituals and their personality styles, motivation, benefits and risks. J Psychoactive Drugs 47:351–359

Korpi ER, den Hollander B, Farooq U, Vashchinkina E, Rajkumar R, Nutt DJ, Hyytiae P, Dawe GS (2015) Mechanisms of action and persistent neuroplasticity by drugs of abuse. Pharmacol Rev 67:872–1004

Krebs TS, Johansen P-Ø (2012) Lysergic acid diethylamide (LSD) for alcoholism: meta-analysis of randomized controlled trials. J Psychopharmacol 26:994–1002

Kroenke K, Spitzer RL, Williams JB (2001) The PHQ-9: validity of a brief depression severity measure. J Gen Intern Med 16:606–613

Kuypers KP, Ng L, Erritzoe D, Knudsen GM, Nichols CD, Nichols DE, Soula A, Nutt D (2019) Microdosing psychedelics: more questions than answers? An overview and suggestions for future research. J Psychopharmacol 33:1039–1057

Lea T, Amada N, Jungaberle H (2019) Psychedelic microdosing: a subreddit analysis. J Psychoactive Drugs:Published online 25 November 2019. 2010.1016/j.drugpo.2019.2011.2008

Liechti ME (2019) Psychedelics: what are low doses and 'microdoses'? Commentary on Kuypers et al. (2019). J Psychopharmacol 33:1052–1053

Mason NL, Kuypers KPC (2018) Mental health of a self-selected sample of psychedelic users and self-medication practices with psychedelics. J Psychedelic Stud 2:45–52

McDermott LM, Ebmeier KP (2009) A meta-analysis of depression severity and cognitive function. J Affect Disord 119:1–8

Milward J, Lynskey M, Strang J (2014) Solving the problem of non-attendance in substance abuse services. Drug Alcohol Rev 33:625–636

Mithoefer MC, Feduccia AA, Jerome L, Mithoefer A, Wagner M, Walsh Z, Hamilton S, Yazar-Klosinski B, Emerson A, Doblin R (2019) MDMA-assisted psychotherapy for treatment of PTSD: study design and rationale for phase 3 trials based on pooled analysis of six phase 2 randomized controlled trials. Psychopharmacology 236:2735–2745

Moncrieff J (2018) Against the stream: antidepressants are not antidepressants–an alternative approach to drug action and implications for the use of antidepressants. BJPsych Bull 42:42–44

Mowinckel AM, Pedersen ML, Eilertsen E, Biele G (2015) A meta-analysis of decision-making and attention in adults with ADHD. J Atten Disord 19:355–367

Nichols DE (2016) Psychedelics. Pharmacol Rev 68:264–355

Noorani T (2019) Making psychedelics into medicines: the politics and paradoxes of medicalization. J Psychedelic Stud. https://doi.org/10.1556/2054.2019.1018

Olson DE (2018) Psychoplastogens: a promising class of plasticity-promoting neurotherapeutics. J Exp Neurosci 12:1–4

Palhano-Fontes F, Barreto D, Onias H, Andrade KC, Novaes MM, Pessoa JA, Mota-Rolim SA, Osório FL, Sanches R, dos Santos RG (2019) Rapid antidepressant effects of the psychedelic ayahuasca in treatment-resistant depression: a randomized placebo-controlled trial. Psychol Med 49:655–663

Pampallona S, Bollini P, Tibaldi G, Kupelnick B, Munizza C (2002) Patient adherence in the treatment of depression. Br J Psychiatry 180:104–109

Passie T (2019) The science of microdosing psychedelics. Psychedelic Press, London

Politi V, Stevenson RJ (2019) A systematic study of microdosing psychedelics. PLoS One 14:e0211023

Prochazkova L, Lippelt DP, Colzato LS, Kuchar M, Sjoerds Z, Hommel B (2018) Exploring the effect of microdosing psychedelics on creativity in an open-label natural setting. Psychopharmacology 235:3401–3413

Read J, Gee A, Diggle J, Butler H (2019) Staying on, and coming off, antidepressants: the experiences of 752 UK adults. Addict Behav 88:82–85

Reiche S, Hermle L, Gutwinski S, Jungaberle H, Gasser P, Majić T (2018) Serotonergic hallucinogens in the treatment of anxiety and depression in patients suffering from a life-threatening disease: a systematic review. Prog Neuro-Psychopharmacol Biol Psychiatry 81:1–10

Ross S, Bossis A, Guss J, Agin-Liebes G, Malone T, Cohen B, Mennenga SE, Belser A, Kalliontzi K, Babb J (2016) Rapid and sustained symptom reduction following psilocybin treatment for anxiety and depression in patients with life-threatening cancer: a randomized controlled trial. J Psychopharmacol 30:1165–1180

Roxburgh A, Lea T, de Wit J, Degenhardt L (2016) Sexual identity and prevalence of alcohol and other drug use among Australians in the general population. Int J Drug Policy 28:76–82

Sessa B (2018) The 21st century psychedelic renaissance: heroic steps forward on the back of an elephant. Psychopharmacology 235:551–560

Sessa B, Sakal C, O'Brien S, Nutt D (2019) First study of safety and tolerability of 3, 4-methylenedioxymethamphetamine (MDMA)-assisted psychotherapy in patients with alcohol use disorder: preliminary data on the first four participants. BMJ Case Rep 12:e230109

Spitzer RL, Kroenke K, Williams JB, Löwe B (2006) A brief measure for assessing generalized anxiety disorder: the GAD-7. Arch Intern Med 166:1092–1097

Waldman A (2017) A really good day: how microdosing made a mega difference in my mood, my marriage, and my life. Alfred A, Knopf

Webb M, Copes H, Hendricks PS (2019) Narrative identity, rationality, and microdosing classic psychedelics. Int J Drug Policy 70:33–39

Whiteford HA, Degenhardt L, Rehm J, Baxter AJ, Ferrari AJ, Erskine HE, Charlson FJ, Norman RE, Flaxman AD, Johns N (2013) Global burden of disease attributable to mental and substance use disorders: findings from the Global Burden of Disease Study 2010. Lancet 382:1575–1586

Whiteford HA, Buckingham WJ, Harris MG, Burgess PM, Pirkis JE, Barendregt JJ, Hall WD (2014) Estimating treatment rates for mental disorders in Australia. Aust Health Rev 38:80–85

Williams A (2017) How LSD saved one woman's marriage. New York Times January 7. Available via https://www.nytimes.com/2017/01/07/style/microdosing-lsd-ayelet-waldman-michael-chabon-marriage.html

World Health Organization (2017) Depression and other common mental disorders: global health estimates. WHO, Geneva

Yanakieva S, Polychroni N, Family N, Williams LT, Luke DP, Terhune DB (2019) The effects of microdose LSD on time perception: a randomised, double-blind, placebo-controlled trial. Psychopharmacology 236:1159–1170
Funding
This study was supported by an Alexander von Humboldt Postdoctoral Research Fellowship held by the first author.
Ethics declarations
The study received ethical approval from the University of Duisburg-Essen, Germany (Reference: 18-8215-BO).
Conflict of interest
The authors declare that they have no conflict of interest.
Additional information
Publisher's note
Springer Nature remains neutral with regard to jurisdictional claims in published maps and institutional affiliations.
About this article
Cite this article
Lea, T., Amada, N., Jungaberle, H. et al. Perceived outcomes of psychedelic microdosing as self-managed therapies for mental and substance use disorders. Psychopharmacology 237, 1521–1532 (2020). https://doi.org/10.1007/s00213-020-05477-0
Received:

Accepted:

Published:

Issue Date:
Keywords
LSD

Psilocybin

Mental health

Alcohol

Drugs

Self-treatment

Microdose