Abstract
Rationale
Is it possible to have a psychedelic experience from a placebo alone? Most psychedelic studies find few effects in the placebo control group, yet these effects may have been obscured by the study design, setting, or analysis decisions.
Objective
We examined individual variation in placebo effects in a naturalistic environment resembling a typical psychedelic party.
Methods
Thirty-three students completed a single-arm study ostensibly examining how a psychedelic drug affects creativity. The 4-h study took place in a group setting with music, paintings, coloured lights, and visual projections. Participants consumed a placebo that we described as a drug resembling psilocybin, which is found in psychedelic mushrooms. To boost expectations, confederates subtly acted out the stated effects of the drug and participants were led to believe that there was no placebo control group. The participants later completed the 5-Dimensional Altered States of Consciousness Rating Scale, which measures changes in conscious experience.
Results
There was considerable individual variation in the placebo effects; many participants reported no changes while others showed effects with magnitudes typically associated with moderate or high doses of psilocybin. In addition, the majority (61%) of participants verbally reported some effect of the drug. Several stated that they saw the paintings on the walls "move" or "reshape" themselves, others felt "heavy… as if gravity [had] a stronger hold", and one had a "come down" before another "wave" hit her.
Conclusion
Understanding how context and expectations promote psychedelic-like effects, even without the drug, will help researchers to isolate drug effects and clinicians to maximise their therapeutic potential.
Access options
Buy single article
Instant access to the full article PDF.
USD 39.95
Price includes VAT (USA)
Tax calculation will be finalised during checkout.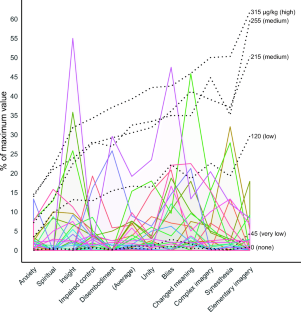 Notes
1.

The sheet resembled Health Canada's "Quality Overall Summary — Chemical Entities (Clinical Trial Applications — Phase III)" form containing sensible-looking but bogus information.

2.

3.

Square brackets throughout denote bootstrapped 95% confidence intervals.
References
Abramson HA, Jarvik ME, Kaufman MR, et al. (1955) Lysergic acid diethylamide (LSD-25): I. Physiological and perceptual responses. J Psychol 39:3–60. https://doi.org/10.1080/00223980.1955.9916156

Barrett FS, Johnson MW, Griffiths RR (2015) Validation of the revised mystical experience questionnaire in experimental sessions with psilocybin. J Psychopharmacol 29:1182–1190. https://doi.org/10.1177/0269881115609019

Barsky AJ (2002) Nonspecific medication side effects and the nocebo phenomenon. JAMA 287:622. https://doi.org/10.1001/jama.287.5.622

Bernstein MH, Wood MD, Colby SM (2016) A new paradigm for credibly administering placebo alcohol to underage drinkers. Addict Behav 52:22–27. https://doi.org/10.1016/j.addbeh.2015.08.004

Bershad AK, Schepers ST, Bremmer MP, et al. (2019) Acute subjective and behavioral effects of microdoses of lysergic acid diethylamide in healthy human volunteers. Biol Psychiatry 86:792–800. https://doi.org/10.1016/j.biopsych.2019.05.019

Blackwell B, Bloomfield SS, Buncher CR (1972) Demonstration to medical students of placebo responses and non-drug factors. The Lancet 299:1279–1282. https://doi.org/10.1016/s0140-6736(72)90996-8

Blasi ZD, Harkness E, Ernst E, et al. (2001) Influence of context effects on health outcomes: a systematic review. The Lancet 357:757–762. https://doi.org/10.1016/s0140-6736(00)04169-6

Buck JN (1948) The H-T-P technique. A qualitative and quantitative scoring manual. Journal of Clinical Psychology 4:317–317. https://doi.org/10.1002/1097-4679(194810)4:4<317::aid-jclp2270040402>3.0.co;2-6

Carhart-Harris RL, Roseman L, Haijen E, et al. (2018) Psychedelics and the essential importance of context. J Psychopharmacol 32:725–731. https://doi.org/10.1177/0269881118754710

Carlin AS, Bakker CB, Halpern L, Post RD (1972) Social facilitation of marijuana intoxication: impact of social set and pharmacological activity. J Abnorm Psychol 80:132–140. https://doi.org/10.1037/h0033317

Charlesworth JE, Petkovic G, Kelley JM, et al. (2017) Effects of placebos without deception compared with no treatment: a systematic review and meta-analysis. J Evidence-Based Med 10:97–107. https://doi.org/10.1111/jebm.12251

Colagiuri B, McGuinness K, Boakes RA, Butow PN (2012) Warning about side effects can increase their occurrence: an experimental model using placebo treatment for sleep difficulty. J Psychopharmacol 26:1540–1547

Colloca L, Miller FG (2011) How placebo responses are formed: a learning perspective. Philos Trans R Soc B: Biol Sci 366:1859–1869. https://doi.org/10.1098/rstb.2010.0398

Dittrich A (1998) The standardized psychometric assessment of altered states of consciousness (ASCs) in humans. Pharmacopsychiatry 31:80–84. https://doi.org/10.1055/s-2007-979351

Doblin R (1991) Pahnke's "good friday experiment": a long-term follow-up and methodological critique. J Transpers Psychol 23:1–28

Enck P, Bingel U, Schedlowski M, Rief W (2013) The placebo response in medicine: minimize, maximize or personalize? Nat Rev Drug Discov 12:191–204. https://doi.org/10.1038/nrd3923

Faasse K, Grey A, Jordan R, et al. (2015) Seeing is believing: impact of social modeling on placebo and nocebo responding. Health Psychol 34:880–885. https://doi.org/10.1037/hea0000199

Faasse K, Parkes B, Kearney J, Petrie KJ (2018) The influence of social modeling, gender, and empathy on treatment side effects. Ann Behav Med 52:560–570. https://doi.org/10.1093/abm/kax025

Gordon PD (1974) Toward the resolution of the controversy surrounding the effects and social health implications of marijuana use. J Drug Educ 4:13–25. https://doi.org/10.2190/b6x0-6uj1-28a2-w5y7

Griffiths RR, Richards WA, McCann U, Jesse R (2006) Psilocybin can occasion mystical-type experiences having substantial and sustained personal meaning and spiritual significance. Psychopharmacology (Berl) 187:268–283. https://doi.org/10.1007/s00213-006-0457-5

Griffiths RR, Johnson MW, Richards WA, et al. (2011) Psilocybin occasioned mystical-type experiences: immediate and persisting dose-related effects. Psychopharmacology (Berl) 218:649–665. https://doi.org/10.1007/s00213-011-2358-5

Grob CS, Danforth AL, Chopra GS, et al. (2011) Pilot study of psilocybin treatment for anxiety in patients with advanced-stage cancer. Arch Gen Psychiatry 68:71. https://doi.org/10.1001/archgenpsychiatry.2010.116

Hartogsohn I (2016) Set and setting, psychedelics and the placebo response: an extra-pharmacological perspective on psychopharmacology. J Psychopharmacol 30:1259–1267. https://doi.org/10.1177/0269881116677852

Hartogsohn I (2017) Constructing drug effects: a history of set and setting. Drug Sci Pol Law 3:205032451668332. https://doi.org/10.1177/2050324516683325

Hatfield E, Cacioppo JT, Rapson RL (1993) Emotional contagion. Curr Dir Psychol Sci 2:96–100

Hintze JL, Nelson RD (1998) Violin plots: a box plot-density trace synergism. Am Stat 52:181–184. https://doi.org/10.1080/00031305.1998.10480559

Hyde RW (1960) Psychological and social determinants of drug action. In: Sarwer-Foner GJ (ed) The dynamics of psychiatric drug therapy. Charles C Thomas, Springfield, pp 297–315

John OP, Naumann LP, Soto CJ (2008) Paradigm shift to the integrative big five trait taxonomy. Handbook of personality: Theory and research 3:114–158

Johnson MW, Richards WA, Griffiths RR (2008) Human hallucinogen research: guidelines for safety. J Psychopharmacol 22:603–620. https://doi.org/10.1177/0269881108093587

Kaelen M, Giribaldi B, Raine J, et al. (2018) The hidden therapist: evidence for a central role of music in psychedelic therapy. Psychopharmacology (Berl) 235:505–519. https://doi.org/10.1007/s00213-017-4820-5

Kaptchuk TJ, Miller FG (2015) Placebo effects in medicine. England J Med 373:8–9. https://doi.org/10.1056/nejmp1504023

Kaptchuk TJ, Shaw J, Kerr CE et al (2009) Maybe I made up the whole thing: placebos and patients' experiences in a randomized controlled trial. Cult Med Psych 33:382–411. https://doi.org/10.1007/s11013-009-9141-7

Keup W (1971) The vocabulary of the drug user and alcoholic: a glossary. Int J Addict 6:347–373. https://doi.org/10.3109/10826087109057793

Kirsch I (2018) Response expectancy and the placebo effect. In: International review of neurobiology. Elsevier, pp 81–93

Kirsch I, Weixel LJ (1988) Double-blind versus deceptive administration of a placebo. Behav Neurosci 102:319–323. https://doi.org/10.1037/0735-7044.102.2.319

Kuypers KPC, Riba J, de la Fuente Revenga M, et al. (2016) Ayahuasca enhances creative divergent thinking while decreasing conventional convergent thinking. Psychopharmacology (Berl) 233:3395–3403. https://doi.org/10.1007/s00213-016-4377-8

Leary T (1995) High priest. Ronin Publishing

Leary T (2000) The psychedelic experience: a manual based on the Tibetan book of the dead

Lee MA, Shlain B (1992) Acid dreams: the complete social history of LSD: the CIA, the sixties, and beyond. Grove Press

Liechti ME, Dolder PC, Schmid Y (2017) . Alterations of consciousness and mystical-type experiences after acute LSD in humans 234:1499–1510. https://doi.org/10.1007/s00213-016-4453-0

Masters RE, Houston J (1966) The varieties of psychedelic experience. Holt, Rinehart; Winston, New York

Mednick SA (1968) The remote associates test. J Creat Behav 2:213–214. https://doi.org/10.1002/j.2162-6057.1968.tb00104.x

Muthukumaraswamy SD, Carhart-Harris RL, Moran RJ, et al. (2013) Broadband cortical desynchronization underlies the human psychedelic state. J Neurosci 33:15171–15183. https://doi.org/10.1523/jneurosci.2063-13.2013

Nash M, Barnier AJ (2012) The Oxford handbook of hypnosis, theory, research, and practice. Oxford University Press

Olson JA (2019) The power of belief in the magic of neuroscience. In: Casting light on the dark side of brain imaging. Elsevier, pp 89–91

Olson JA, Landry M, Appourchaux K, Raz A (2016) Simulated thought insertion: influencing the sense of agency using deception and magic. Conscious Cogn 43:11–26. https://doi.org/10.1016/j.concog.2016.04.010

Pahnke W (1970) Drugs and mysticism. Psychedelics: the uses and implications of hallucinogenic drugs, 145–165

Planès S, Villier C, Mallaret M (2016) The nocebo effect of drugs. Pharmacol Res Perspect 4:e00208. https://doi.org/10.1002/prp2.208

Polito V, Stevenson RJ (2019) A systematic study of microdosing psychedelics. PLOS ONE 14:e0211023. https://doi.org/10.1371/journal.pone.0211023

Prochazkova L, Lippelt DP, Colzato LS, et al. (2018) Exploring the effect of microdosing psychedelics on creativity in an open-label natural setting. Psychopharmacology (Berl) 235:3401–3413. https://doi.org/10.1007/s00213-018-5049-7

Reeves RR, Ladner ME, Hart RH, Burke RS (2007) Nocebo effects with antidepressant clinical drug trial placebos. Gen Hosp Psychiatry 29:275–277. https://doi.org/10.1016/j.genhosppsych.2007.01.010

Rief W, Nestoriuc Y, von Lilienfeld-Toal A, et al. (2009) Differences in adverse effect reporting in placebo groups in SSRI and tricyclic antidepressant trials. Drug Saf 32:1041–1056. https://doi.org/10.2165/11316580-000000000-00000

Rohsenow DJ, Marlatt G (1981) The balanced placebo design: methodological considerations. Addict Behav 6:107–122. https://doi.org/10.1016/0306-4603(81)90003-4

Shulgin AT, Shulgin A (1995) PIHKAL: Phenethylamines I have known and loved. Transform Press, Berkeley

Simmons FC (1973) The placebo effect as a function of the physical and social context. Simon Fraser University, PhD thesis

Sneed JR, Rutherford BR, Rindskopf D, et al. (2008) Design makes a difference: a meta-analysis of antidepressant response rates in placebo-controlled versus comparator trials in late-life depression. Am J Geriatr Psychiatry 16:65–73. https://doi.org/10.1097/jgp.0b013e3181256b1d

Studerus E, Gamma A, Vollenweider FX (2010a) Psychometric evaluation of the altered states of consciousness rating scale (OAV). PLOS ONE 5:e12412. https://doi.org/10.1371/journal.pone.0012412

Studerus E, Kometer M, Hasler F, Vollenweider FX (2010b) Acute, subacute and long-term subjective effects of psilocybin in healthy humans: a pooled analysis of experimental studies. J Psychopharmacol 25:1434–1452. https://doi.org/10.1177/0269881110382466

Studerus E, Gamma A, Kometer M, Vollenweider FX (2012) Prediction of psilocybin response in healthy volunteers. PLOS ONE 7:e30800

Tart CT (1971) On being stoned science. Behavior Books, Palo Alto

Teller (2012) Teller talks: the science behind magic tricks. Talk of the Nation

Tupper KW, Wood E, Yensen R, Johnson MW (2015) Psychedelic medicine: a re-emerging therapeutic paradigm. Can Med Assoc J 187:1054–1059. https://doi.org/10.1503/cmaj.141124

Watson D, Clark LA, Tellegen A (1988) Development and validation of brief measures of positive and negative affect: the PANAS scales. J Pers Soc Psychol 54:1063–1070. https://doi.org/10.1037/0022-3514.54.6.1063

Zeidenberg P, Bourdon R, Nahas GG (1977) Marijuana intoxication by passive inhalation: documentation by detection of urinary metabolites. Am J Psychiatr 134:76–77. https://doi.org/10.1176/ajp.134.1.76

Zion SR, Crum AJ (2018) Mindsets matter: a new framework for harnessing the placebo effect in modern medicine. In: International review of neurobiology. Elsevier, pp 137–160
Acknowledgements
We would like to thank Derek Albert for DJing; research assistants Despina Artenie, Denis Chmoulevitch, Frédérik Crépeau-Hubert, Mariève Cyr, Kylar D'Aigle, Victoria De Braga, Erika Gentile, Ceren Kaypak, Kyle Greenway, Alice Leclercq, Johnny Nahas, and Dasha Sandra for help with data collection; artist Sznajberg from L'espace Entre for the paintings; Robin Carhart-Harris and the Psychedelic Research Group at Imperial College London for feedback; the Faculty of Medicine WELL Office for the bean bags; the security guards at the Montreal Neurological Institute; and seven psychonaut confederates for playing along.
Ethics declarations
Conflict of interest
The authors declare that they have no conflict of interest.
Additional information
Publisher's note
Springer Nature remains neutral with regard to jurisdictional claims in published maps and institutional affiliations.
Data availability
The full data set (including the filler measures) is available online at https://osf.io/xqtnh/.
Electronic supplementary material
About this article
Cite this article
Olson, J.A., Suissa-Rocheleau, L., Lifshitz, M. et al. Tripping on nothing: placebo psychedelics and contextual factors. Psychopharmacology 237, 1371–1382 (2020). https://doi.org/10.1007/s00213-020-05464-5
Received:

Accepted:

Published:

Issue Date:
Keywords
Placebo effects

Context

Setting

Psilocybin

Expectation

Contact high