Abstract
Rationale
Histamine H3 receptors (H3Rs) are co-expressed with dopamine D1 receptors (D1Rs) by striato-nigral medium spiny GABAergic neurons, where they functionally antagonize D1R-mediated responses.
Objectives and methods
We examined whether the chronic administration of the H3R agonist immepip modifies dyskinesias induced by l-3,4-dihydroxyphenylalanine, l-Dopa (LIDs), in rats lesioned with 6-hydroxydopamine in the substantia nigra pars compacta, and the effect of D1R and H3R co-activation on glutamate and GABA content in dialysates from the dorsal striatum of naïve rats.
Results
The systemic administration (i.p.) of l-Dopa for 14 days significantly increased axial, limb, and orolingual abnormal involuntary movements (AIMs) compared with the vehicle group. The chronic administration of the H3R agonist immepip alongside l-Dopa significantly decreased axial, limb, and orolingual AIMs compared with l-Dopa alone, but AIMs returned to previous values on immepip withdrawal. Chronic immepip was ineffective when administered prior to l-Dopa. The chronic administration of immepip significantly decreased GABA and glutamate content in striatal dialysates, whereas the administration of l-Dopa alone increased GABA and glutamate content.
Conclusions
These results indicate that chronic H3R activation reduces LIDs, and the effects on striatal GABA and glutamate release provide evidence for a functional interaction between D1Rs and H3Rs.
This is a preview of subscription content, log in to check access.
Access options
Buy single article
Instant access to the full article PDF.
US$ 39.95
Price includes VAT for USA
Subscribe to journal
Immediate online access to all issues from 2019. Subscription will auto renew annually.
US$ 199
This is the net price. Taxes to be calculated in checkout.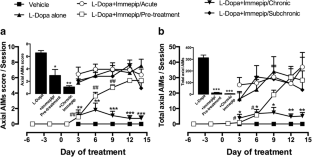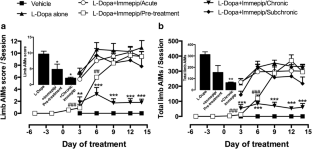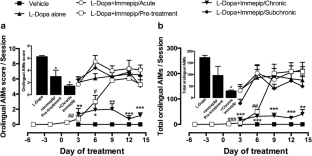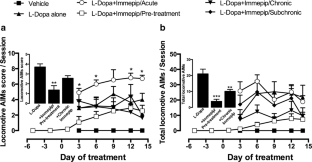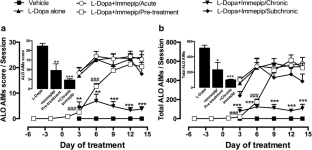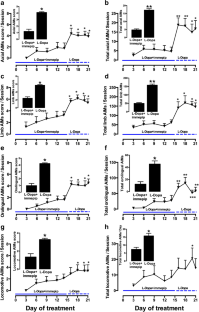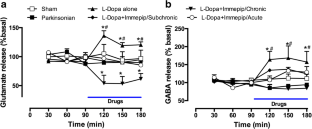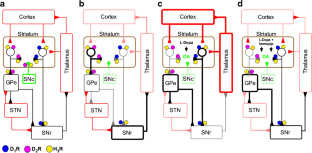 References
Ahlskog JE, Muenter MD (2001) Frequency of levodopa-related dyskinesias and motor fluctuations as estimated from the cumulative literature. Mov Disord 16:448–458

Albin RL, Young AB, Penney JB (1989) The functional-anatomy of basal ganglia disorders. Trends Neurosci 12:366–375

Alfaro-Rodriguez A, Alonso-Spilsbury M, Arch-Tirado E, Gonzalez-Pina R, Arias-Montano J-A, Bueno-Nava A (2013) Histamine H3 receptor activation prevents dopamine D1 receptor-mediated inhibition of dopamine release in the rat striatum: a microdialysis study. Neurosci Lett 552:5–9

Andersson M, Hilbertson A, Cenci MA (1999) Striatal fosB expression is causally linked with L-DOPA-induced abnormal involuntary movements and the associated upregulation of striatal prodynorphin mRNA in a rat model of Parkinson's disease. Neurobiol Dis 6:461–474

Arias-Montaño JA, Floran B, Garcia M, Aceves J, Young JM (2001) Histamine H3 receptor-mediated inhibition of depolarization-induced, dopamine D1 receptor-dependent release of [3H]-gamma-aminobutryic acid from rat striatal slices. Br J Pharmacol 133:165–171

Bastide MF, Meissner WG, Picconi B, Fasano S, Fernagut PO, Feyder M, Francardo V, Alcacer C, Ding YM, Brambilla R, Fisone G, Stoessl AJ, Bourdenx M, Engeln M, Navailles S, De Deurwaerdere P, Ko WKD, Simola N, Morelli M, Groc L, Rodriguez MC, Gurevich EV, Quik M, Morari M, Mellone M, Gardoni F, Tronci E, Guehl D, Tison F, Crossman AR, Kang UJ, Steece-Collier K, Fox S, Carta M, Cenci MA, Bezard E (2015) Pathophysiology of L-dopa-induced motor and non-motor complications in Parkinson's disease. Prog Neurobiol 132:96–168

Bolam JP, Hanley JJ, Booth PA, Bevan MD (2000) Synaptic organisation of the basal ganglia. J Anat 196(Pt 4):527–542

Carta M, Bezard E (2011) Contribution of pre-synaptic mechanisms to L-DOPA-induced dyskinesia. Neuroscience 198:245–251

Cenci MA, Lee CS, Bjorklund A (1998) L-DOPA-induced dyskinesia in the rat is associated with striatal overexpression of prodynorphin- and glutamic acid decarboxylase mRNA. Eur J Neurosci 10:2694–2706

Connolly BS, Lang AE (2014) Pharmacological treatment of Parkinson disease a review. Jama-J Am Med Assoc 311:1670–1683

De la Fuente-Fernandez R, Sossi V, Huang ZG, Furtado S, Lu JQ, Calne DB, Ruth TJ, Stoessl AJ (2004) Levodopa-induced changes in synaptic dopamine levels increase with progression of Parkinson's disease: implications for dyskinesias. Brain 127:2747–2754

Ding J, Peterson JD, Surmeier DJ (2008) Corticostriatal and thalamostriatal synapses have distinctive properties. J Neurosci 28:6483–6492

Doreulee N, Yanovsky Y, Flagmeyer I, Stevens DR, Haas HL, Brown RE (2001) Histamine H3 receptors depress synaptic transmission in the corticostriatal pathway. Neuropharmacology 40:106–113

Ellender TJ, Huerta-Ocampo I, Deisseroth K, Capogna M, Bolam JP (2011) Differential modulation of excitatory and inhibitory striatal synaptic transmission by histamine. J Neurosci 31:15340–15351

Ferrada C, Moreno E, Casado V, Bongers G, Cortes A, Mallol J, Canela EI, Leurs R, Ferre S, Lluis C, Franco R (2009) Marked changes in signal transduction upon heteromerization of dopamine D1 and histamine H3 receptors. Br J Pharmacol 157:64–75

Festing MF (1994) Reduction of animal use: experimental design and quality of experiments. Lab Anim 28:212–221

Garcia M, Floran B, Arias-Montaño JA, Young JM, Aceves J (1997) Histamine H3 receptor activation selectively inhibits dopamine D1 receptor-dependent [3H]GABA release from depolarization-stimulated slices of rat substantia nigra pars reticulata. Neuroscience 80:241–249

Garcia-Galvez AM, Escamilla-Sanchez J, Flores-Maldonado C, Contreras RG, Arias JM, Arias-Montano JA (2018) Differential homologous desensitization of the human histamine H-3 receptors of 445 and 365 amino acids expressed in CHO-K1 cells. Neurochem Int 112:114–123

Gomez-Ramirez J, Johnston TH, Visanji NP, Fox SH, Brotchie JM (2006) Histamine H3 receptor agonists reduce L-dopa-induced chorea, but not dystonia, in the MPTP-lesioned nonhuman primate model of Parkinson's disease. Mov Disord 21:839–846

González-Sepúlveda M, Rosell S, Hoffmann HM, Castillo-Ruiz MM, Mignon V, Moreno-Delgado D, Michel V, Díaz J, Sabriá J, Ortiz J (2013) Cellular distribution of the histamine H3 receptor in the basal ganglia: functional modulation of dopamine and glutamate neurotransmission. Basal Ganglia 3:109–121

Hely MA, Morris JGL, Reid WGJ, Trafficante R (2005) Sydney multicenter study of Parkinson's disease: non-L-dopa-responsive problems dominate at 15 years. Mov Disord 20:190–199

Huot P, Johnston TH, Koprich JB, Fox SH, Brotchie JM (2013) The pharmacology of L-DOPA-induced dyskinesia in Parkinson's disease. Pharmacol Rev 65:171–222

Johansson PA, Andersson M, Andersson KE, Cenci MA (2001) Alterations in cortical and basal ganglia levels of opioid receptor binding in a rat model of L-DOPA-induced dyskinesia. Neurobiol Dis 8:220–239

Lundblad M, Andersson M, Winkler C, Kirik D, Wierup N, Cenci MA (2002) Pharmacological validation of behavioural measures of akinesia and dyskinesia in a rat model of Parkinson's disease. Eur J Neurosci 15:120–132

Molina-Hernandez A, Nunez A, Sierra JJ, Arias-Montano JA (2001) Histamine H3 receptor activation inhibits glutamate release from rat striatal synaptosomes. Neuropharmacology 41:928–934

Montes S, Alcaraz-Zubeldia M, Muriel P, Rios C (2003) Role of manganese accumulation in increased brain glutamine of the cirrhotic rat. Neurochem Res 28:911–917

Moreno E, Hoffmann H, Gonzalez-Sepulveda M, Navarro G, Casado V, Cortes A, Mallol J, Vignes M, McCormick PJ, Canela EI, Lluis C, Moratalla R, Ferre S, Ortiz J, Franco R (2011) Dopamine D-1-histamine H-3 receptor heteromers provide a selective link to MAPK signaling in GABAergic neurons of the direct striatal pathway. J Biol Chem 286:5846–5854

Nowak P, Bortel A, Dabrowska J, Biedka I, Slomian G, Roczniak W, Kostrzewa RM, Brus R (2008) Histamine H3 receptor ligands modulate L-dopa-evoked behavioral responses and L-dopa-derived extracellular dopamine in dopamine-denervated rat striatum. Neurotox Res 13:231–240

Olfert E, Cross B, Mc William A (1993) Guide for the care and use of experimental animals. Can Council Anim Care 1:211

Osorio-Espinoza A, Escamilla-Sanchez J, Aquino-Jarquin G, Arias-Montano JA (2014) Homologous desensitization of human histamine H3 receptors expressed in CHO-K1 cells. Neuropharmacology 77:387–397

Pagano G, Yousaf T, Politis M (2017) PET molecular imaging research of levodopa-induced dyskinesias in Parkinson's disease. Curr Neurol Neurosci Reports 17:90

Panula P, Pirvola U, Auvinen S, Airaksinen MS (1989) Histamine-immunoreactive nerve-fibers in the rat-brain. Neuroscience 28:585–610

Papathanou M, Jenner P, Iravani M, Jackson M, Stockwell K, Strang I, Zeng B-Y, McCreary AC, Rose S (2014) The H3 receptor agonist immepip does not affect L-dopa-induced abnormal involuntary movements in 6-OHDA-lesioned rats. Eur J Pharmacol 741:304–310

Paxinos G, Watson C (2007) The rat brain in stereotaxic coordinates, 6th edn. Academic Press, London

Pillot C, Heron A, Cochois V, Tardivel-Lacombe J, Ligneau X, Schwartz JC, Arrang JM (2002) A detailed mapping of the histamine H3 receptor and its gene transcripts in rat brain. Neuroscience 114:173–193

Porras G, De Deurwaerdere P, Li Q, Marti M, Morgenstern R, Sohr R, Bezard E, Morari M, Meissner WG (2014) L-dopa-induced dyskinesia: beyond an excessive dopamine tone in the striatum. Sci Rep 4:3730

Rangel-Barajas C, Silva I, Lopez-Santiago LM, Aceves J, Erlij D, Floran B (2011) L-dopa-induced dyskinesia in hemiparkinsonian rats is associated with up-regulation of adenylyl cyclase type V/VI and increased GABA release in the substantia nigra reticulata. Neurobiol Dis 41:51–61

Rapanelli M (2017) The magnificent two: histamine and the H3 receptor as key modulators of striatal circuitry. Prog Neuro-Psychopharmacol Biol Psychiatry 73:36–40

Rodriguez-Ruiz M, Moreno E, Moreno-Delgado D, Navarro G, Mallol J, Cortes A, Lluis C, Canela EI, Casado V, McCormick PJ, Franco R (2017) Heteroreceptor complexes formed by dopamine D1, histamine H3, and N-methyl-D-aspartate glutamate receptors as targets to prevent neuronal death in Alzheimer's disease. Mol Neurobiol 54:4537–4550

Ryu JH, Yanai K, Iwata R, Ido T, Watanabe T (1994) Heterogeneous distributions of histamine H3, dopamine D1 and D2 receptors in rat-brain. Neuroreport 5:621–624

Sanchez-Lemus E, Arias-Montano JA (2004) Histamine H3 receptor activation inhibits dopamine D1 receptor-induced cAMP accumulation in rat striatal slices. Neurosci Lett 364:179–184

Schlicker E, Fink K, Detzner M, Gothert M (1993) Histamine inhibits dopamine release in the mouse striatum via presynaptic-H3 receptors. J Neural Transm-Gen Sect 93:1–10

Silberberg G, Bolam JP (2015) Local and afferent synaptic pathways in the striatal microcircuitry. Curr Opin Neurobiol 33:182–187

Smith Y, Raju DV, Pare JF, Sidibe M (2004) The thalamostriatal system: a highly specific network of the basal ganglia circuitry. Trends Neurosci 27:520–527

Spigolon G, Fisone G (2018) Signal transduction in l-dopa-induced dyskinesia: from receptor sensitization to abnormal gene expression. J Neural Transm 125:1171–1186

Surmeier DJ, Obeso JA, Halliday GM (2017) Selective neuronal vulnerability in Parkinson disease. Nat Rev Neurosci 18:101–113
Acknowledgments
We thank MVZ Hugo Lecona Butrón for the support with housing, care, maintenance, and monitoring of the health of the experimental animals at the Instituto Nacional de Rehabilitación Luis Guillermo Ibarra Ibarra. We thank MVZ Javier Pérez Gallaga for the technical support. The authors wish to thank Dr. Ivonne M. Heuze de Icaza for her support with the experimental animals.
Additional information
Publisher's note
Springer Nature remains neutral with regard to jurisdictional claims in published maps and institutional affiliations.
Electronic supplementary material
Effect of the administration of L-Dopa (6.25 mg/kg) and the co-administration of L-Dopa and the H3R agonist immepip (1 mg/kg) in 6-OHDA-lesioned rats. Note that the administration of immepip reduces LIDs in 6-OHDA-lesioned rats (MP4 38915 kb)
Effects of the chronic administration of immepip+L-Dopa for 14 days, and immepip withdrawal on day 15. Drugs administration was as described for Video 1 (MP4 31326 kb)
About this article
Cite this article
Avila-Luna, A., Ríos, C., Gálvez-Rosas, A. et al. Chronic administration of the histamine H3 receptor agonist immepip decreases l-Dopa-induced dyskinesias in 6-hydroxydopamine-lesioned rats. Psychopharmacology 236, 1937–1948 (2019). https://doi.org/10.1007/s00213-019-5182-y
Received:

Accepted:

Published:

Issue Date:
Keywords
Dopamine

Histamine

D1 receptor
H3 receptor

Dyskinesia

Striatum

Parkinson's disease

l

-Dopa

Immepip