Abstract
Rationale
There is limited understanding regarding how various e-cigarette flavorings may influence the behavior of non-regular e-cigarette users who are regular cigarette smokers.
Objectives
To assess differences in nicotine delivery, puffing topography, subjective effects, and user satisfaction from different flavored e-liquids.
Methods
Eighteen daily smokers (average age, 44.1 ± 7.0; 9 males; average CPD, 13.0 ± 5.8) smoked their tobacco cigarettes during an initial visit and returned five times to try an e-cigarette (eGo type) refilled with a nicotine solution (24 mg/ml) of five different flavors: cherry, tobacco, espresso, menthol, and vanilla (randomized order). Assessments at each visit included puffing topography, blood samples for nicotine analysis, and subjective reports of nicotine effects and flavor satisfaction.
Results
Vaping different flavors resulted in different levels of plasma nicotine. The flavor producing the highest plasma nicotine concentration (Cmax) was cherry (median 21.2 ng/ml), which was not significantly different than nicotine delivery from a combustible cigarette (29.2 ng/ml, p > .05). Vanilla e-liquid produced the lowest Cmax (9.7 ng/ml), and participants tended to puff less frequently on vanilla compared to tobacco flavor (p = .013). Flavors did not differ significantly in the speed of nicotine delivery (Tmax). During controlled use, puff duration for all flavors was significantly longer than a combustible cigarette (p < 0.05). After controlling for nicotine delivery, significant differences in flavor enjoyment were detected. Menthol flavored e-liquid was rated as more enjoyable than vanilla and tobacco flavored e-liquids (p < 0.05).
Conclusions
Flavors tested in this study yielded different patterns of nicotine delivery and led to differences in reduction in smoking urges.
Trial registration
ClinicalTrials.gov Identifier: #NCT02575885
This is a preview of subscription content, log in to check access.
Access options
Buy single article
Instant access to the full article PDF.
US$ 39.95
Price includes VAT for USA
Subscribe to journal
Immediate online access to all issues from 2019. Subscription will auto renew annually.
US$ 199
This is the net price. Taxes to be calculated in checkout.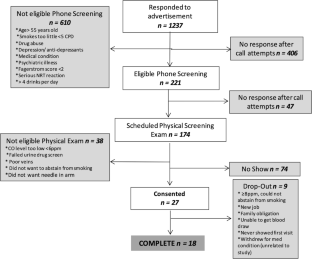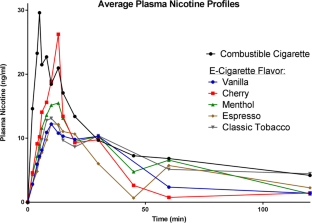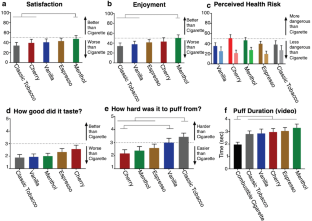 References
Allen GD (1990) MODFIT: a pharmacokinetics computer program. Biopharm Drug Dispos 11(6):477–498

Behar R, Davis B, Wang Y, Bahl V, Lin S, Talbot P (2014) Identification of toxicants in cinnamon-flavored electronic cigarette refill fluids. Toxicol in Vitro 28(2):198–208

Benowitz NL, Jacob P, Herrera B (2006) Nicotine intake and dose response when smoking reduced–nicotine content cigarettes. Clin Pharmacol Ther 80(6):703–714

Benowitz NL, Hukkanen J, Jacob P (2009) Nicotine chemistry, metabolism, kinetics and biomarkers. Springer, Nicotine psychopharmacology, pp 29–60

Blank MD, Disharoon S, Eissenberg T (2009) Comparison of methods for measurement of smoking behavior: mouthpiece-based computerized devices versus direct observation. Nicotine Tob Res 11(7):896–903

Cantrell J, Huang J, Greenberg M, Willett J, Hair E, Vallone D (2018) History and current trends in the electronic cigarette retail marketplace in the United States: 2010–2016. Nicotine Tob Res

Chen S-Y, Feng Z, Yi X (2017) A general introduction to adjustment for multiple comparisons. J Thorac Dis 9(6):1725–1729

Cox LS, Tiffany ST, Christen AG (2001) Evaluation of the brief questionnaire of smoking urges (QSU-brief) in laboratory and clinical settings. Nicotine Tob Res 3(1):7–16

El-Hellani A, El-Hage R, Baalbaki R, Salman R, Talih S, Shihadeh A, Saliba NA (2015) Free-base and protonated nicotine in electronic cigarette liquids and aerosols. Chem Res Toxicol 28(8):1532–1537

Etter JF, Hughes JR (2006) A comparison of the psychometric properties of three cigarette withdrawal scales. Addiction 101(3):362–372

Farsalinos KE, Kistler KA, Gillman G, Voudris V (2014) Evaluation of electronic cigarette liquids and aerosol for the presence of selected inhalation toxins. Nicotine Tob Res 17(2):168–174

Farsalinos KE, Spyrou A, Stefopoulos C, Tsimopoulou K, Kourkoveli P, Tsiapras D, Kyrzopoulos S, Poulas K, Voudris V (2015) Nicotine absorption from electronic cigarette use: comparison between experienced consumers (vapers) and naïve users (smokers). Sci Rep 5:11269

Goldenson NI, Kirkpatrick MG, Barrington-Trimis JL, Pang RD, McBeth JF, Pentz MA, Samet JM, Leventhal AM (2016) Effects of sweet flavorings and nicotine on the appeal and sensory properties of e-cigarettes among young adult vapers: application of a novel methodology. Drug Alcohol Depend 168:176–180

Goniewicz ML, Gawron M, Smith DM, Peng M, Jacob P, Benowitz NL (2017) Exposure to nicotine and selected toxicants in cigarette smokers who switched to electronic cigarettes: a longitudinal within-subjects observational study. Nicotine Tob Res 19(2):160–167

Goniewicz ML, Smith DM, Edwards KC, Blount BC, Caldwell KL, Feng J, Wang L, Christensen C, Ambrose B, Borek N (2018) Comparison of nicotine and toxicant exposure in users of electronic cigarettes and combustible cigarettes. JAMA Netw Open 1(8):e185937–e185937

Hajek P, Phillips-Waller A, Przulj D, Pesola F, Myers Smith K, Bisal N, Li J, Parrott S, Sasieni P, Dawkins L (2019) A randomized trial of e-cigarettes versus nicotine-replacement therapy. N Engl J Med 380(7):629–637

Hammond D, Fong GT, Cummings KM, Hyland A (2005) Smoking topography, brand switching, and nicotine delivery: results from an in vivo study. Cancer Epidem Prev Biomar 14(6):1370–1375

Harrell M, Weaver S, Loukas A, Creamer M, Marti C, Jackson C, Heath J, Nayak P, Perry C, Pechacek T (2017) Flavored e-cigarette use: characterizing youth, young adult, and adult users. Prev Med Rep 5:33–40

Hatsukami DK, Zhang Y, O'connor RJ, Severson HH (2012) Subjective responses to oral tobacco products: scale validation. Nicotine Tob Res 15(7):1259–1264

Heatherton TF, Kozlowski LT, Frecker RC, FAGERSTROM KO (1991) The Fagerström test for nicotine dependence: a revision of the Fagerstrom Tolerance Questionnaire. Br J Addict 86(9):1119–1127

Helen GS, Dempsey DA, Havel CM, Jacob P III, Benowitz NL (2017) Impact of e-liquid flavors on nicotine intake and pharmacology of e-cigarettes. Drug Alcohol Depend 178:391–398

Helen GS, Shahid M, Chu S, Benowitz NL (2018) Impact of e-liquid flavors on e-cigarette vaping behavior. Drug Alcohol Depend 189:42–48

Holden JE, Kelley K, Agarwal R (2008) Analyzing change: a primer on multilevel models with applications to nephrology. Am J Nephrol 28(5):792–801

Hua M, Yip H, Talbot P (2013) Mining data on usage of electronic nicotine delivery systems (ENDS) from YouTube videos. Tob Control 22(2):103–106

Hughes JR, Hatsukami D (1986) Signs and symptoms of tobacco withdrawal. Arch Gen Psychiatry 43(3):289–294

Jacob P III, Yu L, Wilson M, Benowitz NL (1991) Selected ion monitoring method for determination of nicotine, cotinine and deuterium-labeled analogs: absence of an isotope effect in the clearance of (S)-nicotine-3′, 3′-d2 in humans. Biol Mass Spectrom 20(5):247–252

Jones B, Kenward MG (2014) Design and analysis of cross-over trials. CRC Press Taylor & Francis, Group

Kalkhoran S, Alvarado N, Vijayaraghavan M, Lum PJ, Yuan P, Satterfield JM (2017) Patterns of and reasons for electronic cigarette use in primary care patients. J Gen Intern Med 32(10):1122–1129

Khlystov A, Samburova V (2016) Flavoring compounds dominate toxic aldehyde production during e-cigarette vaping. Environ Sci Technol 50(23):13080–13085

Kong G, Morean ME, Cavallo DA, Camenga DR, Krishnan-Sarin S (2015) Reasons for electronic cigarette experimentation and discontinuation among adolescents and young adults. Nicotine Tob Res 17:847–854. https://doi.org/10.1093/ntr/ntu257

Kosmider L, Sobczak A, Prokopowicz A, et al (2016) Cherry-flavoured electronic cigarettes expose users to the inhalation irritant, benzaldehyde. Thorax 71:376–377. https://doi.org/10.1136/thoraxjnl-2015-207895

Leigh NJ, Lawton RI, Hershberger PA, Goniewicz ML (2016) Flavourings significantly affect inhalation toxicity of aerosol generated from electronic nicotine delivery systems (ENDS). Tob Control 25(Suppl 2):ii81–ii87

Morean ME, de Wit H, King AC, Sofuoglu M, Rueger SY, O'Malley SS (2013) The drug effects questionnaire: psychometric support across three drug types. Psychopharmacology 227(1):177–192

Richardson A, Pearson J, Xiao H, Stalgaitis C, Vallone D (2014) Prevalence, harm perceptions, and reasons for using noncombustible tobacco products among current and former smokers. Am J Public Health 104(8):1437–1444

Ross KC, Juliano LM (2015) Smoking through a topography device diminishes some of the acute rewarding effects of smoking. Nicotine Tob Res 18(5):564–571

Shahab L, Goniewicz ML, Blount BC, Brown J, McNeill A, Alwis KU, Feng J, Wang L, West R (2017) Nicotine, carcinogen, and toxin exposure in long-term e-cigarette and nicotine replacement therapy users: a cross-sectional study. Ann Intern Med 166(6):390–400

Schneller LM, Bansal-Travers M, Goniewicz ML, McIntosh S, Ossip D, O'Connor RJ (2018) Use of flavored electronic cigarette refill liquids among adults and youth in the US-results from Wave 2 of the Population Assessment of Tobacco and Health Study (2014-2015). PLoS One 13(8):e0202744

Shiffman S, Sembower MA, Pillitteri JL, Gerlach KK, Gitchell JG (2015) The impact of flavor descriptors on nonsmoking teens' and adult smokers' interest in electronic cigarettes. Nicotine Tob Res 17(10):1255–1262

Talih S, Balhas Z, Salman R, El-Hage R, Karaoghlanian N, El-Hellani A, Baassiri M, Jaroudi E (2017) Transport phenomena governing nicotine emissions from electronic cigarettes: model formulation and experimental investigation. Aerosol Sci Technol 51(1):1–11

Voos N, Kaiser L, Mahoney MC, Bradizza CM, Kozlowski LT, Benowitz NL, O'Connor RJ, Goniewicz ML (2019) Randomized within-subject trial to evaluate smokers' initial perceptions, subjective effects and nicotine delivery across six vaporized nicotine products. Addiction.

Wang B-S, Wang X-J, Gong L-K (2009) The construction of a Williams design and randomization in cross-over clinical trials using SAS. J Stat Softw 29(1):1–10

Zhu S-H, Sun JY, Bonnevie E, Cummins SE, Gamst A, Yin L, Lee M (2014) Four hundred and sixty brands of e-cigarettes and counting: implications for product regulation. Tob Control 23(suppl 3):iii3–iii9
Funding
This research was supported in part by NIH NIDA grant R01DA037446 and NCI/FDA U54CA228110, and analytical chemistry resources grants DA012393 and S1ORR026437.
Ethics declarations
Study procedures were approved by the Institutional Review Board at Roswell Park Comprehensive Cancer Center.
Conflicts of interest
MLG has received research grant support from Pfizer and served as a member of the advisory board of Johnson & Johnson. MCM is on the speakers bureau, has served as a consultant to, and has received research support from Pfizer. NLB is a consultant to Pfizer and Achieve Life Sciences and has been a paid expert witness in litigation against tobacco companies. Other authors have no conflicts to declare.
Disclaimer
Information and the views and opinions expressed in this presentation are those of the author only and do not necessarily represent the views, official policy, or position of the U.S. Department of Health and Human Services or any of its affiliated institutions or agencies.
Additional information
Publisher's note
Springer Nature remains neutral with regard to jurisdictional claims in published maps and institutional affiliations.
Electronic supplementary material
About this article
Cite this article
Voos, N., Smith, D., Kaiser, L. et al. Effect of e-cigarette flavors on nicotine delivery and puffing topography: results from a randomized clinical trial of daily smokers. Psychopharmacology 237, 491–502 (2020). https://doi.org/10.1007/s00213-019-05386-x
Received:

Accepted:

Published:

Issue Date:
Keywords
E-cigarettes

Flavors

Electronic cigarettes

Vaping

Vaporizers

Nicotine