Access options
Buy single article
Instant access to the full article PDF.
US$ 39.95
Tax calculation will be finalised during checkout.
Subscribe to journal
Immediate online access to all issues from 2019. Subscription will auto renew annually.
US$ 119
Tax calculation will be finalised during checkout.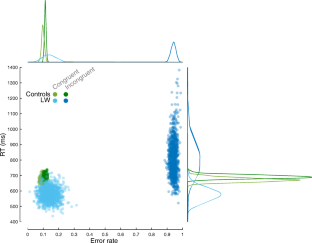 References
Brogaard B, Gatzia DE (2016) Psilocybin, LSD, mescaline and drug-induced synesthesia. In: Preedy VR (ed) Neuropathology of drug addictions and substance misuse. Academic Press, Elsevier, Amsterdam, NL, pp 890–905

Dixon MJ, Smilek D, Merikle PM (2004) Not all synaesthetes are created equal: projector versus associator synaesthetes. Cogn Affect Behav Neurosci 4:335–343

Eagleman DM, Kagan AD, Nelson SS, Sagaram D, Sarma AK (2007) A standardized test battery for the study of synesthesia. J Neurosci Methods 159:139–145

Litjens RP, Brunt TM, Alderliefste GJ, Westerink RH (2014) Hallucinogen persisting perception disorder and the serotonergic system: a comprehensive review including new MDMA-related clinical cases. Eur Neuropsychopharmacol 24:1309–1323

Luke DP, Terhune DB (2013) The induction of synaesthesia with chemical agents: a systematic review. Front Psychol 4:753

Luke D, Terhune D, Friday R (2012) Psychedelic synaesthesia: evidence for a serotonergic role in synaesthesia. Seeing Perceiving 25:74

Martinotti G, Santacroce R, Pettorruso M, Montemitro C, Spano MC, Lorusso M, di Giannantonio M, Lerner AG (2018) Hallucinogen persisting perception disorder: etiology, clinical features, and therapeutic perspectives. Brain Sci 8

Páleníček T, Fujáková M, Brunovský M, Horáček J, Gorman I, Balíková M, Rambousek L, Syslová K, Kačer P, Zach P, Bubeníková-Valešová V, Tylš F, Kubešová A, Puskarčíková J, Höschl C (2013) Behavioral, neurochemical and pharmaco-EEG profiles of the psychedelic drug 4-bromo-2,5-dimethoxyphenethylamine (2C-B) in rats. Psychopharmacology 225:75–93

Papaseit E, Farre M, Perez-Mana C, Torrens M, Ventura M, Pujadas M, de la Torre R, Gonzalez D (2018) Acute pharmacological effects of 2C-B in humans: an observational study. Front Pharmacol 9:206

Rothen N, Meier B (2014) Acquiring synaesthesia: insights from training studies. Front Hum Neurosci 8:109

Rothen N, Seth AK, Witzel C, Ward J (2013) Diagnosing synaesthesia with online colour pickers: maximising sensitivity and specificity. J Neurosci Methods 215:156–160

Shulgin A, Shulgin A (1990) PIHKAL: a chemical love story. Transform Press, Berkeley, CA

Skelton R, Ludwig C, Mohr C (2009) A novel, illustrated questionnaire to distinguish projector and associator synaesthetes. Cortex 45:721–729

Terhune DB, Tai S, Cowey A, Popescu T, Cohen Kadosh R (2011) Enhanced cortical excitability in grapheme-color synesthesia and its modulation. Curr Biol 21:2006–2009

Terhune DB, Murray E, Near J, Stagg CJ, Cowey A, Cohen Kadosh R (2015) Phosphene perception relates to visual cortex glutamate levels and covaries with atypical visuospatial awareness. Cereb Cortex 25:4341–4350

Terhune DB, Luke DP, Kaelen M, Bolstridge M, Feilding A, Nutt D, Carhart-Harris R, Ward J (2016) A placebo-controlled investigation of synaesthesia-like experiences under LSD. Neuropsychologia 88:28–34

Ward J (2013) Synesthesia. Annu Rev Psychol 64:49–75
Ethics declarations
Conflict of interest
The authors declare no conflicts of interests.
Additional information
Publisher's note
Springer Nature remains neutral with regard to jurisdictional claims in published maps and institutional affiliations.
Electronic supplementary material
About this article
Cite this article
Yanakieva, S., Luke, D.P., Jansari, A. et al. Acquired synaesthesia following 2C-B use. Psychopharmacology 236, 2287–2289 (2019). https://doi.org/10.1007/s00213-019-05242-y
Received:

Accepted:

Published:

Issue Date: