Abstract
Rationale
Antibiotics are commonly prescribed for infants. In addition to increasing concern about antibiotic resistance, there is a concern about the potential negative impact of antibiotics on the gut microbiota and health and development outcomes.
Objective
The aim of this study was to investigate the association between early life antibiotic exposure and later neurocognitive outcomes.
Methods
Participants were infants born to mothers enrolled in the probiotics study. The initial study was designed to evaluate the effect of two different probiotics on allergy outcomes in childhood. Antibiotic exposure was based on parent report and categorised according to the following timing of the first exposure: 0–6 months, 6–12 months, 12–24 months or not at all. At 11 years of age, children's neurocognitive outcomes were assessed using psychologist-administered, parent-report and self-report measures. The relationship between the timing of antibiotic exposure and neurocognitive outcomes was examined using regression models.
Results
Of the 474 participants initially enrolled, 342 (72%) children had a neurocognitive assessment at 11 years of age. After adjustment for mode of delivery, probiotic treatment group assignment, income and breastfeeding, children who had received antibiotics in the first 6 months of life had significantly lower overall cognitive and verbal comprehension abilities, increased risk of problems with metacognition, executive function, impulsivity, hyperactivity, attention-deficit hyperactivity disorder, anxiety and emotional problems.
Conclusions
These results provide further evidence that early exposure to antibiotics may be associated with detrimental neurodevelopmental outcomes.
Access options
Buy single article
Instant access to the full article PDF.
US$ 39.95
Tax calculation will be finalised during checkout.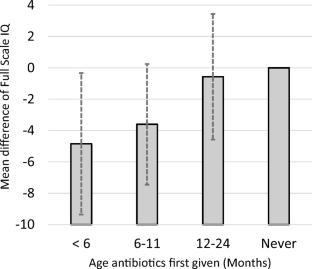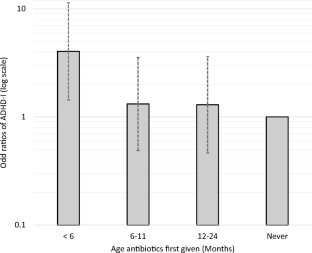 Funding
Funding for measuring the cognitive outcomes was provided by Fonterra Cooperative Group, New Zealand and Cure Kids New Zealand. Funding for the original probiotics study and follow-up was provided by the Health Research Council of New Zealand. EA Mitchell is supported by Cure Kids New Zealand. The funders had no role in the study design, data collection and analysis, the decision to publish or preparation of the manuscript.
Ethics declarations
The study was approved by the Central Health and Disability Ethics Committee (15/CEN/75/AM02). The parent or guardian and the child gave written consent.
Conflict interest
The authors declare that they have no conflict of interest.
Additional information
Publisher's note
Springer Nature remains neutral with regard to jurisdictional claims in published maps and institutional affiliations.
This article belongs to a Special Issue on Microbiome in Psychiatry & Psychopharmacology.
Electronic supplementary material
About this article
Cite this article
Slykerman, R.F., Coomarasamy, C., Wickens, K. et al. Exposure to antibiotics in the first 24 months of life and neurocognitive outcomes at 11 years of age. Psychopharmacology 236, 1573–1582 (2019). https://doi.org/10.1007/s00213-019-05216-0
Received:

Accepted:

Published:

Issue Date:
Keywords
Antibiotics

Gut-brain-axis

Neurodevelopment

Behaviour

Anxiety

Attention-deficit hyperactivity disorder