Abstract
Rationale
Microdosing psychedelics—the regular consumption of small amounts of psychedelic substances such as LSD or psilocybin—is a growing trend in popular culture. Recent studies on full-dose psychedelic psychotherapy reveal promising benefits for mental well-being, especially for depression and end-of-life anxiety. While full-dose therapies include perception-distorting properties, microdosing mayprovide complementary clinical benefits using lower-risk, non-hallucinogenic doses.
Objectives
This pre-registered study aimed to investigate whether microdosing psychedelics is related to differences in personality, mental health, and creativity.
Methods
In this observational study, respondents recruited from online forums self-reported their microdosing behaviors and completed questionnaires concerning dysfunctional attitudes, wisdom, negative emotionality, open-mindedness, and mood. Respondents also performed the Unusual Uses Task to assess their creativity.
Results
Current and former microdosers scored lower on measures of dysfunctional attitudes (p < 0.001, r = − 0.92) and negative emotionality (p = 0.009, r = − 0.85) and higher on wisdom (p < 0.001, r = 0.88), openmindedness(p = 0.027, r = 0.67), and creativity (p < 0.001, r = 0.15) when compared to non-microdosing controls.
Conclusions
These findings provide promising initial evidence that warrants controlled experimental research to directly test safety and clinical efficacy. As microdoses are easier to administer than full-doses, this new paradigm has the exciting potential to shape future psychedelic research.
This is a preview of subscription content, log in to check access.
Access options
Buy single article
Instant access to the full article PDF.
US$ 39.95
Price includes VAT for USA
Subscribe to journal
Immediate online access to all issues from 2019. Subscription will auto renew annually.
US$ 199
This is the net price. Taxes to be calculated in checkout.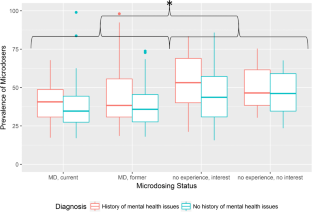 References
Adler AD, Strunk DR, Fazio RH (2015) What changes in cognitive therapy for depression? An examination of cognitive therapy skills and maladaptive beliefs. Behav Ther 46(1). Special series: advances in evidence-based intervention and assessment practices for youth with an autism spectrum disorder):96–109. https://doi.org/10.1016/j.beth.2014.09.001

Anderson T, Petranker R, Dinh-Williams L-A (2017) Demography of microdosing community survey. Available at: https://osf.io/g5cwy/ (accessed 6 July 2018)

Anderson T, Christopher A, Petranker R, et al. (2018) Benefits and drawbacks of microdosing psychedelics. Manuscript in preparation. Available at: osf.io/g5cwy

Bogenschutz MP, Forcehimes AA, Pommy JA, Wilcox CE, Barbosa PCR, Strassman RJ (2015) Psilocybin-assisted treatment for alcohol dependence: a proof-of-concept study. J Psychopharmacol 29(3):289–299. https://doi.org/10.1177/0269881114565144

Carbonaro TM, Bradstreet MP, Barrett FS, MacLean KA, Jesse R, Johnson MW, Griffiths RR (2016) Survey study of challenging experiences after ingesting psilocybin mushrooms: acute and enduring positive and negative consequences. J Psychopharmacol 30(12):1268–1278. https://doi.org/10.1177/0269881116662634

Carhart-Harris RL, Roseman L, Bolstridge M, Demetriou L, Pannekoek JN, Wall MB, Tanner M, Kaelen M, McGonigle J, Murphy K, Leech R, Curran HV, Nutt DJ (2017) Psilocybin for treatment-resistant depression: fMRI-measured brain mechanisms. Sci Rep 7(1):13187. https://doi.org/10.1038/s41598-017-13282-7

de Graaf LE, Roelofs J, Huibers MJH (2009) Measuring dysfunctional attitudes in the general population: the Dysfunctional Attitude Scale (form A) revised. Cogn Ther Res 33(4):345–355. https://doi.org/10.1007/s10608-009-9229-y

de Osório FL, Sanches RF, Macedo LR et al (2015) Antidepressant effects of a single dose of ayahuasca in patients with recurrent depression: a preliminary report. Rev Bras Psiquiatr 37(1):13–20. https://doi.org/10.1590/1516-4446-2014-1496

de Wit H, Phillips TJ (2012) Do initial responses to drugs predict future use or abuse? Neurosci Biobehav Rev 36(6):1565–1576. https://doi.org/10.1016/j.neubiorev.2012.04.005

Domínguez-Clavé E, Soler J, Elices M, Pascual JC, Álvarez E, de la Fuente Revenga M, Friedlander P, Feilding A, Riba J (2016) Ayahuasca: pharmacology, neuroscience and therapeutic potential. Brain Res Bull 126(Pt 1):89–101. https://doi.org/10.1016/j.brainresbull.2016.03.002

Dos Santos RG, Osório FL, Crippa JAS et al (2016) Antidepressive, anxiolytic, and antiaddictive effects of ayahuasca, psilocybin and lysergic acid diethylamide (LSD): a systematic review of clinical trials published in the last 25 years. Ther Adv Psychopharmacol 6(3):193–213. https://doi.org/10.1177/2045125316638008

Fadiman J (2011) The psychedelic explorer's guide. Park Street Press, Rochester

Fredrickson BL (2004) The broaden-and-build theory of positive emotions. Philos Trans R Soc Lond Ser B Biol Sci 359(1449):1367–1378. https://doi.org/10.1098/rstb.2004.1512

Glück J, König S, Naschenweng K, Redzanowski U, Dorner L, Straßer I, Wiedermann W (2013) How to measure wisdom: content, reliability, and validity of five measures. Front Psychol 4:405. https://doi.org/10.3389/fpsyg.2013.00405

Griffiths RR, Johnson MW, Richards WA, Richards BD, McCann U, Jesse R (2011) Psilocybin occasioned mystical-type experiences: immediate and persisting dose-related effects. Psychopharmacology 218(4):649–665. https://doi.org/10.1007/s00213-011-2358-5

Griffiths RR, Johnson MW, Carducci MA, Umbricht A, Richards WA, Richards BD, Cosimano MP, Klinedinst MA (2016) Psilocybin produces substantial and sustained decreases in depression and anxiety in patients with life-threatening cancer: a randomized double-blind trial. J Psychopharmacol 30(12):1181–1197. https://doi.org/10.1177/0269881116675513

Grinspoon L, Bakalar JB (1979) Psychedelic drugs reconsidered. Basic Books, New York

Gunnarsson M, Gustavsson P, Tengström A et al (2008) Personality traits and their associations with substance use among adolescents. Personal Individ Differ 45:356–360. https://doi.org/10.1016/j.paid.2008.05.004

Halpern JH, Pope HG (1999) Do hallucinogens cause residual neuropsychological toxicity? Drug Alcohol Depend 53(3):247–256. https://doi.org/10.1016/S0376-8716(98)00129-X

Hardaway R, Schweitzer J, Suzuki J (2016) Hallucinogen use disorders. Child Adolesc Psychiatr Clin N Am 25(3):489–496. https://doi.org/10.1016/j.chc.2016.03.006

Harrington DM (1975) Effects of explicit instructions to "be creative" on the psychological meaning of divergent thinking test scores1. J Pers 43(3):434–454

Jarrett RB, Minhajuddin A, Borman PD, Dunlap L, Segal ZV, Kidner CL, Friedman ES, Thase ME (2012) Cognitive reactivity, dysfunctional attitudes, and depressive relapse and recurrence in cognitive therapy responders. Behav Res Ther 50(5):280–286. https://doi.org/10.1016/j.brat.2012.01.008

Johnson MW, Garcia-Romeu A, Cosimano MP, Griffiths RR (2014) Pilot study of the 5-HT2AR agonist psilocybin in the treatment of tobacco addiction. J Psychopharmacol 28(11):983–992. https://doi.org/10.1177/0269881114548296

Johnson MW, Griffiths RR, Hendricks PS, Henningfield JE (2018) The abuse potential of medical psilocybin according to the 8 factors of the Controlled Substances Act. Neuropharmacology. https://doi.org/10.1016/j.neuropharm.2018.05.012

Kometer M, Pokorny T, Seifritz E, Volleinweider FX (2015) Psilocybin-induced spiritual experiences and insightfulness are associated with synchronization of neuronal oscillations. Psychopharmacology 232(19):3663–3676. https://doi.org/10.1007/s00213-015-4026-7

Krebs TS, Johansen P-Ø (2013) Psychedelics and mental health: a population study. PLoS One 8(8):e63972. https://doi.org/10.1371/journal.pone.0063972

Lahey BB (2009) Public health significance of neuroticism. Am Psychol 64(4):241–256. https://doi.org/10.1037/a0015309

Leonard A (2015) How LSD microdosing became the hot new business trip. In: Rolling stone. Available at: https://www.rollingstone.com/culture/culture-news/how-lsd-microdosing-became-the-hot-new-business-trip-64961/ (accessed 9 July 2018)

MacLean KA, Johnson MW, Griffiths RR (2011) Mystical experiences occasioned by the hallucinogen psilocybin lead to increases in the personality domain of openness. J Psychopharmacol 25(11):1453–1461. https://doi.org/10.1177/0269881111420188

Martinotti G, Santacroce R, Pettorruso M, et al (2018) Hallucinogen Persisting Perception Disorder: Etiology, Clinical Features, and Therapeutic Perspectives. Brain Sciences 8:47. https://doi.org/10.3390/brainsci8030047

Matejka J, Glueck M, Grossman T, et al. (2016) The effect of visual appearance on the performance of continuous sliders and visual analogue scales. In: Proceedings of the 2016 CHI conference on human factors in computing systems, New York, NY, USA, 2016, pp. 5421–5432. CHI '16. ACM. https://doi.org/10.1145/2858036.2858063

Moreno FA, Wiegand CB, Taitano EK, Delgado PL (2006) Safety, tolerability, and efficacy of psilocybin in 9 patients with obsessive-compulsive disorder. J Clin Psychiatry 67(11):1735–1740

Rosenbaum D, Weissman C, Hapke E, et al. (2018) Microdosing psychedelic substances: demographics, psychiatric comorbidities, and comorbid substance use. Manuscript in preparation. Manuscript submitted for publication. Available at: osf.io/g5cwy

Ross S, Bossis A, Guss J, Agin-Liebes G, Malone T, Cohen B, Mennenga SE, Belser A, Kalliontzi K, Babb J, Su Z, Corby P, Schmidt BL (2016) Rapid and sustained symptom reduction following psilocybin treatment for anxiety and depression in patients with life-threatening cancer: a randomized controlled trial. J Psychopharmacol 30(12):1165–1180. https://doi.org/10.1177/0269881116675512

Silvia PJ (2011) Subjective scoring of divergent thinking: examining the reliability of unusual uses, instances, and consequences tasks. Think Skills Creat 6(1):24–30. https://doi.org/10.1016/j.tsc.2010.06.001

Silvia PJ, Winterstein BP, Willse JT, Barona CM, Cram JT, Hess KI, Martinez JL, Richard CA (2008) Assessing creativity with divergent thinking tasks: exploring the reliability and validity of new subjective scoring methods. Psychol Aesthet Creat Arts 2(2):68–85. https://doi.org/10.1037/1931-3896.2.2.68

Solon O (2016) Under pressure, Silicon Valley workers turn to LSD microdosing. Wired UK, 24 August. Available at: http://www.wired.co.uk/article/lsd-microdosing-drugs-silicon-valley (accessed 9 July 2018)

Soto CJ, John OP (2017) The next Big Five Inventory (BFI-2): Developing and assessing a hierarchical model with 15 facets to enhance bandwidth, fidelity, and predictive power. Journal of Personality and Social Psychology 113:117–143. https://doi.org/10.1037/pspp0000096

Strassman RJ (2016) DMT: the spirit molecule: a doctor's revolutionary research into the biology of near-death and mystical experiences. Inner Traditions, Rochester

Terracciano A, Löckenhoff CE, Crum RM, Bienvenu OJ, Costa PT (2008) Five-factor model personality profiles of drug users. BMC Psychiatry 8:22. https://doi.org/10.1186/1471-244X-8-22

Trull TJ, Sher KJ (1994) Relationship between the five-factor model of personality and Axis I disorders in a nonclinical sample. J Abnorm Psychol 103(2):350–360. https://doi.org/10.1037/0021-843X.103.2.350

UNESCO Institute for Statistics (2011) International standard classification of education (ISCED) 2011. Available at: http://uis.unesco.org/sites/default/files/documents/international-standard-classification-of-education-isced-2011-en.pdf

van Amsterdam J, Opperhuizen A, van den Brink W (2011) Harm potential of magic mushroom use: a review. Regul Toxicol Pharmacol 59(3):423–429. https://doi.org/10.1016/j.yrtph.2011.01.006

Waldman A (2017) A really good day: how microdosing made a mega difference in my mood, my marriage, and my life, 1st edn. Knopf, New York

Weissman AN, Beck AT (1978) Development and validation of the dysfunctional attitude scale. Paper presented at the Annual meeting of the Association for the Advanced Behavior Therapy, Chicago, November.
Ethics declarations
Human participation was voluntary under informed consent, in accord with the Declaration of Helsinki, and was non-remunerative.
Conflict of interest
The authors declare that they have no conflict of interest.
Additional information
Publisher's Note
Springer Nature remains neutral with regard to jurisdictional claims in published maps and institutional affiliations.
About this article
Cite this article
Anderson, T., Petranker, R., Rosenbaum, D. et al. Microdosing psychedelics: personality, mental health, and creativity differences in microdosers. Psychopharmacology 236, 731–740 (2019). https://doi.org/10.1007/s00213-018-5106-2
Received:

Accepted:

Published:

Issue Date:
Keywords
Microdosing

Psychedelic

LSD

Psilocybin

Creativity

Dysfunctional Attitudes

Wisdom

Open Mindedness

Negative Emotionality

Preregistered