Abstract
Rationale
Previous studies report sex differences in some, but not all, responses to cannabinoids in rats. The majority of studies use parenteral injection; however, most human use is via smoke inhalation and, increasingly, vapor inhalation.
Objectives
To compare thermoregulatory and locomotor responses to inhaled ∆9-tetrahydrocannabinol (THC), cannabidiol (CBD), and their combination using an e-cigarette-based model in male and female rats
Methods
Male and female Wistar rats were implanted with radiotelemetry devices for the assessment of body temperature and locomotor activity. Animals were then exposed to THC or CBD vapor using a propylene glycol (PG) vehicle. THC dose was adjusted via the concentration in the vehicle (12.5–200 mg/mL) and the CBD (100, 400 mg/mL) dose was also adjusted by varying the inhalation duration (10–40 min). Anti-nociception was evaluated using a tail-withdrawal assay following vapor inhalation. Plasma samples obtained following inhalation in different groups of rats were compared for THC content.
Results
THC inhalation reduced body temperature and increased tail-withdrawal latency in both sexes equivalently and in a concentration-dependent manner. Female temperature, activity, and tail-withdrawal responses to THC did not differ between estrus and diestrus. CBD inhalation alone induced modest hypothermia and suppressed locomotor activity in both males and females. Co-administration of THC with CBD, in a 1:4 ratio, significantly decreased temperature and activity in an approximately additive manner and to similar extent in each sex. Plasma THC varied with the concentration in the PG vehicle but did not differ across rat sex.
Conclusion
In summary, the inhalation of THC or CBD, alone and in combination, produces approximately equivalent effects in male and female rats. This confirms the efficacy of the e-cigarette-based method of THC delivery in female rats.
Access options
Buy single article
Instant access to the full article PDF.
USD 39.95
Price excludes VAT (USA)
Tax calculation will be finalised during checkout.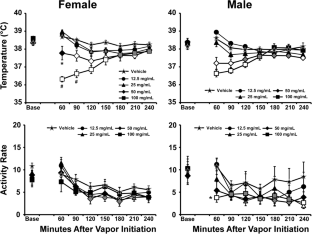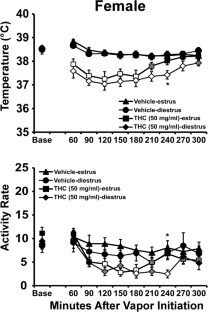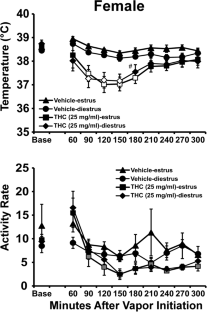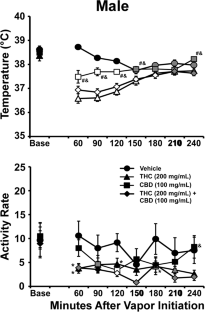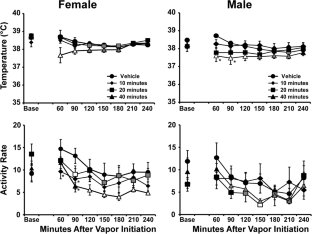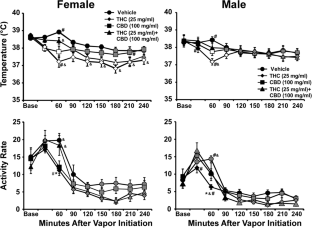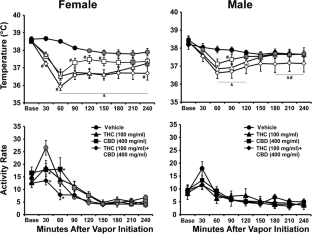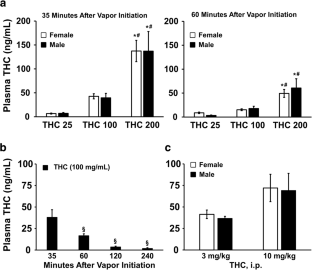 References
Aarde SM, Huang PK, Taffe MA (2017) High ambient temperature facilitates the acquisition of 3,4-methylenedioxymethamphetamine (MDMA) self-administration. Pharmacol Biochem Behav 163:38–49

Bishop KM, Wahlsten D (1999) Sex and species differences in mouse and rat forebrain commissures depend on the method of adjusting for brain size. Brain Res 815:358–366

Boggs DL, Nguyen JD, Morgenson D, Taffe MA, Ranganathan M (2018) Clinical and preclinical evidence for functional interactions of cannabidiol and delta(9)-tetrahydrocannabinol. Neuropsychopharmacology 43:142–154

Borgen LA, Lott GC, Davis WM (1973) Cannabis-induced hypothermia: a dose-effect comparison of crude marihuana extract and synthetic 9-tetrahydrocannabinol in male and female rats. Res Commun Chem Pathol Pharmacol 5:621–626

Burgdorf JR, Kilmer B, Pacula RL (2011) Heterogeneity in the composition of marijuana seized in California. Drug Alcohol Depend 117:59–61

Cocchetto DM, Owens SM, Perez-Reyes M, DiGuiseppi S, Miller LL (1981) Relationship between plasma delta-9-tetrahydrocannabinol concentration and pharmacologic effects in man. Psychopharmacology 75:158–164

Cohn RA, Barratt E, Pirch JH (1972) Differences in behavioral responses of male and female rats to marijuana. Proc Soc Exp Biol Med 140:1136–1139

Compton DR, Rice KC, De Costa BR, Razdan RK, Melvin LS, Johnson MR, Martin BR (1993) Cannabinoid structure-activity relationships: correlation of receptor binding and in vivo activities. J Pharmacol Exp Ther 265:218–226

Craft RM, Leitl MD (2008) Gonadal hormone modulation of the behavioral effects of Delta9-tetrahydrocannabinol in male and female rats. Eur J Pharmacol 578:37–42

Diaz S, Farhang B, Hoien J, Stahlman M, Adatia N, Cox JM, Wagner EJ (2009) Sex differences in the cannabinoid modulation of appetite, body temperature and neurotransmission at POMC synapses. Neuroendocrinology 89:424–440

Diehl KH, Hull R, Morton D, Pfister R, Rabemampianina Y, Smith D, Vidal JM, van de Vorstenbosch C (2001) A good practice guide to the administration of substances and removal of blood, including routes and volumes. J Appl Toxicol 21:15–23

Doperalski NJ, Sandhu MS, Bavis RW, Reier PJ, Fuller DD (2008) Ventilation and phrenic output following high cervical spinal hemisection in male vs. female rats. Respir Physiol Neurobiol 162:160–167

ElSohly MA, Mehmedic Z, Foster S, Gon C, Chandra S, Church JC (2016) Changes in cannabis potency over the last 2 decades (1995-2014): analysis of current data in the United States. Biol Psychiatry 79:613–619

Freeman ME (1988) The ovarian cycle of the rat. In: Knobil E, Neill JD (eds) The physiology of reproduction. Raven Press, New York, NY, pp 1893–1928

Fried PA, Nieman GW (1973) Inhalation of cannabis smoke in rats. Pharmacol Biochem Behav 1:371–378

Goldman JM, Murr AS, Cooper RL (2007) The rodent estrous cycle: characterization of vaginal cytology and its utility in toxicological studies. Birth Defects Res B Dev Reprod Toxicol 80:84–97

Hartman RL, Brown TL, Milavetz G, Spurgin A, Gorelick DA, Gaffney G, Huestis MA (2015) Controlled cannabis vaporizer administration: blood and plasma cannabinoids with and without alcohol. Clin Chem 61:850–869

Hayakawa K, Mishima K, Hazekawa M, Sano K, Irie K, Orito K, Egawa T, Kitamura Y, Uchida N, Nishimura R, Egashira N, Iwasaki K, Fujiwara M (2008) Cannabidiol potentiates pharmacological effects of delta(9)-tetrahydrocannabinol via CB(1) receptor-dependent mechanism. Brain Res 1188:157–164

Huestis MA, Henningfield JE, Cone EJ (1992) Blood cannabinoids. I. Absorption of THC and formation of 11-OH-THC and THCCOOH during and after smoking marijuana. J Anal Toxicol 16:276–282

Irimia C, Polis IY, Stouffer D, Parsons LH (2015) Persistent effects of chronic Delta9-THC exposure on motor impulsivity in rats. Psychopharmacology 232:3033–3043

Javadi-Paydar M, Nguyen JD, Vandewater SA, Dickerson TJ, Taffe MA (2018) Locomotor and reinforcing effects of pentedrone, pentylone and methylone in rats. Neuropharmacology 134:57–64

Lacroix C, Saussereau E (2012) Fast liquid chromatography/tandem mass spectrometry determination of cannabinoids in micro volume blood samples after dabsyl derivatization. J Chromatogr B Analyt Technol Biomed Life Sci 905:85–95

Lichtman AH, Peart J, Poklis JL, Bridgen DT, Razdan RK, Wilson DM, Poklis A, Meng Y, Byron PR, Martin BR (2000) Pharmacological evaluation of aerosolized cannabinoids in mice. Eur J Pharmacol 399:141–149

Lichtman AH, Poklis JL, Poklis A, Wilson DM, Martin BR (2001) The pharmacological activity of inhalation exposure to marijuana smoke in mice. Drug Alcohol Depend 63:107–116

Manwell LA, Charchoglyan A, Brewer D, Matthews BA, Heipel H, Mallet PE (2014) A vaporized delta-tetrahydrocannabinol (delta-THC) delivery system part I: development and validation of a pulmonary cannabinoid route of exposure for experimental pharmacology studies in rodents. J Pharmacol Toxicol Methods 70:120–127. https://doi.org/10.1016/j.vascn.2014.06.006

Martin BR, Compton DR, Thomas BF, Prescott WR, Little PJ, Razdan RK, Johnson MR, Melvin LS, Mechoulam R, Ward SJ (1991) Behavioral, biochemical, and molecular modeling evaluations of cannabinoid analogs. Pharmacol Biochem Behav 40:471–478

Marusich JA, Lefever TW, Antonazzo KR, Craft RM, Wiley JL (2014) Evaluation of sex differences in cannabinoid dependence. Drug Alcohol Depend 137:20–28

Mathew RJ, Wilson WH, Davis R (2003) Postural syncope after marijuana: a transcranial Doppler study of the hemodynamics. Pharmacol Biochem Behav 75:309–318

McDonald J, Schleifer L, Richards JB, de Wit H (2003) Effects of THC on behavioral measures of impulsivity in humans. Neuropsychopharmacology 28:1356–1365

Morean ME, Kong G, Camenga DR, Cavallo DA, Krishnan-Sarin S (2015) High school students' use of electronic cigarettes to vaporize cannabis. Pediatrics 136:611–616

Morgan CJ, Schafer G, Freeman TP, Curran HV (2010) Impact of cannabidiol on the acute memory and psychotomimetic effects of smoked cannabis: naturalistic study: naturalistic study [corrected]. Br J Psychiatry 197:285–290

Naef M, Russmann S, Petersen-Felix S, Brenneisen R (2004) Development and pharmacokinetic characterization of pulmonal and intravenous delta-9-tetrahydrocannabinol (THC) in humans. J Pharm Sci 93:1176–1184

National Research Council (U.S.), Committee for the Update of the Guide for the Care and Use of Laboratory Animals, Institute for Laboratory Animal Research (U.S.), National Academies Press (U.S.) (2011) Guide for the care and use of laboratory animals: Eigth Edition. National Academies Press, Washington, D.C., p xxv 220 p

Nguyen JD, Aarde SM, Cole M, Vandewater SA, Grant Y, Taffe MA (2016a) Locomotor stimulant and rewarding effects of inhaling methamphetamine, MDPV, and mephedrone via electronic cigarette-type technology. Neuropsychopharmacology 41:2759–2771

Nguyen JD, Aarde SM, Vandewater SA, Grant Y, Stouffer DG, Parsons LH, Cole M, Taffe MA (2016b) Inhaled delivery of delta(9)-tetrahydrocannabinol (THC) to rats by e-cigarette vapor technology. Neuropharmacology 109:112–120

Nguyen JD, Creehan KM, Grant Y, Vandewater SA, Cole M, Taffe MA (2017) Repeated vapor inhalation of ∆9-tetrahydrocannabinol induces tolerance to hypothermia in female rats. BioRxiv, https://www.biorxiv.org/content/early/2017/08/04/172759

Niyuhire F, Varvel SA, Martin BR, Lichtman AH (2007) Exposure to marijuana smoke impairs memory retrieval in mice. J Pharmacol Exp Ther 322:1067–1075

Peace MR, Butler KE, Wolf CE, Poklis JL, Poklis A (2016) Evaluation of two commercially available cannabidiol formulations for use in electronic cigarettes. Front Pharmacol 7:279

Pertwee RG (2008) The diverse CB1 and CB2 receptor pharmacology of three plant cannabinoids: delta9-tetrahydrocannabinol, cannabidiol and delta9-tetrahydrocannabivarin. Br J Pharmacol 153:199–215

Pope HG Jr, Jacobs A, Mialet JP, Yurgelun-Todd D, Gruber S (1997) Evidence for a sex-specific residual effect of cannabis on visuospatial memory. Psychother Psychosom 66:179–184

Probst RJ, Lim JM, Bird DN, Pole GL, Sato AK, Claybaugh JR (2006) Gender differences in the blood volume of conscious Sprague-Dawley rats. J Am Assoc Lab Anim Sci 45:49–52

Radwan MM, Elsohly MA, Slade D, Ahmed SA, Khan IA, Ross SA (2009) Biologically active cannabinoids from high-potency Cannabis sativa. J Nat Prod 72:906–911

Rodriguez de Fonseca F, Cebeira M, Ramos JA, Martin M, Fernandez-Ruiz JJ (1994) Cannabinoid receptors in rat brain areas: sexual differences, fluctuations during estrous cycle and changes after gonadectomy and sex steroid replacement. Life Sci 54:159–170

Romero EM, Fernandez B, Sagredo O, Gomez N, Uriguen L, Guaza C, De Miguel R, Ramos JA, Viveros MP (2002) Antinociceptive, behavioural and neuroendocrine effects of CP 55,940 in young rats. Brain Res Dev Brain Res 136:85–92

Roof RL, Hall ED (2000) Estrogen-related gender difference in survival rate and cortical blood flow after impact-acceleration head injury in rats. J Neurotrauma 17:1155–1169

Rubino T, Vigano D, Realini N, Guidali C, Braida D, Capurro V, Castiglioni C, Cherubino F, Romualdi P, Candeletti S, Sala M, Parolaro D (2008) Chronic delta 9-tetrahydrocannabinol during adolescence provokes sex-dependent changes in the emotional profile in adult rats: behavioral and biochemical correlates. Neuropsychopharmacology 33:2760–2771

Taffe MA, Creehan KM, Vandewater SA (2015) Cannabidiol fails to reverse hypothermia or locomotor suppression induced by delta(9)-tetrahydrocannabinol in Sprague-Dawley rats. Br J Pharmacol 172:1783–1791

Tseng AH, Craft RM (2001) Sex differences in antinociceptive and motoric effects of cannabinoids. Eur J Pharmacol 430:41–47

Tseng AH, Harding JW, Craft RM (2004) Pharmacokinetic factors in sex differences in delta 9-tetrahydrocannabinol-induced behavioral effects in rats. Behav Brain Res 154:77–83

Varvel SA, Wiley JL, Yang R, Bridgen DT, Long K, Lichtman AH, Martin BR (2006) Interactions between THC and cannabidiol in mouse models of cannabinoid activity. Psychopharmacology 186:226–234

Wakley AA, Craft RM (2011) Antinociception and sedation following intracerebroventricular administration of delta(9)-tetrahydrocannabinol in female vs. male rats. Behav Brain Res 216:200–206

Wakley AA, McBride AA, Vaughn LK, Craft RM (2014a) Cyclic ovarian hormone modulation of supraspinal delta9-tetrahydrocannabinol-induced antinociception and cannabinoid receptor binding in the female rat. Pharmacol Biochem Behav 124:269–277

Wakley AA, Wiley JL, Craft RM (2014b) Sex differences in antinociceptive tolerance to delta-9-tetrahydrocannabinol in the rat. Drug Alcohol Depend 143:22–28

Wall ME, Sadler BM, Brine D, Taylor H, Perez-Reyes M (1983) Metabolism, disposition, and kinetics of delta-9-tetrahydrocannabinol in men and women. Clin Pharmacol Ther 34:352–363

Wiley JL, O'Connell MM, Tokarz ME, Wright MJ Jr (2007) Pharmacological effects of acute and repeated administration of delta(9)-tetrahydrocannabinol in adolescent and adult rats. J Pharmacol Exp Ther 320:1097–1105

Wilson DM, Peart J, Martin BR, Bridgen DT, Byron PR, Lichtman AH (2002) Physiochemical and pharmacological characterization of a delta(9)-THC aerosol generated by a metered dose inhaler. Drug Alcohol Depend 67:259–267

Wright MJ Jr, Vandewater SA, Taffe MA (2013) Cannabidiol attenuates deficits of visuospatial associative memory induced by delta(9) tetrahydrocannabinol. Br J Pharmacol 170:1365–1373

Zuardi AW, Hallak JE, Crippa JA (2012) Interaction between cannabidiol (CBD) and (9)-tetrahydrocannabinol (THC): influence of administration interval and dose ratio between the cannabinoids. Psychopharmacology 219:247–249
Acknowledgements
The authors are grateful to Mr. Howard Britton for prototyping and fabrication of inhalation equipment and to Arnold Gutierrez, Ph.D., for comments on the manuscript draft. This is manuscript #29416 from The Scripps Research Institute.
Funding
This work was funded by support from the United States Public Health Service National Institutes of Health (R01 DA024105, R01 DA035482, and R44 DA041967) which had no direct input on the design, conduct, analysis, or publication of the findings.
Ethics declarations
All procedures were conducted in the animals' dark (active) cycle under protocols approved by the Institutional Care and Use Committee of The Scripps Research Institute and in a manner consistent with the Guide for the Care and Use of Laboratory Animals (National Research Council (U.S.). Committee for the Update of the Guide for the Care and Use of Laboratory Animals. et al. 2011).
Conflict of interest
MJP was supported in part by T32 AA007456. MC is proprietor of La Jolla Alcohol Research, Inc. and PI of the SBIR grant (R44 DA041967) supporting further commercialization of the inhalation equipment. The other authors declare that they have no competing interests.
About this article
Cite this article
Javadi-Paydar, M., Nguyen, J.D., Kerr, T.M. et al. Effects of Δ9-THC and cannabidiol vapor inhalation in male and female rats. Psychopharmacology 235, 2541–2557 (2018). https://doi.org/10.1007/s00213-018-4946-0
Received:

Accepted:

Published:

Issue Date:

DOI: https://doi.org/10.1007/s00213-018-4946-0
Keywords
e-cigarette

Cannabidiol

Hypothermia

Locomotor activity

Sex differences