Abstract
Rationale
Gambling disorder is a growing societal concern, as recognized by its recent classification as an addictive disorder in the DSM-5. Case reports have shown that disulfiram reduces gambling-related behavior in humans.
Objectives
The purpose of the present study was to determine whether disulfiram affects performance on a rat gambling task, a rodent version of the Iowa gambling task in humans, and whether any changes were associated with alterations in dopamine and/or norepinephrine levels.
Methods
Rats were administered disulfiram prior to testing on the rat gambling task or prior to analysis of dopamine or norepinephrine levels in brain homogenates. Rats in the behavioral task were divided into two subgroups (optimal vs suboptimal) based on their baseline levels of performance in the rat gambling task. Rats in the optimal group chose the advantageous strategy more, and rats in the suboptimal group (a parallel to problem gambling) chose the disadvantageous strategy more. Rats were not divided into optimal or suboptimal groups prior to neurochemical analysis.
Results
Disulfiram administered 2 h, but not 30 min, before the task dose-dependently improved choice behavior in the rats with an initial disadvantageous "gambling-like" strategy, while having no effect on the rats employing an advantageous strategy. The behavioral effects of disulfiram were associated with increased striatal dopamine and decreased striatal norepinephrine.
Conclusions
These findings suggest that combined actions on dopamine and norepinephrine may be a useful treatment for gambling disorders.
This is a preview of subscription content, log in to check access.
Access options
Buy single article
Instant access to the full article PDF.
US$ 39.95
Price includes VAT for USA
Subscribe to journal
Immediate online access to all issues from 2019. Subscription will auto renew annually.
US$ 199
This is the net price. Taxes to be calculated in checkout.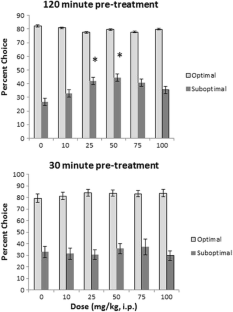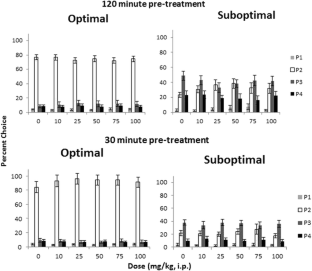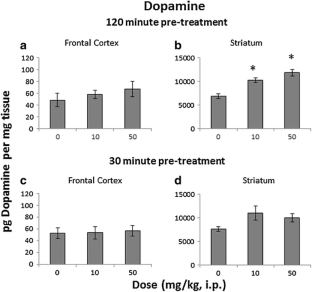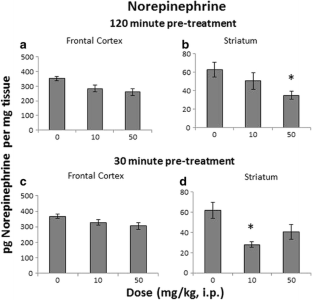 References
American Psychiatric Association (2013) Diagnostic and statistical manual of mental disorders, fifth edition, DSM-5. In: American Psychiatric Association (5th ed.)

Baarendse PJ, Winstanley CA, Vanderschuren LJ (2013) Simultaneous blockade of dopamine and noradrenaline reuptake promotes disadvantageous decision making in a rat gambling task. Psychopharmacology 225:719–731

Barnum CJ, Bhide N, Lindenbach D, Surrena MA, Goldenberg AA, Tignor S, Klioueva A, Walters H, Bishop C (2012) Effects of noradrenergic denervation on L-DOPA-induced dyskinesia and its treatment by alpha- and beta-adrenergic receptor antagonists in hemiparkinsonian rats. Pharmacol Biochem Behav 100:607–615

Bechara A, Damasio AR, Damasio H, Anderson SW (1994) Insensitivity to future consequences following damage to human prefrontal cortex. Cognition 50:7–15

Berridge CW, Stratford TL, Foote SL, Kelley AE (1997) Distribution of dopamine beta-hydroxylase-like immunoreactive fibers within the shell subregion of the nucleus accumbens. Synapse 27:230–241

Biernacki K, McLennan SN, Terrett G, Labuschagne I, Rendell PG (2016) Decision-making ability in current and past users of opiates: a meta-analysis. Neurosci Biobehav Rev 71:342–351

Boileau I, Payer D, Chugani B, Lobo D, Behzadi A, Rusjan PM, Houle S, Wilson AA, Warsh J, Kish SJ, Zack M (2013) The D2/3 dopamine receptor in pathological gambling: a positron emission tomography study with [(11) C]-(+)-propyl-hexahydro-naphtho-oxazin and [(11) C]raclopride. Addiction 108:953–963

Bourdelat-Parks BN, Anderson GM, Donaldson ZR, Weiss JM, Bonsall RW, Emery MS, Liles LC, Weinshenker D (2005) Effects of dopamine beta-hydroxylase genotype and disulfiram inhibition on catecholamine homeostasis in mice. Psychopharmacology 183:72–80

Carroll KM, Fenton LR, Ball SA, Nich C, Frankforter TL, Shi J, Rounsaville BJ (2004) Efficacy of disulfiram and cognitive behavior therapy in cocaine-dependent outpatients: a randomized placebo-controlled trial. Arch Gen Psychiatry 61:264–272

Clark L, Stokes PR, Wu K, Michalczuk R, Benecke A, Watson BJ, Egerton A, Piccini P, Nutt DJ, Bowden-Jones H, Lingford-Hughes AR (2012) Striatal dopamine D(2)/D(3) receptor binding in pathological gambling is correlated with mood-related impulsivity. NeuroImage 63:40–46

Cocker P, Rogers R, Le Foll B, Winstanley C (2011) Dopamine D4 receptors influence "near-miss"-like errors on a rodent slot machine task. American College of Neuropsychopharmacology 50th Annual Conference, Kona, Hawaii

Cocker PJ, Le Foll B, Rogers RD, Winstanley CA (2013) A selective role for dopamine D receptors in modulating reward expectancy in a rodent slot machine task. Biol Psychiatry

Colombo G, Maccioni P, Vargiolu D, Loi B, Lobina C, Zaru A, Carai MA, Gessa GL (2014) The dopamine beta-hydroxylase inhibitor, nepicastat, reduces different alcohol-related behaviors in rats. Alcohol Clin Exp Res 38:2345–2353

de Visser L, Homberg JR, Mitsogiannis M, Zeeb FD, Rivalan M, Fitoussi A, Galhardo V, van den Bos R, Winstanley CA, Dellu-Hagedorn F (2011) Rodent versions of the Iowa gambling task: opportunities and challenges for the understanding of decision-making. Front Neurosci 5:109

Delfs JM, Zhu Y, Druhan JP, Aston-Jones GS (1998) Origin of noradrenergic afferents to the shell subregion of the nucleus accumbens: anterograde and retrograde tract-tracing studies in the rat. Brain Res 806:127–140

Devoto P, Flore G, Saba P, Cadeddu R, Gessa GL (2012) Disulfiram stimulates dopamine release from noradrenergic terminals and potentiates cocaine-induced dopamine release in the prefrontal cortex. Psychopharmacology 219:1153–1164

Di Ciano P, Le Foll B (2016) Evaluating the impact of naltrexone on the rat gambling task to test its predictive validity for gambling disorder. PLoS One 11:e0155604

Di Ciano P, Pushparaj A, Kim A, Hatch J, Masood T, Ramzi A, Khaled MA, Boileau I, Winstanley CA, Le Foll B (2015) The impact of selective dopamine D2, D3 and D4 ligands on the rat gambling task. PLoS One 10:e0136267

Evens R, Hoefler M, Biber K, Lueken U (2016) The Iowa gambling task in Parkinson's disease: a meta-analysis on effects of disease and medication. Neuropsychologia 91:163–172

Faiman MD, Artman L, Haya K (1980) Disulfiram distribution and elimination in the rat after oral and intraperitoneal administration. Alcohol Clin Exp Res 4:412–419

Faiman MD, Kaul S, Latif SA, Williams TD, Lunte CE (2013) S-(N, N-diethylcarbamoyl)glutathione (carbamathione), a disulfiram metabolite and its effect on nucleus accumbens and prefrontal cortex dopamine, GABA, and glutamate: a microdialysis study. Neuropharmacology 75:95–105

Forget B, Hamon M, Thiebot MH (2009) Involvement of alpha1-adrenoceptors in conditioned place preference supported by nicotine in rats. Psychopharmacology 205:503–515

Forget B, Wertheim C, Mascia P, Pushparaj A, Goldberg SR, Le Foll B (2010) Noradrenergic alpha1 receptors as a novel target for the treatment of nicotine addiction. Neuropsychopharmacology 35:1751–1760

Garrido I, Subira S (2013) Decision-making and impulsivity in eating disorder patients. Psychiatry Res 207:107–112

Gaval-Cruz M, Weinshenker D (2009) Mechanisms of disulfiram-induced cocaine abstinence: antabuse and cocaine relapse. Mol Interv 9:175–187

George TP, Chawarski MC, Pakes J, Carroll KM, Kosten TR, Schottenfeld RS (2000) Disulfiram versus placebo for cocaine dependence in buprenorphine-maintained subjects: a preliminary trial. Biol Psychiatry 47:1080–1086

Gobert A, Billiras R, Cistarelli L, Millan MJ (2004) Quantification and pharmacological characterization of dialysate levels of noradrenaline in the striatum of freely-moving rats: release from adrenergic terminals and modulation by alpha2-autoreceptors. J Neurosci Methods 140:141–152

Goldstein M, Nakajima K (1967) The effect of disulfiram on catecholamine levels in the brain. J Pharmacol Exp Ther 157:96–102

Grant JE, Odlaug BL, Schreiber LR (2014) Pharmacological treatments in pathological gambling. Br J Clin Pharmacol 77:375–381

Greenwell TN, Walker BM, Cottone P, Zorrilla EP, Koob GF (2009) The alpha1 adrenergic receptor antagonist prazosin reduces heroin self-administration in rats with extended access to heroin administration. Pharmacol Biochem Behav 91:295–302

Gueye AB, Trigo JM, Vemuri KV, Makriyannis A, Le Foll B (2016) Effects of various cannabinoid ligands on choice behaviour in a rat model of gambling. Behav Pharmacol 27:258–269

Hart BW, Faiman MD (1994) In vivo pharmacodynamic studies of the disulfiram metabolite S-methyl N,N-diethylthiolcarbamate sulfoxide: inhibition of liver aldehyde dehydrogenase. Alcohol Clin Exp Res 18:340–345

Karamanakos PN, Pappas P, Stephanou P, Marselos M (2001) Differentiation of disulfiram effects on central catecholamines and hepatic ethanol metabolism. Pharmacol Toxicol 88:106–110

Kodaira M, Iwadare Y, Ushijima H, Oiji A, Kato M, Sugiyama N, Sasayama D, Usami M, Watanabe K, Saito K (2012) Poor performance on the Iowa gambling task in children with obsessive-compulsive disorder. Ann General Psychiatry 11:25

Kosten TR, Wu G, Huang W, Harding MJ, Hamon SC, Lappalainen J, Nielsen DA (2013) Pharmacogenetic randomized trial for cocaine abuse: disulfiram and dopamine beta-hydroxylase. Biol Psychiatry 73:219–224

Le Foll B, Wilson AA, Graff A, Boileau I, Di Ciano P (2014) Recent methods for measuring dopamine D3 receptor occupancy in vivo: importance for drug development. Front Pharmacol 5:161

Lindenbach D, Ostock CY, Eskow Jaunarajs KL, Dupre KB, Barnum CJ, Bhide N, Bishop C (2011) Behavioral and cellular modulation of L-DOPA-induced dyskinesia by beta-adrenoceptor blockade in the 6-hydroxydopamine-lesioned rat. J Pharmacol Exp Ther 337:755–765

Linnet J, Rojskjaer S, Nygaard J, Maher BA (2006) Episodic chasing in pathological gamblers using the Iowa gambling task. Scand J Psychol 47:43–49

Lipsky JJ, Shen ML, Naylor S (2001) Overview—in vitro inhibition of aldehyde dehydrogenase by disulfiram and metabolites. Chem Biol Interact 130-132:81–91

Meyer G, Schwertfeger J, Exton MS, Janssen OE, Knapp W, Stadler MA, Schedlowski M, Kruger TH (2004) Neuroendocrine response to casino gambling in problem gamblers. Psychoneuroendocrinology 29:1272–1280

Muller CA, Banas R, Heinz A, Hein J (2011) Treatment of pathological gambling with disulfiram: a report of 2 cases. Pharmacopsychiatry 44:81–83

Musacchio JM, Goldstein M, Anagnoste B, Poch G, Kopin IJ (1966) Inhibition of dopamine-beta-hydroxylase by disulfiram in vivo. J Pharmacol Exp Ther 152:56–61

Mutschler J, Buhler M, Diehl A, Mann K, Kiefer F (2010a) Disulfiram, an old drug with new potential in the treatment of pathological gambling? Med Hypotheses 74:209–210

Mutschler J, Buhler M, Grosshans M, Diehl A, Mann K, Kiefer F (2010b) Disulfiram, an option for the treatment of pathological gambling? Alcohol Alcohol 45:214–216

Pallanti S, Bernardi S, Allen A, Chaplin W, Watner D, DeCaria CM, Hollander E (2010) Noradrenergic function in pathological gambling: blunted growth hormone response to clonidine. J Psychopharmacol 24:847–853

Paxinos G, Watson C (1986) The rat brain in stereotaxic coordinates. Academic Press, Australia

Petrakis IL, Carroll KM, Nich C, Gordon LT, McCance-Katz EF, Frankforter T, Rounsaville BJ (2000) Disulfiram treatment for cocaine dependence in methadone-maintained opioid addicts. Addiction 95:219–228

Petry NM (2001) Substance abuse, pathological gambling, and impulsiveness. Drug Alcohol Depend 63:29–38

Pushparaj A, Kim AS, Musiol M, Trigo JM, Le Foll B (2015) Involvement of the rostral agranular insular cortex in nicotine self-administration in rats. Behav Brain Res 290:77–83

Robbins TW (2002) The 5-choice serial reaction time task: behavioural pharmacology and functional neurochemistry. Psychopharmacology 163:362–380

Roy A, Adinoff B, Roehrich L, Lamparski D, Custer R, Lorenz V, Barbaccia M, Guidotti A, Costa E, Linnoila M (1988) Pathological gambling. A psychobiological study. Arch Gen Psychiatry 45:369–373

Schroeder JP, Cooper DA, Schank JR, Lyle MA, Gaval-Cruz M, Ogbonmwan YE, Pozdeyev N, Freeman KG, Iuvone PM, Edwards GL, Holmes PV, Weinshenker D (2010) Disulfiram attenuates drug-primed reinstatement of cocaine seeking via inhibition of dopamine beta-hydroxylase. Neuropsychopharmacology 35:2440–2449

Schroeder JP, Epps SA, Grice TW, Weinshenker D (2013) The selective dopamine beta-hydroxylase inhibitor nepicastat attenuates multiple aspects of cocaine-seeking behavior. Neuropsychopharmacology 38:1032–1038

Seedat S, Kesler S, Niehaus DJ, Stein DJ (2000) Pathological gambling behaviour: emergence secondary to treatment of Parkinson's disease with dopaminergic agents. Depression and anxiety 11:185–186

Shinohara K, Yanagisawa A, Kagota Y, Gomi A, Nemoto K, Moriya E, Furusawa E, Furuya K, Terasawa K (1999) Physiological changes in Pachinko players; beta-endorphin, catecholamines, immune system substances and heart rate. Appl Hum Sci 18:37–42

Sofuoglu M, Kosten TR (2006) Emerging pharmacological strategies in the fight against cocaine addiction. Expert opinion on emerging drugs 11:91–98

Song CH, Fan X, Exeter CJ, Hess EJ, Jinnah HA (2012) Functional analysis of dopaminergic systems in a DYT1 knock-in mouse model of dystonia. Neurobiol Dis 48:66–78

Stephan RA, Alhassoon OM, Allen KE, Wollman SC, Hall M, Thomas WJ, Gamboa JM, Kimmel C, Stern M, Sari C, Dalenberg CJ, Sorg SF, Grant I (2017) Meta-analyses of clinical neuropsychological tests of executive dysfunction and impulsivity in alcohol use disorder. Am J Drug Alcohol Abuse 43:24–43

Suh JJ, Pettinati HM, Kampman KM, O'Brien CP (2006) The status of disulfiram: a half of a century later. J Clin Psychopharmacol 26:290–302

Swanson LW, Hartman BK (1975) The central adrenergic system. An immunofluorescence study of the location of cell bodies and their efferent connections in the rat utilizing dopamine-beta-hydroxylase as a marker. J Comp Neurol 163:467–505

Walker BM, Rasmussen DD, Raskind MA, Koob GF (2008) Alpha1-noradrenergic receptor antagonism blocks dependence-induced increases in responding for ethanol. Alcohol 42:91–97

Wee S, Mandyam CD, Lekic DM, Koob GF (2008) Alpha 1-noradrenergic system role in increased motivation for cocaine intake in rats with prolonged access. Eur Neuropsychopharmacol 18:303–311

Weinshenker D, Schroeder JP (2007) There and back again: a tale of norepinephrine and drug addiction. Neuropsychopharmacology 32:1433–1451

Weintraub D, Siderowf AD, Potenza MN, Goveas J, Morales KH, Duda JE, Moberg PJ, Stern MB (2006) Association of dopamine agonist use with impulse control disorders in Parkinson disease. Arch Neurol 63:969–973

Winefield RD, Heemskerk AA, Kaul S, Williams TD, Caspers MJ, Prisinzano TE, McCance-Katz EF, Lunte CE, Faiman MD (2015) N-acetyl-S-(N,N-diethylcarbamoyl) cysteine in rat nucleus accumbens, medial prefrontal cortex, and in rat and human plasma after disulfiram administration. J Pharm Biomed Anal 107:518–525

Winstanley CA, Cocker PJ, Rogers RD (2011) Dopamine modulates reward expectancy during performance of a slot machine task in rats: evidence for a 'near-miss' effect. Neuropsychopharmacology 36:913–925

Zeeb FD, Robbins TW, Winstanley CA (2009) Serotonergic and dopaminergic modulation of gambling behavior as assessed using a novel rat gambling task. Neuropsychopharmacology 34:2329–2343

Zhang XY, Kosten TA (2005) Prazosin, an alpha-1 adrenergic antagonist, reduces cocaine-induced reinstatement of drug-seeking. Biol Psychiatry 57:1202–1204
Acknowledgements
We thank Doug Bernhard for his technical assistance with the HPLC system.
Funding
The current study was funded through a mid-level grant provided by the Ontario Problem Gambling Research Council to PDC and BLF and by the National Institute of Drug Abuse (DA038453 to DW) and the National Institute of Neurological Disorders and Stroke (NS088528 to EJH).
Ethics declarations
This study was carried out in strict accordance with the recommendations by the Canadian Council on Animal Care. The protocol was approved by the Centre for Addiction and Mental Health Animal Care Committee.
Conflict of interest
The authors declare that they have no conflicts of interest.
About this article
Cite this article
Di Ciano, P., Manvich, D.F., Pushparaj, A. et al. Effects of disulfiram on choice behavior in a rodent gambling task: association with catecholamine levels. Psychopharmacology 235, 23–35 (2018). https://doi.org/10.1007/s00213-017-4744-0
Received:

Accepted:

Published:

Issue Date:
Keywords
Norepinephrine

Dopamine

Gambling

Antabuse