Abstract
Rationale and objectives
The amino acid l-theanine (N-ethyl-l-glutamine) has historically been considered a relaxing agent. In the present study, we examined the effects of repeated l-theanine administration on behavior, levels of amino acids in the cerebrospinal fluid (CSF), and hippocampal activity in Wistar Kyoto (WKY) rats, an animal model of anxiety and depressive disorders.
Methods
Behavioral tests were performed after 7–10 days of l-theanine (0.4 mg kg−1 day−1) or saline administration, followed by CSF sampling for high-performance liquid chromatography (HPLC) analysis. An independent set of animals was subjected to [18F]fluorodeoxyglucose positron emission tomography (PET) scanning after the same dose of l-theanine or saline administration for 7 days.
Results
In the elevated plus maze test, the time spent in the open arms was significantly longer in the l-theanine group than in the saline group (P = 0.035). In addition, significantly lower CSF glutamate (P = 0.039) and higher methionine (P = 0.024) concentrations were observed in the l-theanine group than in the saline group. A significant increase in the standard uptake value ratio was observed in the hippocampus/cerebellum of the l-theanine group (P < 0.001).
Conclusions
These results suggest that l-theanine enhances hippocampal activity and exerts anxiolytic effects, which may be mediated by changes in glutamate and methionine levels in the brain. Further study is required to more fully elucidate the mechanisms underlying the effects of l-theanine.
Access options
Buy single article
Instant access to the full article PDF.
US$ 39.95
Tax calculation will be finalised during checkout.
Subscribe to journal
Immediate online access to all issues from 2019. Subscription will auto renew annually.
US$ 119
Tax calculation will be finalised during checkout.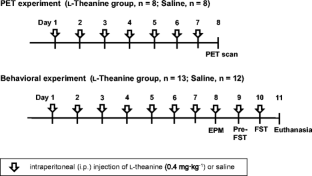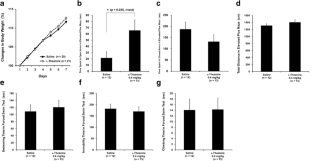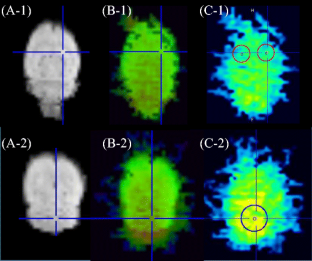 References
Almeida RF, Comasseto DD, Ramos DB, Hansel G, Zimmer ER, Loureiro SO, Ganzella M, Souza DO (2017) Guanosine anxiolytic-like effect involves adenosinergic and glutamatergic neurotransmitter systems. Mol Neurobiol 54:423–436

Borzelleca JF, Peters D, Hall W (2006) A 13-week dietary toxicity and toxicokinetic study with l-theanine in rats. Food Chem Toxicol 44:1158–1166

Chowdhury GM, Banasr M, de Graaf RA, Rothman DL, Behar KL, Sanacora G (2008) Chronic riluzole treatment increases glucose metabolism in rat prefrontal cortex and hippocampus. J Cereb Blood Flow Metab 28:1892–1897

Cross DR, Kellermann G, McKenzie LB, Purvis KB, Hill GJ, Huisman H (2011) A randomized targeted amino acid therapy with behaviourally at-risk adopted children. Child Care Health Dev 37:671–678

Cummins CJ, Glover RA, Sellinger OZ (1979) Neuronal cues regulate uptake in cultured astrocytes. Brain Res 170:190–193

Cummins CJ, Glover RA, Sellinger OZ (1982) Potassium modulation of methionine uptake in astrocytes in vitro. Neurochem Res 7:637–644

Di Pierro F, Orsi R, Settembre R (2015) Role of betaine in improving the antidepressant effect of S-adenosyl-methionine in patients with mild-to-moderate depression. J Multidiscip Healthc 8:39–45

Galizia I, Oldani L, Macritchie K, Amari E, Dougall D, Jones TN, Lam RW, Massei GJ, Yatham LN, Young AH (2016) S-adenosyl methionine (SAMe) for depression in adults. Cochrane Database Syst Rev 10:CD011286

Griebel G, Cohen C, Perrault G, Sanger DJ (1999) Behavioral effects of acute and chronic fluoxetine in Wistar-Kyoto rats. Physiol Behav 67:315–320

Halonen T, Pitkanen A, Saano V, Riekkinen PJ (1991) Effects of vigabatrin (gamma-vinyl GABA) on neurotransmission-related amino acids and on GABA and benzodiazepine receptor binding in rats. Epilepsia 32:242–249

Hashimoto K, Sawa A, Iyo M (2007) Increased levels of glutamate in brains from patients with mood disorders. Biol Psychiatry 62:1310–1316

Hermens DF, Chitty KM, Lee RS, Tickell A, Haber PS, Naismith SL, Hickie IB, Lagopoulos J (2015) Hippocampal glutamate is increased and associated with risky drinking in young adults with major depression. J Affect Disord 186:95–98

Hidese S, Ota M, Wakabayashi C, Noda T, Ozawa H, Okubo T, Kunugi H (2017) Effects of chronic l-theanine administration in patients with major depressive disorder: an open-label study. Acta Neuropsychiatr 29(2):72–79

Jang DP, Lee SH, Park CW, Lee SY, Kim YB, Cho ZH (2009) Effects of fluoxetine on the rat brain in the forced swimming test: a [F-18]FDG micro-PET imaging study. Neurosci Lett 451:60–64

Kaddurah-Daouk R, Yuan P, Boyle SH, Matson W, Wang Z, Zeng ZB, Zhu H, Dougherty GG, Yao JK, Chen G, Guitart X, Carlson PJ, Neumeister A, Zarate C, Krishnan RR, Manji HK, Drevets W (2012) Cerebrospinal fluid metabolome in mood disorders-remission state has a unique metabolic profile. Sci Rep 2:667

Kakuda T, Hinoi E, Abe A, Nozawa A, Ogura M, Yoneda Y (2008) Theanine, an ingredient of green tea, inhibits [3H]glutamine transport in neurons and astroglia in rat brain. J Neurosci Res 86:1846–1856

Kardashev A, Ratner Y, Ritsner MS (2015) Add-on pregnenolone with L-theanine to antipsychotic therapy relieves negative and anxiety symptoms of schizophrenia: an 8-week, randomized, double-blind, placebo-controlled trial. Clin Schizophr Relat Psychoses (in press)

Kim TI, Lee YK, Park SG, Choi IS, Ban JO, Park HK, Nam SY, Yun YW, Han SB, Oh KW, Hong JT (2009) l-Theanine, an amino acid in green tea, attenuates beta-amyloid-induced cognitive dysfunction and neurotoxicity: reduction in oxidative damage and inactivation of ERK/p38 kinase and NF-kappaB pathways. Free Radic Biol Med 47:1601–1610

Kimura K, Ozeki M, Juneja LR, Ohira H (2007) L-Theanine reduces psychological and physiological stress responses. Biol Psychol 74:39–45

Kurian MA, Gissen P, Smith M, Heales S Jr, Clayton PT (2011) The monoamine neurotransmitter disorders: an expanding range of neurological syndromes. Lancet Neurol 10:721–733

Lam AG, Monn JA, Schoepp DD, Lodge D, McCulloch J (1999) Group II selective metabotropic glutamate receptor agonists and local cerebral glucose use in the rat. J Cereb Blood Flow Metab 19:1083–1091

Liu YR, Cardamone L, Hogan RE, Gregoire MC, Williams JP, Hicks RJ, Binns D, Koe A, Jones NC, Myers DE, O'Brien TJ, Bouilleret V (2010) Progressive metabolic and structural cerebral perturbations after traumatic brain injury: an in vivo imaging study in the rat. J Nucl Med 51:1788–1795

Lu K, Gray MA, Oliver C, Liley DT, Harrison BJ, Bartholomeusz CF, Phan KL, Nathan PJ (2004) The acute effects of L-theanine in comparison with alprazolam on anticipatory anxiety in humans. Hum Psychopharmacol 19:457–465

McAuley JD, Stewart AL, Webber ES, Cromwell HC, Servatius RJ, Pang KC (2009) Wistar-Kyoto rats as an animal model of anxiety vulnerability: support for a hypervigilance hypothesis. Behav Brain Res 204:162–168

Mischoulon D, Price LH, Carpenter LL, Tyrka AR, Papakostas GI, Baer L, Dording CM, Clain AJ, Durham K, Walker R, Ludington E, Fava M (2014) A double-blind, randomized, placebo-controlled clinical trial of S-adenosyl-L-methionine (SAMe) versus escitalopram in major depressive disorder. J Clin Psychiatry 75:370–376

Nathan PJ, Lu K, Gray M, Oliver C (2006) The neuropharmacology of L-theanine(N-ethyl-L-glutamine): a possible neuroprotective and cognitive enhancing agent. J Herb Pharmacother 6:21–30

Nobre AC, Rao A, Owen GN (2008) L-Theanine, a natural constituent in tea, and its effect on mental state. Asia Pac J Clin Nutr 17(Suppl 1):167–168

Nunez-Figueredo Y, Ramirez-Sanchez J, Hansel G, Simoes Pires EN, Merino N, Valdes O, Delgado-Hernandez R, Parra AL, Ochoa-Rodriguez E, Verdecia-Reyes Y, Salbego C, Costa SL, Souza DO, Pardo-Andreu GL (2014) A novel multi-target ligand (JM-20) protects mitochondrial integrity, inhibits brain excitatory amino acid release and reduces cerebral ischemia injury in vitro and in vivo. Neuropharmacology 85:517–527

Ogawa S, Hattori K, Sasayama D, Yokota Y, Matsumura R, Matsuo J, Ota M, Hori H, Teraishi T, Yoshida S, Noda T, Ohashi Y, Sato H, Higuchi T, Motohashi N, Kunugi H (2015) Reduced cerebrospinal fluid ethanolamine concentration in major depressive disorder. Sci Rep 5:7796

Omata N, Murata T, Maruoka N, Fujibayashi Y, Yonekura Y, Wada Y (2003) Different mechanisms of hypoxic injury on white matter and gray matter as revealed by dynamic changes in glucose metabolism in rats. Neurosci Lett 353:148–152

Ota M, Wakabayashi C, Sato N, Hori H, Hattori K, Teraishi T, Ozawa H, Okubo T, Kunugi H (2015) Effect of L-theanine on glutamatergic function in patients with schizophrenia. Acta Neuropsychiatr 27:291–296

Ransom CB, Ransom BR, Sontheimer H (2000) Activity-dependent extracellular K+ accumulation in rat optic nerve: the role of glial and axonal Na+ pumps. J Physiol 522(Pt 3):427–442

Ritsner MS, Miodownik C, Ratner Y, Shleifer T, Mar M, Pintov L, Lerner V (2011) L-Theanine relieves positive, activation, and anxiety symptoms in patients with schizophrenia and schizoaffective disorder: an 8-week, randomized, double-blind, placebo-controlled, 2-center study. J Clin Psychiatry 72:34–42

Rogers PJ, Smith JE, Heatherley SV, Pleydell-Pearce CW (2008) Time for tea: mood, blood pressure and cognitive performance effects of caffeine and theanine administered alone and together. Psychopharmacology 195:569–577

Sakato Y (1950) Studies on the chemical constituents of tea: part III. On a new amide theanine. J Agr Chem Soc Japan 23:262–267

Sarris J, Papakostas GI, Vitolo O, Fava M, Mischoulon D (2014) S-adenosyl methionine (SAMe) versus escitalopram and placebo in major depression RCT: efficacy and effects of histamine and carnitine as moderators of response. J Affect Disord 164:76–81

Schallier A, Vermoesen K, Loyens E, Van Liefferinge J, Michotte Y, Smolders I, Massie A (2013) L-Theanine intake increases threshold for limbic seizures but decreases threshold for generalized seizures. Nutr Neurosci 16:78–82

Shimoji K, Ravasi L, Schmidt K, Soto-Montenegro ML, Esaki T, Seidel J, Jagoda E, Sokoloff L, Green MV, Eckelman WC (2004) Measurement of cerebral glucose metabolic rates in the anesthetized rat by dynamic scanning with 18F-FDG, the ATLAS small animal PET scanner, and arterial blood sampling. J Nucl Med 45:665–672

Su L, Cai Y, Xu Y, Dutt A, Shi S, Bramon E (2014) Cerebral metabolism in major depressive disorder: a voxel-based meta-analysis of positron emission tomography studies. BMC Psychiatry 14:321

Tanaka E, Kudo H (2003) Subset-dependent relaxation in block-iterative algorithms for image reconstruction in emission tomography. Phys Med Biol 48:1405–1422

Unno K, Fujitani K, Takamori N, Takabayashi F, Maeda K, Miyazaki H, Tanida N, Iguchi K, Shimoi K, Hoshino M (2011) Theanine intake improves the shortened lifespan, cognitive dysfunction and behavioural depression that are induced by chronic psychosocial stress in mice. Free Radic Res 45:966–974

Unno K, Iguchi K, Tanida N, Fujitani K, Takamori N, Yamamoto H, Ishii N, Nagano H, Nagashima T, Hara A, Shimoi K, Hoshino M (2013a) Ingestion of theanine, an amino acid in tea, suppresses psychosocial stress in mice. Exp Physiol 98:290–303

Unno K, Tanida N, Ishii N, Yamamoto H, Iguchi K, Hoshino M, Takeda A, Ozawa H, Ohkubo T, Juneja LR, Yamada H (2013b) Anti-stress effect of theanine on students during pharmacy practice: positive correlation among salivary alpha-amylase activity, trait anxiety and subjective stress. Pharmacol Biochem Behav 111:128–135

Videbech P (2000) PET measurements of brain glucose metabolism and blood flow in major depressive disorder: a critical review. Acta Psychiatr Scand 101:11–20

Wakabayashi C, Numakawa T, Ninomiya M, Chiba S, Kunugi H (2012) Behavioral and molecular evidence for psychotropic effects in L-theanine. Psychopharmacology 219:1099–1109

White DJ, de Klerk S, Woods W, Gondalia S, Noonan C, Scholey AB (2016) Anti-stress, behavioural and magnetoencephalography effects of an L-theanine-based nutrient drink: a randomised, double-blind, placebo-controlled, crossover trial. Nutrients 8:53

Will CC, Aird F, Redei EE (2003) Selectively bred Wistar-Kyoto rats: an animal model of depression and hyper-responsiveness to antidepressants. Mol Psychiatry 8:925–932

Wise LE, Premaratne ID, Gamage TF, Lichtman AH, Hughes LD, Harris LS, Aceto MD (2012) l-theanine attenuates abstinence signs in morphine-dependent rhesus monkeys and elicits anxiolytic-like activity in mice. Pharmacol Biochem Behav 103:245–252

Yamada T, Terashima T, Wada K, Ueda S, Ito M, Okubo T, Juneja LR, Yokogoshi H (2007) Theanine, r-glutamylethylamide, increases neurotransmission concentrations and neurotrophin mRNA levels in the brain during lactation. Life Sci 81:1247–1255

Yang N, Ren Z, Zheng J, Feng L, Li D, Gao K, Zhang L, Liu Y, Zuo P (2016) 5-(4-Hydroxy-3-dimethoxybenzylidene)-rhodanine (RD-1)-improved mitochondrial function prevents anxiety- and depressive-like states induced by chronic corticosterone injections in mice. Neuropharmacology 105:587–593

Yin C, Gou L, Liu Y, Yin X, Zhang L, Jia G, Zhuang X (2011) Antidepressant-like effects of L-theanine in the forced swim and tail suspension tests in mice. Phytother Res 25:1636–1639

Yokogoshi H, Kobayashi M, Mochizuki M, Terashima T (1998a) Effect of theanine, r-glutamylethylamide, on brain monoamines and striatal dopamine release in conscious rats. Neurochem Res 23:667–673

Yokogoshi H, Mochizuki M, Saitoh K (1998b) Theanine-induced reduction of brain serotonin concentration in rats. Biosci Biotechnol Biochem 62:816–817

Yoto A, Motoki M, Murao S, Yokogoshi H (2012) Effects of L-theanine or caffeine intake on changes in blood pressure under physical and psychological stresses. J Physiol Anthropol 31:28

Zarate CA, Manji HK (2008) Riluzole in psychiatry: a systematic review of the literature. Expert Opin Drug Metab Toxicol 4:1223–1234

Zhou Y, Danbolt NC (2014) Glutamate as a neurotransmitter in the healthy brain. J Neural Transm (Vienna) 121:799–817
Acknowledgements
The authors would like to thank Mr. Makoto Funasaka for his expert technical assistance with the PET experiments and Ms. Midori Ninomiya for her instructions on rat CSF collection.
Ethics declarations
Conflict of interest
This research study was funded by an unrestricted research grant provided by Taiyo Life Insurance Himawari Foundation, Tokyo, Japan. This funding agency had no role in the design, methods, analysis, or preparation of the paper.
Electronic supplementary material
About this article
Cite this article
Ogawa, S., Ota, M., Ogura, J. et al. Effects of l-theanine on anxiety-like behavior, cerebrospinal fluid amino acid profile, and hippocampal activity in Wistar Kyoto rats. Psychopharmacology 235, 37–45 (2018). https://doi.org/10.1007/s00213-017-4743-1
Received:

Revised:

Accepted:

Published:

Issue Date:
Keywords
Amino acids

Cerebrospinal fluid

[18F]Fluorodeoxyglucose

l

-Theanine (N-ethyl-L-glutamine)

Positron emission tomography

Wistar Kyoto rats