Abstract
Rationale
Hyperprolactinemia is a highly prevalent adverse effect of many antipsychotic agents, with potentially serious health consequences. Several guidelines have been developed for the management of this condition; yet, their concordance has not been evaluated.
Objectives
The objectives of this paper were (1) to review current clinical guidelines; (2) to review key systematic evidence for management; and (3) based on our findings, to develop an integrated management recommendation specific to male and female patients who are otherwise clinically stabilised on antipsychotics.
Methods
We performed searches of Medline and EMBASE, supplemented with guideline-specific database and general web searches, to identify clinical guidelines containing specific recommendations for antipsychotic-induced hyperprolactinemia, produced/updated 01/01/2010–15/09/2016. A separate systematic search was performed to identify emerging management approaches described in reviews and meta-analyses published ≥ 2010.
Results
There is some consensus among guidelines relating to baseline PRL screening (8/12 guidelines), screening for differential diagnosis (7/12) and discontinuing/switching PRL-raising agent (7/12). Guidelines otherwise diverge substantially regarding most aspects of screening, monitoring and management (e.g. treatment with dopamine agonists). There is an omission of clear sex-specific recommendations. Systematic literature on management approaches is promising; more research is needed. An integrated management recommendation is presented to guide sex-specific clinical response to antipsychotic-induced hyperprolactinemia. Key aspects include asymptomatic hyperprolactinemia monitoring and fertility considerations with PRL normalisation.
Conclusion
Further empirical work is key to shaping robust guidelines for antipsychotic-induced hyperprolactinemia. The integrated management recommendation can assist clinician and patient decision-making, with the goal of balancing effective psychiatric treatment while minimising PRL-related adverse health effects in male and female patients.
Access options
Buy single article
Instant access to the full article PDF.
USD 39.95
Price excludes VAT (USA)
Tax calculation will be finalised during checkout.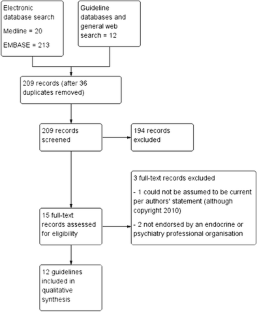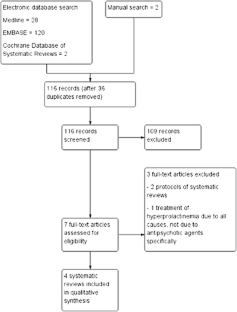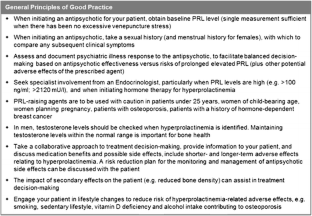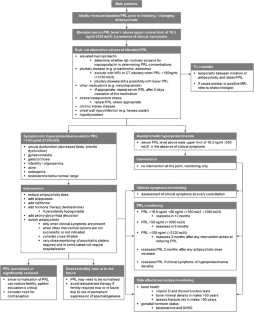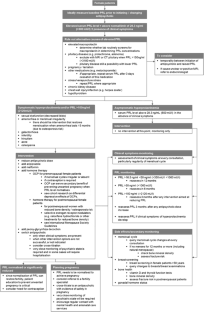 References
Baptista T, ElFakih Y, Uzcátegui E, Sandia I, Tálamo E, de Baptista EA, Beaulieu S (2008) Pharmacological management of atypical antipsychotic-induced weight gain. CNS Drugs 22(6):477–495

Barnes TR (2011) Evidence-based guidelines for the pharmacological treatment of schizophrenia: recommendations from the British Association for Psychopharmacology. J Psychopharmacol 25(5):567–620

Bastiampillai T, Gupta A, Allison S (2016) FDA changes clozapine monitoring guidelines: implications for worldwide practice. Asian J Psychiatr 21:19–20

Bo QJ, Wang ZM, Li XB, Ma X, Wang CY, de Leon J (2016) Adjunctive metformin for antipsychotic-induced hyperprolactinemia: a systematic review. Psychiatry Res 237:257–263

Brockie J, Brown R (2015) Antipsychotic-induced hyperprolactinaemia: adapting guidelines to overcome challenges posed by this group of women. Maturitas 1(81):164–165

Brouwers JR, Assies J, Wiersinga WM, Huizing G, Tytgat GN, et al. (2010) Plasma prolactin levels after acute and subchronic oral administration of domperidone and of metoclopramide: a cross-over study in healthy volunteers. Clin. Endocrinol. 12.5 (May 1980):435–440.

Brown, R. and V. Frighi (2015). Antipsychotic-induced hyperprolactinaemia - trust guideline for identification, monitoring and management, Oxford Health: NHS Foundation Trust

Buchanan RW, Kreyenbuhl J, Kelly DL, Noel JM, Boggs DL, Fischer BA, Himelhoch S, Fang B, Peterson E, Aquino PR (2010) The 2009 schizophrenia PORT psychopharmacological treatment recommendations and summary statements. Schizophr Bull 36(1):71–93

Bushe CJ, Bradley A, Pendlebury J (2010) A review of hyperprolactinaemia and severe mental illness: are there implications for clinical biochemistry? Ann Clin Biochem 47(4):292–300

Chen C-K, Huang Y-S, Ree S-C, Hsiao C-C (2010) Differential add-on effects of aripiprazole in resolving hyperprolactinemia induced by risperidone in comparison to benzamide antipsychotics. Prog Neuro-Psychopharmacol Biol Psychiatry 34(8):1495–1499

Correa N, Opler L, Kay S, Birmaher B (1987) Amantadine in the treatment of neuroendocrine side effects of neuroleptics. J Clin Psychopharmacol 7(2):91–94

Correll C (2010) From receptor pharmacology to improved outcomes: individualising the selection, dosing, and switching of antipsychotics. Eur Psychiatry 25:S12–S21

Correll CU, Sikich L, Reeves G, Riddle M (2013) Metformin for antipsychotic-related weight gain and metabolic abnormalities: when, for whom, and for how long? Am J Psychiatr 170(9):947–952

de Boer MK, Castelein S, Wiersma D, Schoevers RA, Knegtering H (2015) The facts about sexual (dys) function in schizophrenia: an overview of clinically relevant findings. Schizophr Bull 41(3):674–686

De Hert M, Detraux J, Stubbs B (2016a) Relationship between antipsychotic medication, serum prolactin levels and osteoporosis/osteoporotic fractures in patients with schizophrenia: a critical literature review. Expert Opin Drug Saf 15(6):809–823

De Hert M, Peuskens J, Sabbe T, Mitchell A, Stubbs B, Neven P, Wildiers H, Detraux J (2016b) Relationship between prolactin, breast cancer risk, and antipsychotics in patients with schizophrenia: a critical review. Acta Psychiatr Scand 133(1):5–22

De Villiers T, Pines A, Panay N, Gambacciani M, Archer D, Baber R, Davis S, Gompel A, Henderson V, Langer R (2013) Updated 2013 international menopause society recommendations on menopausal hormone therapy and preventive strategies for midlife health. Climacteric 16(3):316–337

DiBonaventura M, Gabriel S, Dupclay L, Gupta S, Kim E (2012) A patient perspective of the impact of medication side effects on adherence: results of a cross-sectional nationwide survey of patients with schizophrenia. BMC Psychiatry 12(1):1

Ehret M, Goethe J, Lanosa M, Coleman CI (2010) The effect of metformin on anthropometrics and insulin resistance in patients receiving atypical antipsychotic agents: a meta-analysis. J Clin Psychiatry 71(10):1286–1292

Franch C, Medina G, Ortega M, Calzada M, Molina V (2016) Problems in long-term treatment with atypical antipsychotics: hyperprolactinemia. Eur Psychiatry 33:S248–S249

Freeman ME, Kanyicska B, Lerant A, Nagy G (2000) Prolactin: structure, function, and regulation of secretion. Physiol Rev 80(4):1523–1631

Gaebel W, Schreiner A, Bergmans P, De Arce R, Rouillon F, Cordes J, Eriksson L, Smeraldi E (2010) Relapse prevention in schizophrenia and schizoaffective disorder with risperidone long-acting injectable vs quetiapine: results of a long-term, open-label, randomized clinical trial. Neuropsychopharmacology 35(12):2367

Galletly C, Castle D, Dark F, Humberstone V, Jablensky A, Killackey E, Kulkarni J, McGorry P, Nielssen O, Tran N (2016) Royal Australian and new Zealand College of Psychiatrists clinical practice guidelines for the management of schizophrenia and related disorders. Aust N Z J Psychiatry 50(5):410–472

Gentile, S. (2017). Safety concerns associated with second-generation antipsychotic long-acting injection treatment. A systematic update. Hormone Molecular Biology and Clinical Investigation

Gomes, P. L., V. S. Nunes, Á. N. Atallah and E. M. da Silva (2012) Dopamine agonists for hyperprolactinaemia. The Cochrane Library

Grigg, J., R. Worsley and J. Kulkarni (2016). Raloxifene for schizophrenia and symptoms of hyperprolactinaemia? Aust N Z J Psychiatry: 0004867416670014

Grunze H, Vieta E, Goodwin GM, Bowden C, Licht RW, Möller H-J, Kasper S (2013) The world Federation of Societies of biological psychiatry (WFSBP) guidelines for the biological treatment of bipolar disorders: update 2012 on the long-term treatment of bipolar disorder. World J Biol Psychiatry 14(3):154–219

Halbreich U, Kinon B, Gilmore J, Kahn L (2003) Elevated prolactin levels in patients with schizophrenia: mechanisms and related adverse effects. Psychoneuroendocrinology 28:53–67

Hasan A, Falkai P, Wobrock T, Lieberman J, Glenthoj B, Gattaz WF, Thibaut F, Möller H-J (2013) World Federation of Societies of biological psychiatry (WFSBP) guidelines for biological treatment of schizophrenia, part 2: update 2012 on the long-term treatment of schizophrenia and management of antipsychotic-induced side effects. World J Biol Psychiatry 14(1):2–44

Hasani-Ranjbar S, Vahidi H, Taslimi S, Karimi N, Larijani B, Abdollahi M (2010) A systematic review on the efficacy of herbal medicines in the management of human drug-induced hyperprolactinemia; potential sources for the development of novel drugs. IJP Int J Pharmacol 6(5):691–695

Hert M, Correll CU, Bobes J, Cetkovich-Bakmas M, Cohen D, Asai I, Detraux J, Gautam S, Möller HJ, Ndetei DM (2011) Physical illness in patients with severe mental disorders. I. Prevalence, impact of medications and disparities in health care. World Psychiatry 10(1):52–77

Hoffer ZS, Roth RL, Mathews M (2009) Evidence for the partial dopamine-receptor agonist aripiprazole as a first-line treatment of psychosis in patients with iatrogenic or tumorogenic hyperprolactinemia. Psychosomatics 50(4):317–324

Inder WJ, Castle D (2011) Antipsychotic-induced hyperprolactinaemia. Aust N Z J Psychiatry 45(10):830–837

Institute of Medicine (U.S.) (2011) Committee on standards for developing trustworthy clinical practice guidelines. In: Graham R, Mancher M, Wolman DM, Greenfield S, Steinberg E (eds) Clinical practice guidelines we can trust. National Academies Press, Washington

Institute of Medicine (1990) Committee to advise the public health service on clinical practice guidelines. In: Field MJ, Lohr KN (eds) Clinical Practice Guidelines: Directions for a New Program. The National Academies Press, Washington. https://doi.org/10.17226/1626

Johnsen E, Kroken RA, Abaza M, Olberg H, Jørgensen HA (2008) Antipsychotic-induced hyperprolactinemia: a cross-sectional survey. J Clin Psychopharmacol 28(6):686–690

Jones E (2014) Antipsychotics and osteoporosis: current awareness and practice in primary care. Br J Gen Pract 64(628):562

Kolli, V. B., D. P. Bestha, V. Madaan and S. Byreddy (2013) Aripiprazole for neuroleptic induced hyperprolactinaemia. The Cochrane Library

Kotecha, P. (2013). Guidelines for the management of antipsychotic-induced hyperprolactinaemia MMG007. Northamptonshire, Northamptonshire Healthcare, NHS Foundation Trust

Kulkarni J, Gavrilidis E, Gwini SM, Worsley R, Grigg J, Warren A, Gurvich C, Gilbert H, Berk M, Davis SR (2016) Effect of adjunctive raloxifene therapy on severity of refractory schizophrenia in women: a randomized clinical trial. JAMA Psychiatry 73(9):947–954

Kulkarni J, Worsley R, Gilbert H, Gavrilidis E, Van Rheenen TE, Wang W, McCauley K, Fitzgerald P (2014) A prospective cohort study of antipsychotic medications in pregnancy: the first 147 pregnancies and 100 one year old babies. PLoS One 9(5):e94788

La Torre D, Falorni A (2007) Pharmacological causes of hyperprolactinemia. Ther Clin Risk Manag 3(5):929

Li X, Tang Y, Wang C (2013) Adjunctive aripiprazole versus placebo for antipsychotic-induced hyperprolactinemia: meta-analysis of randomized controlled trials. PLoS One 8(8):e70179

Lieberman JA, Stroup TS, McEvoy JP, Swartz MS, Rosenheck RA, Perkins DO, Keefe RS, Davis SM, Davis CE, Lebowitz BD (2005) Effectiveness of antipsychotic drugs in patients with chronic schizophrenia. N Engl J Med 353(12):1209–1223

Melmed S, Casanueva FF, Hoffman AR, Kleinberg DL, Montori VM, Schlechte JA, Wass JA (2011) Diagnosis and treatment of hyperprolactinemia: an Endocrine Society clinical practice guideline. J Clin Endocrinol Metab 96(2):273–288

Meng M, Li W, Zhang S, Weng H, Sheng J, Wang J, Li C (2015) Using aripiprazole to reduce antipsychotic-induced hyperprolactinemia: meta-analysis of currently available randomized controlled trials. Shanghai Arch Psychiatry 27(1):4

Milano W, Walter D'Acunto C, De Rosa M, Festa M, Milano L, Petrella C, Capasso A (2011) Recent clinical aspects of hyperprolactinemia induced by antipsychotics. Rev Recent Clin Trials 6(1):52–64

Miyamoto S, Fleischhacker WW (2017) The use of long-acting injectable antipsychotics in schizophrenia. Curr Treat Options Psychiatry 4(2):117–126

Montejo, Á., C. Arango, M. Bernardo, J. Carrasco, B. Crespo-Facorro, J. Cruz, J. Del Pino, E. M. García, R. C. García and A. González-Pinto (2016). Spanish consensus on the risks and detection of antipsychotic drug-related hyperprolactinaemia. Revista de psiquiatria y salud mental

Murru A, Hidalgo D, Bernardo M, Bobes J, Saiz-Ruiz J, Álamo C, Vieta E (2016) Antipsychotic switching in schizoaffective disorder: a systematic review. World J Biol Psychiatry 17(7):495–513

National Institute for Clinical Excellence (2014) Psychosis and schizophrenia in adults: prevention and management; National Clinical Practice Guidelines Number CG178: 1–58

National Institute for Health and Care Excellence (2014) (Updated 2016) Bipolar disorder: assessment and management (Clinical guideline).

NHS Foundation Trust (2015) Hyperprolactinaemia: guidelines for patients and clinicians (PHARM/0032/V5), Tees, Esk and Wear Valleys: NHD Foundation Trust

Pacchiarotti I, Murru A, Kotzalidis GD, Bonnin CM, Mazzarini L, Colom F, Vieta E (2015) Hyperprolactinemia and medications for bipolar disorder: systematic review of a neglected issue in clinical practice. Eur Neuropsychopharmacol 25(8):1045–1059

Park Y-M, Lee S-H, Lee B-H, Lee KY, Lee K-S, Kang S-G, Lee H-Y, Kim W (2016) Prolactin and macroprolactin levels in psychiatric patients receiving atypical antipsychotics: a preliminary study. Psychiatry Res 239:184–189

Petty RG (1999) Prolactin and antipsychotic medications: mechanism of action. Schizophr Res 35:S67–S73

Peuskens J, Pani L, Detraux J, De Hert M (2014) The effects of novel and newly approved antipsychotics on serum prolactin levels: a comprehensive review. CNS Drugs 28(5):421–453

Peveler RC, Branford D, Citrome L, Fitzgerald P, Harvey PW, Holt RI, Howard L, Kohen D, Jones I, Pariente CM (2008) Antipsychotics and hyperprolactinaemia: clinical recommendations. J Psychopharmacol 22:98–104

Rabinovich IH, Gómez RC, Mouriz MG, García-Agulló DO (2013) Clinical guidelines for diagnosis and treatment of prolactinoma and hyperprolactinemia. Endocrinol Nutr (Engl Ed) 60(6):308–319

Rybakowski JK, Dmitrzak-Weglarz M, Kapelski P, Hauser J (2011) Functional–1149 G/T polymorphism of the prolactin gene in schizophrenia. Neuropsychobiology 65(1):41–44

Skovlund CW, Mørch LS, Kessing LV, Lidegaard Ø (2016) Association of Hormonal Contraception with Depression. JAMA Psychiatry

Soto-Pedre, E., P. J. Newey, J. S. Bevan, N. Greig and G. P. Leese (2016). The epidemiology of hyperprolactinaemia over 20 years in the Tayside region of Scotland: the prolactin epidemiology, audit and research study (PROLEARS). Clinical Endocrinology

Taylor D, Paton C, Kapur S (2015) The Maudsley prescribing guidelines in psychiatry. Wiley Blackwell, West Sussex

Tewksbury A, Olander A (2016) Management of antipsychotic-induced hyperprolactinemia. Mental Health Clin 6(4):185–190

Tomova N, Whale R, Caldwell G (2016) Guidance on the treatment of antipsychotic-induced Hyperprolactinaemia, version 2. Sussex Partnership: NHS Foundation Trust, Sussex

Usall, J., E. Huerta-Ramos, J. Labad, J. Cobo, C. Núñez, M. Creus, G. G. Parés, D. Cuadras, J. Franco and E. Miquel (2015). Raloxifene as an adjunctive treatment for postmenopausal women with schizophrenia: a 24-week double-blind, randomized, parallel, placebo-controlled trial. Schizophrenia bulletin: sbv149

Valevski A, Modai I, Zbarski E, Zemishlany Z, Weizman A (1998) Effect of amantadine on sexual dysfunction in neuroleptic-treated male schizophrenic patients. Clin Neuropharmacol 21(6):355–357

Walsh J, Lees E (2012) Doctors' understanding of antipsychotic associated hyperprolactinaemia. Prog Neurol Psychiatry 16(3):28–32

Wang M, Hou R, Jian J, Mi G, Qiu H, Cao B, Tang M (2014) Effects of antipsychotics on bone mineral density and prolactin levels in patients with schizophrenia: a 12-month prospective study. Hum Psychopharmacol Clin Exp 29(2):183–189

Wang PS, Walker AM, Tsuang MT, Orav EJ, Glynn RJ, Levin R, Avorn J (2002) Dopamine antagonists and the development of breast cancer. Arch Gen Psychiatry 59(12):1147–1154

Wistedt B, Wiles D, Kolakowska T (1981) Slow decline of plasma drug and prolactin levels after discontinuation of chronic treatment with depot neuroleptics. Lancet 317(8230):1163

Woolf SH, Grol R, Hutchinson A, Eccles M, Grimshaw J (1999) Potential benefits, limitations, and harms of clinical guidelines. Br Med J 318(7182):527

World Health Organization (2001) The world health report 2001: mental health: new understanding, new hope. World Health Organization, Geneva

Worsley R, Santoro N, Miller KK, Parish SJ, Davis SR (2016) Hormones and female sexual dysfunction: beyond estrogens and androgens—findings from the fourth international consultation on sexual medicine. J Sex Med 13(3):283–290

Yatham LN, Kennedy SH, Parikh SV, Schaffer A, Beaulieu S, Alda M, O'Donovan C, MacQueen G, McIntyre RS, Sharma V (2013) Canadian network for mood and anxiety treatments (CANMAT) and International Society for Bipolar Disorders (ISBD) collaborative update of CANMAT guidelines for the management of patients with bipolar disorder: update 2013. Bipolar Disord 15(1):1–44

Yokoi F, Gründer G, Biziere K, Stephane M, Dogan AS, Dannals RF, Ravert H, Suri A, Bramer S, Wong DF (2002) Dopamine D2 and D3 receptor occupancy in normal humans treated with the antipsychotic drug aripiprazole (OPC 14597): a study using positron emission tomography and [11C] raclopride. Neuropsychopharmacology 27(2):248–259
Ethics declarations
Source of support and declaration of interest
Jayashri Kulkarni has received an Independent Educational Grant from Janssen Cilag to support the production of this review of current clinical guidelines and emerging treatment methods to support updated recommendations for the management of antipsychotic-induced hyperprolactinemia.
Appendices
Appendix A Database(s): Epub Ahead of Print, In-Process & Other Non-Indexed Citations, Ovid MEDLINE(R) Daily and Ovid MEDLINE(R) 1946 to Present
Search Strategy:
| # | Searches | Results |
| --- | --- | --- |
| 1 | Hyperprolactinemia/ | 2961 |
| 2 | hyperprolactin?emia.ti,ab. | 5732 |
| 3 | exp Antipsychotic Agents/ | 113,542 |
| 4 | antipsychotic*.ti,ab. | 32,619 |
| 5 | exp Practice Guideline/ | 21,920 |
| 6 | exp Guideline/ | 28,500 |
| 7 | exp Guideline Adherence/ | 25,525 |
| 8 | guideline*.ti,ab. | 246,580 |
| 9 | (clinical adj3 (guideline* or guidance or standard? or protocol*)).ti,ab. | 47,048 |
| 10 | (national adj3 (guideline* or guidance or standard? or protocol*)).ti,ab. | 16,508 |
| 11 | (department* adj3 (guideline* or guidance or standard? or protocol*)).ti,ab. | 1390 |
| 12 | (practice adj3 (guideline* or guidance or standard? or protocol*)).ti,ab. | 31,665 |
| 13 | (society adj3 (guideline* or guidance or standard? or protocol*)).ti,ab. | 3594 |
| 14 | (institut* adj3 (guideline* or guidance or standard? or protocol*)).ti,ab. | 7426 |
| 15 | (board adj3 (guideline* or guidance or standard? or protocol*)).ti,ab. | 714 |
| 16 | (association adj3 (guideline* or guidance or standard? or protocol*)).ti,ab. | 3919 |
| 17 | 1 or 2 | 6483 |
| 18 | 3 or 4 | 124,034 |
| 19 | 5 or 6 or 7 or 8 or 9 or 10 or 11 or 12 or 13 or 14 or 15 or 16 | 313,469 |
| 20 | 17 and 18 and 19 | 20 |
Appendix B Database(s): Embase 1974 to 2016 September 12
Search Strategy:
| # | Searches | Results |
| --- | --- | --- |
| 1 | Hyperprolactinemia/ | 9511 |
| 2 | hyperprolactin?emia.ti,ab. | 7334 |
| 3 | exp Antipsychotic Agents/ | 247,714 |
| 4 | antipsychotic*.ti,ab. | 47,616 |
| 5 | guideline*.ti,ab. | 362,228 |
| 6 | (clinical adj3 (guideline* or guidance or standard? or protocol*)).ti,ab. | 65,937 |
| 7 | (national adj3 (guideline* or guidance or standard? or protocol*)).ti,ab. | 24,506 |
| 8 | (department* adj3 (guideline* or guidance or standard? or protocol*)).ti,ab. | 2387 |
| 9 | (practice adj3 (guideline* or guidance or standard? or protocol*)).ti,ab. | 42,927 |
| 10 | (society adj3 (guideline* or guidance or standard? or protocol*)).ti,ab. | 5760 |
| 11 | (institut* adj3 (guideline* or guidance or standard? or protocol*)).ti,ab. | 11,518 |
| 12 | (board adj3 (guideline* or guidance or standard? or protocol*)).ti,ab. | 982 |
| 13 | (association adj3 (guideline* or guidance or standard? or protocol*)).ti,ab. | 5405 |
| 14 | exp practice guideline/ | 376,919 |
| 15 | 1 or 2 | 11,327 |
| 16 | 3 or 4 | 254,259 |
| 17 | 5 or 6 or 7 or 8 or 9 or 10 or 11 or 12 or 13 or 14 | 657,971 |
| 18 | 15 and 16 and 17 | 213 |
Appendix C Database(s): Epub Ahead of Print, In-Process & Other Non-Indexed Citations, Ovid MEDLINE(R) Daily and Ovid MEDLINE(R) 1946 to Present
Search Strategy:
| # | Searches | Results |
| --- | --- | --- |
| 1 | Hyperprolactinemia/ | 2978 |
| 2 | hyperprolactin?emia.ti,ab. | 5783 |
| 3 | 1 or 2 | 6536 |
| 4 | Antipsychotic Agents/ | 48,899 |
| 5 | antipsychotic*.ti,ab. | 33,007 |
| 6 | 4 or 5 | 61,385 |
| 7 | systematic review.ti,ab. | 82,990 |
| 8 | meta-analysis/ | 74,565 |
| 9 | meta-analysis.ti,ab. | 88,655 |
| 10 | 7 or 8 or 9 | 161,893 |
| 11 | 3 and 6 and 10 | 28 |
Appendix D Database(s): Embase 1974 to 2016 October 19
Search Strategy:
| # | Searches | Results |
| --- | --- | --- |
| 1 | Hyperprolactinemia/ | 9849 |
| 2 | hyperprolactin?emia.ti,ab. | 7402 |
| 3 | 1 or 2 | 11,470 |
| 4 | Antipsychotic Agents/ | 65,495 |
| 5 | antipsychotic*.ti,ab. | 47,989 |
| 6 | 4 or 5 | 90,337 |
| 7 | systematic review.ti,ab. | 100,240 |
| 8 | meta-analysis/ | 150,109 |
| 9 | meta-analysis.ti,ab. | 111,353 |
| 10 | 7 or 8 or 9 | 221,508 |
| 11 | 3 and 6 and 10 | 120 |
Appendix E Database(s): EBM Reviews - Cochrane Database of Systematic Reviews 2005 to October 19, 2016
Search Strategy:
| # | Searches | Results |
| --- | --- | --- |
| 1 | [Hyperprolactinemia/] | 0 |
| 2 | hyperprolactin?emia.ti,ab. | 4 |
| 3 | 1 or 2 | 4 |
| 4 | [Antipsychotic Agents/] | 0 |
| 5 | antipsychotic*.ti,ab. | 182 |
| 6 | 4 or 5 | 182 |
| 7 | 3 and 6 | 2 |
About this article
Cite this article
Grigg, J., Worsley, R., Thew, C. et al. Antipsychotic-induced hyperprolactinemia: synthesis of world-wide guidelines and integrated recommendations for assessment, management and future research. Psychopharmacology 234, 3279–3297 (2017). https://doi.org/10.1007/s00213-017-4730-6
Received:

Accepted:

Published:

Issue Date:

DOI: https://doi.org/10.1007/s00213-017-4730-6
Keywords
Hyperprolactinemia

Antipsychotic

Prolactin

Psychiatric treatment

Clinical guidelines