Abstract
Psychedelic drugs are creating ripples in psychiatry as evidence accumulates of their therapeutic potential. An important question remains unresolved however: how are psychedelics effective? We propose that a sense of connectedness is key, provide some preliminary evidence to support this, and suggest a roadmap for testing it further.
Access options
Buy single article
Instant access to the full article PDF.
US$ 39.95
Tax calculation will be finalised during checkout.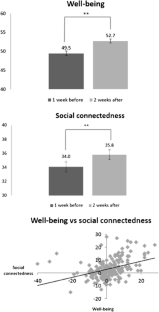 References
Barrett FS, Johnson MW, Griffiths RR (2015) Validation of the revised mystical experience questionnaire in experimental sessions with psilocybin. J Psychopharmacol 29:1182–1190

Belser AB, Agin-Liebes G, Swift CT, Terrana S, Devenot N, Friedman LH, Guss J, Bossis A, Ross S (2017) Patient experiences of psilocybin-assisted psychotherapy: an interpretative phenomenological analysis. J Humanist Psychol 57(4):354–388

Carhart-Harris RL, Goodwin GM (2017) The therapeutic potential of psychedelic drugs: past, present and future. Neuropsychopharmacology. doi:10.1038/npp.2017.84

Carhart-Harris RL, Nutt DJ (2017) Serotonin and brain function: a tale of two receptors. J Psychopharmacol (in press)

Carhart-Harris RL, Leech R, Hellyer PJ et al (2014) The entropic brain: a theory of conscious states informed by neuroimaging research with psychedelic drugs. Front Hum Neurosci 8:20

Carhart-Harris RL, Bolstridge M, Rucker J et al (2016) Psilocybin with psychological support for treatment-resistant depression: an open-label feasibility study. Lancet Psychiatry 3:619–627

Carrillo FSDF, Sigman M, Ashton P, Fitzgerald L, Stroud J, Carhart-Harris RL (2017) Natural speech predicts therapeutic effectiveness of psilocybin for treatment-resistant depression. J Affect Disord (in press)

Cervinka R, Roderer K, Hefler E (2012) Are nature lovers happy? On various indicators of well-being and connectedness with nature. J Health Psychol 17:379–388

Forstmann M, Sagioglou C (2017) Lifetime experience with (classic) psychedelics predicts pro-environmental behavior through an increase in nature relatedness. J Psychopharmacol 31(8):975–988

Griffiths RR, Richards WA, McCann U et al (2006) Psilocybin can occasion mystical-type experiences having substantial and sustained personal meaning and spiritual significance. Psychopharmacology 187:268–283 discussion 284-292

Karp DA (2017) Speaking of sadness: depression, disconnection, and the meanings of illness, Oxford. Oxford University Press, New York

Leamy M, Bird V, Le Boutillier C et al (2011) Conceptual framework for personal recovery in mental health: systematic review and narrative synthesis. Br J Psychiatry 199:445–452

Lee RM, Robbins SB (1995) Measuring belongingness—the social connectedness and the social assurance scales. J Couns Psychol 42:232–241

Lee RM, Dean BL, Jung KR (2008) Social connectedness, extraversion, and subjective well-being: testing a mediation model. Personal Individ Differ 45:414–419

Mayer FS, Frantz CM (2004) The connectedness to nature scale: a measure of individuals' feeling in community with nature. J Environ Psychol 24:503–515

Nour MM, Evans L, Nutt D et al (2016) Ego-dissolution and psychedelics: validation of the ego-dissolution inventory (EDI). Front Hum Neurosci. doi:10.3389/fnhum.2016.00269

Nour MM, Evans L and Carhart-Harris RL. (2017) Psychedelics, personality and political perspectives. J Psychoactive Drugs: 1–10

Piff PK, Dietze P, Feinberg M et al (2015) Awe, the small self, and prosocial behavior. J Pers Soc Psychol 108:883–899

Poldrack RA (2006) Can cognitive processes be inferred from neuroimaging data? Trends Cogn Sci 10:59–63

Racine E, Waldman S, Rosenberg J et al (2010) Contemporary neuroscience in the media. Soc Sci Med 71:725–733

Richards WA (2015) Sacred knowledge: psychedelics and religious experiences. Columbia University Press, New York

Tagliazucchi E, Roseman L, Kaelen M et al (2016) Increased global functional connectivity correlates with LSD-induced ego dissolution. Curr Biol 26:1043–1050

Tennant R, Hiller L, Fishwick R et al (2007) The Warwick-Edinburgh mental well-being scale (WEMWBS): development and UK validation. Health Qual Life Outcomes 5:63

Watts RDC, Krzanowski J, Nutt DJ, Carhart-Harris RL (2017) Patients' accounts of increased 'connection' and 'acceptance' after psilocybin for treatment-resistant depression. J Humanist Psychol. doi:10.3389/fnhum.2016.00269

Wayment HA, Bauer JJ, Sylaska K, et al. (2015) The quiet ego scale: measuring the compassionate self-identity. J Happiness Stud. 16pp

White F (1987) The overview effect: space exploration and human evolution. Houghton Mifflin, Boston
Acknowledgements
RLC-H is supported by the Alex Mosley Charitable Trust. RW is supported by Compass Pathways.
Ethics declarations
Conflicts of interest
The authors declare that they have no conflicts of interest.
About this article
Cite this article
Carhart-Harris, R.L., Erritzoe, D., Haijen, E. et al. Psychedelics and connectedness. Psychopharmacology 235, 547–550 (2018). https://doi.org/10.1007/s00213-017-4701-y
Received:

Accepted:

Published:

Issue Date: